This Pork Chilli Con Carne is a rich, juicy gamechanger with a warmth that will take you straight to the Caribbean.
When I first made this pork chilli con carne I had been in Belize for a month, during which time I had eaten so much incredible Belizean food and really gotten to grips with the flavour profiles. After the incredibly warm and friendly people, the food in Belize was my second favourite thing. It is INSANELY good. The flavours and the beautiful weather are a winning combo and I loved discovering their dishes so much. Whenever I travel anywhere, one of the things I enjoy the most is learning how to make certain meals myself, figuring out what goes into them, speaking to locals and creating my own version that I can then make back at home. It makes the experience live on because smell and taste have such strong nostalgic potential. This pork chilli con carne that I made in Belize has been something I've recreated again and again.
Anyway, back to Belize. Chicken and pork are the most common meats available where I was staying in Placencia so I generally cook with them the most. But travelling to this new country and tasting Belizean food produce will always be a bit of an experiment and I had no idea what the mince would be like! I got some to try and...it was incredible. I decided to make pork chilli with this quick and easy recipe and my gosh it was so juicy and flavourful been though I only cooked it for 25 minutes - normally I like to leave a chilli to stew for hours! I like a pork mince chilli over beef sometimes (or you can always mix them) and especially if you use mince with a high-fat content, the flavour and juiciness is insane.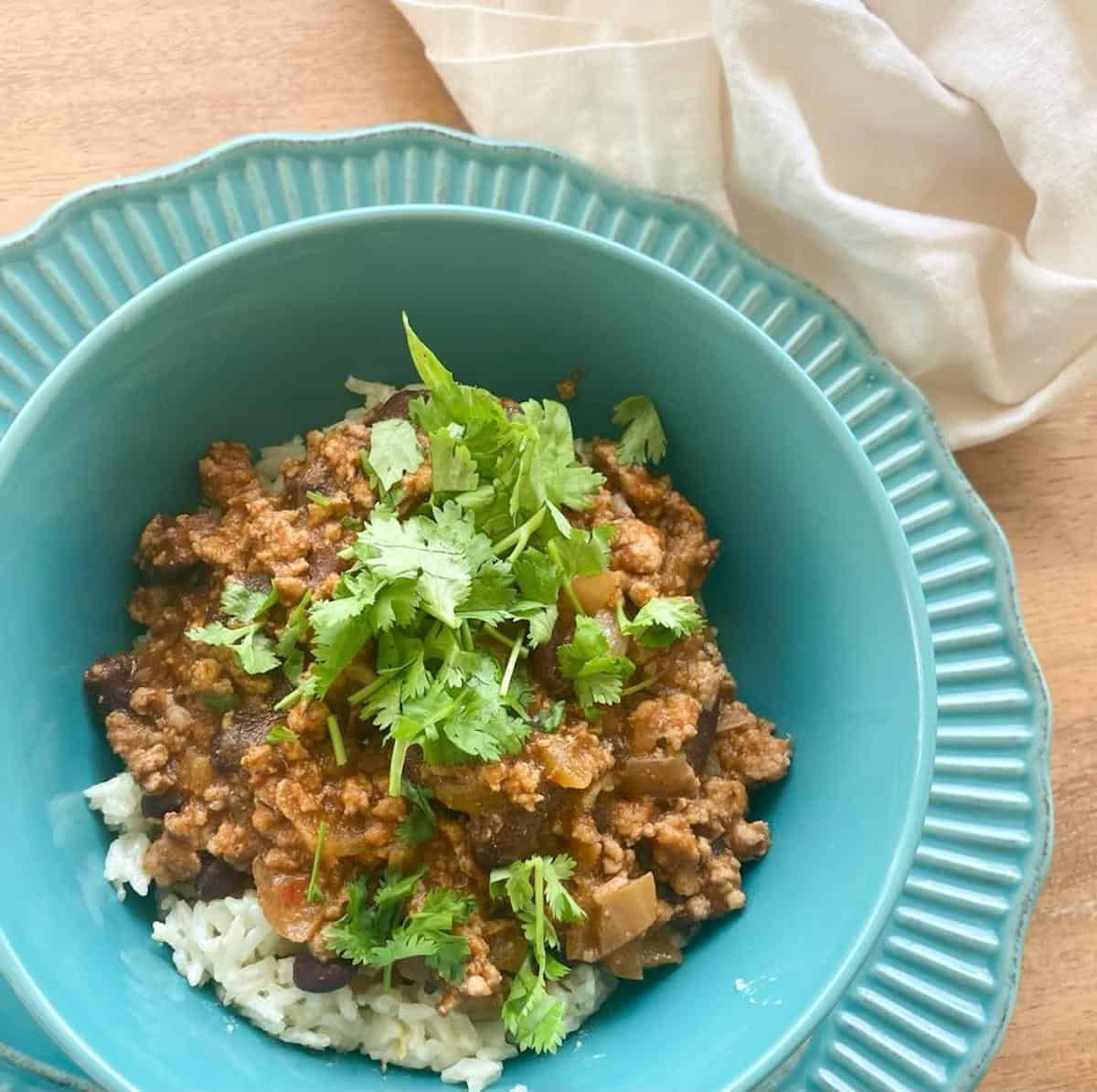 I served my pork mince chilli with the Belizean style coconut rice I have also become obsessed with making. Cooking rice Belizean style in coconut milk with a pinch of dried thyme and coriander stalk gives it this comforting, aromatic and completely delicious taste and it makes the whole thing come together beautifully. Adding thyme to your coconut rice may seem odd but trust me, it's an incredible flavour combo. By the way, if you're looking for a good rice and beans recipe, try mine here.
Anyway, without further ado, a quick and easy recipe for pork chilli...
Jump to Recipe
Ingredients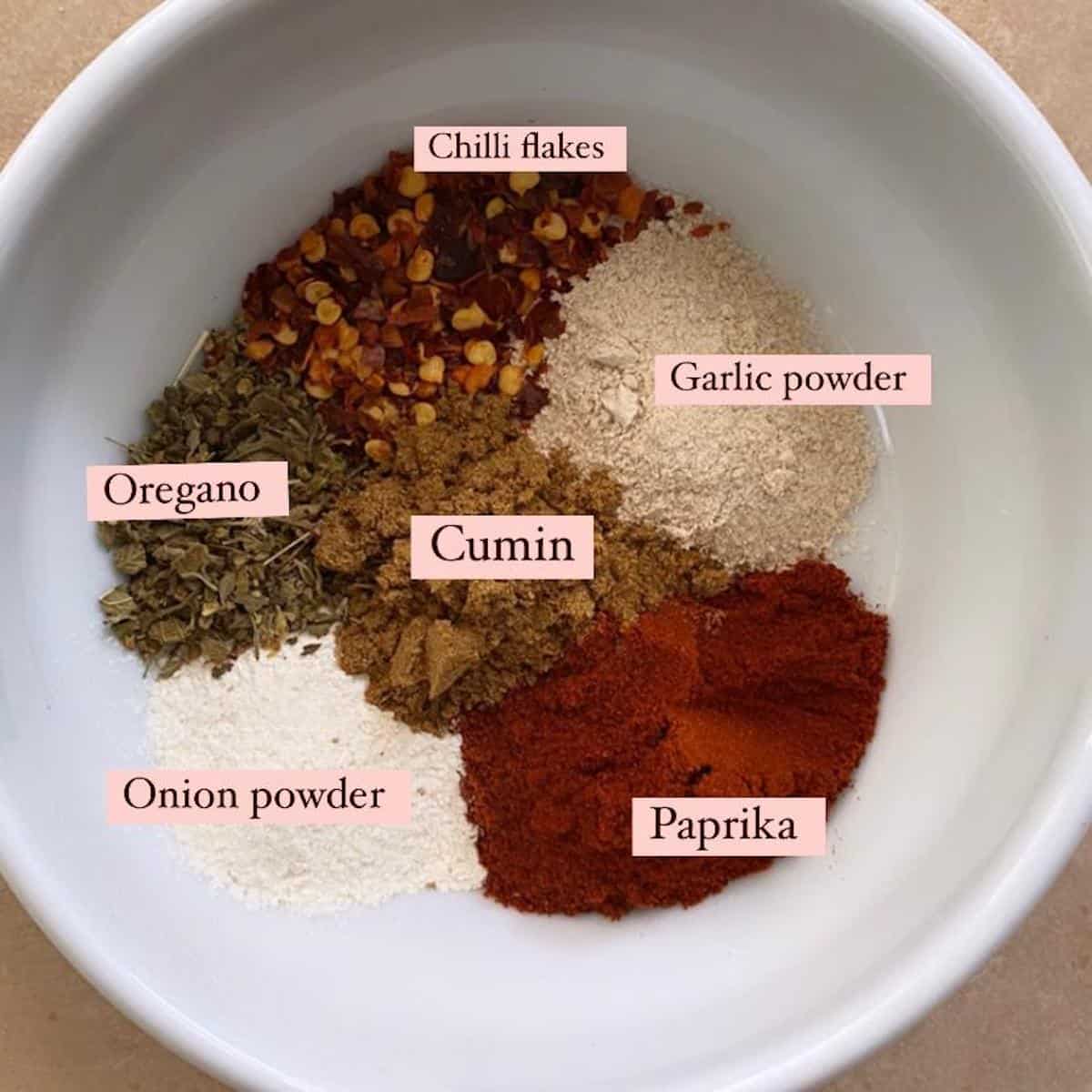 Pork mince
White onion
Kidney beans
Tomato puree
Chicken stock cube or bouillon
Cumin
Garlic powder
Onion powder
Chilli flakes
Dried oregano
Paprika
See the recipe card for quantities.
Instructions
Dice the onion and fry in neutral oil (like canola) until softened and then add the pork mince.
Allow to brown before adding the seasoning and then the kidney beans.
Stir through until fragrant and then add the tomato purée, bouillon and water.
Bring to the boil before turning down the heat and allowing the simmer and cook off some of the liquid for around 45 minutes to an hour.
Meanwhile, if you are serving this pork chilli con carne with rice, prep and make this now.
Spoon the juicy pork mince chilli into bowls and garnish with some fresh lime juice and chopped coriander leaves.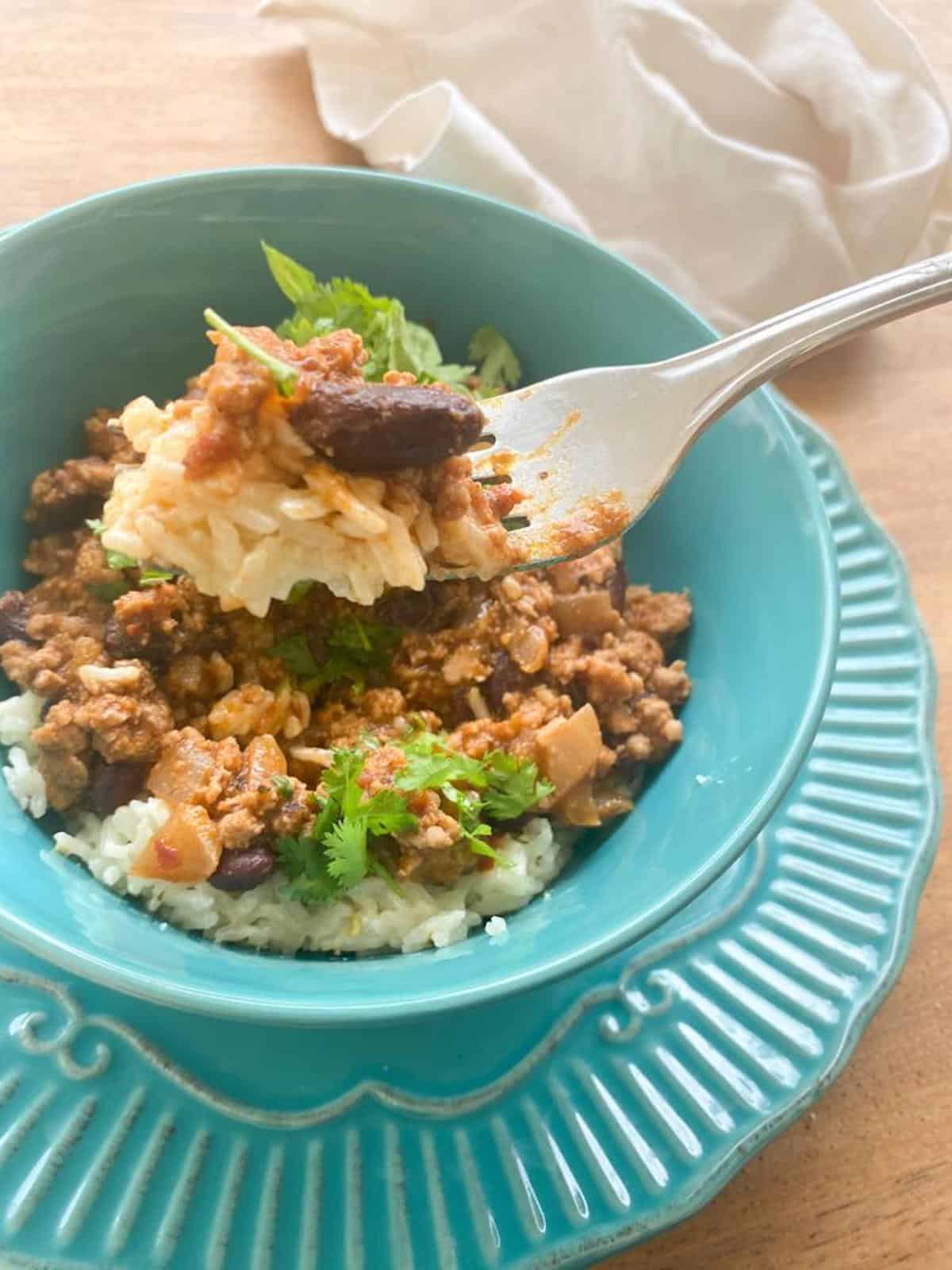 Substitutions
Here are a few ways you can change this pork mince chilli up to make it suit you:
Meat - If you don't eat pork, try this recipe with beef mince.
Rice - Trying to cut carbs? Try cauliflower rice.
Vegan - Don't eat meat? Try this with sunflower seed or quorn mince!
Also, add as much spice as you like, or douse in Marie Sharps Belizean hot sauce to add even more of a kick!
Equipment
As always I use my Le Creuset casserole pot whenever I make anything, they are pricey but they last forever. My parents still use their Le Creuset they were given as wedding gifts in 1975. Think of that in terms of cost per use...
They become a part of your family. Plus, they come in such fun colours.
Storage
Store the pork chilli in the fridge if you have any leftovers and consume within a few days.
You could freeze this pork chilli and consume it within a month.
Top tip
The biggest tip I can give you is to visit Belize yourself to try their food first hand! There are so many fun things to do, you will have the best time and I could not love this country more. Read this blog post to see just some of the activities (other than eating) on offer.
Where is pork mince or ground pork from?
Ground pork is usually from the shoulder of the pig. It makes great burgers or meatballs as it is so juicy.
Can I make my own minced pork?
Yes, you can make your own ground pork by adding pieces of pork shoulder to a food processor! Just make sure anything you add to a food processor is boneless and skinless.
Can I use lean pork mince?
Yes of course. I prefer to use ground pork with a higher fat percentage for this recipe as it makes it ultra juicy, but you can use lean pork mince if you prefer.
Recipe Card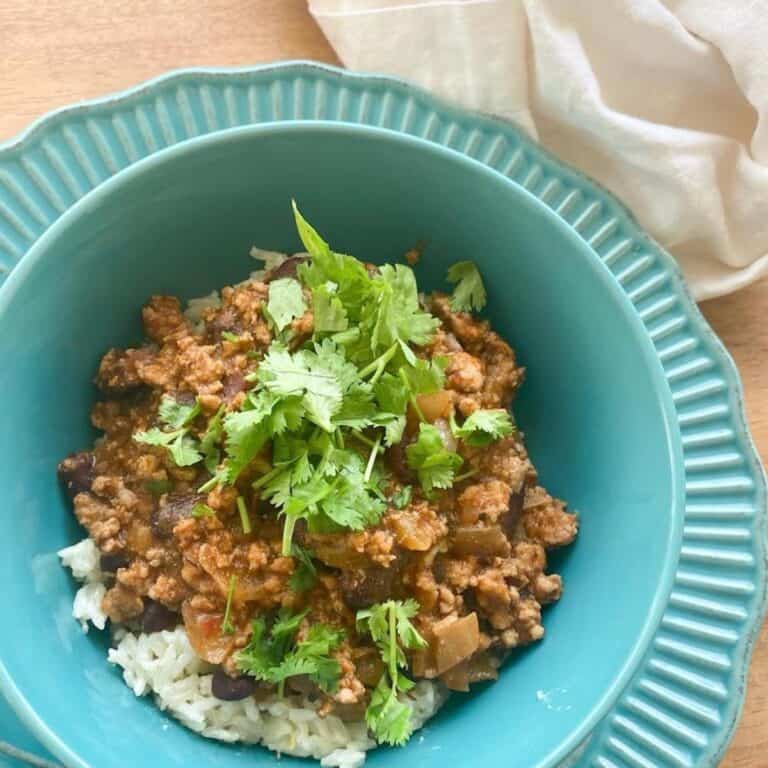 Pork Chilli Con Carne
A juicy pork mince chilli that will warm your bones.
Equipment
Casserole pot or dutch oven
Ingredients
¼

teaspoon

dried oregano⁠

¼

teaspoon

paprika

¼

teaspoon

garlic powder

¼

teaspoon

onion powder

¼

teaspoon

chilli flakes

¼

teaspoon

cumin

300

grams

pork mince

at least 10% fat

1

white onion

250

grams

kidney beans

(one can)

4

tablespoon

tomato puree

230

ml

water

1

tablespoon

chicken bouillon

1

tablespoon

coconut oil

1

tablespoon

coriander

½

lime
Instructions
Heat the oil and fry the diced onion until softened.

Add the pork mince and once it is just about browned, stir through the spices.

Add the kidney beans and allow them to warm through.

Stir in the tomato paste and stock.

Bring to the boil before turning down the heat and simmering to allow the liquid to cook off and flavours to combine.

Leave to simmer for 45 minutes before turning off the heat and allow the pork chilli to stand for 5 minutes, then serve garnished with fresh coriander and a squeeze of lime.
Nutrition
Calories:
219
kcal
Carbohydrates:
13
g
Protein:
13
g
Fat:
13
g
Saturated Fat:
6
g
Polyunsaturated Fat:
1
g
Monounsaturated Fat:
5
g
Cholesterol:
36
mg
Sodium:
46
mg
Potassium:
397
mg
Fiber:
4
g
Sugar:
2
g
Vitamin A:
98
IU
Vitamin C:
5
mg
Calcium:
29
mg
Iron:
2
mg