I have just returned from a week in California, and it's a very interesting time to travel right now! Even during the few days that I was there, the situation with Coronavirus (COVID-19) has changed rapidly and if my trip had been planned just a few weeks later, I'm not sure I would have been able to go. So I'm feeling very lucky right now! My heart goes out to anyone affected and I'm keeping a beady eye on the WHO website for updates that aren't being inflamed by the media.
California is my happy place for a number of reasons, firstly it is where my boyfriend lives so that's an easy number 1. The next reason is the food. It's such a foodie destination and the Bay Area is stuffed full of incredible places to eat.
The light isn't bad either...it's known as The Golden State for a reason and every time I go I am reminded why. Everything just looks better! This time I was in San Francisco and Tomales Bay State Park which is just over the Golden Gate Bridge in Marin County.
We went to Tonys Seafood for lunch one day and that was a FIND. Part of the Hog Island Oyster Co, you can get some delicious bites to eat whilst gazing out over the water. They have an outdoor deck as well as indoor dining and the location could not be more idyllic.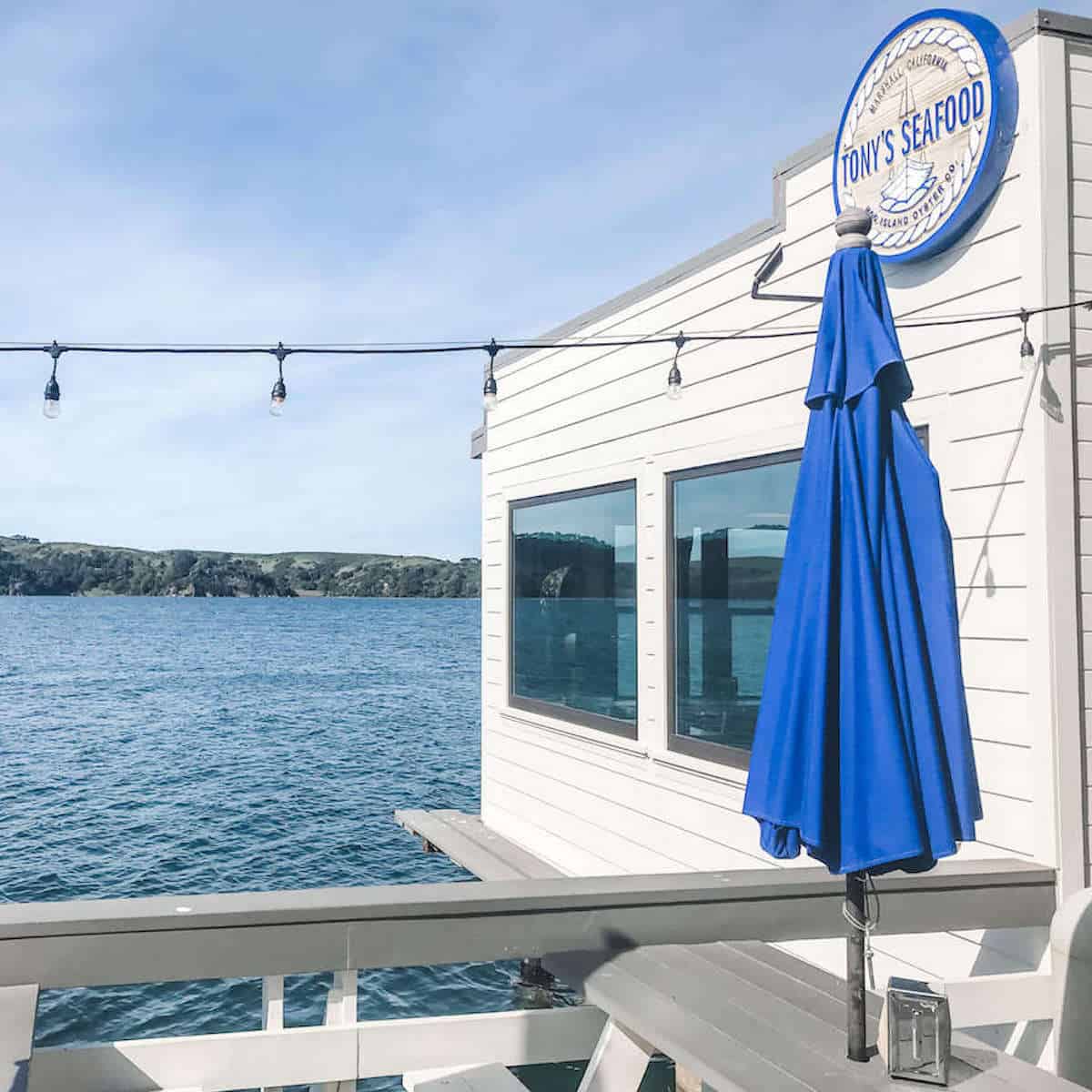 Situated right on Tomales Bay, Tony's Seafood couldn't have a better spot. It sits right on the water and serves the fresh catch from the local area including oysters and clams, which make its famous clam chowder. I had a Nashville Hot Fish sandwich which was 2 enormous chunks of fish deep fried in the crispiest batter and served with pickles and spiced coleslaw in a brioche bun, washed down with an Arnold Palmer. My other half had the clam chowder and it was the dreamiest, creamiest thing I've ever tasted. We shared the fries or I would have had to get towed back across the bay, it was so much food!
Note the oyster shells inlaid in the countertop, such a cool design feature.
Tomales Bay has fast become one of my new favourite spots to visit when across the pond. Only an hour's drive from San Francisco, it feels so remote and peaceful and you can also go to Point Reyes seafront and see some sleeping elephant seals if you're lucky.
We stayed in a wood cabin up in the trees and the view early in the mornings was out of this world.
As I flew home (on a flight that contained someone who might have coronavirus...so I then had to self-isolate) the view over the city was incredible. Little did I know that once back in the UK I'd then be trapped there and unable to return to the USA for months and months. I even wrote about it for a couple of UK magazines, Glamour and Refinery 29.