Cake. Hearing the word is to imagine sweet crumbs on the tongue, and as you read this, you will now be thinking about a slice of your favourite flavour. My current fave is white chocolate and pistachio and I do have a serious penchant for buttercream icing on pretty much anything. But then there are wedding cakes, an entirely different breed. Towering creations impossibly stacked one on top of the other, the centrepiece of the room waiting to be carved up by a happy couple watched by cheering crowds. Have you ever looked at a larger than life, elaborate wedding cake and thought, how in the hell does that even happen? Are you a bride or groom to be searching for inspiration? Or are you (like me) just obsessed with creativity and beauty and style in all its forms and love looking at it and learning how it works?

I came across Butter & Bodoni on Instagram. The beauty of these confectionery creations struck me; it was as if someone had designed the most aesthetically pleasing cake possible and then magicked it into a perfect reality. I was fascinated to learn more about the process of creating these mouthwatering masterpieces and the woman behind them. I found out that the owner of Butter & Bodoni, Lauren Rand, started as a graphic designer before following her heart into the kitchen and setting up her own cake business. I am a huge fan of anyone who strikes out on their own and goes after the dream, so I reached out to Lauren to chat about her new career, her inspirations and her story. Read on to find out what I discovered.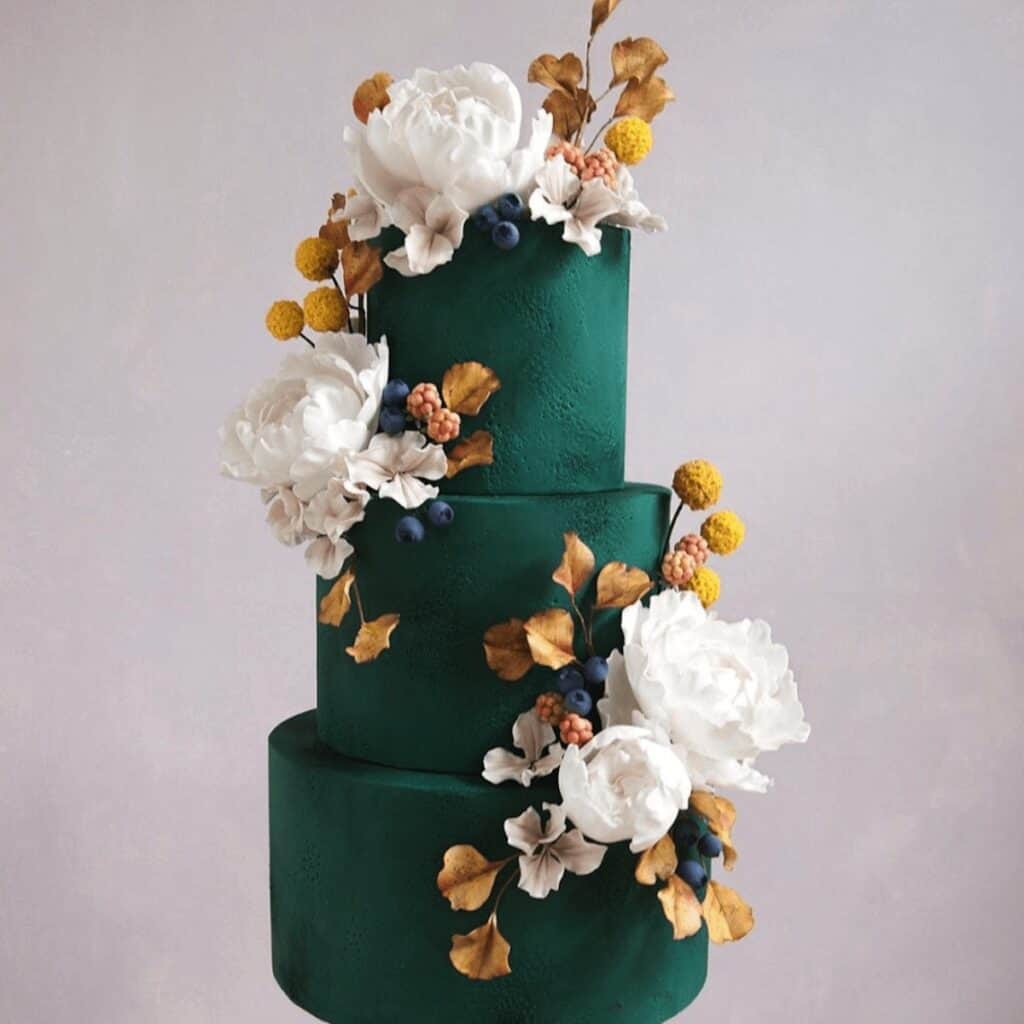 All images in this article are copyright Lauren Rand/Butter & Bodoni.

Hi, tell us a bit about you! What do you do?
Hi there, my name is Lauren, and I am the founder of Butter & Bodoni, a bespoke cake and confectionery studio based in Edinburgh, Scotland. I specialise in creating design-led cakes and confections for weddings and celebrations. With a 10-year career in graphic design behind me, I approach cake through the lens of a designer and enjoy working with modern, creative couples who are looking to push the boundaries of traditional cake design.

How did you find this career, or did it see you?
I've always loved baking and making treats for friends and family. I was making cakes for people long before I ever considered this a career. My background is in graphic design, and baking was always a hobby. I loved bringing cupcakes into the office to share and making cakes for friends and colleagues. As I delved deeper into the sugar arts, I found a whole new outlet for my creativity. It wasn't long before I knew I wanted to pursue it professionally, so I decided to retrain and went back to school for confectionery arts in Toronto, Canada. After a few years of maintaining my day job and making cakes on the side, I finally went full time with Butter & Bodoni in November 2019. I focused my energies on creating a portfolio of cake designs that represent my passion and my brand.

When you went full time on Butter & Bodoni, what skills/knowledge/experience did you bring from your old job that now helps you in this one?
I would say that my career in graphic design has helped me immensely in my cake career. Workback schedules are critical when managing a design deadline and are even more crucial when creating a delicious, fresh and complete cake that's delivered on time. As cakes are perishable, you need to know what aspects of the design can be created ahead of time so that the principal elements and the actual cake are made as close as possible to the event date. Also, things like sugar flowers require multiple steps between periods of drying/setting, so you have to plan ahead to know when to create each item. My design background also helps me navigate the complexities of working with clients, providing creative briefs and how to take someone else's idea and inspiration and turn that into an innovative bespoke design. I don't think I could be doing what I am doing now if I hadn't become a designer first.

What's your earliest memory of cake?
My earliest memory of cake is baking with my grandma Kaye. She loved to bake and baked something almost every day. There were always cookies in the kitchen, a cake in the fridge and something in her arms when she came to visit. My favourite memories of her are of me as a young toddler sitting on her countertop, helping her make a cake for dinner. She would let me help measure the ingredients and stir the mixture no matter how big of a mess I was making. And she would always let me lick the bowl and the beaters after the cake was made. My passion for baking and my overwhelming urge to feed the people that I love comes from her.
What inspires your creativity?
I am inspired by colour, pattern and texture. Exciting or odd colour combinations or unique patterns and textures offer a creative challenge to assimilate those ideas into a sugary design. There are plenty of white and blush, and gold designs in the wedding market, and though I do love a clean white cake as much (if not more) than the next person, I love it when a couple wants to inject a bit of colour and visual interest into their wedding day. Travel also really inspires me as well. When I remove myself from my day to day and get out into the world — even if it is just finding a new neighbourhood to explore — it stimulates my creativity and helps me see things differently. For me, the best inspiration for a cake design is something entirely outside the cake or wedding world.

What do you love most about your job?
It's the flowers! I love the intricate detail work of creating sugar flowers, especially when a client challenges me to create a new flower that I've not made before. Some florals can take hours and hours to complete, but I love them!
What are the challenges?
One of the main challenges for me is working solely for myself. I am the baker, designer, delivery driver, admin, social media presence, web designer etc. A one-woman show. I love having my hands in all aspects of the job because I am a bit of a control enthusiast (a better term for a control freak, I think), but it can be challenging to do it all independently.

What do you find is the hardest bit of a cake to do? Icing? Assembly? Decorations? We're intrigued!
Oh, this is a good question! The hardest bit for me is getting the colours just right. If I'm looking to create an autumnal leaf, I'll usually have a particular colour in mind and some swatches on my table to guide me. But I always stress over whether I have the perfect colour, so I'll usually make multiple leaves and dust them in various tones until I feel I have achieved the proper contrast. I obsess over colour and have quite the sugar garden of disused leaves and flowers in my studio.
We'd love to see your sugar garden! What's your favourite cake flavour?
Raffaello. It's an almond sponge with coconut-infused Swiss meringue buttercream and toasted coconut. It's my cake interpretation of the classic Ferraro truffle.

It sounds amazing. What do you do on an average day?
This really depends on the day. Some days are devoted entirely to baking, others entirely to sugar flowers and prep. Each day has its own set of tasks leading up to the event. It means every day is different, which I love!

How do you deal with pressure? Is there a time you've been under a lot, and what did you do?
The cake life may seem quite decadent to most, and it is incredibly rewarding to make a cake for people to celebrate life and love, but it comes with its stresses. Thankfully, I have never dropped or damaged a cake, and I take every precaution when delivering cakes to venues. Sensible shoes, planning the route from my car to the cake stand and getting my car as close as possible to where the cake is going are just a few of the things I do to help me feel more assured on the day of delivery. Delivery is the most stressful aspect of the job. I can relax on my delivery days, but I think that the stressful energy helps me too. I am never complacent, and I expect every disaster. This comes in handy because there are so many moving parts with weddings and many opportunities for disaster to strike. For me, planning for every possible problem is what helps alleviate the stress.

Has disaster ever struck, and how did you deal with it?
Luckily, I've never had a huge disaster to deal with. The closest I've come to any disaster are the times my delivery schedule gets blown due to delays at venues or unforeseen issues. I pad extra time into my schedule, but it's so stressful when I see the time start to disappear. When I started in this business, I learned that I needed to be tougher on my deliveries. There is a way to be polite and friendly with everyone you meet while still knowing that you mean business. At first, I wasn't very comfortable with being demanding, but my clients trusted me to get their cake to their venue on time. Most venues are excellent, but I cannot tell you the number of the hotel staff I've asked for a cake stand or a tablecloth, only to have them never return. I once arrived at a venue at our pre-arranged time only to find the whole place dark and the doors locked. I wasn't thrilled as I was travelling to a few different towns that morning, and my schedule was quite tight and planned around arriving at that venue first. When I came back after my other deliveries, the place was still dark, and the photographer, a few very keen guests and the venue staff were all waiting outside the premises. We all just hung around for almost half an hour before someone arrived who happened to have a key to the front door. I immediately started setting up the cake. As I was setting it up, I heard the venue coordinator ran in, panicked, and tell the staff that the ceremony was starting in an hour, but nothing had been set up. They all started frantically grabbing chairs and floral stands. I thought I was stressed, but I can't imagine setting up a whole ceremony in an hour!
And finally, for fun, if you could design a cake for any person in history, who would it be for and what would it look like?
What a great question! Undoubtedly, I would die to make a cake for Elton John. I'm not even sure I could pick a specific design. Any one of his feathery, glittery, sequined ensembles would be an absolute dream to create in cake! He is a legend!
You can swoon over more of Lauren's incredible cakes and see some BTS of the creation process on her Instagram

A career change is often seen as a total abandonment of one's previous life, an about-turn that starts a new page with a clean slate. But more often than not, skills, knowledge and experience can be plucked from 'before' and taken into the 'after'.
There's also a precious ingredient that you simply cannot get without going down the avenue of time, and that's life experience. It will equip you to deal with pressure and challenges in a new venture and will be the helping hand you need.