If you've read my food and travel blog for a while, you'll know that Cyprus is a favourite foodie destination of mine. I have been going every year since I was 13 years old and I am telling you know, the weather in Cyprus in April is the best. Cyprus is a second home to me, but it can get SO HOT in summer and for a delicate Brit who is used to rain and grey skies, Cyprus in the summer can feel like a trip to the sauna. I always say that the best time to go to Cyprus is in April. The days are warm but not too hot, and the evenings are cool so you can forgo the AC that dries your skin out. You will even need a light jacket or pashmina to toss over your shoulders. In high summer you can be in danger of heatstroke and even the swimming pool isn't a relief as it becomes decidedly bath like. Which, for some, is bliss! If you like your holidays hot hot hot then you'll be in heaven but if you are like me and you overheat easily get flustered and sweaty...April is the best month to go to Cyprus.
Tucked below Turkey in the blue waters of the Mediterranean Sea, Cyprus is a beautiful place to go and there is so much to see and do (check out my post all about Paphos here). In April, the wildflowers are out and the landscape is still lush and green. There are meadows of green grass and delicate flowers as far as the eye can see, and whilst the skies are still blue and the sun is shining, it isn't blisteringly hot. It's quieter, more laid back and whilst it has more of a buzz in high summer, the weather in Cyprus in April makes it my favourite time to book a holiday.
Where is Cyprus?
Cyprus is in the Mediterranean Sea, located west of Syria below Turkey. It is an island, split in two. The northern part of Cyprus is occupied by Turkey and is known as the Turkish Republic of Northern Cyprus. The southern part, known as the Republic of Cyprus is where I have spent many holidays over the last 24 years.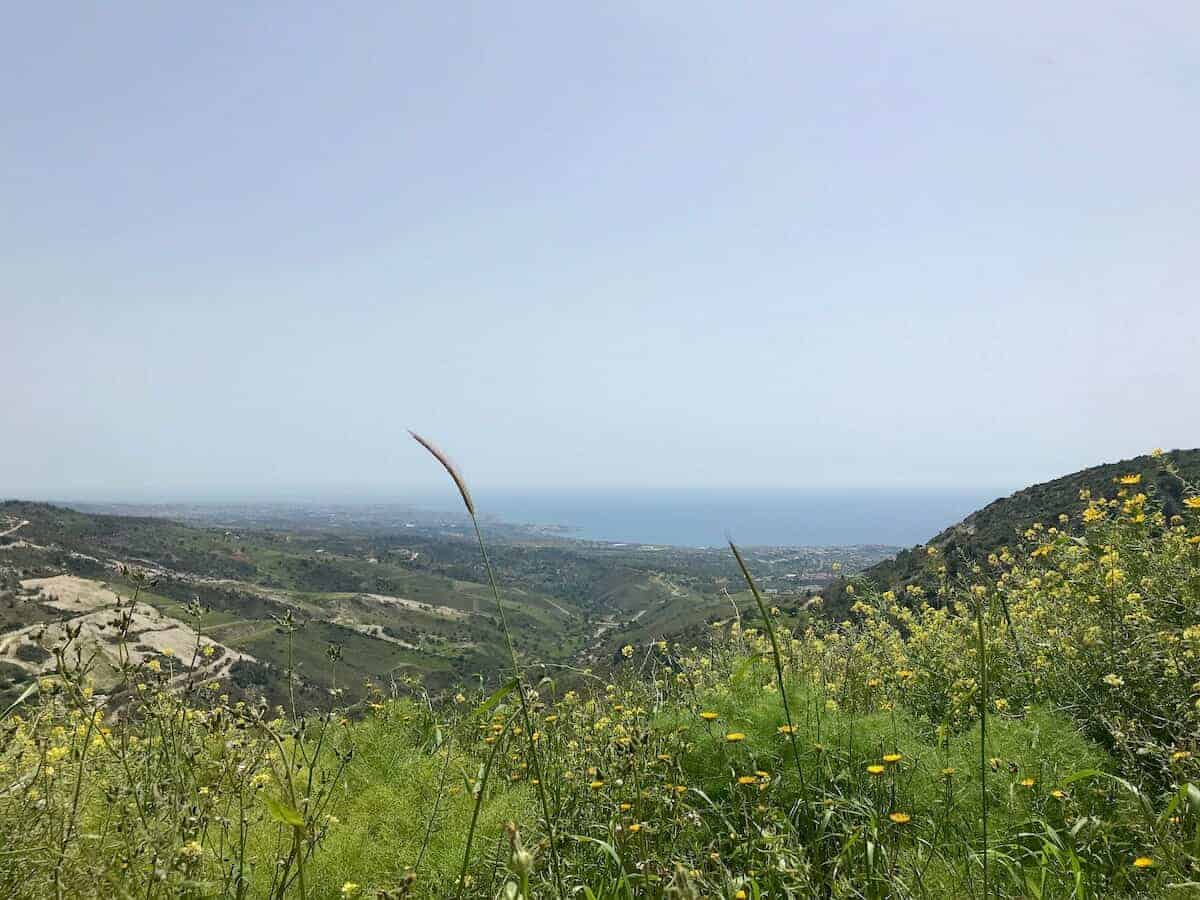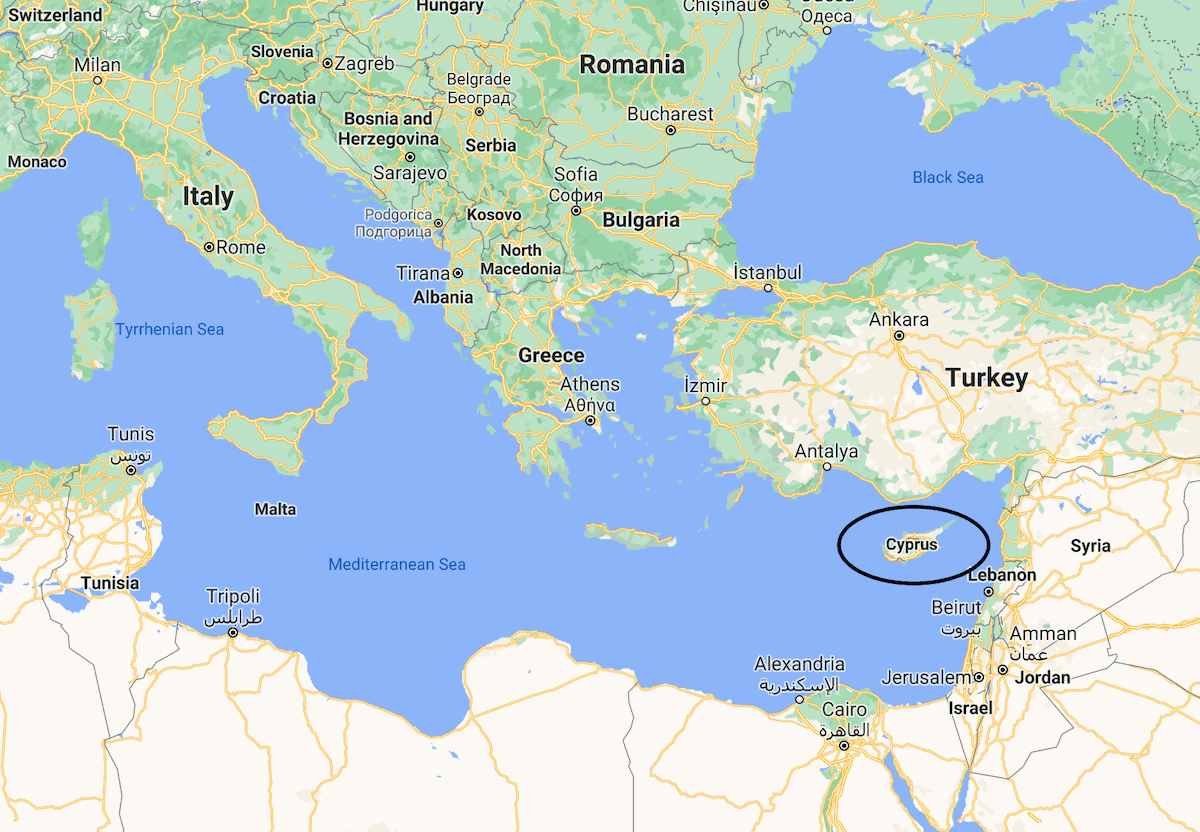 Temperature in Cyprus
The temperature in Cyprus varies wildly. It is the hottest island in the Mediterranean, with peak summer temperatures hitting an average of 37 degrees Celsius. It starts to really gather momentum from May onwards, and by August, it can feel hotter than the sun. In August 2020, a temperature of 45.6 degrees Celsius was recorded in Nicosia! The landscape withers, looking arid and dry, and forest fires are common. Does it snow in Cyprus? Yes! The winters are then cold with a lot of rain, wind and sometimes even snow. It's hard to reconcile that with the blisteringly hot summer sun, but it's true. You can get some warm days in the winter months, but it is unpredictable.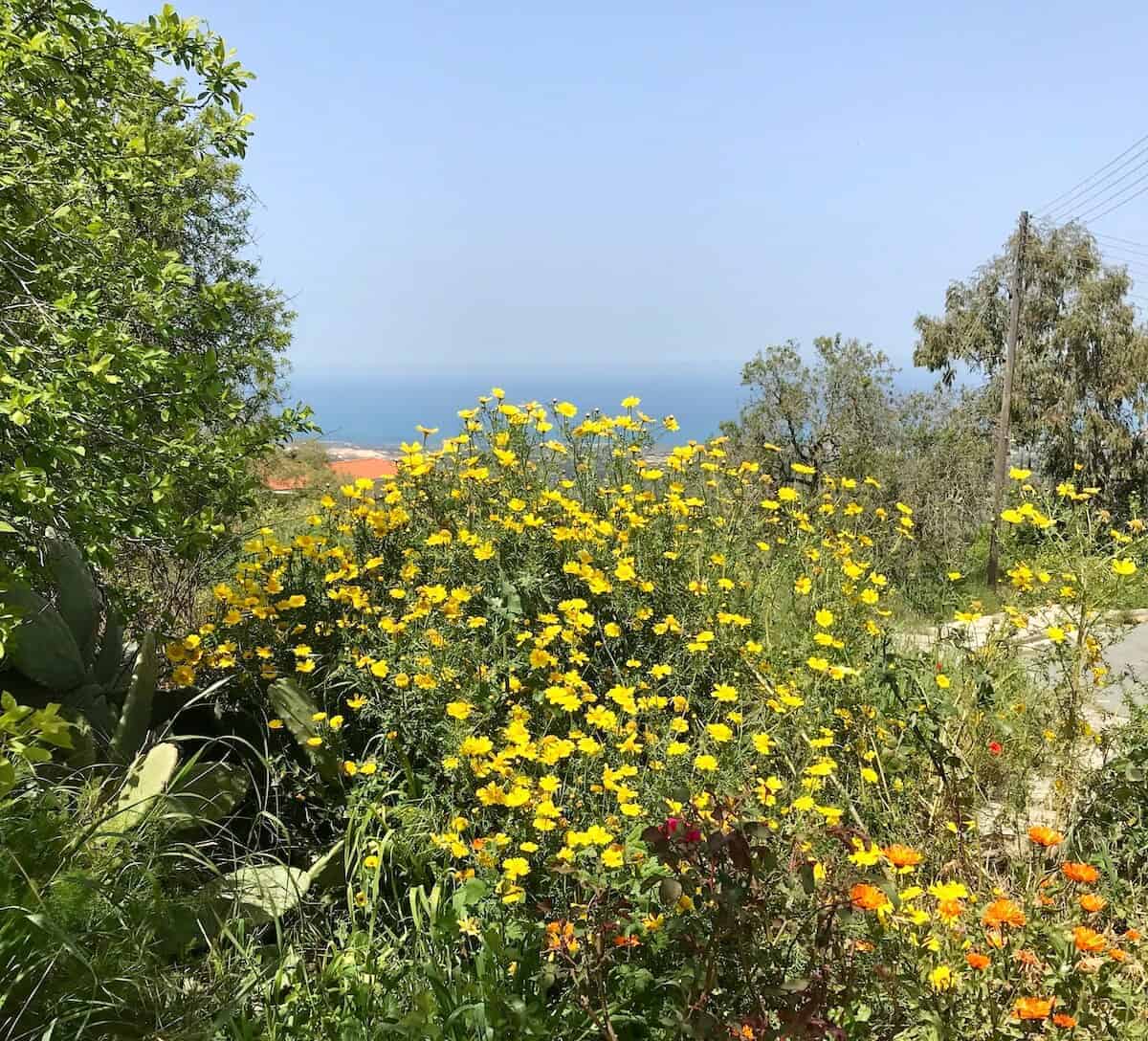 Cyprus weather in April
Cyprus weather in April is the best, in my opinion. Temperatures sit at around 23-28 degrees Celsius during the day, and then the evenings are cool. You'll need to layer. Outdoors, Spring is in bloom, and wildflower meadows spread across the land and make for a stunning sight, and it is well worth driving into the hills to see them. Oranges and Lemons grow on the trees, the sea is warm, and there are far fewer tourists. It is, quite simply, bliss.
This is me swimming in Fontana Bay, also known as the Blue Lagoon (can you guess why?). It is only accessible by boat (or you must not care about your vehicle's suspension), and it is a beautiful place to spend some time. It does get jam-packed in the high summer months, though, hence why visiting Cyprus in April is a good idea. We hire a boat from Latchi Watersports and take it around the coast with some Cyrpriot goodies in a picnic basket like a feta salad and snorkelling gear. Look out for sea turtles!
For more information on Cyprus, check out their tourism website here. Fancy trying some Cyrptiot food whilst still at home? I love an authentic Pastitsio.