Cyprus is a second home to me, I have been going to Paphos every year since I was 13 years old and by popular request, here is my personal list of 5 things to do in and around Paphos. These are the places I go back to again and again, where I take my friends if they come out for the first time and the places I feel show off the island at its very best.
First things first, I would recommend hiring a car because there are a lot of things to do in Paphos but even more within a 30-40 minute drive and it is well worth going to see them whilst you are in Cyprus. True to form, my list involves a lot of food and drink but if you're anything like me, that's a huge part of why you travel so it makes sense! Traveling and food go hand in hand in my family, I grew up exploring the world bite by bite and world cuisine is a huge inspiration to me as a chef. The food in Cyprus is delicious, I promise you'll love it!
1. Marvel at The Tombs of the Kings
The Tomb of the Kings is one of the biggest tourist attractions in Paphos. It's a UNESCO World Heritage Site and some of the tombs date back to the 4th Century BC. It only costs €2.50 and you can get the bus from Paphos Harbour if you don't have a hire car, or a local taxi will take you. There are seven excavated tombs to wander around, and it will give you an enormous sense of history. It won't take you that long, I'd allow an hour.
If you're wondering when to go to Cyprus, I will always vote for April when the weather is best. The sun is shining, the wildflowers are out and it's the sort of temperature where you can actually do things without the risk of heatstroke, like wander around hot and stuffy tombs. If you visit Cyprus in high summer, do things like this as early in the day as possible.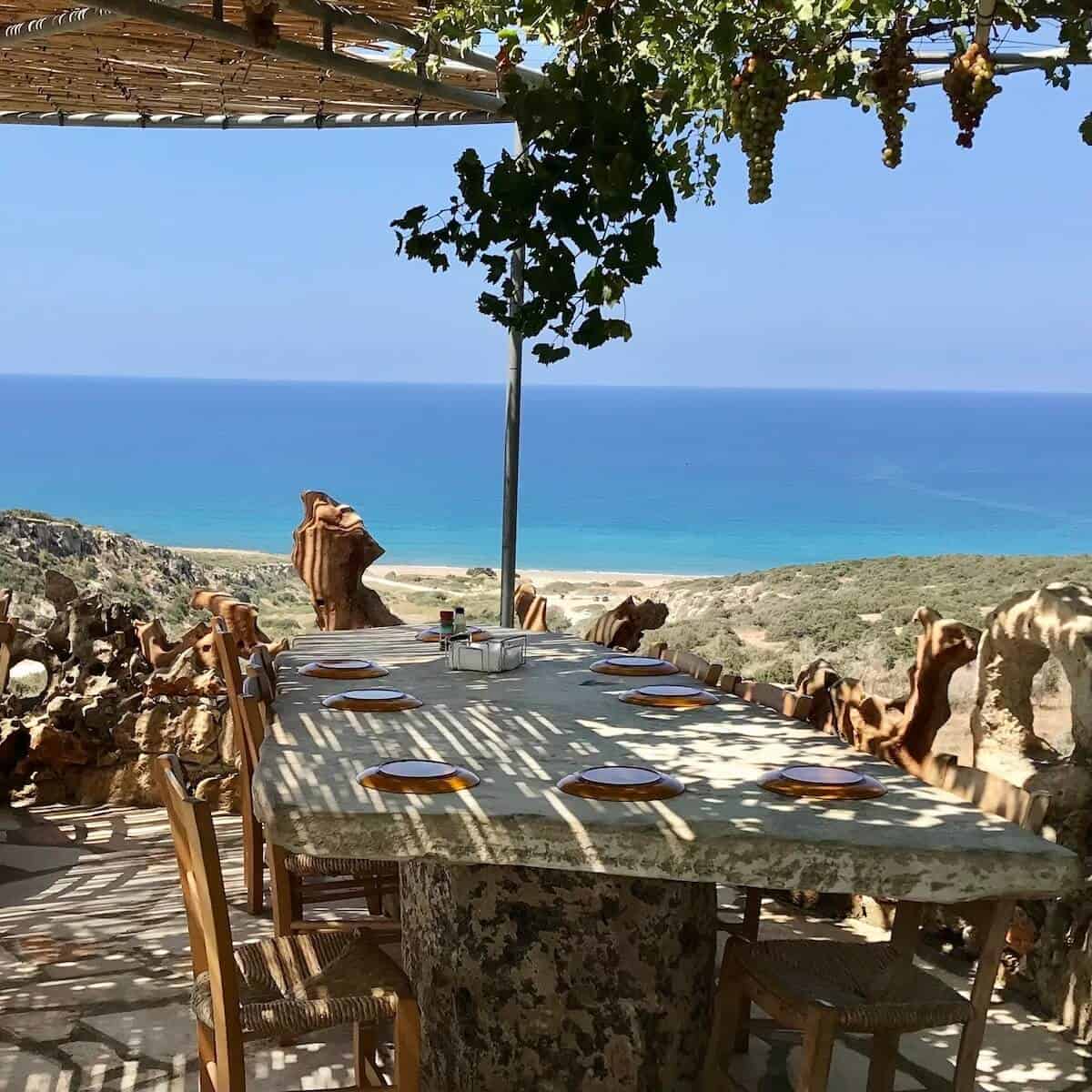 2. Eat at Viklari The Last Castle
This restaurant is perched on top of a cliff in a nature reserve overlooking the ocean and is only open during the day for lunch from April until October. I'd recommend it to anyone, it's my favourite restaurant on the planet, honestly. Zacharoula and her family serve a small but perfectly crafted menu of slow-cooked BBQ chicken and pork, enormous chunky potato chips and fresh salad. There is also a bean stew they can make for any vegetarians/vegans and will do fish if requested in advance. You'll sit under a canopy of vines and stare out to sea, and smell the best smells in the world as you wait for your food. I would definitely recommend booking in advance as they get very busy especially at weekends, and get there as early as you can as well, we always book our table for 12 pm. To contact Viklari The Last Castle, call their phone number on +357 26 991088.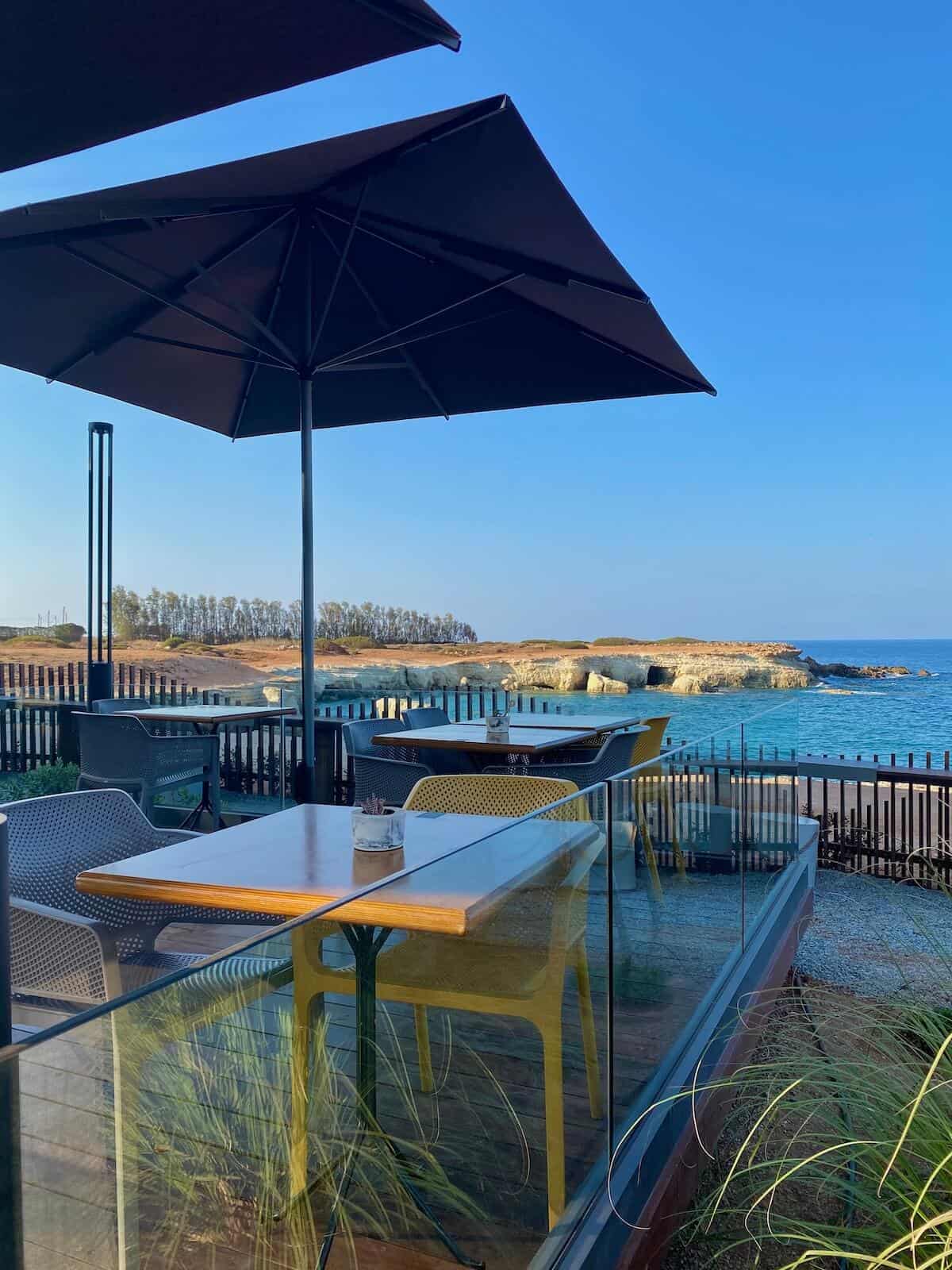 3. Enjoy a cocktail at Oniro Beach Bar
Coral Bay is also a nice place to stay near Paphos. It is much smaller but has some hotels and villas to rent as well as Coral Bay Beach and several cool things to see like the Edro III shipwreck which is conveniently located next to a really cool beach bar (or rather, the beach bar is conveniently located next to the shipwreck). Oniro Beach Bar is chic and perfectly positioned to enjoy a sundowner.
They also serve food and only take reservations if you are eating. Get there early to bag the best spots with uninterrupted views of the sunset.
To give you a taste of the view you'll get, I took some footage of the Edro III shipwreck with my drone. Stunning isn't it?
4. Swim in the Blue Lagoon
A hop, skip and a drive over the mountains brings you to the fishing village of Latchi, on the Northside of the island. From here, hire a boat from Latchi Watersports (you will need a drivers license) and turn left out of the marina, and zip along the water for 20-30 minutes until you reach the unimaginably beautiful Blue Lagoon. You simply won't believe how blue the water is, it is simply stunning.
The boats are hired out in 4-hour blocks for either the morning or the afternoon. I would recommend taking the early morning slot, and going from 8 am or 9 am until lunchtime. The Blue Lagoon gets busier throughout the day (especially at weekends and during school holidays) and this way you will get it almost all to yourselves for a precious couple of hours before people start arriving. There are a couple of big tourist boats that go there, but they don't arrive until 11 am hence why we go early. Take a snorkel and explore the reef, it's beautiful. Why not make a picnic to take with you like this peach and feta salad?
Alternatively, you'll get back to Latchi still with time for lunch and there are a lot of really cute restaurants along the marina where you can get a bite to eat. I love going to Nicandros.
5. Have lunch by the harbour in Paphos
In Paphos itself, there are lots of shops, bars and restaurants, but I prefer the ones along the harbour that look over at the castle. This old Byzantine fort has been through quite a lot since its first incarnation, it was destroyed by an earthquake in the 12th century and even spent some time as a prison. Parts of it are half-submerged and it's a real Cyprus landmark. Every September it forms a rather dramatic backdrop to the annual cultural festival, which is well worth going to if you visit Cyprus in Autumn.
If you visit Paphos be sure to let me know! I love going back each year and discovering new places to visit, and seeing the wonderful Cypriot people. The food in Cyprus is also amazing, and I make a lot of it when I get back to remind me of my time there, like this Cypriot Pastitio which is a traditional dish made with pork mince and macaroni. You'll also find food like fresh fish and moussaka, kebabs, halloumi cheese and Greek salad. You should also try a Cyprus coffee after your meal which is made in a very special way but be warned, it's like rocket fuel.
And one final note on the beaches in Cyprus, they are beautiful places to relax and the coastline is full of nooks and crannies to discover. But if you see any metal cages on the sand, it denotes a Sea Turtle nest full of eggs so be sure to stay clear to keep them safe as they are endangered.
Enjoy my precious Cyprus, and send her my love if you go!