Heading to Cornwall? It's a real foodie destination and you don't want to skip the historic coastal town of Penzance. Penzance packs a culinary punch on top of stunning views over St Michael's Mount with menus everywhere featuring freshly caught Cornish crab, local lobster, muscles, hake, Cornish Pasties, fish and chips and more. I spent a few days exploring this charming town and true to form, found out exactly where to find the best places to eat in Penzance.
Penzance restaurants mainly cater to meat and fish eaters and the main fare down in this part of the UK is seafood, freshly caught and straight to the kitchen. So for fish lovers like me, Penzance is a gold mine but all the produce is wonderfully fresh and local. Whilst choices for vegans and vegetarians are more limited, there are options on every menu and all looked delicious and seasonal.
This round-up of my favourite places to eat in Penzance will cover restaurants for lunch and dinner, self-catering options, delis, cafes and takeaways and give you everything you need to plan your trip and make sure you're eating the best way possible. Enjoy!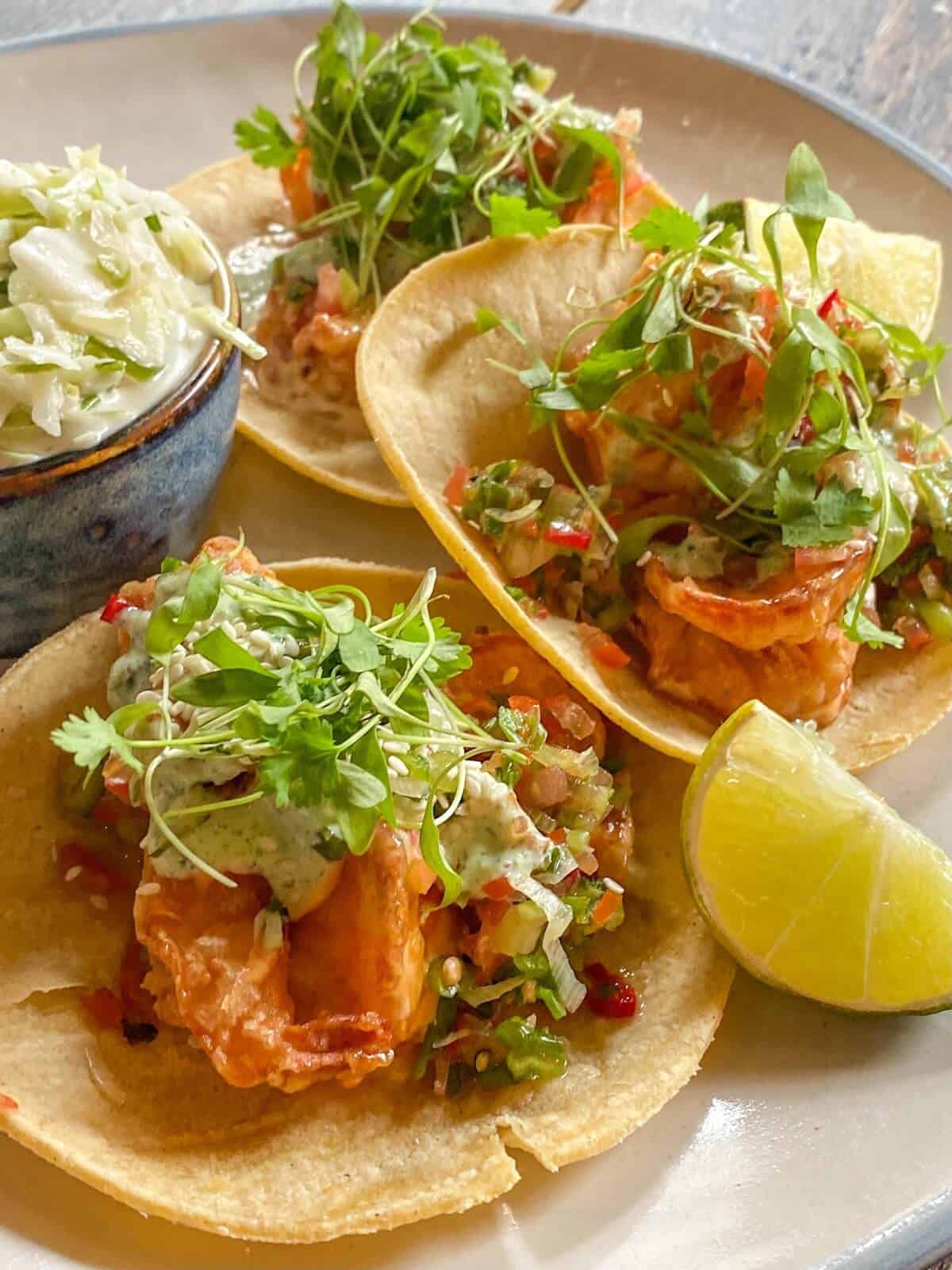 Best for an informal lunch
Try The Cornish Barn at Artist Residence for lunch whilst wandering around the shops and galleries that are in town. It's right in the middle of things on Chapel Street and they serve an array of fresh food, I enjoyed the salt and pepper squid, prawn tacos and the Cornish crab sandwich. The salads are also enormous, you get a lot of bang for your buck!
Alternatively, Mackerel Sky Seafood Bar 5 minutes down the road in Newlyn is famed amongst locals for its fish. It's walk-in only though, so be sure to arrive early.
Where to find the best Fish and Chips
Everyone that I asked unanimously agreed that the best fish and chip takeaway in Penzance is from the Pirate's Rest. If you want to eat in, I loved the fish and chips at The Mexico Inn. Unbelievably crispy and undeniably fresh, they also have a great selection of cocktails.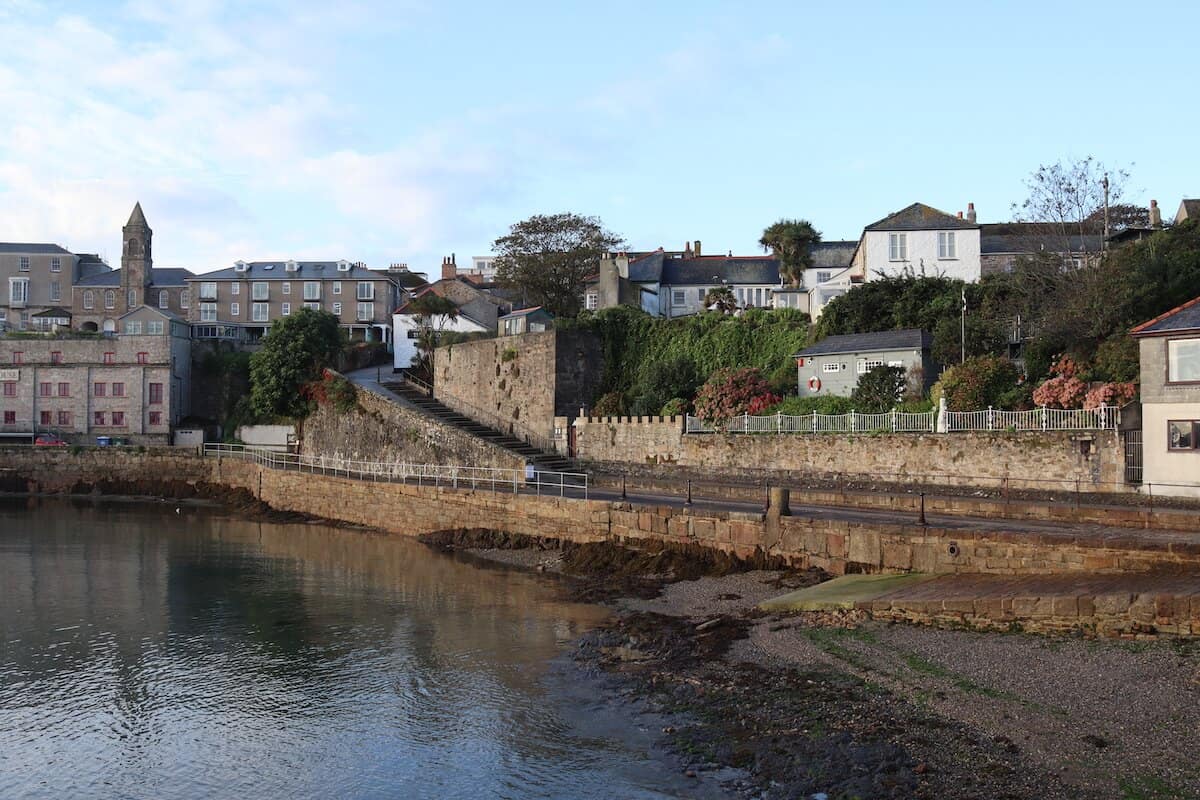 A smarter dinner
If you're looking for Penzance restaurants that make a good venue for date night or smarter dinner, you must try the restaurant at The Old Coastguard Inn which is in Mousehole, Cornwall. It's a 10 minutes taxi from Penzance further along the coast and is perched right on the water's edge. Friendly staff, a great drinks menu and rooms to stay if you also need a place to rest your weary head after a hearty dinner. Their garden rolls straight down to the water and on warm days it's a glorious place to sit.
I enjoyed the hake followed by a perfectly sticky tarte tatin topped with vanilla ice cream, a personal favourite. The manzanilla olives served with our aperitif were unbelievably juicy, get some of those too if you can but beware of ruining your appetite as once you start eating them it is hard to stop.
Tea with a view
The Jubilee Pool Cafe serves up this glorious vista of St Michael's Bay and you can even go for a dip at this art deco lido before grabbing a snack or an ice cream. It's wonderfully retro and an Instagrammer's dream. The geothermal hot pool is a great alternative for those not keen on cold water swimming. Idle in the warm water and have a gossip, or just gaze up at the sky.
If walking is more you're thing, try wandering around Tremenheere Sculpture Gardens which also has a cafe and you can work up an appetite first viewing pieces by James Turell, David Nash and Richard Long. The planting is amazing, at times you will feel as though you are in the jungle. Perched on a hill, Tremenheere also offers incredible views across the bay. It's a perfect place for art lovers and children will also enjoy spotting the artwork nestled amongst the greenery.
Buying fresh seafood
All the places to eat in Penzance revolve mainly around seafood, which makes sense given its location on the coast! A taxi driver I spoke to swims out every morning to catch his own crab and lobster, which isn't a bad way to start the day in my opinion. The fish market at Newlyn sells the catch of the day to the best Penzance restaurants from 4 am each morning, but for those who like to keep more sociable hours, try Stevenson Fishmongers.
The best butcher
The streets of Penzance are filled with shops and galleries and it's a lovely place to meander around. I found a very good butcher, Harvey Brothers Butchers, on my explorations who sell local meat from their own farm in Pendeen and others in Cornwall and the West Country.
Picnic foods and delicatessen
If you go exploring for a day, be sure to pick up some picnic bits like a traditional Cornish Pasty from The Cornish Hen. Fresh sandwiches, salads, sausage rolls and scotch eggs are all on offer to keep you going and they also stock local products like honey, gin and fudge that you can bring home as gifts (or eat on the train home like I did). I especially enjoyed their Cornish Pasty that I scoffed after some wild swimming led by Magda from Mor Swimmy in Penberth Cove. The sea was bracing at first, but after a few minutes of acclimatising it became blissful and I didn't want to get out. Even though I knew this Cornish Pasty was waiting for me...
Where to stay (and get a cracking breakfast)
The Chapel House is a stunning boutique hotel set within a Georgian townhouse filled with an impressive art collection and stylish touches. The six rooms in the main house and two suites across the internal courtyard are exquisitely designed, and guests can enjoy sundowners in the hot tub out in the garden, or in the beautiful drawing-room.
The suites also have kitchens so you can cook up your own feasts with the local produce you have found which is especially handy for someone like me who loves to eat in as much as I love to go out. Suite two is especially well set up for eating in. I would recommend The Chapel House highly to anyone visiting Penzance.
Your host, Susan, makes a phenomenal breakfast spread in the farmhouse kitchen each morning with homemade preserves and warm pastries, and her bacon sandwich is the best I've ever eaten. It set me up for an incredible ebike tour of the Cornwall coast that was an absolutely brilliant day out. Ebike Cornwall arranged a route for us that went through Newlyn and Mousehole which is very picturesque and then up through the fields and over to Penberth Cove. Cycling is a great way to see Cornwall and ebikes make it a lot easier to negotiate the hills!
Penzance town is small enough to walk around too, but local taxi companies are quick and friendly if you want to venture to Newlyn, Mousehole or further afield. Trains go from London Paddington station frequently throughout the day so it is possible to go for a long weekend without driving. Long train and car rides are also a great opportunity for snacks, in my opinion.
Penzance is full of character and is the perfect place for food lovers and art enthusiasts alike, teeming with local artists and delicious eateries. It makes a great place to spend a few days before or after visiting the Scilly Isles and is also close to St Ives if you want to see more of the area. The food in Penzance is definitely what hooked me, although the views and the friendly locals definitely come in close behind. If you have been, let me know in the comments and I'd love your recommendations for other places to eat in Penzance if I missed something (I'll use any excuse to go back).
Love foodie destinations? Try the food in Portugal.