I thought I'd start chronicling some of my chef jobs, and working as a private chef in Provence over the summer was certainly one of my favorites!
People often ask me about being a private chef, what is my day-to-day life like and what I do. It's a lot of hard work, but creating delicious food in a beautiful setting like the south of France is definitely a dream, especially as I can learn so much whilst I'm there and develop new recipes. The fresh produce was amazing, the clients were delightful and all in all, it was such a wonderful way to spend a few weeks in the summer.
Jump to:
A day in the life of a private chef in Provence
My days started early before it gets too hot. The south of France in the summertime can be steamy, and it really pays to get ahead of the heat. I would discuss that day's menu with the client the previous evening and have my shopping list ready, so I quickly set up the breakfast table and then hop in the car to get to the grocery store at 8 am when it opened. At first, it took me a long time to find everything I needed in stores, but once I got the hang of where everything was it was a much faster trip.
Breakfast
On the way back, I'd swing by the boulangerie to pick up pastries for breakfast. We would make overnight oats the previous evening for a few guests, but really the only thing that most people wanted was a freshly baked croissant or pain au chocolat which made life easier for me! I'd also pick up bread for lunch and dinner, a few baguettes and other loaves that looked (and smelled) good that day. The cost of a French baguette is actually a highly contentious issue in France as it is considered such a staple in the country. Changes in price get media attention, it's that major an issue!
Once I got back to the house I'd lay out the breakfast items ready for everyone to wake up and lazily come down. Guests would spend the morning playing tennis, lounging by the pool or they'd perhaps take a slow cycle through the orchards and go into town. I'd have a quick swim and then get on with lunch prep.
Lunch
We kept Mediterranean hours so lunch would be served late. I would always serve 3 dishes with at least one hot option, perhaps an heirloom tomato salad with hot honey and feta with a baked Spanish tortilla omelette, courgette fritters and a trusty French baguette on the side. If it was really hot, I'd make a gazpacho to cool everyone down, I love this cucumber gazpacho, it is so unbelievably refreshing. Sometimes I'd make a dip, or some homemade pineapple habanero hot sauce to go with everything which blew everyone's heads off but they loved it.
Occasionally we'd throw a pool party for lunch, light up the BBQ and eat next to the swimming pool rather than the dining area in the courtyard. I'd make jugs of Frose (rose wine blended with ice and watermelon) and serve dishes like black garlic BBQ chicken and buttered sweetcorn.
After lunch, it was time to relax and I'd read a book by the pool, do some writing work or catch up with some video editing for my social media channels. TikTok especially loved my content at that time, although I did get trolled for not folding salami in the right way which was apparently highly offensive to some.
Cocktail hour
There was a beautiful vantage point in the garden where you could watch the sunset and play Pétanque, and this is where guests had pre-dinner drinks in the evenings. I'd make some simple canapes like this beetroot and walnut hummus or pick some fresh figs from the trees in the garden and make fig and goat cheese crostini drizzled in local honey. Depending on how complex my dinner menu was, I would sometimes join everyone for a quick drink but often had to scamper back to the kitchen. Things were not helped by a little stray kitten who kept trying to sneak into the kitchen, eventually, we got her rehomed with a local friend and she happily lives with that family now. But there was an entertaining interlude where the police showed up to collect her which was rather alarming. A story for another time, perhaps.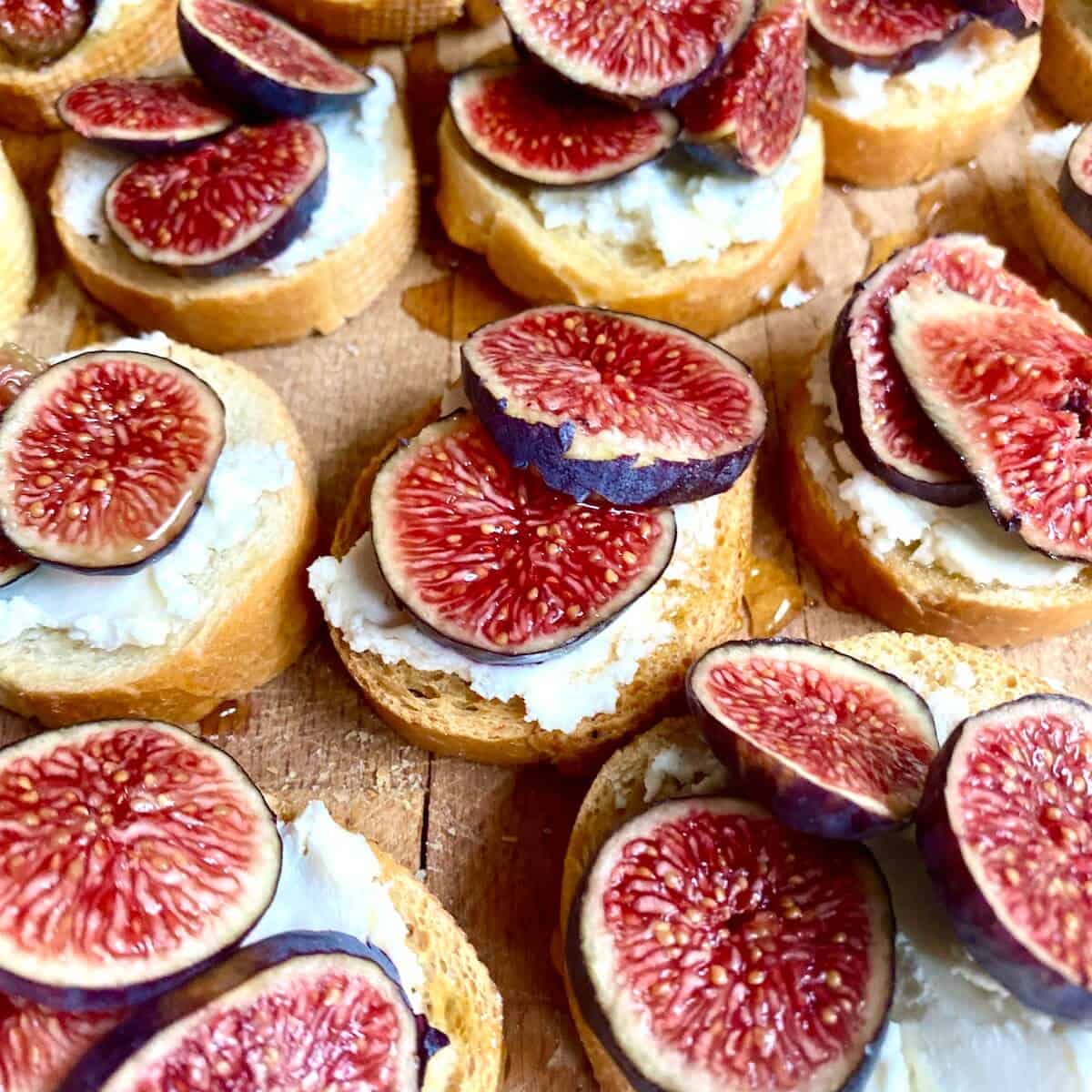 The drink of choice was, of course, locally produced wine from a vineyard near Isle Sur La Sorgue or a simple cocktail. Gin and Tonics also went down well and I even made these vodka greyhound frozen cocktail popsicles once!
Dinner
I served dinner at 9 pm once it was dark and a bit cooler. Dinner was usually just two courses as I'd served canapes during cocktail hour, and sometimes I'd serve dinner family-style with everything on the table and guests help themselves, or I'd plate up in the kitchen and do a more restaurant-style service. I'd make dishes like chicken paella, roast pork loin, or a fresh risotto with mint and prosciutto.
For dessert, everyone loved an Eton Mess with the sweetest most delicious summer berries or prosecco, raspberry and elderflower jelly. Provence was also where this pain au chocolat pudding was created, which works a lot better in winter but it didn't stop us from enjoying it in the summer. Of course, no meal in France is complete without a cheese platter and I kept a healthy supply in the fridge at all times to bring out after meals.
Menu planning
Menu planning is one of my favorite parts of my job. This family and their guests were also real foodies and generally ate anything so I could really stretch my legs and have fun with local produce. We had a notebook in the kitchen where I'd write my ideas and guests could jot down any particular requests or dietary requirements I needed to be aware of.
The number of guests fluctuated throughout the weeks I was there, ranging from 8 to 18, which also dictated my planning somewhat. When cooking for a smaller group I could play around with plating more, and serve in a restaurant style. But when cheffing for 18, it was a case of keeping the high quality whilst bulk cooking in large quantities and that's when we ate more in a family-sharing style. I am a huge fan of edible decor though and had fun using food as a tablescape to make the table as pretty as possible.
Grocery shopping
Certain items were specialities to the area, like cantaloupe melons (and rose wine) and often I'd see things in the grocery store that I couldn't resist like colourful heirloom tomatoes or an amazing new cheese. One strange thing I discovered in le supermarché was that there was one section of fridges with cold meats that were very reasonable in price and one section where they were all astronomically expensive but they all looked the same. I never quite worked out why!
Some meats were more readily available than others too, for example, lamb and beef were extremely expensive, but duck was very well priced as was chicken and pork. However, the cut of chicken was not the same as I was used to in the UK, and I had to be careful to buy the right kind or it was all bones and no meat. Discovering these French grocery shopping quirks were a lot of fun, and as my French is decent but not fluent, google translate was definitely my friend.
Time off
I was lucky in that the family included me in a lot of their trips and excursions, for example to vineyards for wine tastings, or if they decided to go out for a drink before dinner I'd get swept along. We had one particularly enjoyable outing to Ridley Scott's winery, Mas des Infermières which is near Oppède.
There are props, costumes and memorabilia from his films like Alien, Gladiator and House of Gucci all around the tasting room that you can admire whilst sipping on a delicious glass or two.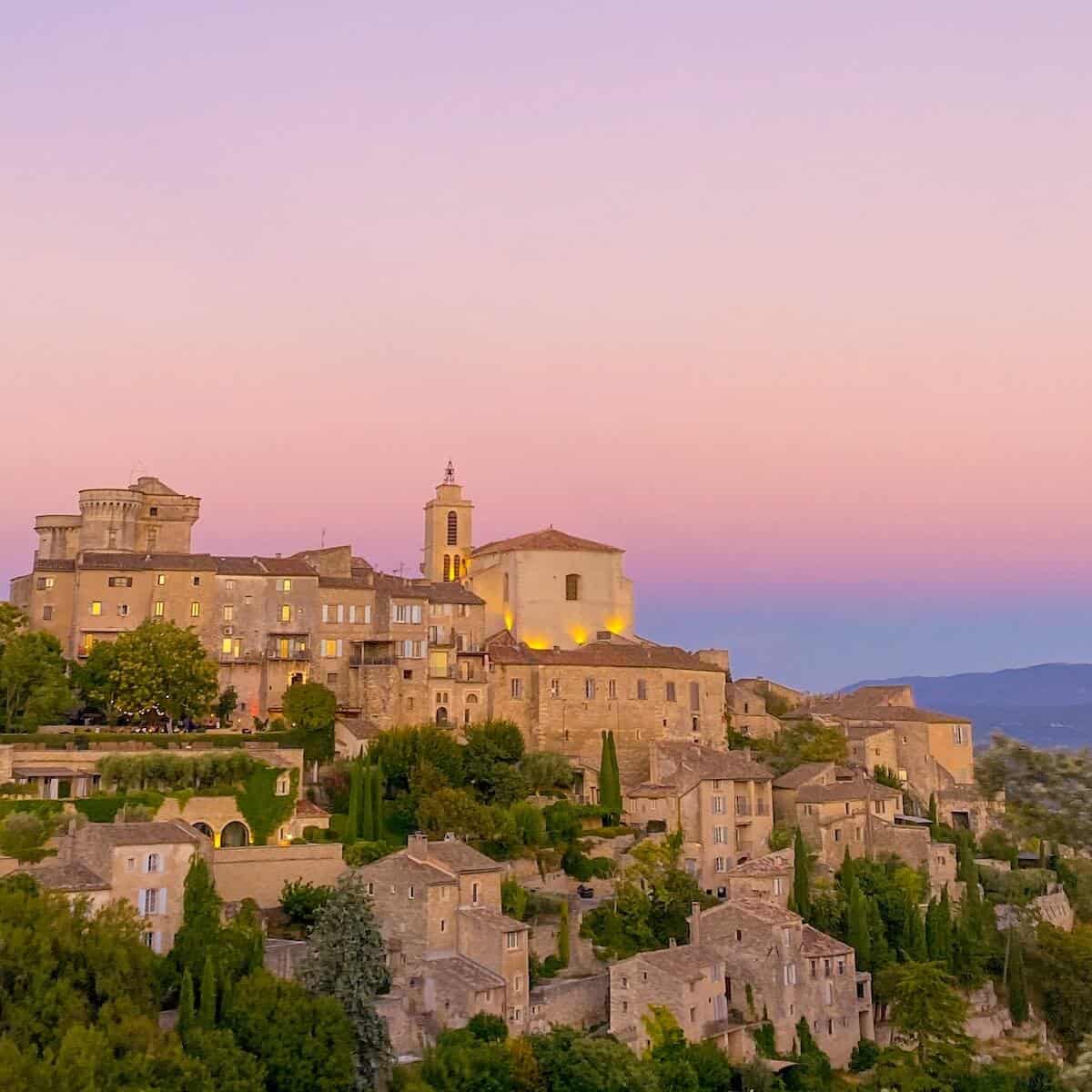 In the evenings we would occasionally go over to one of the nearby villages like Gordes, and enjoy a glass of rose in the square. Gordes is perched on the edges of a hill overlooking the Luberon is simply one of the most beautiful places on earth
Isle-Sur-La-Sorgue market
At weekends I would also borrow a bike and cycle into town for the famous Sunday market in Isle-Sur-La-Sorgue to pick up extra ingredients and things for myself. I got to know several market sellers who cater to other private chefs in the area and this was helpful to me as well! It is advisable to go early, at 9 30 am or 10 am to avoid the crowds which build up very fast. I recommend getting there early, speeding around and then stopping for a coffee and a croissant at Café de France in the main square, watching the bustling world go by.
You can buy local specialities like soaps, lavender and linens. I'd cycle back laden with cheese, herbs, spices and gifts for my friends and family which was hard enough, but packing it all into my suitcase was an ordeal in itself.
What is it like being a private chef in Provence?
I had a wonderful experience private cheffing in the south of France, it is a beautiful part of the world and my clients were a dream. I was fortunate in that they were all adults, catering for children's meal times in addition to grown-ups can be extremely time-consuming, and this meant I got to enjoy my time there a lot more. Working as a holiday private chef is a great way of travelling and seeing the world whilst getting paid, and I'm not sure what can beat that!
Private chef FAQ
How to become a private chef in Provence?
If you are a trained chef like me, you can sign up for job noticeboards or agencies to get notified of clients in search of a private chef. When something comes up, simply apply for the post, giving your experience, references and style.
Why do people hire personal chefs?
Some people don't like to cook, some people don't consider themselves very good at it and some people don't have time! Especially on holiday with a large group of guests, a private chef can give you valuable time to actually relax and enjoy yourself rather than spend all your time in the kitchen.
Are the French rude?
Some will say that the French have a reputation for being rude, but I have always found this to be untrue. In my experience, everyone there likes, and expects, a simple 'bonjour!' before getting down to business and reeling off your order for 17 pain au chocolat and I don't think this is unreasonable at all. So be sure to extend some simple courtesies before asking for what you want!