The sight of buttered sweet corn always makes my mouth water. Charred on the BBQ and smothered in a compound butter that's dripping off the warm kernels...it's enough to make me go weak at the knees. It's one of the best BBQ side dishes and a summer staple in my house.
I look forward to our homegrown sweet corn growing in the garden ripening and reader, possibly on a part with how much I look forward to Christmas. There is nothing quite like the taste of freshly picked sweet corn, it is unbelievably sweet and juicy and it is one of my favourite foods in the world.
I like to cook sweet corn on the BBQ as it gives it that smoky taste and then I'll make a compound butter to smother all over it. Because what can be tastier than buttered sweet corn? Making compound butter is easy, you simply mash it together with your flavours of choice and for this, I used lime juice, allspice, coriander and spring onion.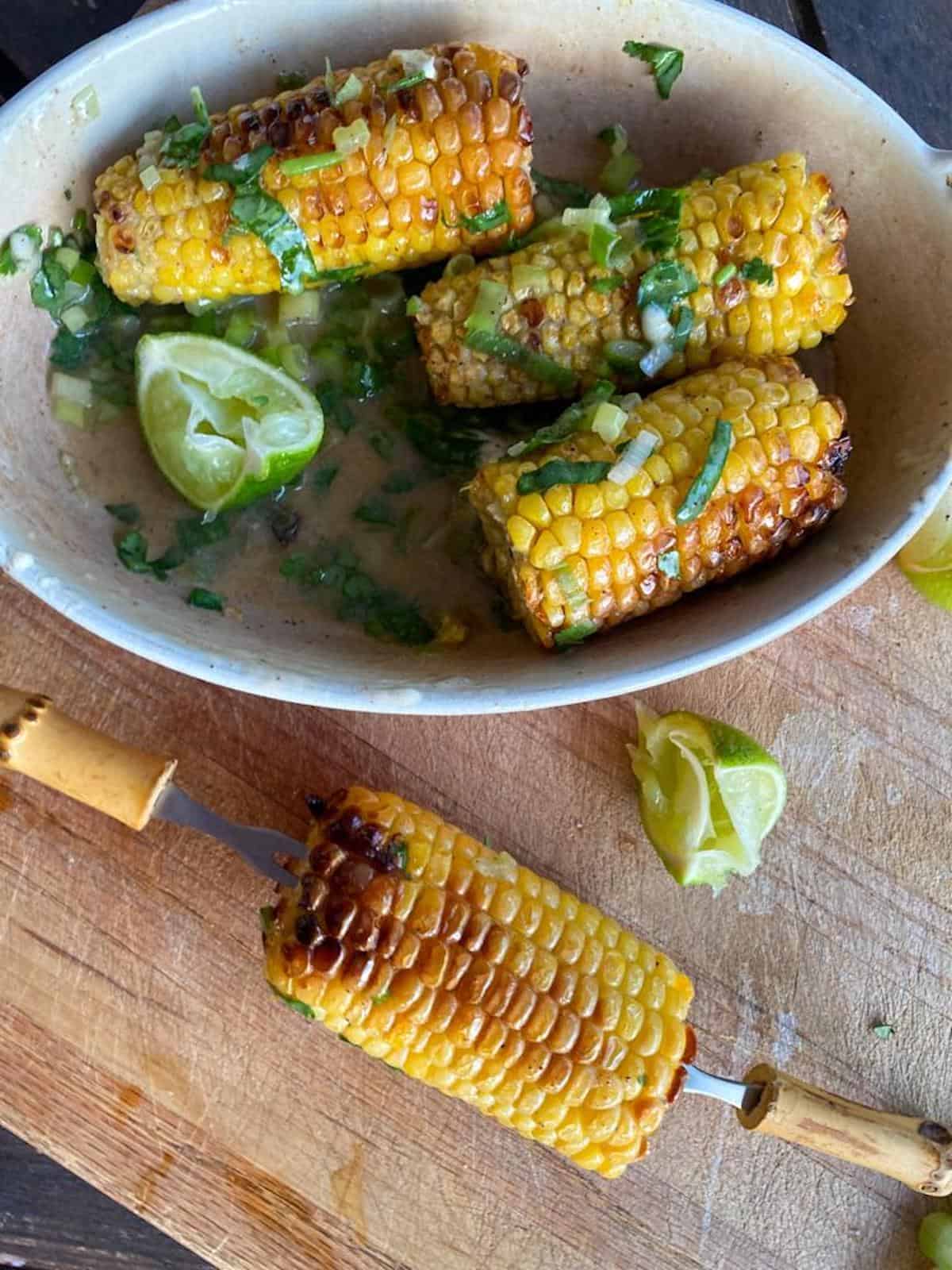 Wondering how to know when sweetcorn is ripe? When you grow sweetcorn in the garden you have to wait for the little tassels that grow out the top of the husk to go completely brown and dried out before you can harvest it. Peel back the green outer leaves and the kernels should all be pale yellow and fully formed and looking plump and juicy. Beware, squirrels love sweetcorn so protect your treasure with a fruit cage or net or you will end up with nothing come harvest time. They also need a lot of water so make sure you keep them watered especially when the weather is hot and sunny.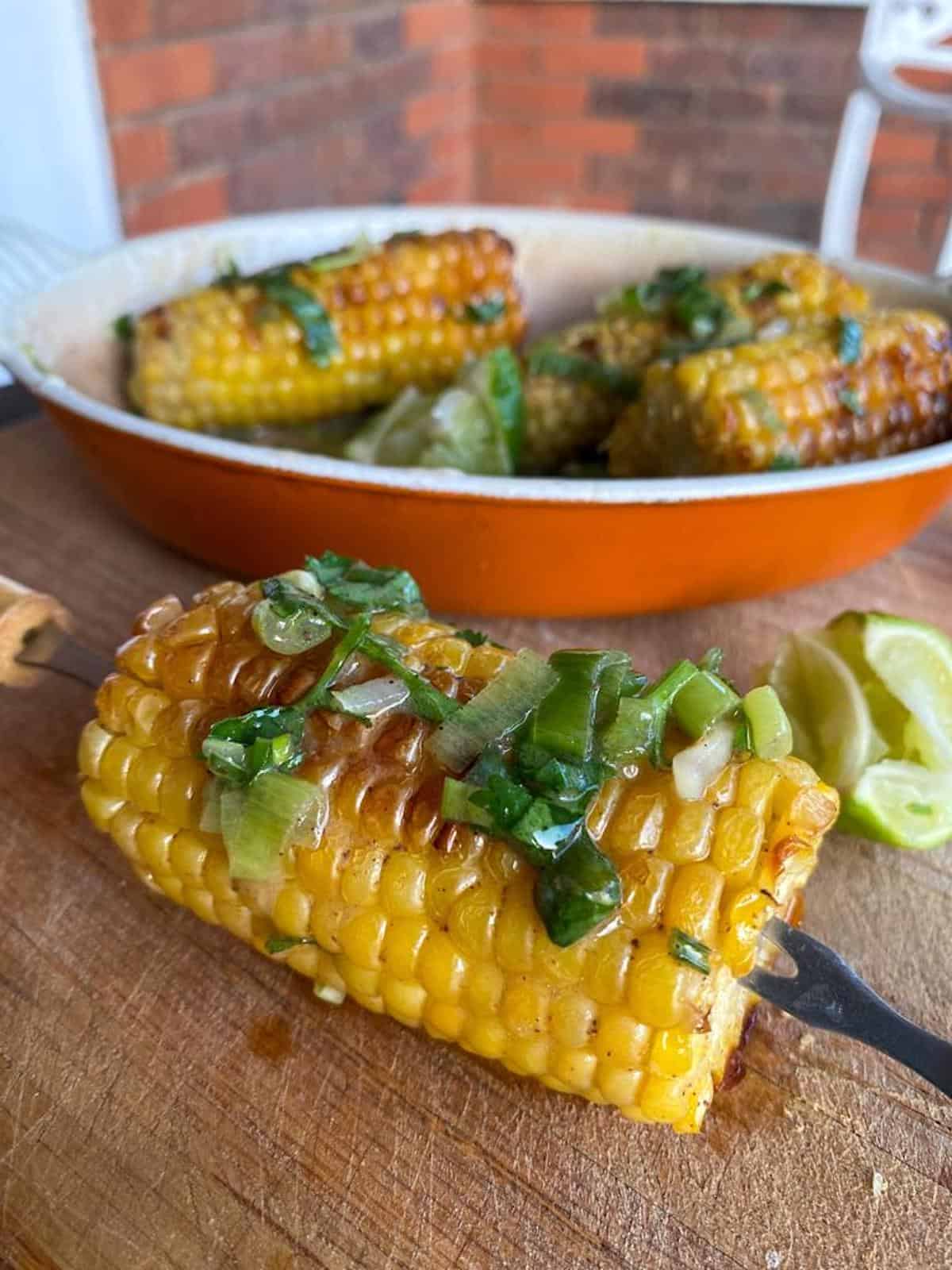 This buttered sweet corn with spiced compound butter is just one of my many summer recipes you can check out and make yourself!
Jump to Recipe
Ingredients
There's nothing fancy or complicated that goes into this buttered sweet corn, nature gives us what we need when it comes to fresh sweet corn and all we need to do is make a spiced compound butter to smother all over it. Don't boil it as it will leech out all the flavour and goodness, if you do want to pre-cook before you grill then lightly steam it to preserve the sweetness. Here are the ingredients you will need...
Sweet corn
Butter
Lime
Coriander
Allspice
Spring onion

Olive oil

Salt and pepper
See the recipe card for quantities.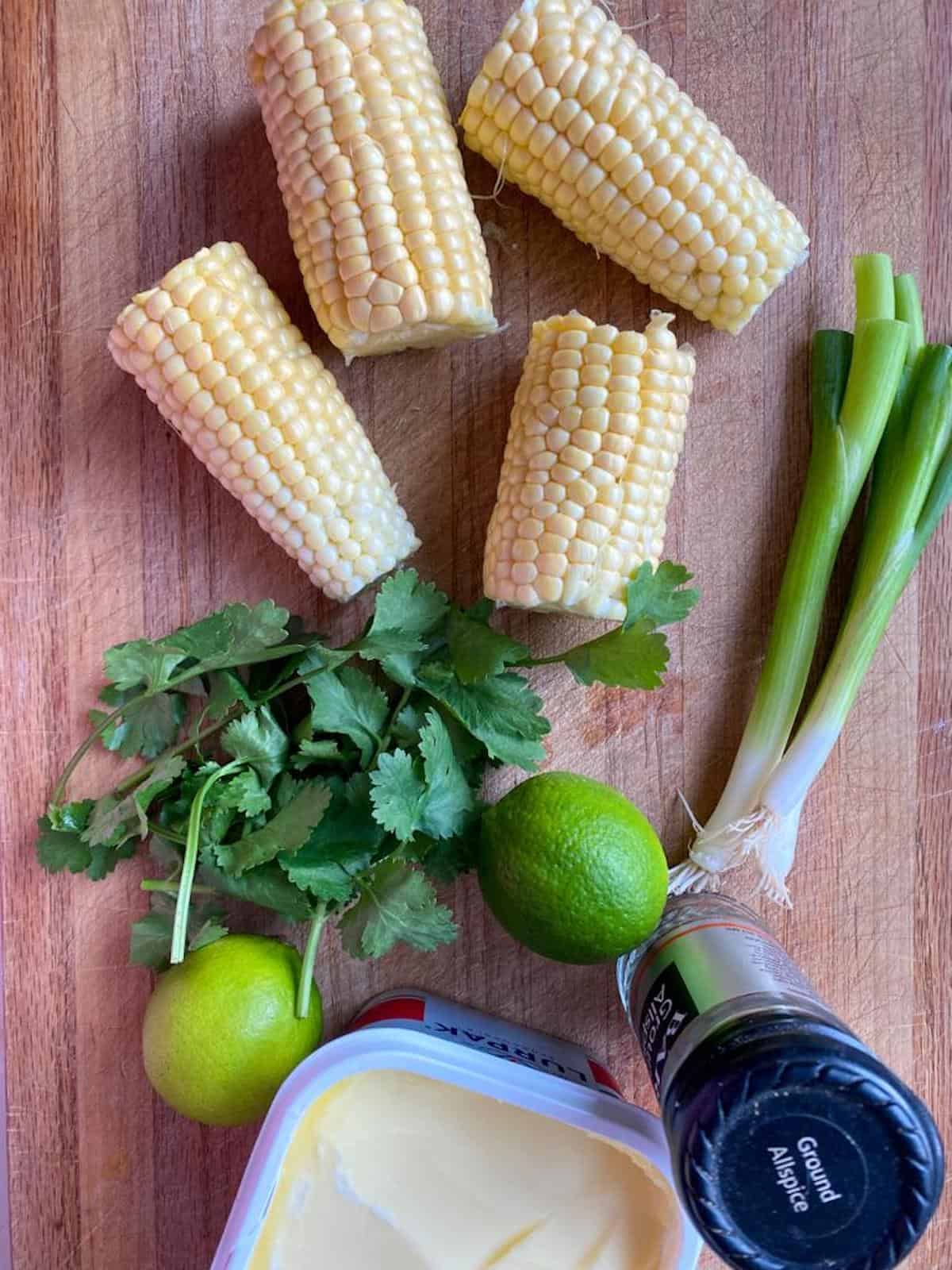 Instructions
Remove the outer leaves from the sweet corn husks, take off the ends and cut in half.
Spray the sweet corn with olive oil and place them on the BBQ, turning frequently (use tongs). Alternatively, place on a hot griddle pan.
Using a fork, make the compound butter by mashing it with lime juice, coriander, allspice and spring onion.
Hint: Soften the butter first to make it easier to mix.
When the sweet corn is cooked (it should only take 10 minutes or so) place in a dish and smother in the compound butter.
Variations
Here are some ways to adapt this buttered sweet corn recipe to suit you
Spicy - add chili pepper flakes as well as the allspice to give this an extra kick!
Vegan - Use dairy free butter to make this dish vegan, or olive oil
Hot sauce - Another way to add some spice is to use hot sauce, Marie Sharp's is my fave!
Equipment
A BBQ or a griddle pan on your hob will work best for this dish.
Storage
Sweet corn is best cooked as fresh as possible to maintain the sweetness.
You can make the compound butter ahead of time though and freeze it which is a great way to free up fridge space.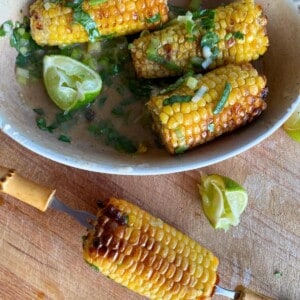 Buttered sweet corn
Lime and coriander butter smothered over BBQ corn on the cob
Equipment
BBQ or grill

mixing bowl

Saucepan
Ingredients
3

sweetcorn husks

3

tablespoon

butter

(softened)

2

limes

2

spring onion

½

teaspoon

allspice

2

tablespoon

coriander

1

teaspoon

olive oil
Instructions
Remove the outer layers of the sweet corn husks

Cut the sweet corn into pieces

Spray the corn with olive oil or lightly brush some on and place on the BBQ or on a hot griddle pan, turning frequently

Make the butter by mashing it with the other ingredients and season to taste

When the corn is cooked, place it in a dish and spread over the butter straight away, allowing it to melt. Serve immediately and enjoy!
Nutrition
Calories:
96
kcal
Carbohydrates:
20
g
Protein:
3
g
Fat:
1
g
Saturated Fat:
1
g
Polyunsaturated Fat:
1
g
Monounsaturated Fat:
1
g
Cholesterol:
1
mg
Sodium:
14
mg
Potassium:
70
mg
Fiber:
1
g
Sugar:
1
g
Vitamin A:
110
IU
Vitamin C:
11
mg
Calcium:
30
mg
Iron:
1
mg