Charming, friendly and unforgettable - Placencia, Belize is my top travel spot of 2021

Planning a holiday? The scenery is what attracts most people to Belize. Miles of stunning coastline with a barrier reef system famed for its diving spots, coupled with lush rainforest inland with Mayan ruins and incredible wildlife. But the people there are what keeps visitors returning again and again, shunning its larger neighbours in Central America. And spending time in Placencia is one of the best places to find them! I spent 2 months living in Placencia in early 2021 and in this blog post, I detail everything you need to know before heading there yourself.
Where is Placencia?
Placencia is a small town on the tip of a peninsula that dangles off from mainland Belize. It was my home for several months as a digital nomad and is a glorious little slice of Central America that you should add to the top of your travel wish list.

Placencia in Belize is a narrow strip of land just under 20 miles long and half a mile wide, bordered on one side by a lagoon and the sparkling Caribbean Sea on the other. It's populated by the wonderfully warm Belizean people plus a few ex-pats and a thriving tourism industry that thankfully does not dilute its charm. Placencia offers the best of both worlds to travellers with the sea in front, and jungle and Maya Mountains behind you all ripe to be explored.

It is, quite simply, paradise. If you're planning a vacation to Belize, allow me to show you around
What is Placencia like?
Placencia's lagoon is serene and still, where you'll only be disturbed by the occasional splash of a dolphin or manatees popping up for air whilst they feed on the seagrass beneath the surface. The beachside, with its white sand and horizon dotted with islands, is where the action is with hotels and resorts, yet it's just a gentle buzz. The town itself is at the tip of the peninsula. Whilst there are tourists, it still feels relatively undiscovered and special.
How to get to Placencia, Belize?
Placencia is a 3-hour drive south from Belize City or you can catch a shuttle flight on a small plane directly to the quaint local airport that is in Placencia itself. The drive will take you down the scenic roads of the Hummingbird Highway, whilst the flight will show you vast expanses of jungle, lagoons and the turquoise blue of the sea from above. With 15 passengers on each plane, the flight is an experience in itself where the pilots will chat away and have been known to invite a lucky few to sit up front and ride shotgun. By the time you disembark, you feel as though you are already at home.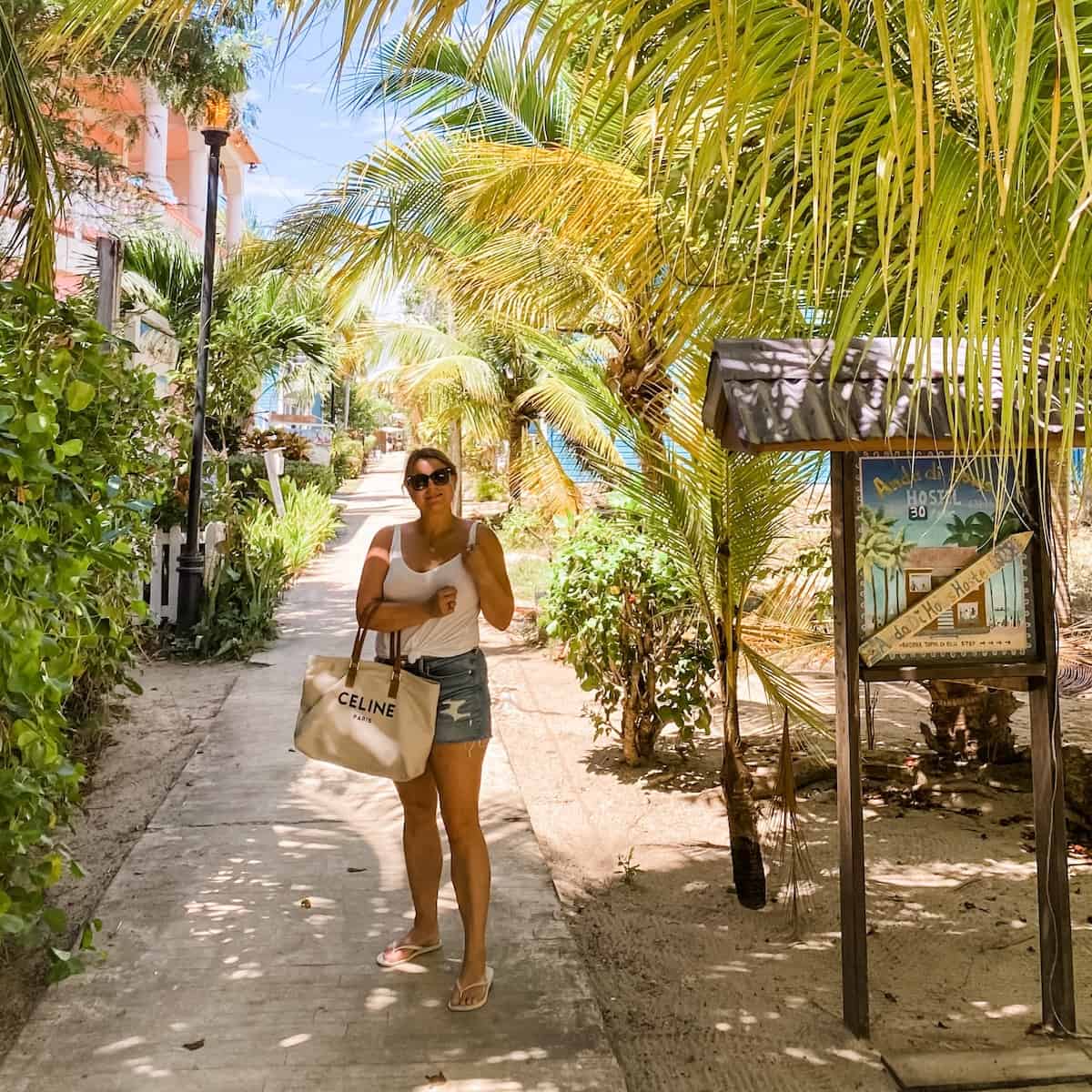 Placencia weather
The weather in Placencia is warm all year round, with the dry season stretching from December to June. During the rainy season, hurricanes are more of a risk with August, September and October being the most likely months. Temperatures range from approximately 80 degrees Fahrenheit or 25 degrees Celsius in the dry season slightly hotter and more humid in the rainy season. In terms of clothing, you won't need much! But at dawn and dusk, there are plenty of mosquitos so definitely pack insect repellent and a few long-sleeved tops if you are ever out in the jungle at those times.
Where to stay in Placencia
There is a huge range of options of where to stay in Placencia. From small, locally-owned bed and breakfasts in the town itself to luxury resorts, there is something for everyone. Placencia's location means that all of them will be in easy reach of the beach and not far from the action. Some of my personal favourites are Umaya, Itz'ana and Turtle Inn.
Explore Placencia in Belize with me
The single road that runs down the peninsula is home to several hotels, bars, restaurants and guesthouses, a tiny bowling alley and a crazy golf course. Everyone knows everyone, with the local bus driver often doubling up a postman and delivering packages between stops. The beautiful hotels blend with private homes and at the very end, you'll find Placencia town.

Arm yourself with reef-safe sunscreen, some Belizean dollars and an empty stomach.

It is best to start at the very end where the harbour is and meander back up through town. The fishermen will likely be gathered around chatting, and they'll greet you with a smile and a wave. Children will be playing in the water and there will be a few brave souls working out under the sun in an outdoor gym. It feels unspoiled and welcoming, everyone will say hello and no one seems stressed or hurried, this is Caribbean living at its best.
The main road has shops, a bank, a hardware store and some restaurants and there is also a shaded boardwalk that runs parallel to the beach. Walking along it will show you more local spots where you can pick up a fresh fish taco and a local Belikin beer for a couple of dollars before continuing on your way. The architecture style is mixed but colourful. Traditional Belizean Palapas mix with more Miami beach style apartment blocks and palm trees that provide shade and respite from the hot sun.
A small school, an art gallery, a barber and local businesses offering fishing trips line the boardwalk and the buildings are a riot of tropical colour. It's hot, but there is a breeze coming off the water and the smell is a heady mix of salty seas and BBQ food from the beachfront bars. Friendly locals wander along selling fruit they have picked in their gardens like Molly apples and stalls show off items carved from Conch shell and Ziricote wood, woven baskets and beaded jewellery.
When the heat and the smell of sizzling food become too much, stop off for a drink and a bite on the beachfront at Barefoot Bar. Sit at a table in the sand, order a frozen cocktail and get ready to watch the world go by. If you are visiting between June and February, Caribbean Spiny Lobster will be on menus everywhere, fresh out of the sea and onto the grill with a side of plantain chips or rice and beans. Douse it liberally in hot sauce by Marie Sharp, the famous Belizean whose spicy condiments are now sold all over the world. It's easy to spend hours here, and if you've had the forethought to bring a swimsuit and towel, you can take a refreshing dip in between rounds.
Placencia nightlife

As the day wears on, the music will get louder and you might get roped into a salsa dancing class. But if you can tear yourself away, continue along the boardwalk and pick up some trinkets before merging back onto the main road, where there is an ice cream parlour, Tutti Frutti, offering sweet and welcome refreshment. For more treats, be sure to find the local street food seller known as Lady Gaga, who rides a bike piled high with fresh pineapple doughnuts and banana cream eclairs. Well worth putting up with the sticky glaze that will coat your fingers afterwards.
If staying in town for dinner, head to Rumfish Y Vino and its romantic candlelit deck for a more fine dining experience but still a relaxed and laid-back vibe. Alternatively, to continue the fun, hop in a taxi to Jaguar Bowling Lanes and order a pizza, Belizean style topped with jalapenos and pineapple. Read this blog post for my rundown of other restaurants in Placencia.

Sun drunk and carefree, finish the night with a midnight swim and then fall into a deep sleep, ready to do it all again the next day.

I hope you've enjoyed exploring Placencia in Belize with me, if you're looking for other activities in Belize check out this blog post.

Watch my YouTube video walking tour of Placencia in Belize here!