Famous chef quotes to inspire and encourage you to plan and host the best dinner party ever! Or at the very least, offer some comic relief in the face of an upended trifle splatted all over your kitchen floor. You can learn a lot from the greats, and I love collecting tips from chefs to help me plan a dinner party menu, keep me on the right track and help solve any issues.
Here are my favourite famous chef quotes, from the simple to the ridiculous and how I interpret them to help me plan a dinner party.
Planning your menu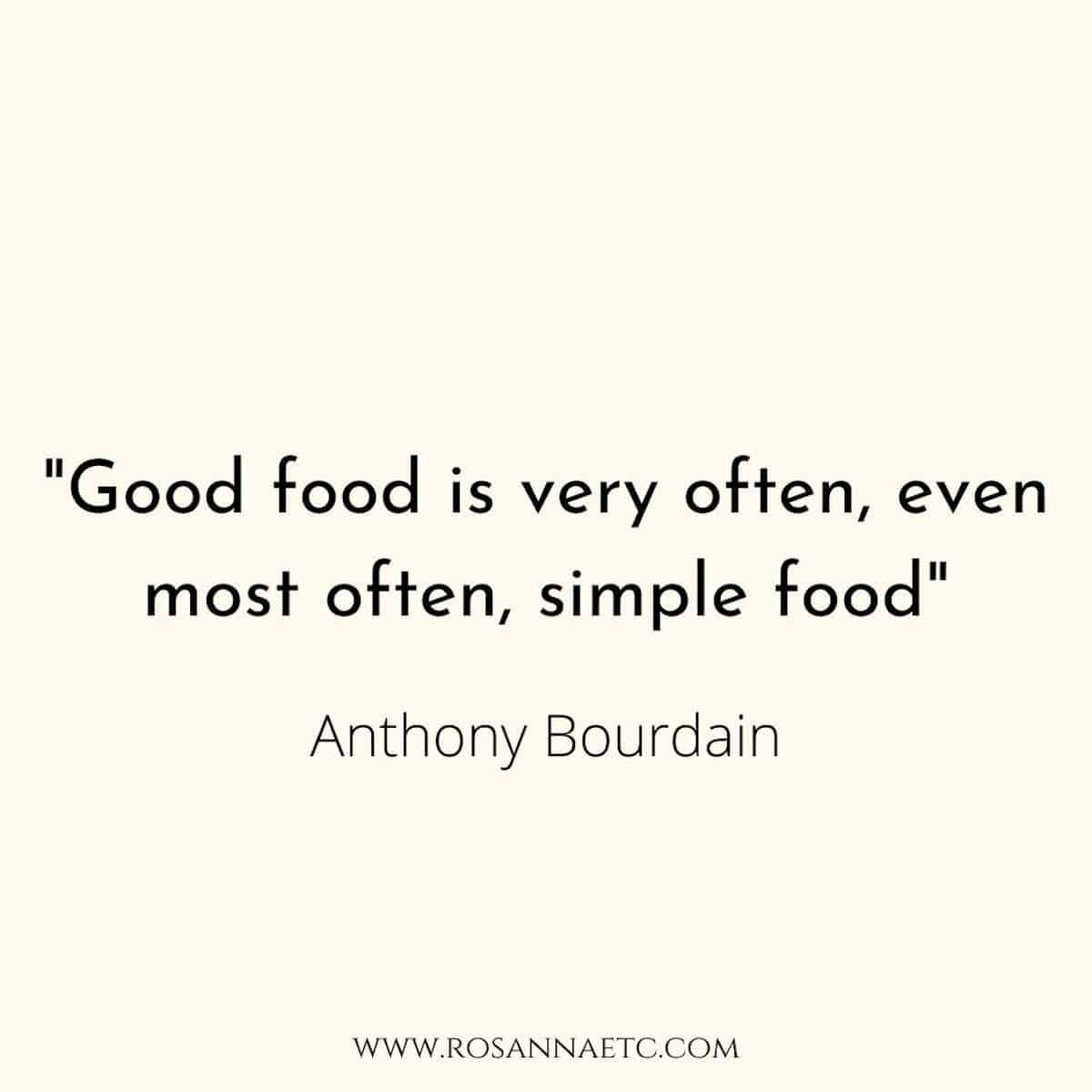 Good food is very often, even most often, simple food.

Anthony Bourdain
The late and great Anthony Bourdain offers the wise advice to not overcomplicate things when planning your menu. Keep it simple, and don't assume that this means that your guests won't be impressed.
As a chef it is important to design a menu which will be tasty & easy to execute to allow myself more time to actually be apart of the dinner party atmosphere, as often I get carried away and stuck in the kitchen...not that I'm complaining but usually this makes all a better experience. So plan your dishes, allowing yourself plenty of time to be able to sit interact and also enjoy a bite too..

Kerth Gumbs
A recurring theme is to not let your adventures side cause you to sacrifice your own experience. You are hosting this dinner party to spend time with friends/family/loved ones so don't let the idea of giving them a gastronomical journey that you don't get to spend any time sitting down.
Never try to marry more than three flavours in one dish

Joel Robuchon
Creating your own recipes or thinking of sides? Take heed of this tip from Joel Robuchon to avoid a muddled and confused plate. If you're menu planning and keep adding flavours remember this quote and reign yourself in.
It was quite a challenge to make people eat crab ice cream

Hesrton Blumenthal
How adventurous are your guests? Are there any allergies or intolerances at the table? You might love experimental cooking with crazy flavours a la Heston but if everyone you have invited else prefers simple food, it might not make for a successful shindig. A halfway house is to go to town on a funky flavoured garnish or sauce that some people can leave.

"I like a bit of chocolate as much as the next person, but cheese is a complete world on its own. The sheer variety is staggering and there's always going to be a cheese to tickle your taste buds"

Ainsley Harriott
Yes we all love dessert. But a cheese board really elevates a dinner party in my opinion and it feels French and elegant to pass around a beautiful wooden cheese board filled with delights. For me, a good cheese board has something soft and creamy like Brie or Camembert, something blue like a Stilton, Gorgonzola or Roquefort and a hard cheese like a good strong cheddar. Serve alongside a big bunch of grapes, some crackers and a fruit chutney (or my personal fave, quince jelly).
Getting the right kit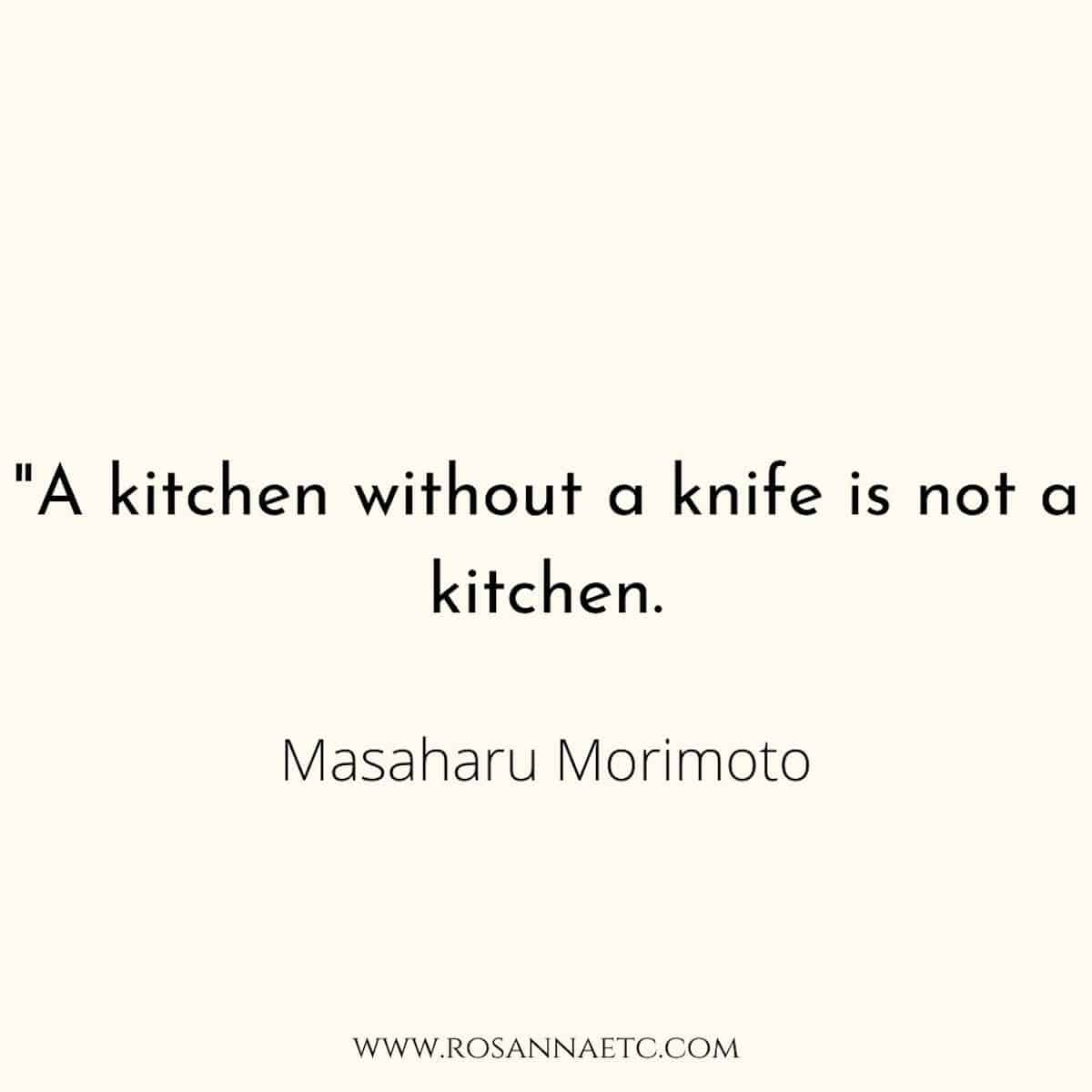 A kitchen without a knife is not a kitchen

Masaharu Morimoto
Next, a quote on cooking utensils from famous Japanese chef Masaharu Morimoto. A decent kitchen knife is a really good investment and I am completely wedded to mine (I use Robert Welch). It will save you time and it is safer, too.
Memories are fallible and a timer can save a lot of hard work from going out of the window.

Delia Smith
The great Delia smith shares her wisdom on timing which is SO easy to lose track of when you have a million tasks to finish as well as guests to attend to. Use a cooking timer to save yourself the added worry of having to remember when to take something out of the oven.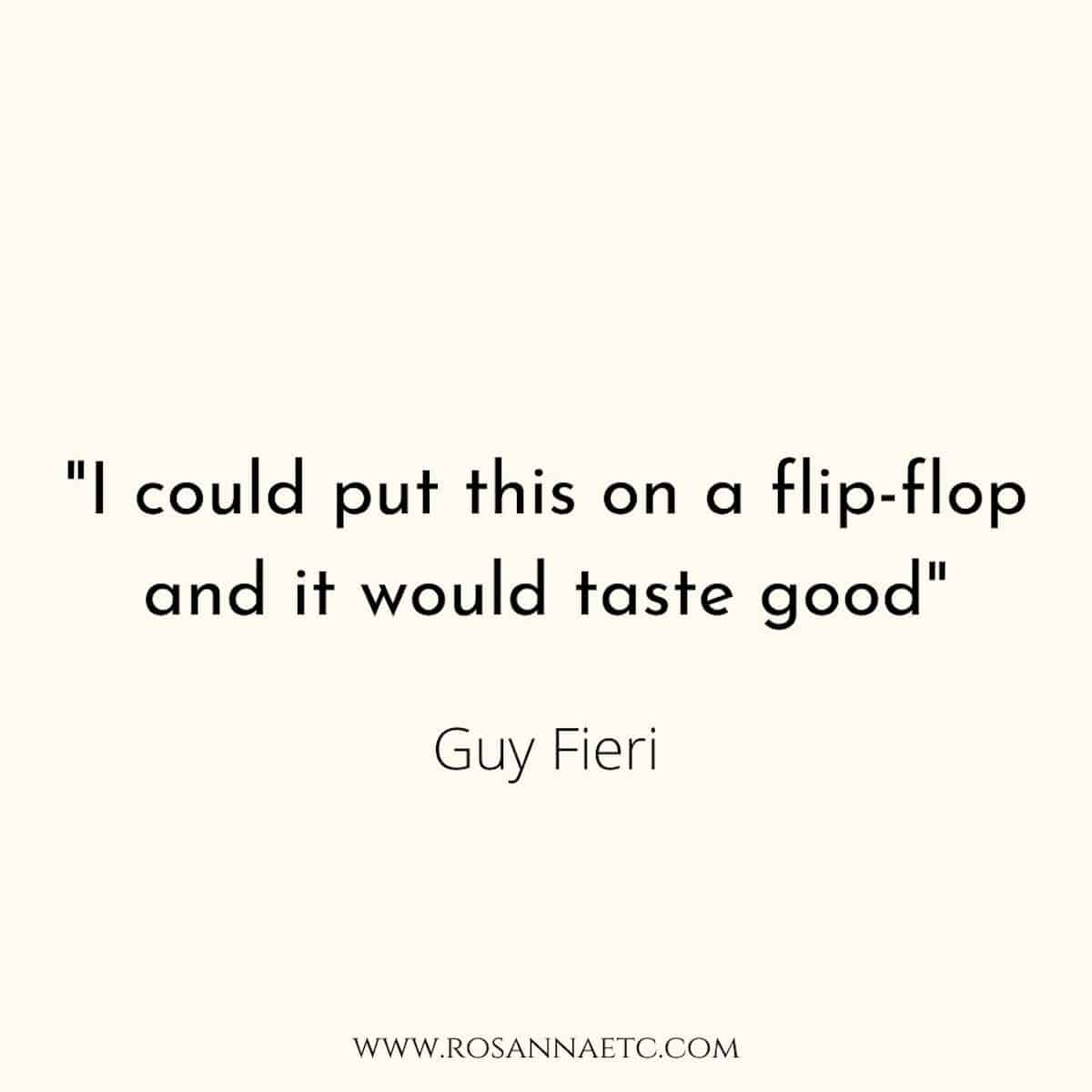 I could put this on a flip-flop and it would taste good

Guy Fieri
I identify deeply with Guy Fieri's love of dips. Guests love a dip. Sharing starters are a great option as they are social and informal, and can be prepared in advance. Try this whipped feta dip or these battered Egyptian peas with harissa dip.
Create an experience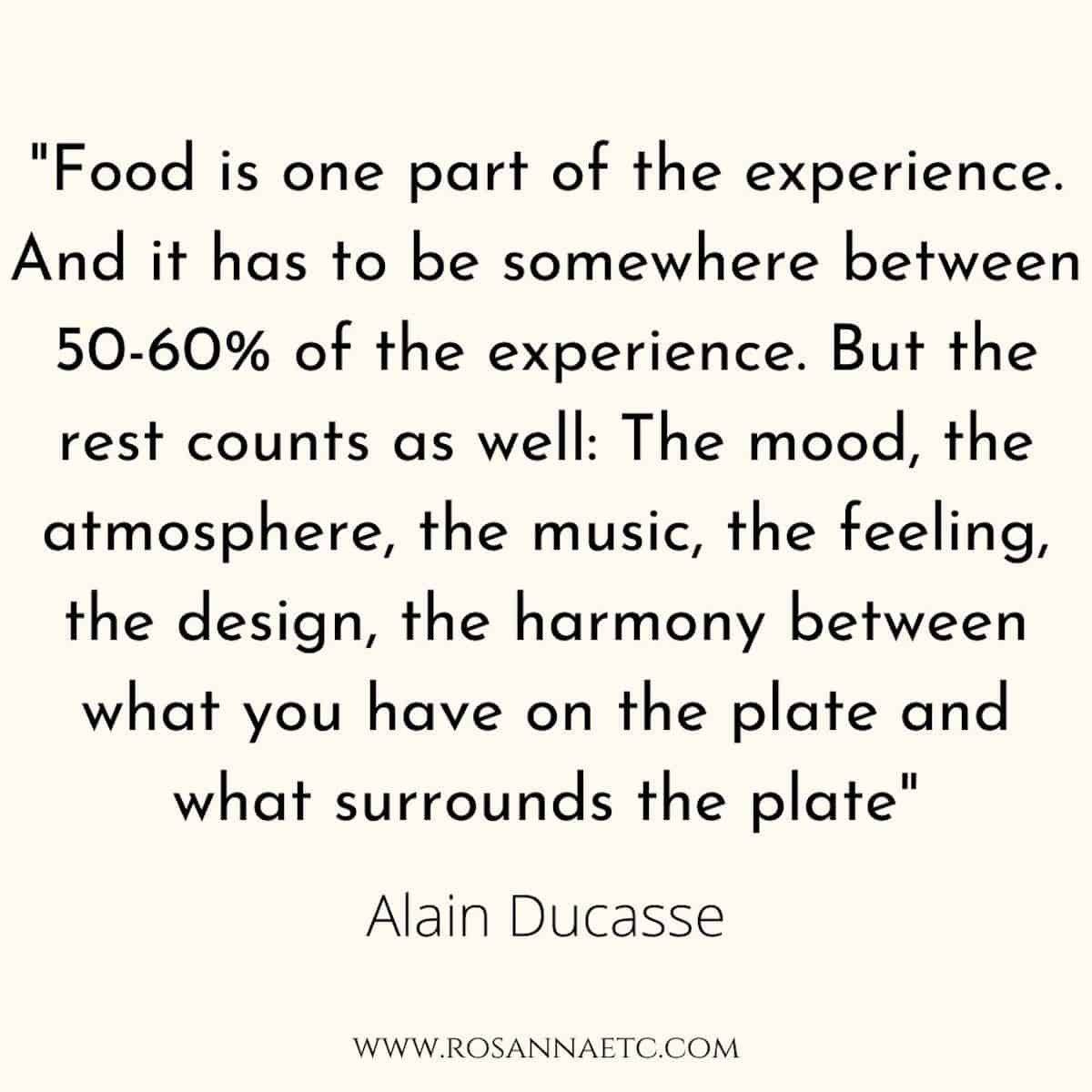 Food is one part of the experience. And it has to be somewhere between 50 to 60 per cent of the dining experience. But the rest counts as well: The mood, the atmosphere, the music, the feeling, the design, the harmony between what you have on the plate and what surrounds the plate.

Alain Ducasse
Have you thought about music? Decor? Lighting? A few candles can make the world of difference and picking a playlist can set the tone. It doesn't need to be expensive or complicated, one of the simplest ways to make a dinner table look smart is to add a plain white tablecloth and jazzy glassware.
The most important thing for me is to really buy the best ingredients.

Wolfgang Puck
And once you have your simple menu, get the best quality ingredients you can afford. When I was at chef school I always remember the produce we worked with was out of the world, and it made such a big difference. Remember that frozen fruit and vegetables are often fresher and cheaper and can work just as well depending on what you are making with them.
Cleanliness is next to Godliness
Always remember: If you're alone in the kitchen and you drop the lamb, you can always just pick it up. Who's going to know?

Julia Child
Food hygiene standards may disagree but if the great Julia Childs says the Three-second rule exists, maybe it does? Regardless, it's a good idea to thoroughly wash and disinfect the kitchen and make sure it's a clean and safe environment for food prep.
Stay calm and be quick on fixing a problem, stopping a problem head on is vital

Monica Galetti
No amount of hysterics ever solved anything. Remember, safety first, so turn off any heat sources, be mindful of hot trays/pans/surfaces and then calmly think about salvaging the situation.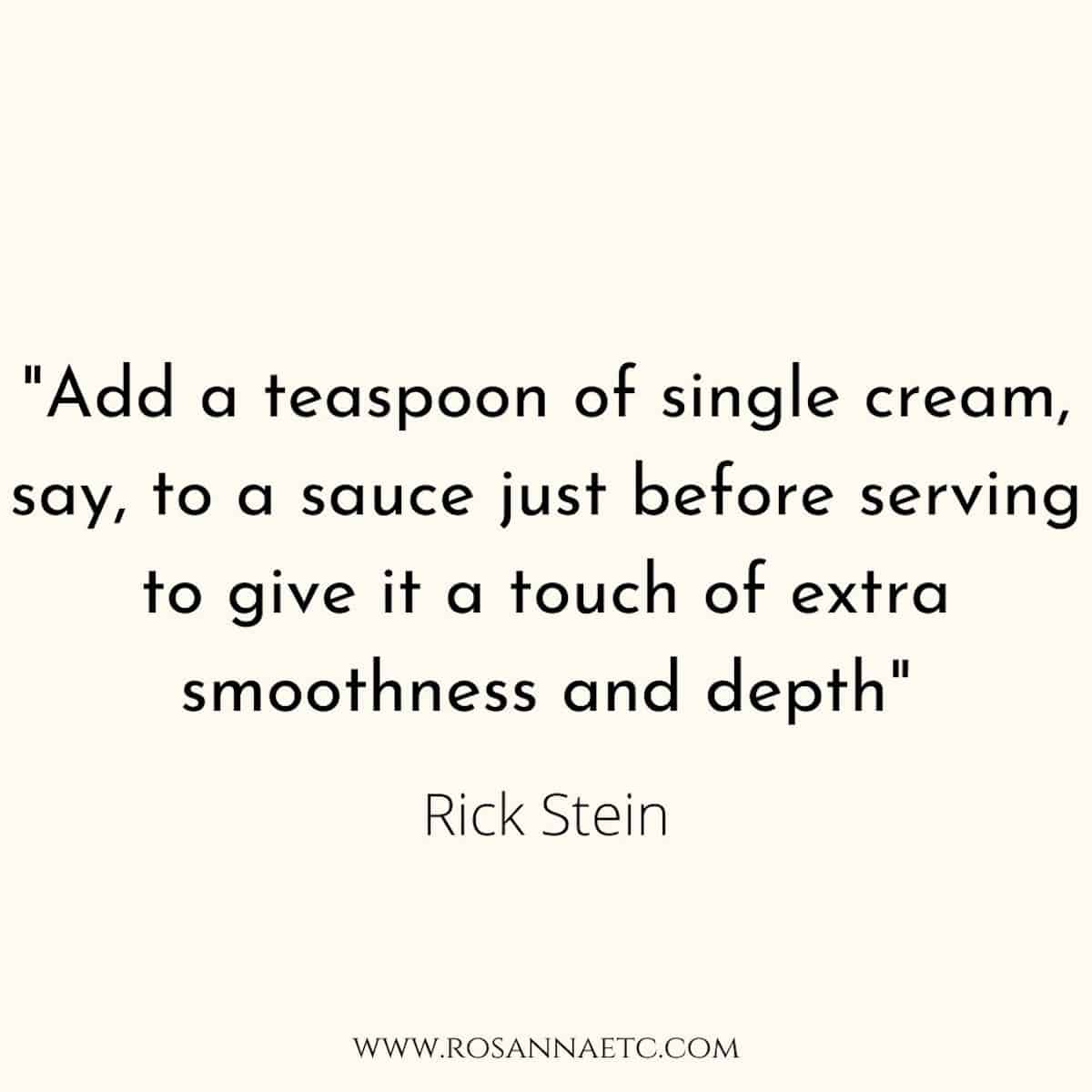 Add a teaspoon of single cream, say, to a sauce just before serving to give it a touch of extra smoothness and depth.

Rick Stein
A sauce is the finishing touch and can bring a whole dish together. This tip from Rick Stwin about adding cream just elevates it beyond 'normal' cooking and gives it a restaurant-style finish.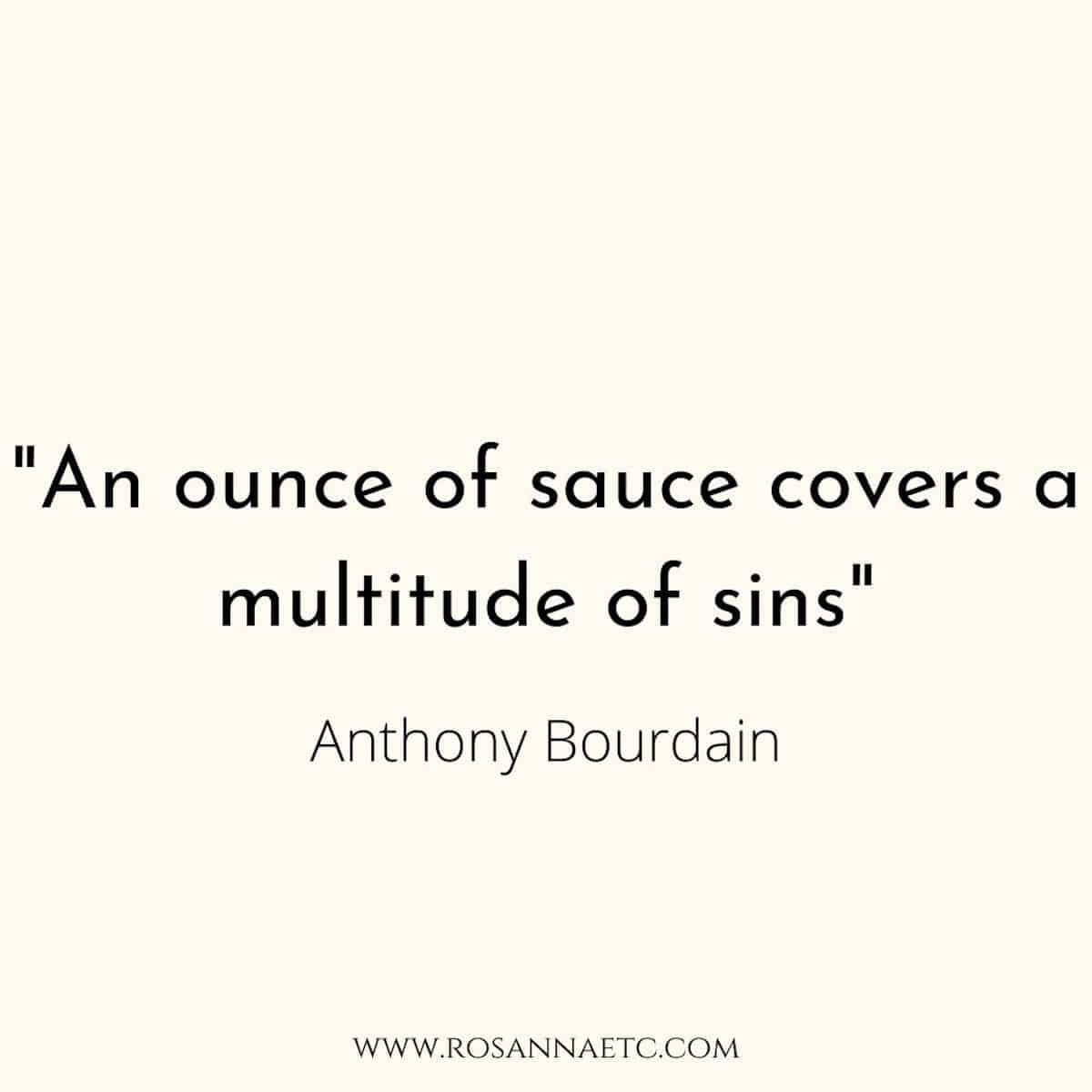 An ounce of sauce covers a multitude of sins.

Anthony Bourdain
Another Bourdain gem. Always make a sauce and always make sure there is enough! Whenever I have a private chef gig I always make 30-50% more sauce than I think I'll need as people always want more. Check out my tips on sauce plating techniques.
Preparation is the key to success!
And finally, some simple advice that will distil everything down in your brain and (hopefully) help you keep calm and carry on...

Get your s— together!

Gordon Ramsey
I am going to translate this as "preparation is the key to success". Make a list of your ingredients, go through the timings and give yourself a margin for error. And ENJOY yourself, this is meant to be fun.
Which quote was your favourite? Let me know in the comments...