We all want our food to look good as well as taste good, right? In this post I show you five quick sauce plating techniques that you can recreate at home and make your culinary creations as pretty as possible.
When I was training as a chef, we were constantly creating dishes and experimenting with food plating techniques and plating ideas. Sauce is the finishing touch, the final element that pulls everything together. It can make or break a dish, but do you ever wonder how to decorate a plate with sauce?
In this post, I show you my tried and tested sauce plating techniques, including how to smear sauce on a plate and it's so easy! You don't need any fancy kit, just cutlery.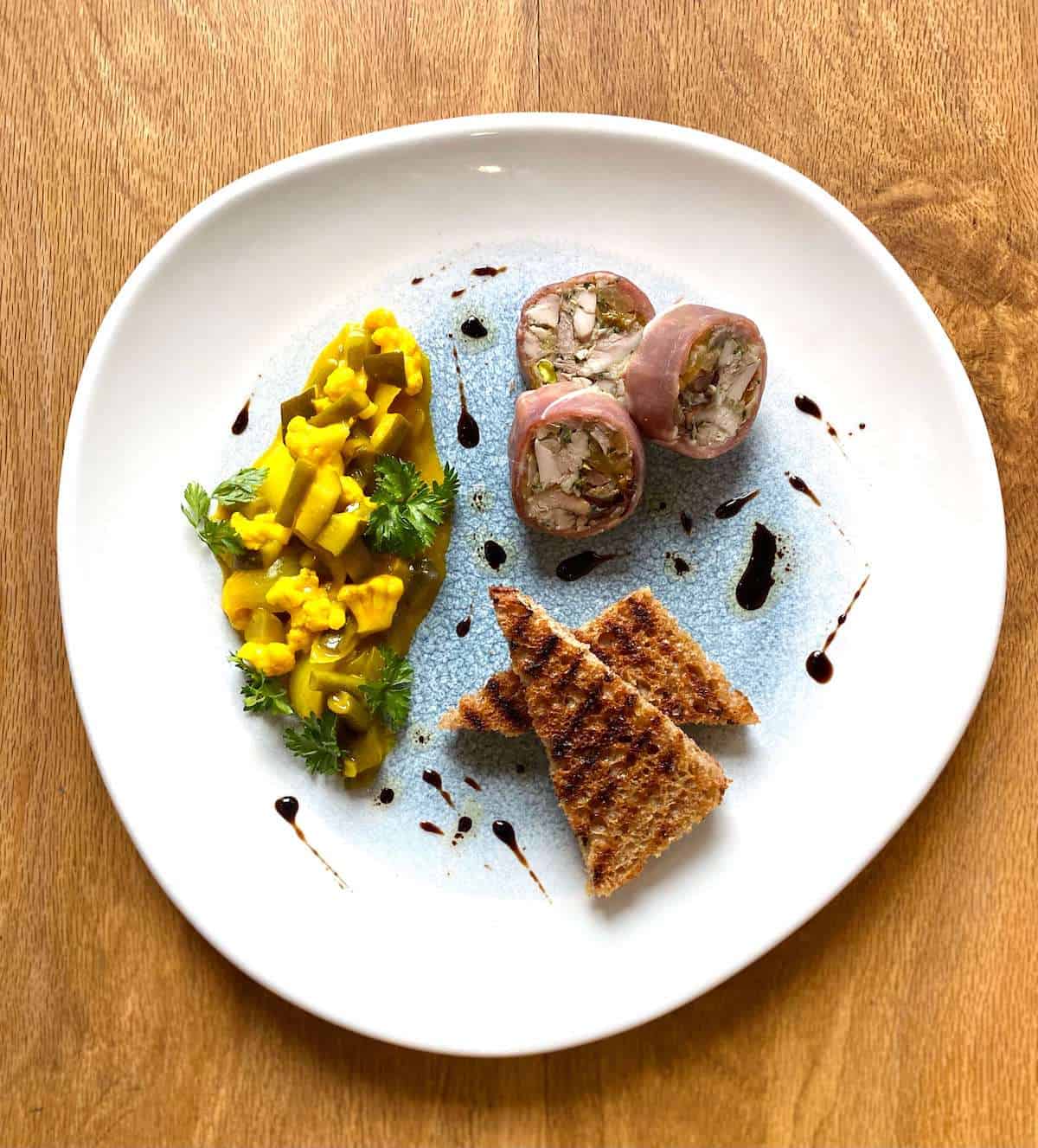 Jump to:
Things to consider when plating sauce
Some key things to consider when choosing which sauce plating technique to use will be the sauce consistency and intensity of flavour.
If the sauce consistency is too thin it won't stay where you've placed it and will leak everywhere. On the other hand, if it has been reduced to within an inch of its life and its flavour is very strong and intense, too much of it will overpower and unbalance the dish that is being presented. Dessert sauces are generally easier to plate as they're thicker, for example, fruit coulis, chocolate or cream.
And of course, time. You don't have hours and hours to artfully drizzle a sauce - there's food waiting to be eaten! Whether it's at home or in a restaurant, time is of the essence. Things melt, or go cold, or collapse, or overcook. These quick sauce plating techniques will give you easy ways to add sauce to a plate prettily, and fast. Dust over some icing sugar or add some edible flowers and it's done.
Plating Techniques For Sauce
Without further ado, here are my sauce plating techniques, which I have illustrated using an obliging jug of blackcurrant coulis that I made for another dish.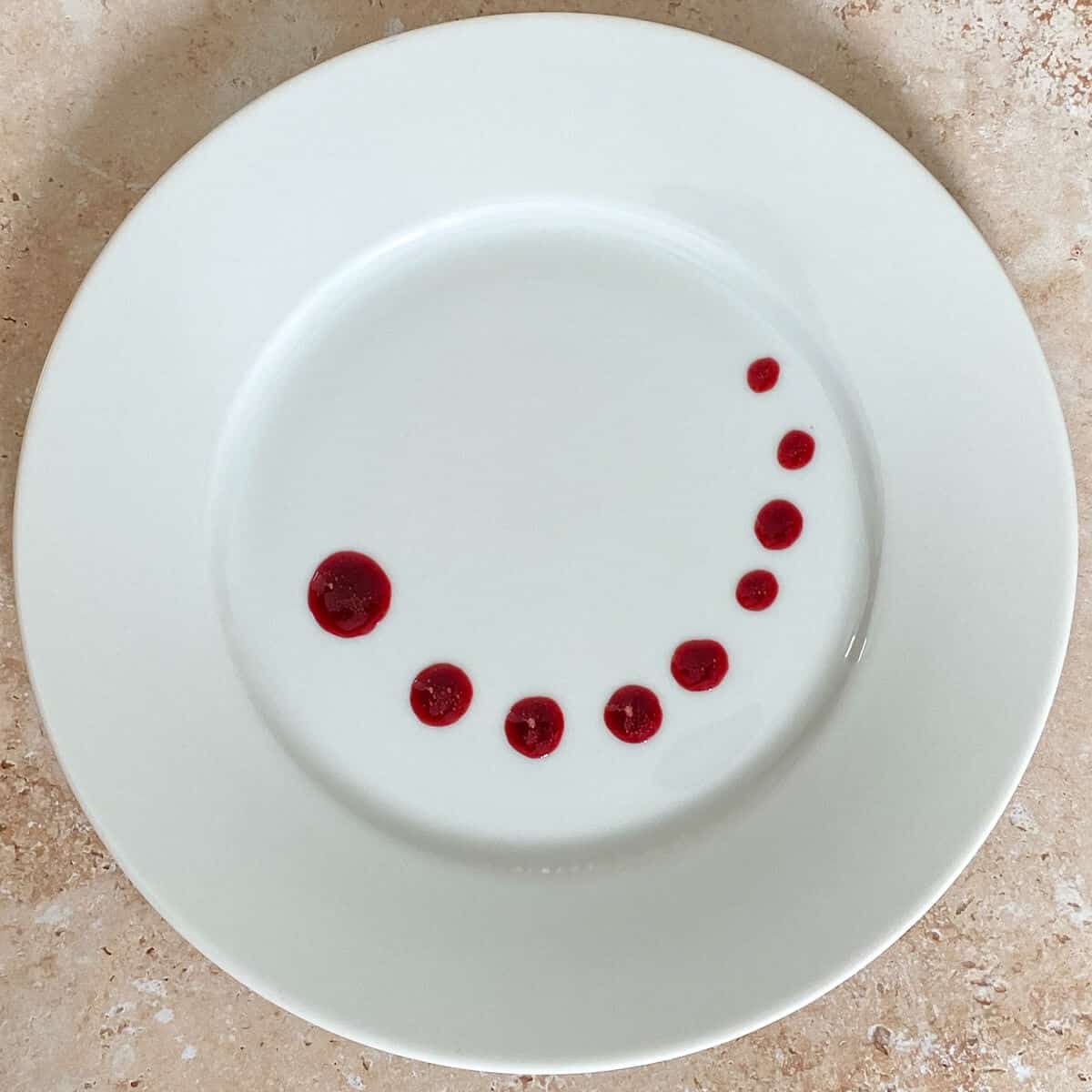 The Spot
A dainty and sweet way to add sauce to a plate, simply use a very small amount on the end of the spoon and delicately dot it onto the plate in any pattern you like. You can vary the size of the spots, which gives a pretty effect. I like using this sauce plating method with a plain vinaigrette dressing, as the oil and vinegar can separate and create a lovely visual effect of the vinegar suspended in the oil.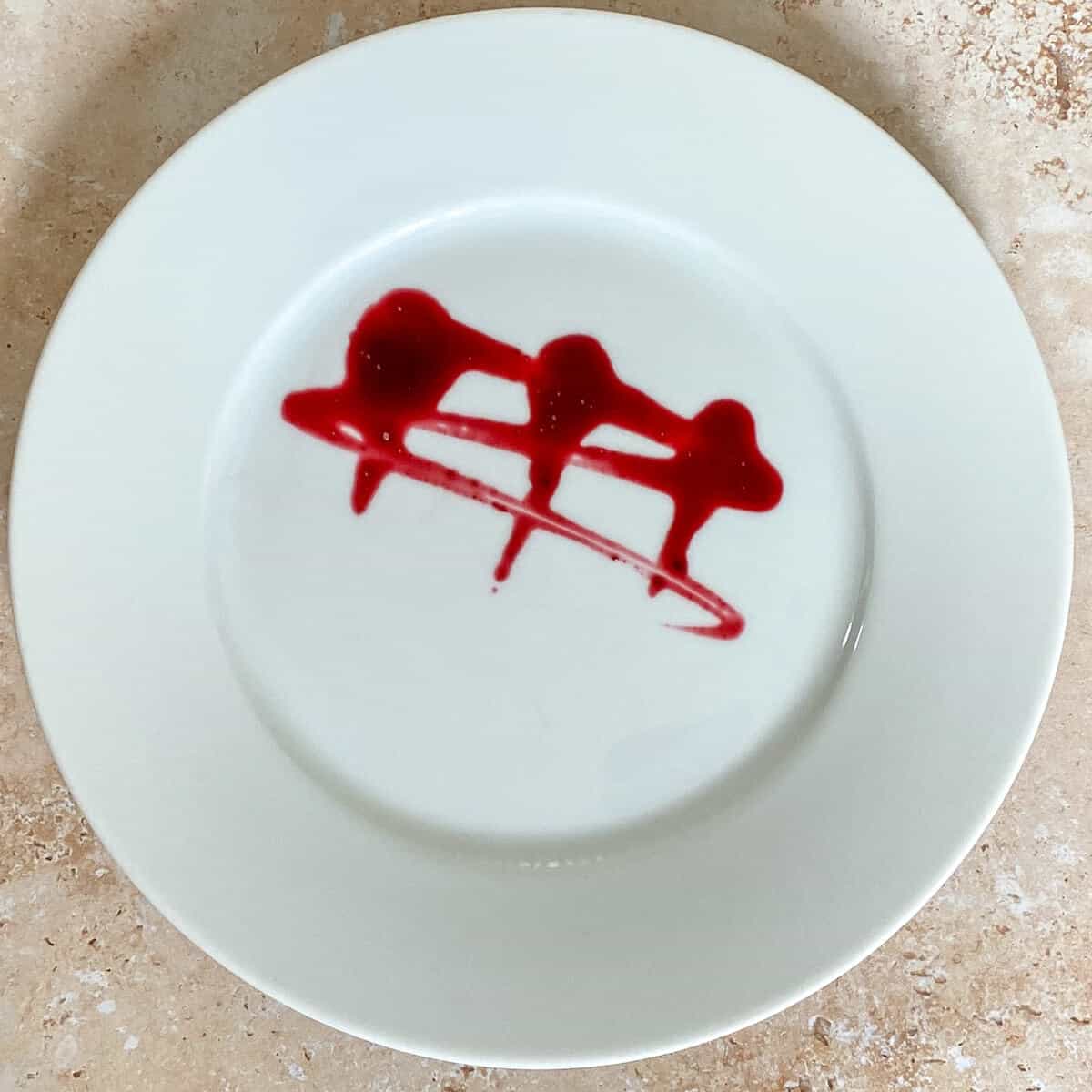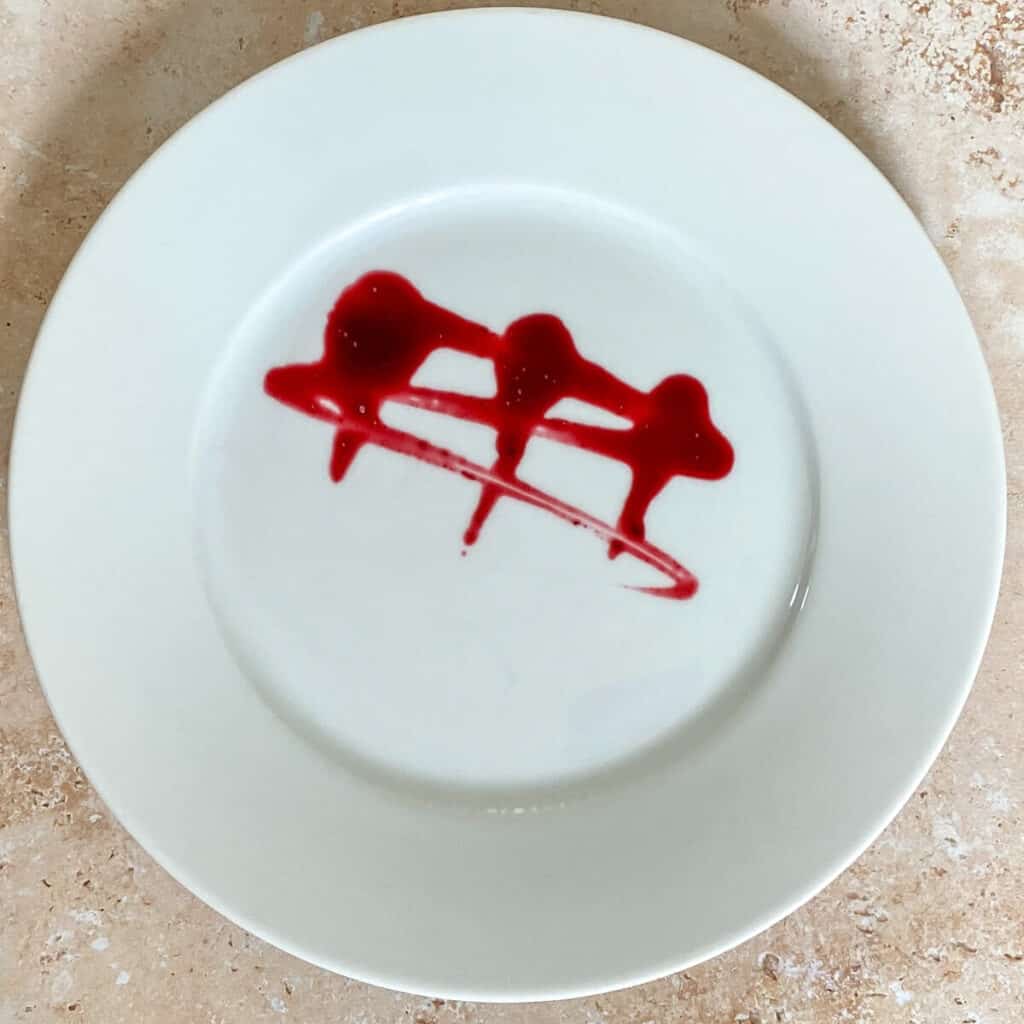 The Streak
Spots can also be made into streaks, by using the end/handle of a spoon to spread a thin line of sauce outwards. It's like using the sauce as ink and the end of the spoon as a pen to draw with, have fun with it! Chocolate sauce works well styled in this way, as does a rich jus.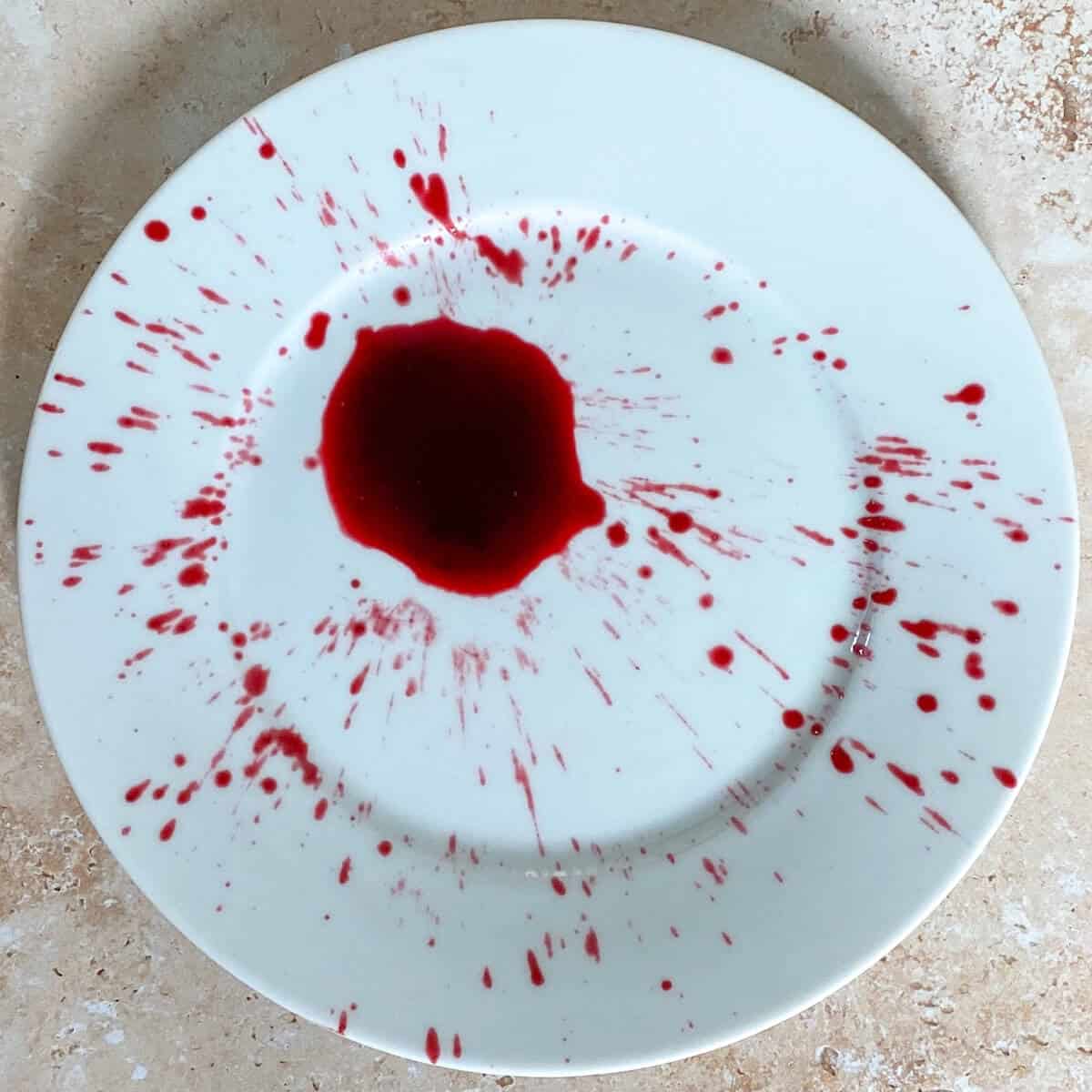 The Splat
My favourite plating technique for sauce as it's really fun, but potentially messy! Take a small spoonful of sauce and place it on the plate. Now, using the back of the spoon quickly hit the sauce so it splatters outwards and ends up resembling a Jackson Pollock painting. Two things to note on this one - firstly, wear an apron and be mindful of the fact it might go everywhere. Secondly, don't hit it too hard or you might break the plate! This works well with fruit coulis or thicker sauces, and you could even do it with two different types of sauce to create a contrast.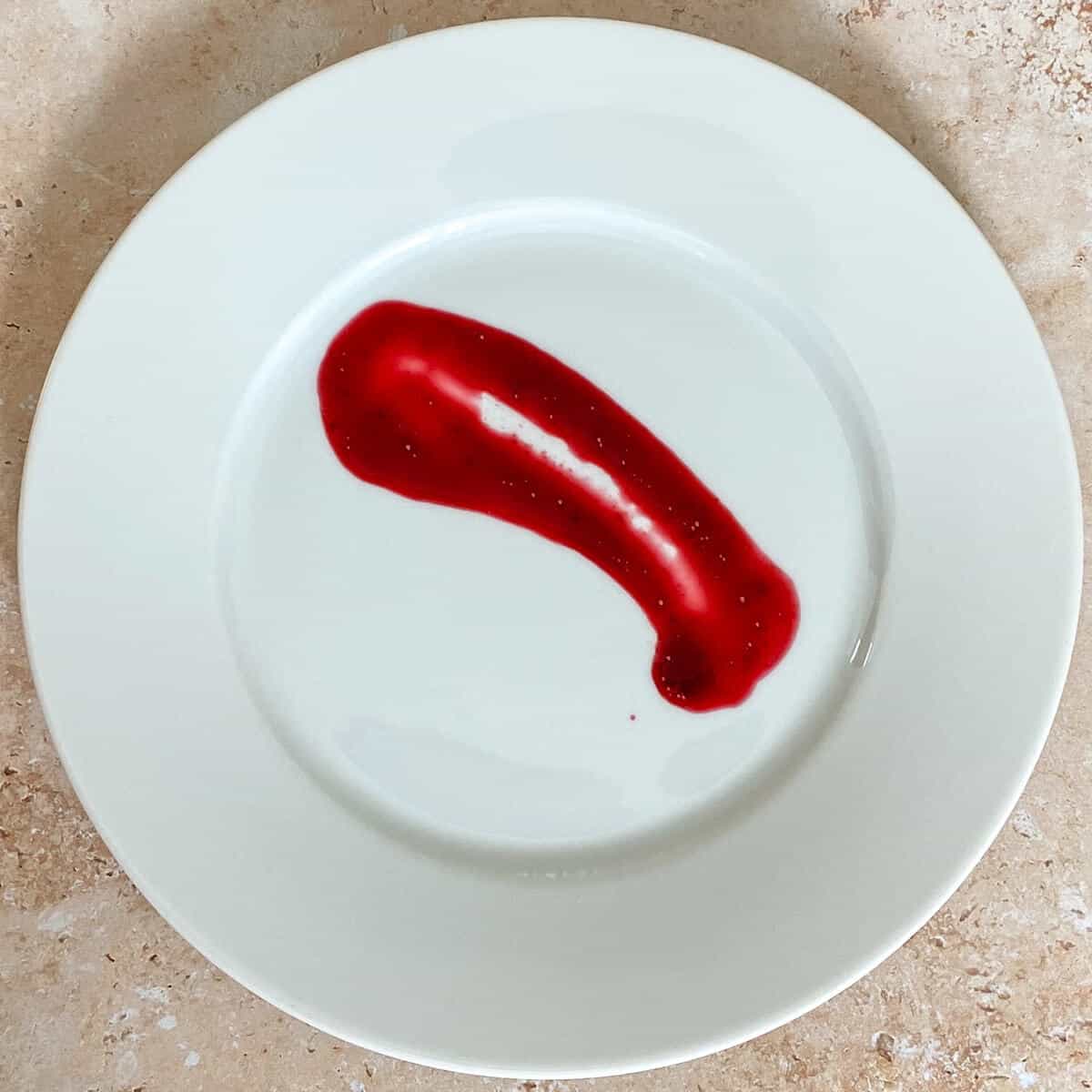 The Smear
The key to smearing sauce on a plate with a spoon is to put the sauce on the plate first, and then smear it. Don't try and do it all in one move, it doesn't work. Place a medium to large spoonful of sauce on the plate, then place the back of the spoon into/on top of the sauce and smear it outwards in one confident motion. Don't be timid, smear in an arc motion. This works well with thick whipped cream, vegetable or fruit purees, and even mashed potato.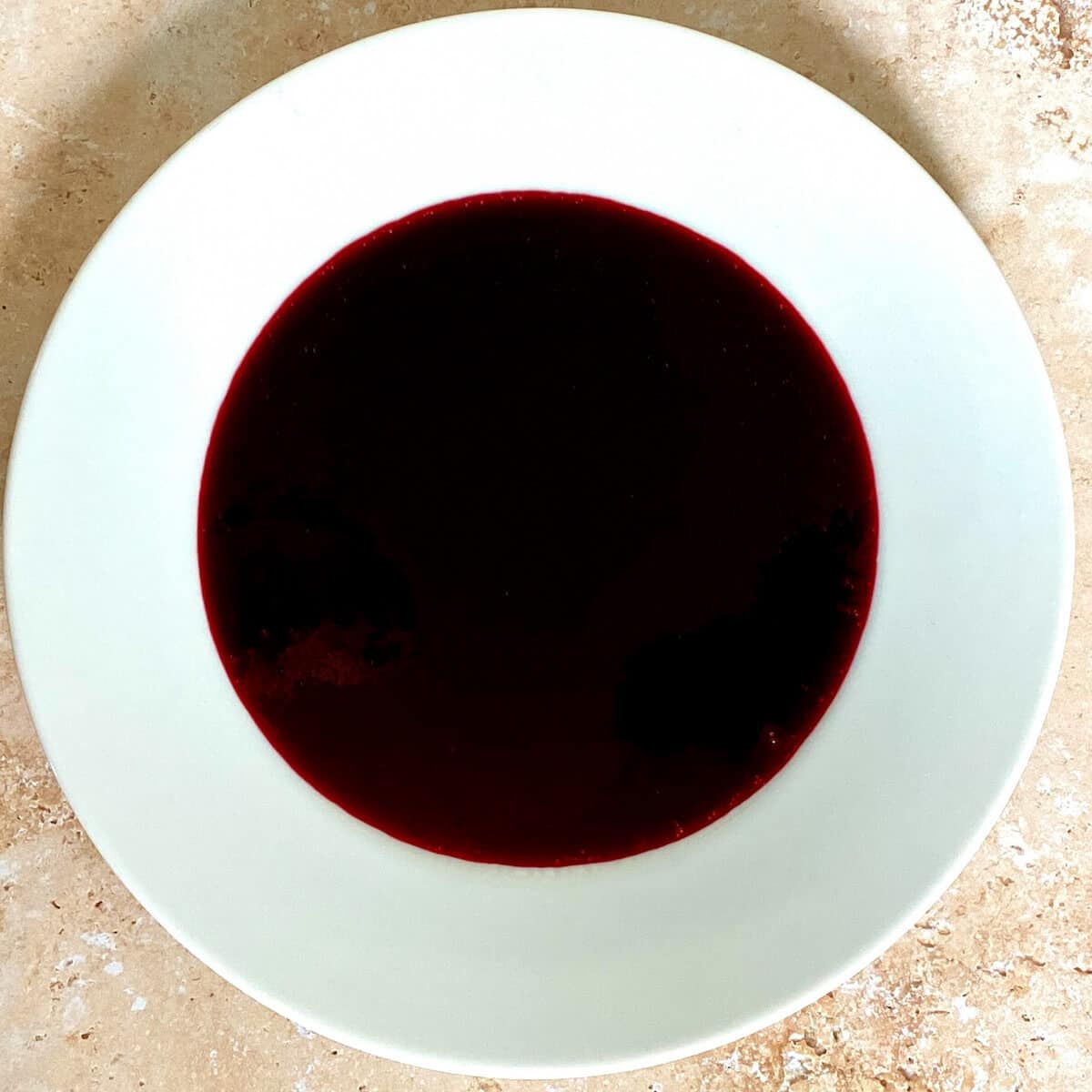 The Submerge
Imagine food piled high in the middle of a plate like an island, surrounded by a glossy pool of sauce. You can picture it and it always looks dramatic, especially when colours are involved. A slice of white chocolate tart surrounded by a glistening deep pink raspberry coulis. This works well for pasta too, like this Seabass perched on squid ink linguine in a shellfish fricassee.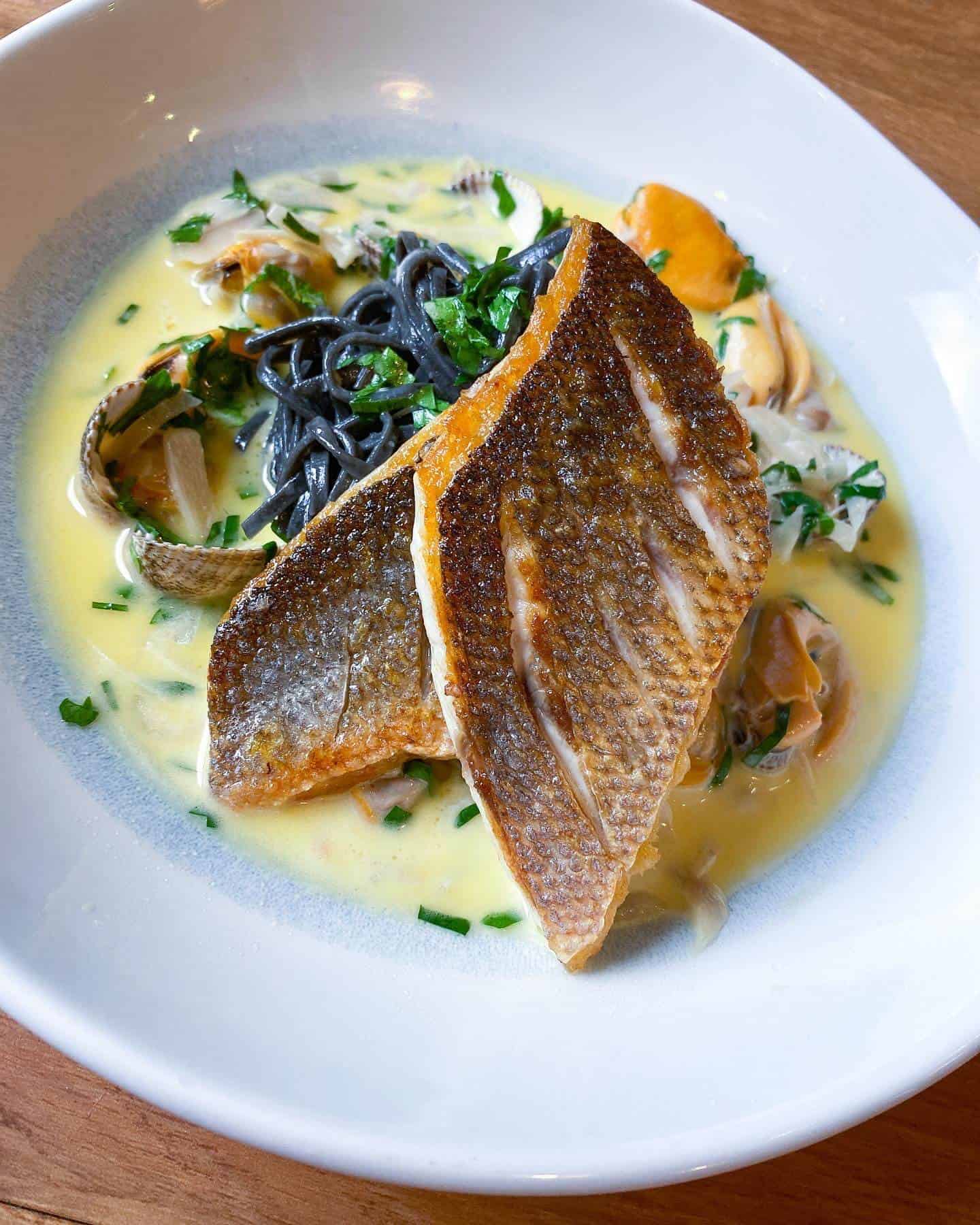 "An ounce of sauce covers a multitude of sins"

Anthony Bourdain
And finally, a sauce plated in this way can be used to cover and conceal! Imagine a glimmering sheen of chocolate sauce hiding the top layer of the brownie that came off when it stuck to the greaseproof paper. I'm not suggesting you completely submerge your food in sauce (although chocolate soup sounds fine to me) but pour enough over the top until you have flooded the base of plate and it's covered. This also works as a back up option if you tried something more artistic and didn't get it quite right.
Top Tip for plating sauce
Pick the plating technique to suit you and what you're serving, and remember you can always add more but not take away. Why not plate it minimally, but give guests more in one of those sweet little sauce jugs you often get in restaurants. Because who doesn't want extra sauce on the side?
Equipment
All you really need is a spoon! To get more fancy, you can use a piping bag and perhaps if readers ask I can create a more detailed post with advanced techniques, let me know in the comments if you'd like me to!
Watch the video
https://www.youtube.com/shorts/t4sVbs1YGL8
Did you know I wrote an ebook on food styling and photography for beginners? You can find out more about Stop The Scroll here.
Check out what's trending on Rosanna ETC now...
Follow me on Instagram and show me your food styling creations!