Edible flowers are a quick and easy garnish with a big impact which allow you to create restaurant-style plating at home.
When creating and styling plates of food there are so many ways to add interest, and using edible flowers is one of my favourites. Bright and colourful, pretty and delicate, what's not to love? Chefs use edible flowers all the time to add colour as well as flavour to a plate and I love going out into the garden to see what's in season that I can use. Here's everything you need to know about edible flowers and 10 types of flowers you can eat.
Are all flowers edible?
No, not all flowers are edible. It is very important to check which flowers you can eat as whilst some are delicious, others are very toxic to humans. They might be pretty, but they'll still poison you so if you are in any doubt as to what kind of flower it is, don't eat it. You should only eat unsprayed flowers and also be cautious if you have a pollen allergy - best to check with your doctor.
What do flowers taste like?
Some flowers you can eat have no flavour, whilst other edible flowers taste delicious and can therefore be used to enhance the taste and add depth and dimension to your dish. For this reason, it's important to carefully choose which edible flowers to use in cooking. A little can also go a long way, rose and lavender flowers for example are highly fragrant and can make you feel like you're eating a bar of soap if you're not careful.
Which flowers can you eat?
Here are 10 edible flower types you can eat safely and use to decorate food.
I'm sure you've heard of primrose tea and primrose oil, but did you know you can eat fresh primrose flowers too? They are delicate and flat so I like to use them as a garnish for cocktails and cakes.
Nasturtiums have a quite peppery taste so work well in savoury dishes. I like these edible flowers in salads, and they work well with the tang of rocket leaves (AKA arugula or roquette) and blue cheese.
Pansy flowers are flavourless, and therefore purely ornamental. This makes them a great all-rounder as you can add them to anything.
Courgette or Zucchini flowers
If you've never tried stuffed zucchini flowers, this is the sign you've been waiting for. The large and sturdy nature of these edible flowers make them ideal for stuffing with cheese and all manner of things and you can batter and deep fry them and...you get the picture. Foodie heaven.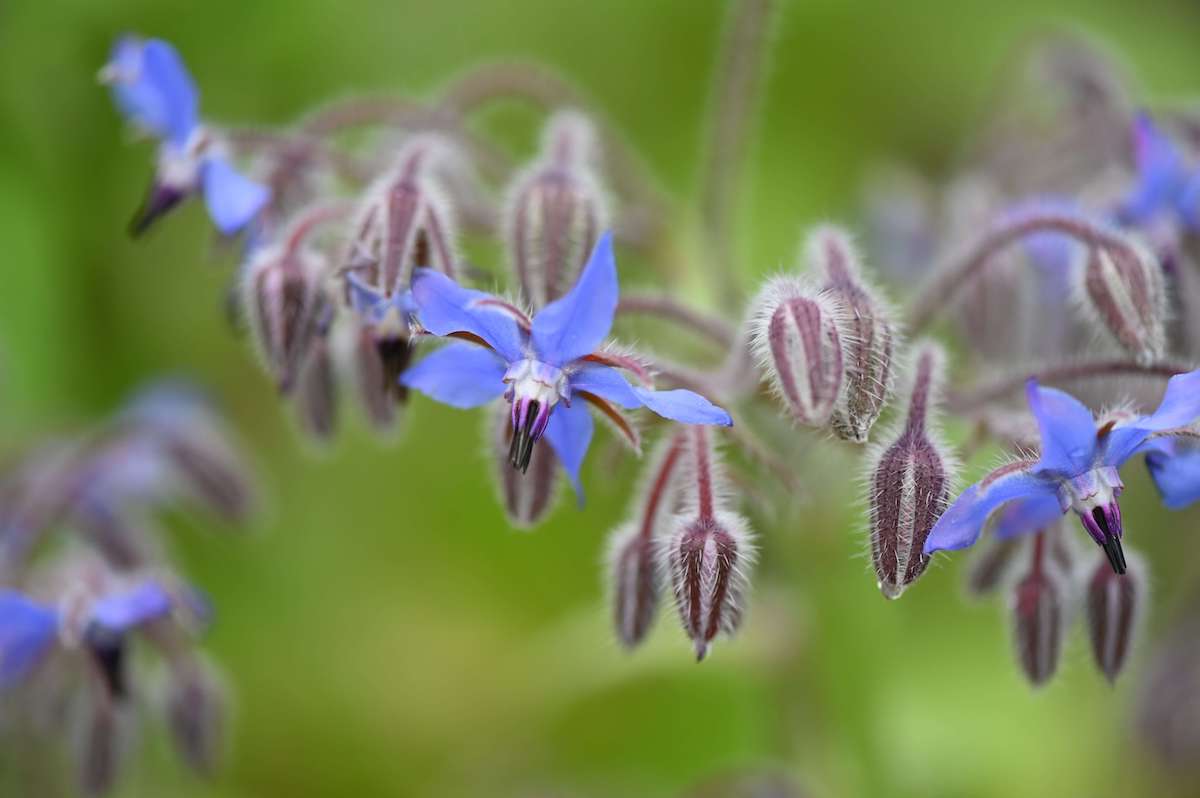 Famously used in the quintessentially Britsh drink Pimms - borage flowers are a piercing sky blue colour and create the feeling of a wildflower meadow. Float them on top of cocktails or scatter them over salads to add a pop of summer. You can eat the leaves too!
Violets have quite a sweet taste which means they work well in desserts or if you want to add a different dimension to a savoury dish.
Excellent in desserts, lavender flowers are beautifully fragrant and can be used dried as well as fresh. They have a strong and intense scent and flavour, so don't overdo it.
Used a lot in Middle Eastern dishes, the flavour of rose is very strong and distinct. The petals are often dried and crumbled over dishes.
Also a popular flower to make tea from, chamomiles have a daisy-like appearence and a sweet taste, so work well in desserts.
With their unusual shape, honeysuckle flowers can be quite sculptural and dramatic - giving real flair to your food styling. Only eat the flowers, not the berries.
Do you want to improve your food styling skills? Check out my food styling ebook.
How to store edible flowers
Flowers are best eaten fresh, and if picking them myself I will keep the stem and put them in a vase until needed or alternatively in an airtight container in the fridge. If buying or storing fresh edible flowers is difficult you can get a great variety of dried flowers that last a lot longer.
How long do they last?
Once picked, edible flowers can stay looking fresh for a few days if kept cool and away from moisture in a container in the fridge. Again, if I have picked them myself I prefer to keep them with their stems in a glass of water in a cool place until needed. Decorate your dish with the flowers at the last minute before service and try and keep sauce or gravy away from them as much as possible if you can or they collapse and lose all their shape.
How to make candied flowers
For decorating desserts with flowers, it's fun to play around even further. Make candied flowers for cakes - a sweet, pretty and crunchy garnish that looks and tastes wonderful. Simply use a pair of tweezers to dip your flowers in egg white to coat them, then dip into white granulated sugar to coat them on both sides and place on some greaseproof paper in a warm, dry place for 12 hours.
I hope this blog has filled you with creative inspiration for food styling and how to use flowers in your cooking! I'd love to see your culinary creations, tag me on Instagram if you try anything.
Want to know what's in season and when? Here's my free printable PDF download you can use to sure you're buying as fresh as possible.