Do you know how to make Pimms properly? If you are from the UK or have ever been here in the summertime I imagine you have. Bars and social events are full of it, with hoards making a beeline towards the ubiquitous red and white logo. The first Pimms of the summer is a ceremonious affair, and as the weather starts to get warmer you can feel it getting closer and closer. With Spring crawling on indefinitely, I decided to dedicate some time to research Pimms and create a guide on how to make Pimms, so I was fully prepared for summer when it arrives, and you can be as well!
What is Pimms?
Pimms was born in 1823 when James Pimm, a farmers son from Kent began serving it in his oyster bar in London. He offered it as a tonic made from gin and botanicals, apparently as a digestive and named it Pimms No.1 Cup. It is brown in colour and whilst there were originally other variations, these have now been phased out. Pimms is now owned by Diageo.
How to make Pimms
Essentially, making Pimms is very easy as you just mix it with lemonade (the clear, carbonated kind). However, to do it properly, you have to also add all the garnishes that produce the well-known sight of the colourful jug stuffed with fruit, flowers and herbs. The following can all be used in Pimms, with quantities depending on how much space you have in your jug. I, therefore, recommend using a big jug that can contain it all as it then doubles up as a snack and you can eat everything too. Fruit soaked in Pimms is delicious.
What fruit goes in Pimms?
Cucumber
Strawberries
Apple
Orange
Mint leaves
Borage flowers
See the recipe card for quantities.
Instructions
Cut or slice everything up, leaving the berries, leaves and flowers whole. It can help to do this in advance and store it in Tupperware so that you don't have to laboriously start coring apples every time you want a refill. You can of course pick and choose your favourites from this list but again, using a big jug means you don't have to leave anything out if you don't want to.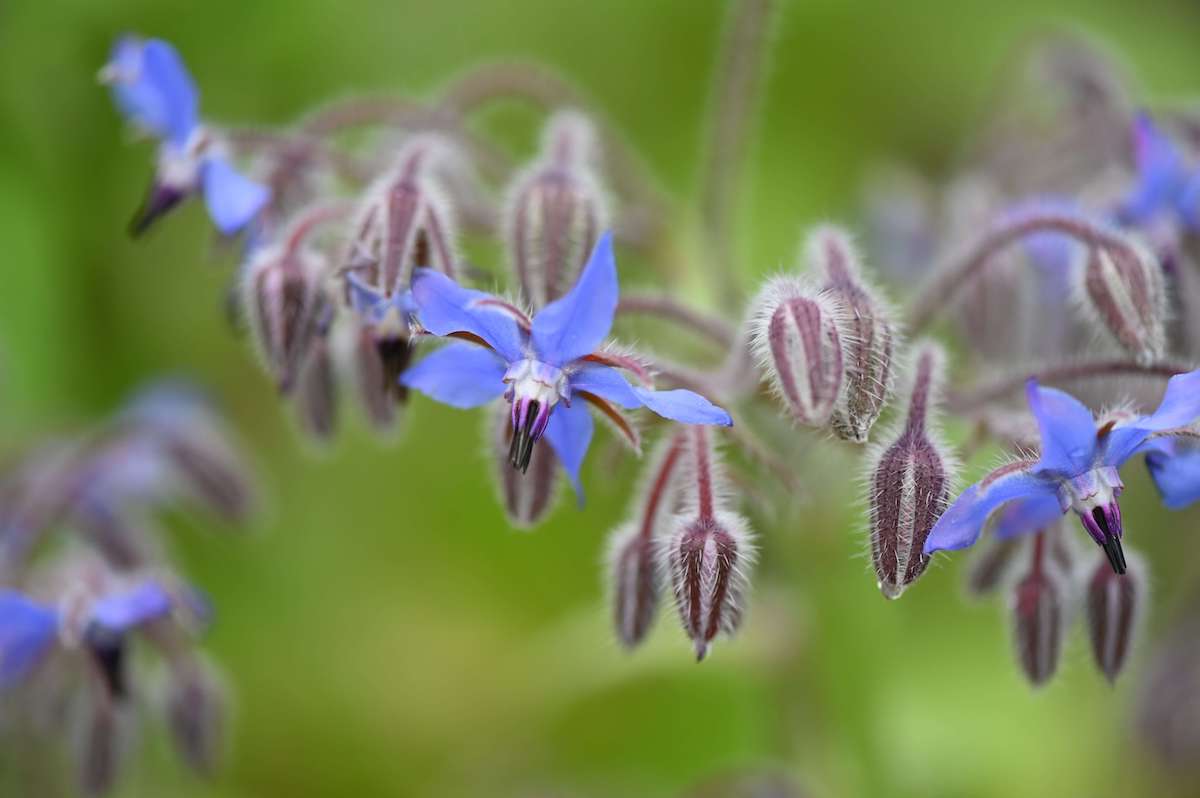 Now Pimms is quite weak, so it is served as a standard double shot of 50ml / 2 oz. The rule of thumb is one part Pimms to three parts lemonade.

Add your ice and fruit/herbs/flowers to the jug and then measure out your Pimms and lemonade. If you're feeling really fancy you could make a Pimms Royale which is topped up with champagne instead but it's best to make that directly in the glass or you'll have a froth problem.

I hope you enjoy your Pimms summer! Show me your photos on Instagram so I can see them. If you're in search of a different summer drink, why not try this English Summer Cocktail recipe too?

And no, before you ask this post is not sponsored by Pimms (although hi Pimms I'd love to work with you if you're into it, lol). This post does contain some affiliate links though which mean I may receive a small commission if you click on any links and make a purchase. This will come at no cost to you as it is paid by the retailer, and I am not paid to promote particular products, these are all things I use myself and personally recommend.
Equipment

Shop this LSA jug to make your own Pimms at home this summer
Storage
Store the Pimms fruit in the fridge and use it within 2 days.
These ingredients don't stand up well to freezing.
Top tip
You can add some cucumber vodka to this Pimms recipe if you want to up the ante even more.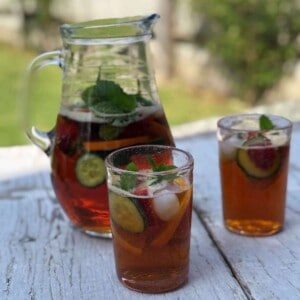 Pimms
The quintessential British summertime tipple of Pimms.
Ingredients
250

ml

Pimms

750

ml

Lemonade

4

strawberries

¼

cucumber

1

apple

1

orange

5

borage flowers

5

mint leaves
Instructions
Slice the fruit into small pieces and place a handful into a jug. Store the rest in tupperware for forthcoming jugs.

Add ice to the jug and mix with the fruit

Measure out the Pimms and lemonade into the jug and stir

scatter the mint leaves and borage flowers on top and serve
Nutrition
Calories:
161
kcal
Carbohydrates:
24
g
Protein:
0.4
g
Fat:
0.1
g
Saturated Fat:
0.02
g
Polyunsaturated Fat:
0.04
g
Monounsaturated Fat:
0.01
g
Sodium:
9
mg
Potassium:
106
mg
Fiber:
2
g
Sugar:
21
g
Vitamin A:
111
IU
Vitamin C:
18
mg
Calcium:
16
mg
Iron:
0.2
mg