Apricot gin cocktail with egg white makes the perfect summer gin cocktail. Apricot gin and almond syrup are shaken over ice with an egg white to add a smooth texture and then topped up with some sparkling wine to add a sense of occasion to proceedings.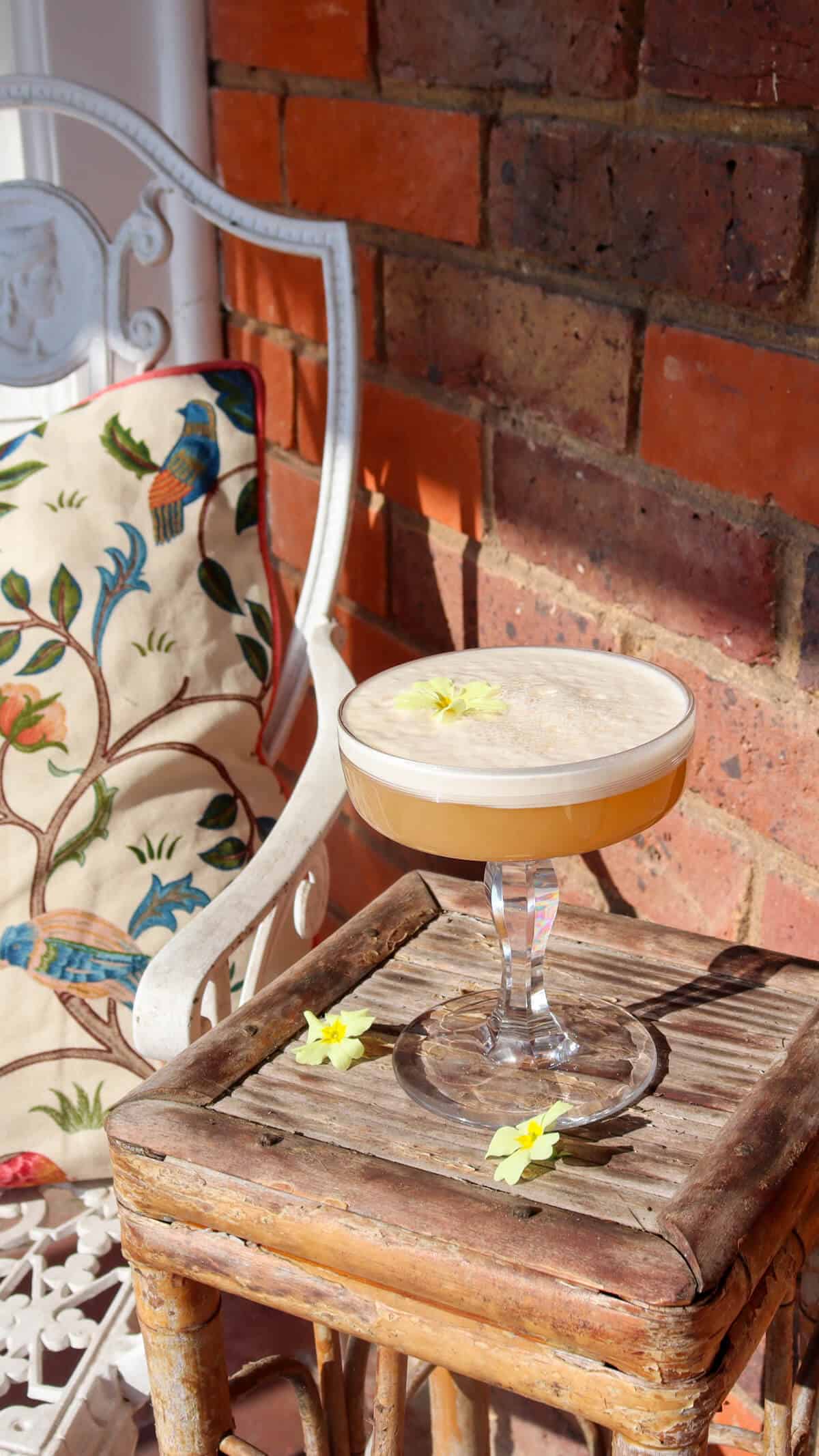 It's a cocktail hour! Craving for a perfect drink to enjoy during hot weather or want to arrange a simple cocktail party at home? Why not try making an apricot gin cocktail with egg whites plus toasted almonds, and appreciate its sweet and fruity flavor with a rich, silky texture.
Jump to:
Why you should make this cocktail
This apricot gin cocktail is a classic sour, where we add egg whites to create a smooth and luxuriously thick finish. Egg whites have little flavor of their own, meaning they can be used in cocktails to add air and texture without sacrificing or altering the taste. The protein in the egg whites aerates the cocktail as we shake it. For best results, shake the Apricot gin cocktail without ice to give the egg white the best chance to react and thicken the drink - but being honest with you, I always add ice as I love my cocktails really chilled. An alternative is to serve this Apricot gin cocktail in a cocktail glass that has been in the freezer.
Another great thing about using egg whites in cocktails is that it gives you a surface to rest a garnish on, like edible flowers or a lemon slice.
I've been playing with flavored gins for a while now, and as soon as I found this apricot gin, I knew exactly what to create with it. Apricot and almond is a favorite flavor combination of mine, and this Apricot gin cocktail isn't too sweet, which is something I prefer. However, you can adjust the sweetness according to your taste by adding more almond syrup or choosing a sweeter sparkling wine.
Do you love a gin cocktail with a bit of fizz? Try a Twinkle; they're also delicious. And what cocktail hour would be complete without snacks? Crunchy popcorn calamari is a great summery side.
Ingredients
Apricot gin cocktail is a simple cocktail to make at home or a fantastic cocktail to serve at parties as it looks and tastes fancy. The ingredients are simple and straight forward.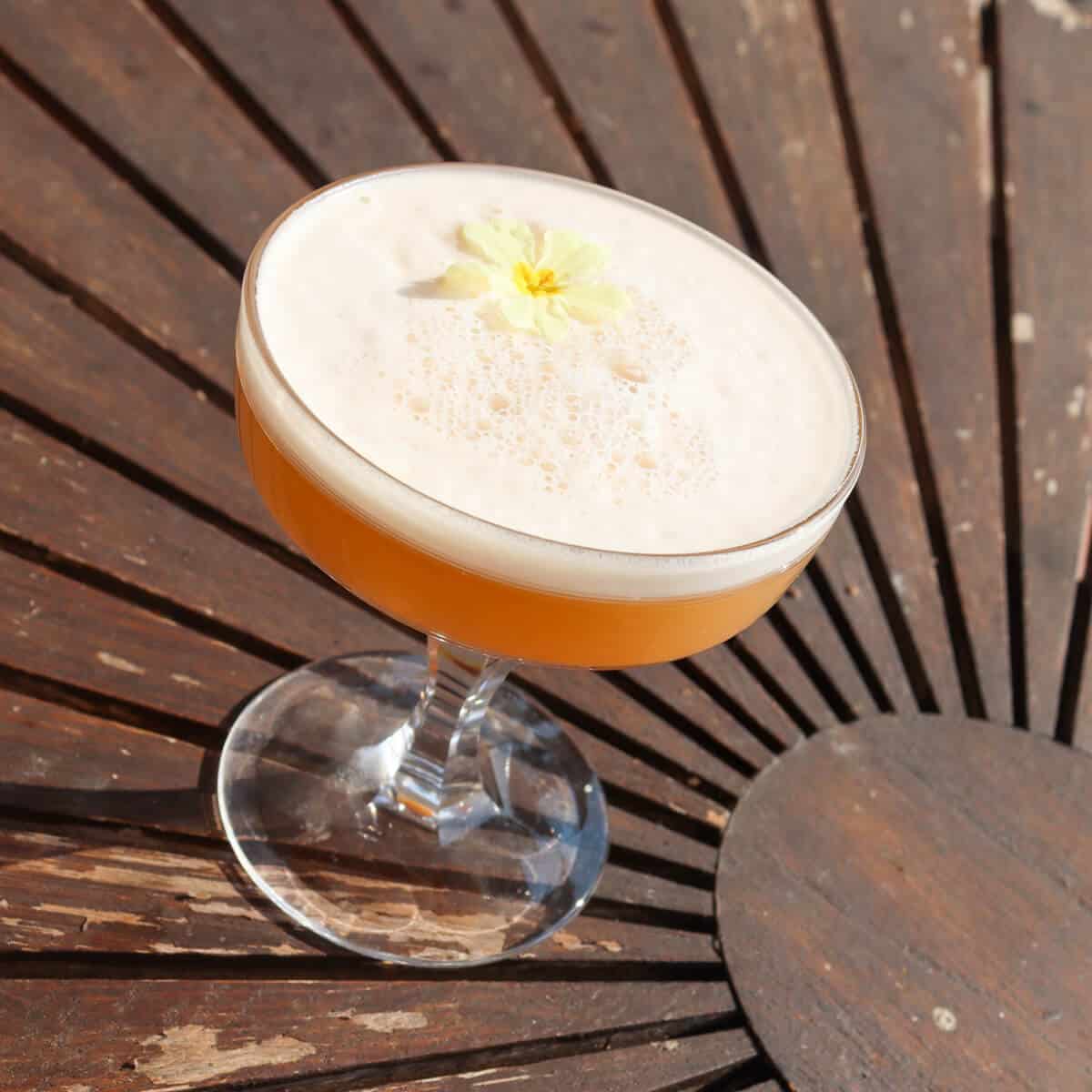 Apricot gin: Flavored gins can add amazing flavor to your homemade cocktails. I am enjoying Silent Pool gins a lot at the moment and recommend them, but you can find flavored gins in most liquor stores.
Almond syrup: A nutty take on simple syrup, this is a cocktail cabinet must-have!
Egg white: Egg whites have special properties that allow the protein structure to trap air as they are whipped or shaken. This is what allows us to make frothy egg white cocktails or desserts like these hazelnut meringue cookies and rhubarb pistachio pavlova.
Ice cubes: Shake your apricot gin fizz cocktail over ice to chill it down to the perfect temperature and aerate the egg whites.
Sparkling wine: You can use any sparkling wine, but I'd recommend a prosecco or demi-sec champagne for sweetness.
See the recipe card at the bottom of this post for full quantities.
How to make Apricot Gin Cocktail with egg white
Measure your apricot gin, almond syrup and egg white into a cocktail shaker.
Add ice all the way to the top, and shake vigorously for 20 seconds to combine the liquids and aerate the eggs white into them.
Strain the almond apricot cocktail into a glass (it's wise to double strain it to ensure a super smooth finish) and top up with your sparkling wine of choice.
Top tip
Always add ice to the cocktail shaker last, and always pack in as much as you can. This is so that the liquid moves over the ice as you shake, rather than the ice moving around the shaker, which breaks it down and will water down your cocktail.
Hint: Fresh egg whites are best in this Apricot gin fizz cocktail recipe.
If you like adding nut-based liquors or flavorings to cocktails, try these homemade walnut bitters.
What can be mixed with gin?
Aside from the classic cocktail drink combination of gin and tonic water, there are other mixers you can use with gin. Some of the best pairings are:
Gin and ginger ale
Gin and soda water
Gin and grapefruit juice
Sloe gin and Apricot juice
Gin and cranberry juice
Gin and sweet vermouth with lemon juice
When trying out gin mixers, it is important to ensure that you serve this classic drink ice cold, as the flavors may lack impact if it is served and consumed at room temperature. It is also recommended to use a more basic gin instead of using craft or expensive gin. You may also visit the local liquor stores near you and ask for their recommendation.
Substitutions
If you are allergic to some of the ingredients mentioned above or you are following a strict diet, there are a lot of ways you can tweak the recipe. Here are a few substitutes ideas you can use to still enjoy this Apricot gin cocktail recipe:
Alcohol-free - you can alternate this with an alcohol-free sparkling wine or gin.
Vegan - you can swap the egg white in this apricot gin cocktail recipe with two tablespoons of aquafaba (chickpea water), which has properties that mimic egg whites.
Equipment
A cocktail-making set is something you may want to give to yourself or add to your Wishlist. It will make your mini mobile bar at home look classy and will motivate you to host more cocktail parties in the future.
For starters, you may invest in the basic cocktail equipment such as:
Cocktail shaker
Hawthorne strainer
Stirring spoon
Mixing glass
Knife and cutting board
Storage
It's best to consume this Apricot gin cocktail with egg white immediately and not make it in advance.
These ingredients don't stand up well to freezing. But try these frozen cocktail popsicles instead.
Quick Hint: When organizing your mobile bar, it is best to keep your ingredients safe and fresh as long as possible. It is important to learn about the proper storage of liquors and liqueurs, syrups, juices, as well as ice.
FREQUENTLY ASKED QUESTIONS
What's the purpose of adding egg whites to a cocktail, and how much should I add?
While it has very little effect on the taste of the Apricot gin cocktail, adding egg whites allows your drink to tone down its sharpness and provide a richer and foamier texture due to the way the protein structure in eggs traps air. However, it isn't advisable to add an entire egg white in one cocktail. Only half an ounce of egg is enough per drink.
What type of alcohol goes well with apricot?
The sweetness of apricot goes well with a variety of fruits, including the citrus juices like lime juice, orange juice, and pineapple juice. For liquors, it's best paired with the classic gin and light rum. You may also try pairing it with other alcohol like vodka and tequila.
What are the things I should consider when adding eggs to my cocktail?
Use eggs from chickens that have been vaccinated against salmonella. Use small or medium eggs on your cocktail. Older hens tend to produce larger eggs, so small eggs come from younger chickens. You should also first test the freshness of the eggs by placing them in water before directly using them on your Apricot gin cocktail. Remember that a fresh egg should sink and stay at the bottom of a glass or bowl, so avoid using those that float as they are already stale. Discard any eggs that have a crack on its shell, if the egg white is watery, or if the egg yolk bursts easily.
More delicious cocktails and adult drinks
Food Safety
Drinking or eating raw or slightly cooked eggs comes with a risk of food Bourne diseases. I recommend only using eggs from chickens that have been vaccinated against salmonella.
Recipe Card
Apricot gin cocktail with egg white
A classic sour cocktail made with apricot gin, almond syrup and egg whites topped up with sparkling wine.
Equipment
1 Cocktail shaker

1 shot measure
Ingredients
50

ml

apricot gin

25

ml

almond syrup

1

egg white

50

ml

sparkling wine

ice
Instructions
Measure the apricot gin and almond syrup into the cocktail shaker

Fill the cocktail shaker with ice

Shake the apricot gin cocktail vigorously for 20 seconds

Strain the cocktail into a glass

Top up the cocktail with sparkling wine to finish
Video
Nutrition
Calories:
223
kcal
Carbohydrates:
19
g
Protein:
3
g
Fat:
1
g
Sodium:
68
mg
Potassium:
110
mg
Sugar:
19
g
Calcium:
10
mg
Iron:
1
mg
Check out these other recipes you might like!