A classic Kir Royale is always a safe yet elegant bet for a dinner party or cocktail reception. Made from just two ingredients, it is quick to knock up and tastes as good as it looks.
Kir Royales can be served at any time of year, but I do personally love one as a champagne Christmas cocktail during the holiday season.
Jump to:
Why you'll love this easy recipe
It's easy: I love a two-ingredient cocktail recipe! It is the perfect drink for a cocktail party when you're s busy host but want to impress your guests.
It's elegant: This champagne cocktail looks so beautiful with its deep purple color and long, fine bubbles. Serve in fine-stem champagne flutes for best results.
It's delicious: Even though it is super simple, this delicious cocktail is famous for a reason, and that's because it is super tasty!
What is the best champagne for Kir Royale?
I'd always recommend a brut champagne as the best for a Kir Royale. Brut means 'dry' in French, so when a bottle is labeled as brut it means it is a dry champagne. As Cassis is a sweet liquor, using a sec or demi-sec champagne (sweet or semi-sweet) in this champagne cocktail recipe can make it too sweet. For this reason, I don't normally use prosecco for a Kir Royale as it is on the sweeter side. But you could use dry sparkling wine from other countries; for example, New Zealand, England, or California all generally use the same varieties and methods as the French do with champagne. So, those sparkling wines will work best in this classic champagne cocktail.
Kir Royale Ingredients
The best thing about a Kir Royale is how simple it is. It's a cocktail recipe with two ingredients and takes seconds to prepare.
Champagne: The best champagne for a Kir Royale cocktail is brut or dry champagne. This is because the added fruit liqueur is intensely sweet, and we need to balance this, or it can become too sickly for the French sparkling wine to shine through.
Crème de cassis (blackcurrant liqueur): Berry liqueurs are great additions to a bubbly cocktail, and this French liqueur adds a really delicious taste. I use Chambord liqueur, but other brands around also make delicious cassis liqueur.
Twist: You don't have to serve a kir royale with a twist, but it does add a bit of flair and can jazz things up and give fragrance and taste. You could also add a fruit twist, like fresh raspberries or blackberries. I also like adding an orange twist in autumn and winter and a lemon twist in spring/summer.
See the recipe card at the bottom of this post for full quantities and step-by-step instructions on how to make a classic Kir Royale apéritif cocktail for parties.
Jump to Recipe
Instructions
Measure the crème de cassis into a champagne flute.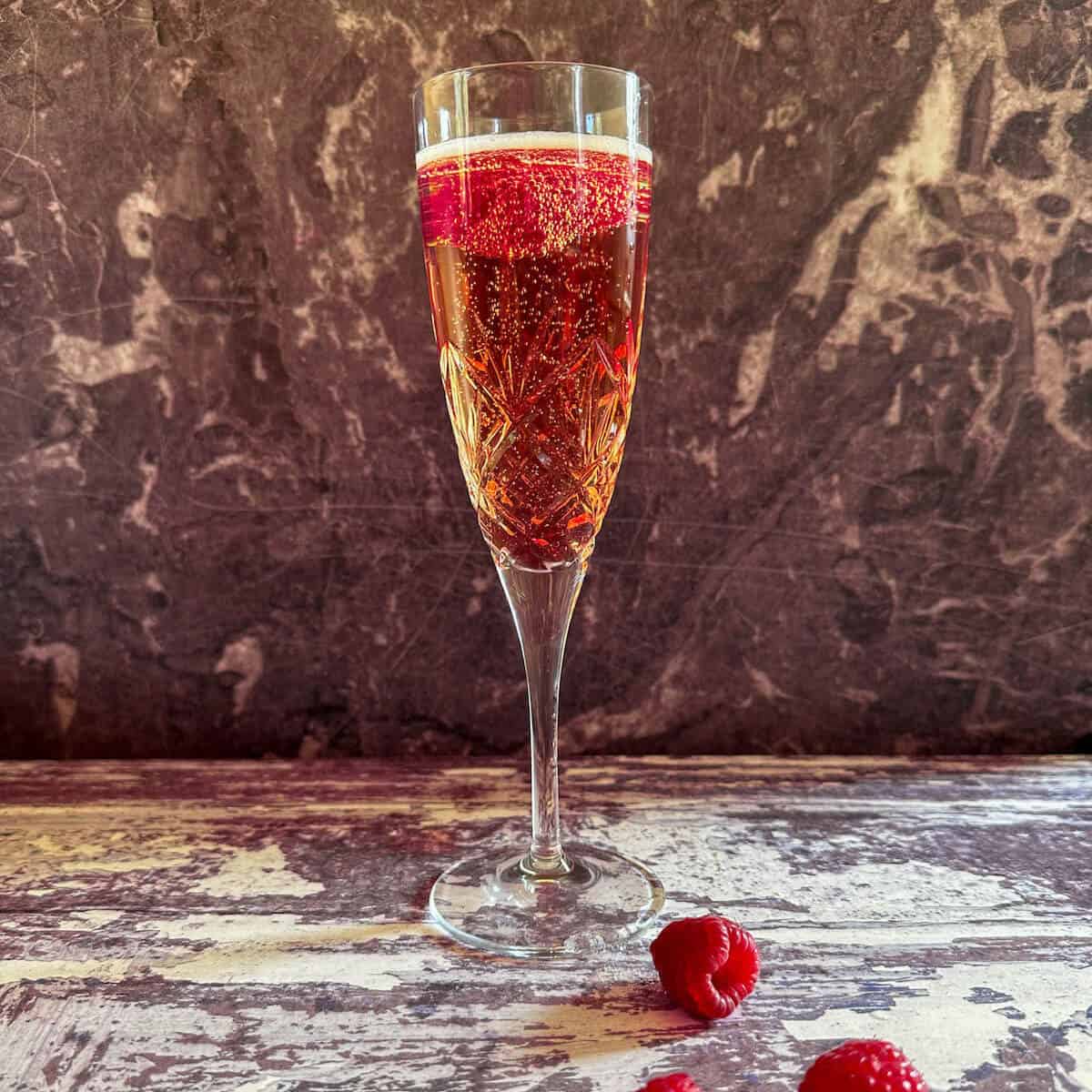 Top up with champagne, garnish with a twist and serve.
Top tip
Keep both the champagne and the crème de cassis in the fridge or on ice before serving. A Kir Royale should be served cold.
What to serve with Kir Royale
A sweet champagne cocktail with black fruit notes like a Kir Royale will taste delicious with cheese, so I'd suggest serving a baked camembert that guests can scoop up with crudites or crostini whilst having a drink. Find more French cheese and wine pairings here.
Serving suggestions
Kir Royale should be served in tall champagne flutes, or alternatively, you can serve it in a coupe glass for some old Hollywood vibes. Looking for other elegant fruity cocktails? Try a cranberry margarita.
Equipment
You will need a measuring glass or cocktail jigger and classic champagne flutes to make this easy cocktail recipe.
Storage
Champagne will start to go flat once poured, so do not make this cocktail in advance and instead serve it immediately. Thankfully, it is such a simple yet elegant cocktail to make!
FAQ
Why is it called a Kir Royale?
The Kir cocktail and Kir Royale are named for a French priest and mayor, Canon Félix Kir, who lived in Burgundy and who was a hero of the resistance during World War II.
What is in a Kir Royale?
Kir Royale is made from dry sparkling wine (like brut champagne) and black currant liqueur (creme de cassis).
What temperature to serve a Kir Royale?
A Kir Royale needs to be served chilled, so keep both the champagne and blackcurrant liqueur in the fridge before preparing and serving.
Recipe Card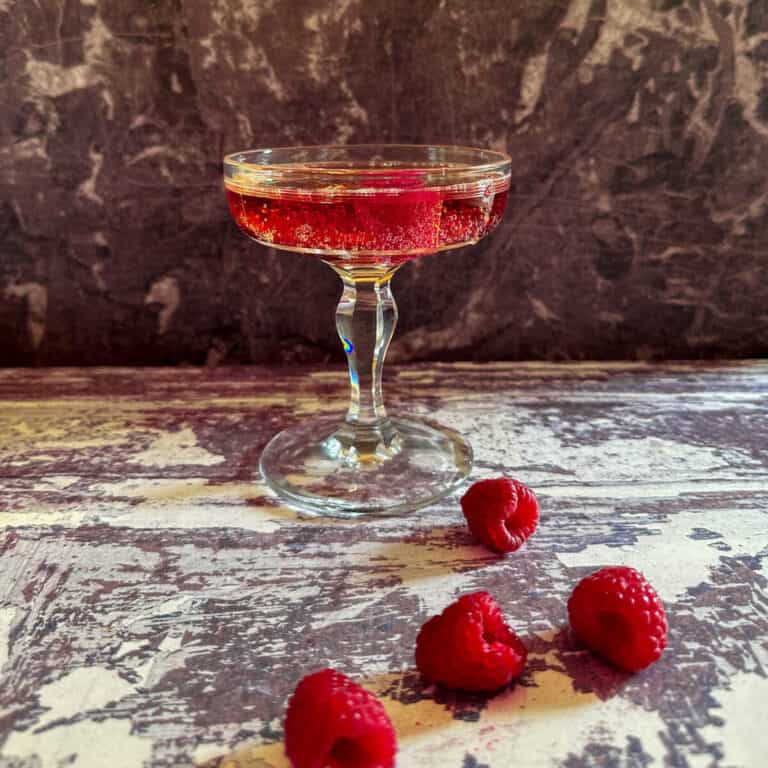 Classic Kir Royale Cocktail
Serve this classic French cocktail at elegant parties, it is so simple to make with just two ingredients.
Equipment
1 champagne flute

1 jigger/measurer
Ingredients
125

ml

Champagne

or other dry sparkling wine

1

tablespoon

Cassis liqueur
Instructions
Measure the blackcurrant liqueur into the bottom of the champagne glass.

Top up with champagne or other dry sparkling wine.

Garnish with fresh berries, lemon, or orange peel, and serve immediately.
Nutrition
Calories:
107
kcal
Carbohydrates:
6
g
Protein:
0.1
g
Fat:
0.1
g
Saturated Fat:
0.02
g
Polyunsaturated Fat:
0.02
g
Sodium:
10
mg
Potassium:
114
mg
Sugar:
6
g
Calcium:
11
mg
Iron:
1
mg
Elegant party recipes
These are some of my favorite dishes to serve with drinks at dinner parties: