Ever wonder what wine goes with pasta? In this post, I'll go through all the best wine pairings for pasta, including popular pasta dishes like the best wine for spaghetti bolognese, spaghetti carbonara, and pesto pasta. Consider this the ultimate Italian food lovers guide to pasta and wine pairing!
This post is part of my food and wine pairing series. I am a trained chef and WSET level two qualified (West London Wine School).
Jump to:
An Introduction to Wine and Pasta Pairing
What wine goes with pasta? Let's break it down. When it comes to pairing wine and pasta, we are actually pairing with the pasta sauce, not the pasta itself. There are tomato-based pasta sauces, creamy pasta sauces, spicy pasta sauces, meat sauces, garlic sauces, and more. And it isn't a one-size-fits-all, as different wines will taste better with certain pasta sauces than others. Wine pairing carbonara is completely different from finding the right wine for spaghetti bolognese. So asking questions like 'Which white wine goes with pasta' and 'Which red wine goes with pasta' is never going to give you a complete answer.
Easy pasta and wine pairing principles
Pair with the sauce: Always pair with the strongest flavor in the dish. The type of pasta is not as important. Instead, look at the sauce. For example, tomato-based sauces like this gnocchi al forno? Cheese-based sauces? Seafood pastas? There is a huge difference between different pasta dishes in Italian cuisine.
Go local: Find out where the pasta dish originates from and choose a wine that is also local to that area. They will be natural partners. For example, when Spaghetti Bolognese wine pairing, remember it is from Bologna, so red wines from that area can be a great match.
Match the body: When we talk about the body with wine, we are referring to the mouth feel. A thick, rich, and meaty lasagne with rich flavors will need a full-bodied wine, compared to a spaghetti vongole which will need something crisp with lighter structure.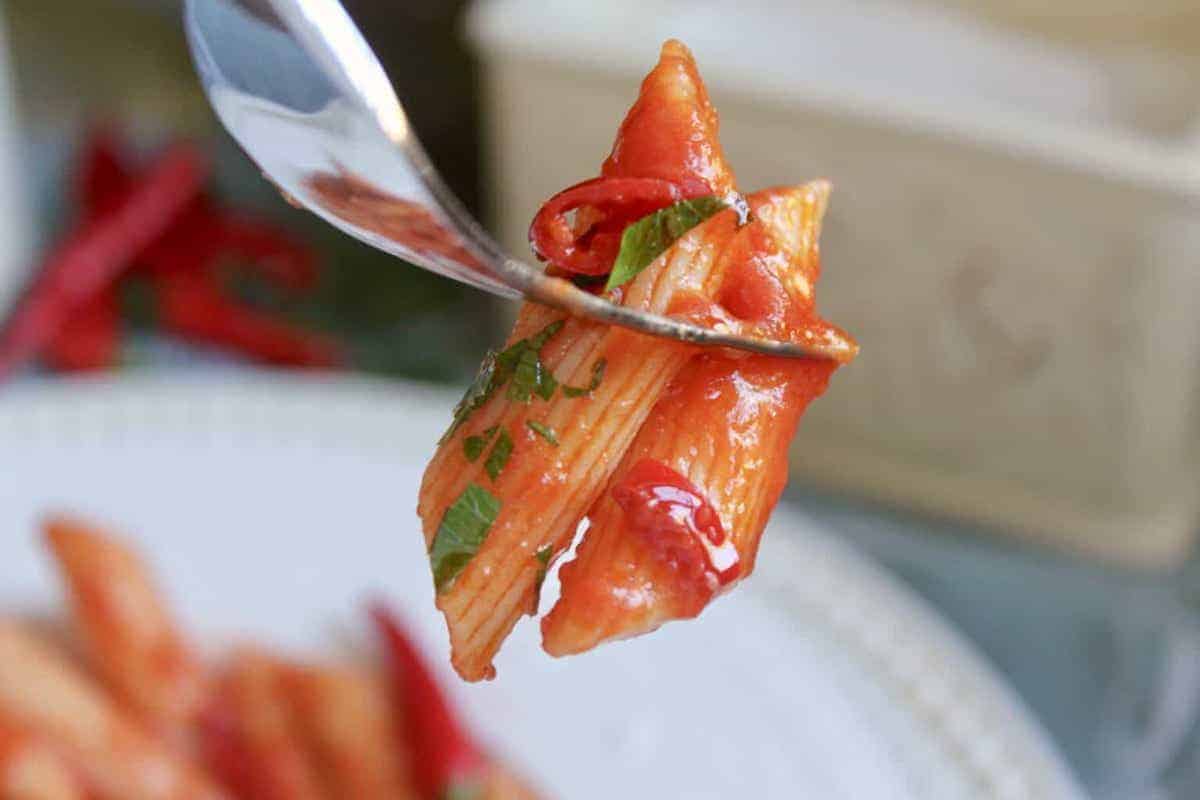 Do I have to serve Italian wine with Italian food?
No, you can serve wine from any country with Italian food! But bear in mind that wine local to the area the dish originates from will often work well with it. So Italian wine is an easy option when choosing wine to go with pasta. Many things can have an impact on how a wine tastes, including climate, soil, age, and processing, and the more you know about a grape variety and where/how the wine was produced, the better. Read my best tips for food and wine pairing to learn more.
Red wine with red sauces and white wine with white sauces?
Not always! But it can be a place to start. Red sauces will contain tomato, which is acidic, and a white wine won't always stand up to it, and I personally often prefer white wines with cheese or creamy sauces to red wines (read my post on pairing French cheese to wines if you love cheese as much as I do).
The cheese can also have a big impact; parmesan cheese and pecorino have a strong nutty taste whilst mozzarella is mild, thick, and creamy. A dish like lasagne has all of the above plus a rich meaty sauce, which is why it is always served with full-bodied wines like a bold red to stand up to this classic dish.
The best wine pairings for pasta
What wine goes with carbonara?
Serve a Sangiovese that can cut through the creamy saltiness of the carbonara sauce or a Trebbiano as a white wine for carbonara. Both these grape varieties are grown in the Lazio region of Italy, where carbonara also originates.
What wine goes with truffle pasta?
When wine pairing truffle pasta, serve dry white wines like a Fiano or a Gavi. Alternatively, a Pinot Gris or dry Riesling from Alsace will work well. If you're looking for red wine for truffle pasta, serve a Barolo. Truffle is full of umami flavor, which can be hard to pair with as it can make wine taste more acidic and less fruity.
What wine to serve with mushroom pastas?
Mushrooms are also full of umami flavor and are often in a creamy sauce so try a creamy oaked Chardonnay or Marsanne.
What wine goes with aglio e olio pasta?
A fruity red or lighter red wines, Beaujolais style, or a young Rhone Valley red would work well. Garlic (and olive oil) is the main ingredient in aglio e olio, and garlic can be very strong and overpowering.
Which wine goes with spaghetti bolognese?
Bolognese sauce is bold and meaty, so it needs a medium to full-bodied red wine that can stand up to it. Serve a Barbera, Chianti Classico, or alternatively, a Zinfandel or Syrah (Shiraz) is a great choice.
Which wine goes with pesto pasta?
A white wine like a Sauvignon Blanc with a good amount of acidity is the ideal wine pairing for green pesto sauce, or try a Vermentino.
What wine goes with pumpkin pasta?
Try serving a creamy Chardonnay or Marsanne with dishes like this creamy sage and pumpkin tagliatelle or, for a red wine option, a pinot noir.
What wine goes with Pomodoro pasta?
Tomatoes are sweet and acidic, so serve a medium-bodied red like a Cabernet Sauvignon to compliment the tomato sauce in pomodoro pasta. Marinara sauce is very similar in taste to Pomodoro sauce, just with a chunkier texture, so serve the same wine pairing for Marinara.
What wine goes with clam pasta?
The best wine pairing for spaghetti alle vongole or clam pasta is a crisp, dry white wine (un-oaked) like a Pinot Grigio, Soave, Greco di Tufo, or Falanghina will allow the flavor of the seafood to shine. Non-Italian options would be a Picpoul de Pinet or an Albarino.
What wine goes with arrabbiata pasta?
Penne arrabbiata needs something that will cut through both the tomato's acidity and the spicy flavor. A crisp Verdicchio or Gavi with vibrant acidity would work, or a fruitier red or rose like a Zinfandel/Primitivo. You might also like this spicy sausage broccolini pasta
What wine goes with creamy pasta?
A creamy Chardonnay or Marsanne with buttery undertones (from malolactic fermentation) will pair well with creamy cheese sauce. A cream-based pasta sauce will have quite a full 'mouth feel' that will coat the tongue, so matching this with a creamy white wine is ideal.
What is the best vodka sauce wine pairing?
A fruity red wine is the best wine for vodka sauce. Try a Chianti Classico, Primitivo or a Beaujolais.
What is a wine pairing for cacio e pepe?
Black pepper and nutty pecorino cheese are the basis of this Italian classic. Chianti Classico is an excellent wine pairing for Cacio e Pepe, or for white wine, try a Riesling with peppery, creamy pasta.
What wine goes with crab linguine?
I recommend serving sparkling wine with crab linguine. Try a dry Prosecco or Brut champagne.
What wine to serve with fettuccine alfredo?
Butter and cheese are the main components in this rich pasta dish, so it needs something with high acidity to cut through the fattiness of the creamy white sauce. A white Burgundy (Chardonnay) will work, or another cooler climate Chardonnay like one from Oregon, will be an excellent choice.
What wine to serve with lasagne?
Italian reds like a full-bodied, fruity, and high tannin red wine like a Barolo or a Barbera is an excellent wine pairing for lasagne that will stand up to the rich and heavy flavors of red meat and white sauce. If you like meaty lasagnas, you must try Cypriot Pastitsio...
Is there a wrong kind of wine?
Ultimately the perfect wine pairing for pasta is the one you enjoy. But yes, there are choices that will taste strange with the flavor of the sauce and the heaviness of the meal. Imagine drinking orange juice after brushing your teeth! Perhaps less extreme, but you get the idea. Next time, choose a wine that won't overpower or be overpowered by your delicious pasta dish, and keep my pairing tips in mind when matching body and starting with the sauce and predominant flavors.
What are your favorite pasta pairings? I always love hearing about finding a new great pairing to try.