Hosting a French wines and cheese party or just want to elevate your cheeseboard? Here are all the best French cheeses and which French wine to serve them with to create the perfect wine and cheese tasting experience.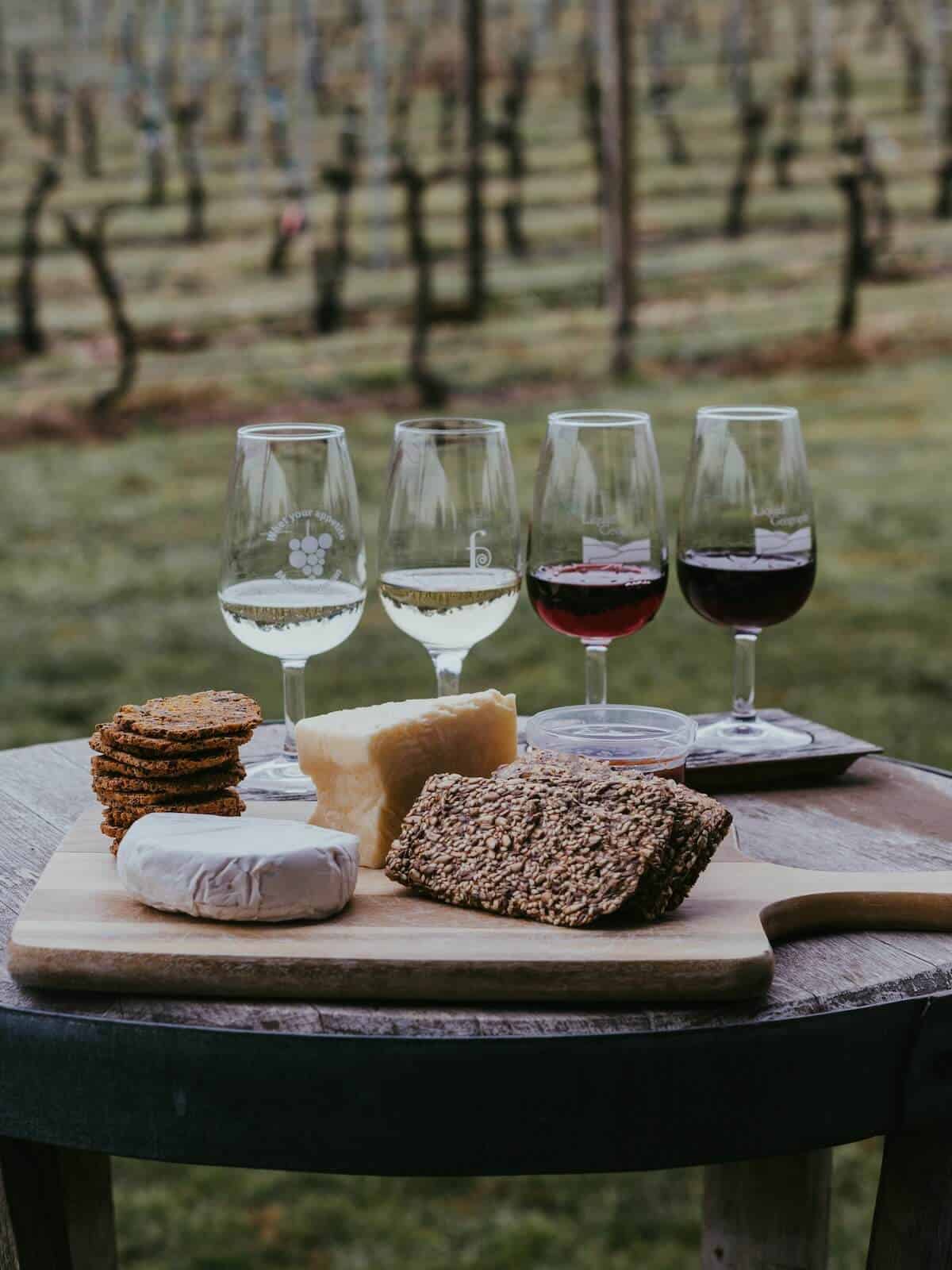 "How can you govern a country that has 246 varieties of cheese?"

Former French President Charles de Gaulle, 1962
Jump to:
Background to French cheese and wines
Cheese and wine are a huge part of French culture. So much so that there is a legal system in place, with both specific cheeses and wines being awarded an Appellation d'Origine Contrôlée (AOC) to signify details such as their origin, grape varietals used, and how they are made. Roquefort was the first French cheese to be awarded AOC status in 1925, and now there are over 40. Comparatively, there are over 300 wine AOCs both governed by the Institut National de l'Origine et de la Qualité, or INAO.
When you buy an AOC cheese or fine wine, there is a guarantee that it was produced following strict rules and was made in a traditional way, using particular grapes, and in a specific place. These strict guidelines allow for consistency and quality in the produce, so you know what you're going to get.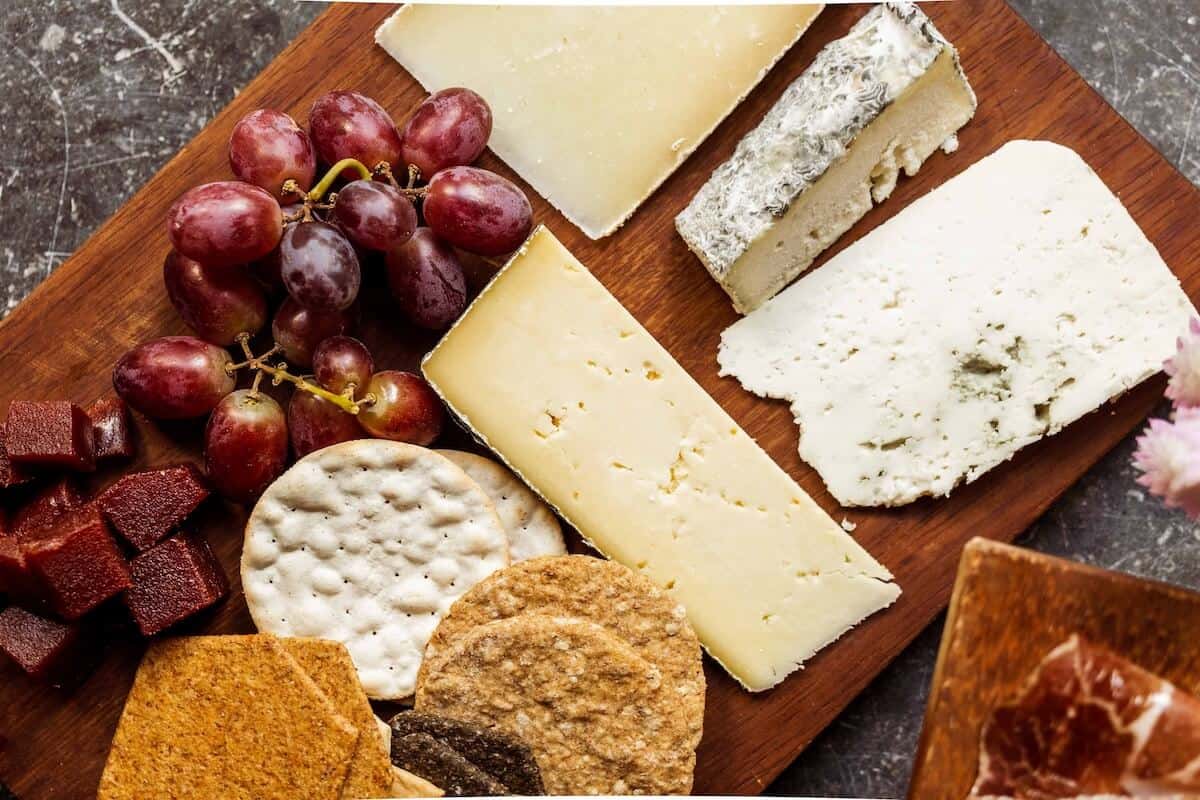 As for me, we take this very seriously in my family too. I am descended from French wine merchants on my father's side, and food and wine pairing is a passion of mine. As a trained chef who is also WSET level two qualified, I spend a lot of my time developing recipes and sharing food and wine pairing tips to elevate the whole experience. Hosting a cheese and wine party is definitely one of my favorite activities, and keep reading for all my top tips on how to pair French wines and cheese. I have also spent a lot of time in France working as a private chef and enjoying French cuisine. So, I extend a warm welcome, and now let's move on to some wonderful wine and France's best fromages!
Basic French wines and cheese pairing tips
Before hosting a French wines and cheese tasting, brush up on some basic pairing tips to help you put together the best cheese board and wines to complement it.
Pair by region: One of the easy cheese and wine pairing tips to remember is that food and wine originating from the same place will generally taste good together. After all, they were produced to be enjoyed by locals in the different regions first.
Match intensity: Big complex flavors need something that stands up to them, and milder aromas should be balanced carefully to avoid being overpowered.
Contrast flavors: Sweet wines taste delicious with salty cheeses, and thick and creamy cheeses pair well with acidic wines.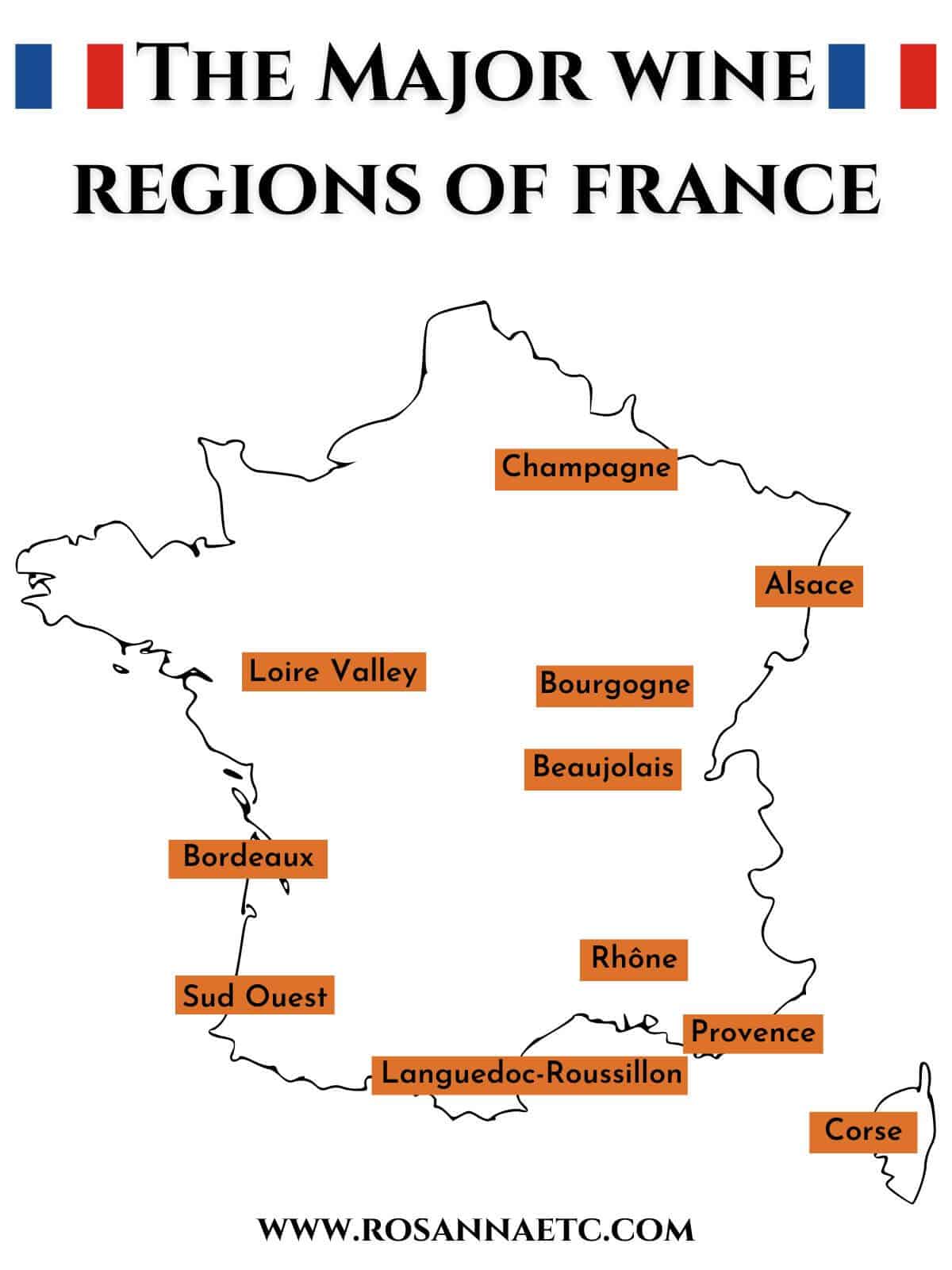 Tips for hosting a wine and cheese party
Start with the cheese: First, choose a selection of cheeses with varying strengths and flavors. I'd recommend one blue cheese, one goat cheese, one sheep cheese, a soft cow's milk cheese, and a hard cow's milk cheese.
Choose the best pairings: Secondly, use my list of the wines below to find a few wines that will pair with more than one of your selected cheeses to avoid ending up with hundreds of different bottles.
Think of the add-ons: Salt will enhance all the flavors, so salty crackers or breadsticks are a must. And, of course, light baguettes! Grapes, figs, pears, and walnuts also work well with cheese.
Create tasting sheets: Print off a list of wines and cheeses, so guests have a record of what you have served. What's more, they can also make notes of which French cheese and wine combinations they enjoyed the most. A cheese lover's heaven!
20 Top French Cheeses and Wines To Pair Them With
Famous French cheeses like Brie, Roquefort, and Camembert are available around the world, but when hosting a French wines and cheese tasting party, try throwing some slightly less well-known items into the mix. Here is a guide to the 20 top French cheeses and wines to pair with them.
1. Brie De Meaux
Brie de Meaux is a soft and creamy cheese produced in wheels, originally from the Île-de-France region of Northern France. It can vary in strength depending on how mature it is, which means you'll need to adapt the wine paring accordingly. Some would say Brie is the most famous cheese, and it is enjoyed all over the world
Wine pairing for Brie cheese
A Blanc de Blancs Champagne (just Chardonnay grapes) is an ideal wine pairing for a young Brie. However, if it's a more mature and stronger brie, a ripe and fruity red wine like Beaujolais (Gamay) will work better. Try making my brie and cranberry profiteroles!
2. Camembert
Camembert is certainly one of the famous softer cheeses from the Normandy region of France. It is a surface-ripened unpasteurized cow's milk cheese. Serve baked camembert to showcase it to its best effect (in my opinion).
Wine pairing for Camembert cheese
Camembert pairs well with a fruity Chardonnay from the South of France or for a higher-end option, one from Pouilly-Fuissé AOC in the Southern Burgundy region. Champagne and sparkling wine can also work well! The cliche of camembert and red wine does not always work as well as you'd think, although a riper cheese will taste great with a medium-bodied Pinot Noir.
3. Roquefort
Roquefort is a strong and salty blue cheese made from sheep's milk in southern France. Instantly recognizable from its veins of blue mold that stretch their way throughout it, it has a creamy and crumbly texture and sharp, tangy flavor.
Wine pairing for Roquefort cheese
The saltiness of Roquefort is the perfect match for the sweetness of a Sauternes sweet white wine from Bordeaux. Bordeaux wines are typically expensive, and Sauternes is not an exception. Serve any dessert wine ice cold to enjoy to its best effect.
4. Comté
Comté is a hard cheese made from the unpasteurized milk of Montbéliarde cows up in the Jura mountainous in the Franche-Comté region of Eastern France. This wonderful cheese has a fruity, nutty, and complex flavor and is adored by chefs and home cooks.
Wine pairing for Comté cheese
The nutty, caramel flavor of comte pairs well with a light, fruity Beaujolais or a white wine from the Jura region.
5. Coeur de Neufchâtel
You might want to serve Neufchâtel to your Valentine! It's a heart-shaped cheese from Normandy with a slightly grainier texture than other soft cheeses like Camembert. It also has a saltier taste and sharper finish, so you will need a stronger wine that stands up to it.
Wine pairing for Neufchâtel cheese
Serve a rich and full-bodied wine like a Bordeaux red wine blend with Neufchâtel cheese. For info, the red varietals grown in the Bordeaux region and used in red blends are Cabernet Sauvignon, Merlot, Cabernet Franc, Petit Verdot, Malbec, and less frequently, Carménère.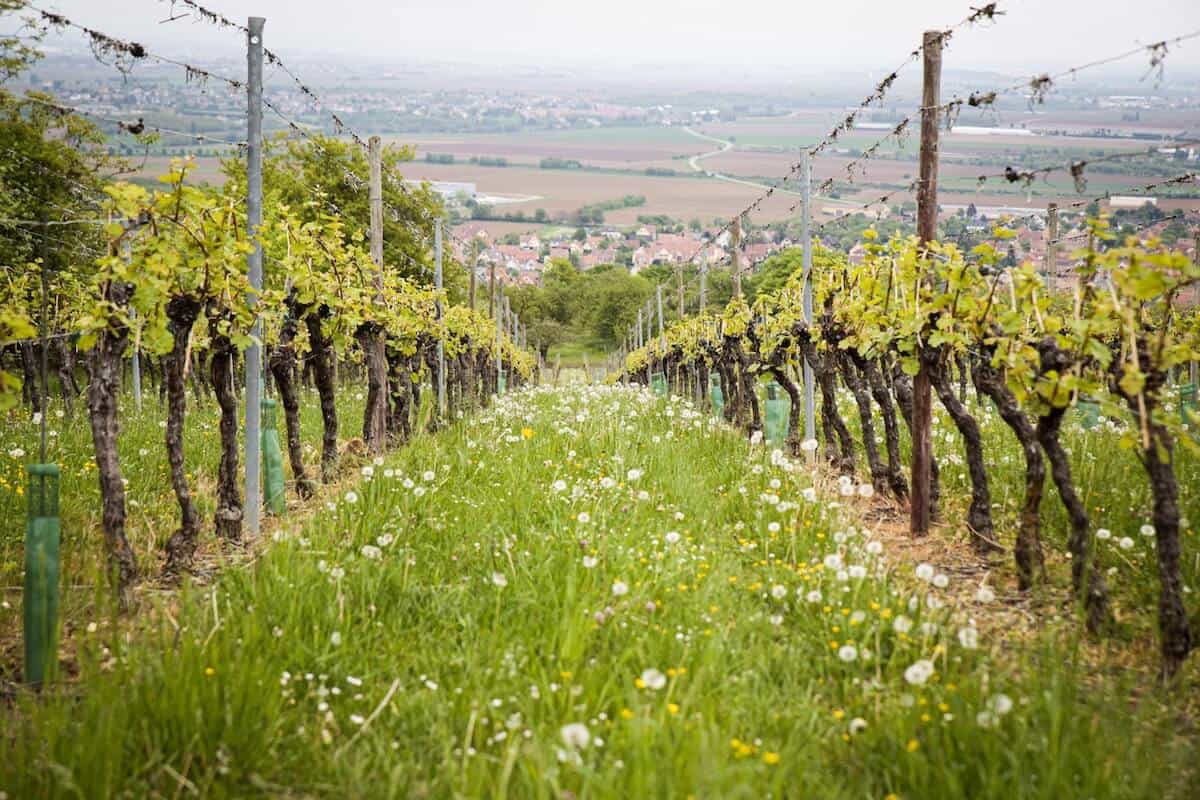 6. Epoisses de Bourgogne
Intensely creamy, runny, and decadent, Epoisse is one of my favorite top French cheeses. It will also run away from you if you're not careful, hence why it is packed in neat wooden containers to keep it well contained.
Wine pairing for Epoisses de Bourgogne cheese
Pair Epoisse with a Burgundy (Bourgogne) white wine (Chardonnay), especially those from Chablis AOC, which will have crisp acidity to balance the rich and thick creaminess of the cheese. Whilst Chardonnay is a variety that can grow in any climate, it is a widely grown grape, Burgundy produces some of the best in the world, and it's often priced to match. But well worth it!
7. St. Nectaire
Saint Nectaire is from the Auvergne region in Central France, made exclusively from the milk of Salers cows. It has a velvety grey rind with a strong smell and nutty, earthy mushroom flavors.
Wine pairing for St. Nectaire cheese
If we're pairing by region, then a Côtes d'Auvergne red wine will work well, which is usually a Gamay/Pinot Noir blend. Alternatively, serve a Bordeaux red blend.
8. Valençay
Valençay is a pyramid-shaped goat cheese (or chèvre) with a flat top, making it easy to recognize! It is produced in the Loire Valley and has a rustic blue-grey color to the mold-ripened rind, which is darkened with charcoal.
Wine pairing for Valençay cheese
Try a crisp and citrusy Loire Valley Sauvignon Blanc with tangy and creamy Valençay cheese.
9. Langres
Oozing and creamy Langres is from the Champagne Ardenne region in northeastern France. It's pretty pongy and is perfect for scooping onto a crusty baguette. Interestingly, its characteristic golden-orange color comes from being coated in annatto (made from the seeds of the Central American annatto tree) which is also a spice used to make Belizean stewed chicken.
Wine pairing for Langres cheese
Serve Langres cheese with a 'biscuity' Champagne that has been aged on the lees (when the yeast is left in the barrel).
10. Tomme de Savoie
Savoie is a very small region in Eastern France near the French Alps, but that's no reason to overlook it, especially when they make cheese this good! Tomme de Savoie is a semi-firm cheese made from skimmed cow's milk, so it has a lower fat content than other cheeses.
Wine pairing for Tomme de Savoie cheese
Serve an aromatic and fruity Viognier from Condrieu AOC in the Northern Rhone
11. Ossau-Iraty
Ossau-Iraty is a sheep's milk cheese from the Pyrenees mountains in the southwest of France (Basque country). This firm Ewe's milk cheese is incredibly popular and has a sweet and nutty taste with notes of caramel.
Wine pairing for Ossau-Iraty cheese
A sweet wine like Sauterne with apricot and honey notes will wine pair with Ossau-Iraty.
Top tip - Ossau-Iraty cheese tastes delicious with fruit, like juicy figs or pears, so try some of these on your cheese board too.
12. Raclette
Raclette gets its name from the French verb 'racler' meaning 'to scrape' and raclette cheese is melted and served (or rather, poured) over cuts of charcuterie, cornichons, and boiled potatoes. It is produced in the French and Swiss Alps and has a slightly sweet and nutty flavor. A raclette party is one heck of a party.
Wine pairing for Raclette cheese
Serve raclette with a white wine from the Crozes-Hermitage area of the Rhône Valley (made from Marsanne and Roussanne grapes). Alternatively, a Pinot Gris from Alsace will also cut through it wonderfully too.
13. Morbier
Morbier is a soft and springy washed rind cheese with nutty notes characterized by the thin black layer of ash that runs through its middle.
Wine pairing for Morbier cheese
Morbier's rich and creamy taste can handle a wine with some oak, so an oaked Chardonnay from the Mâconnais sub-region of Burgundy (for example, Mâcon AOC) will pair perfectly.
14. Beaufort
Beaufort is an alpine cheese and a close cousin of Gruyère. It's a hard cheese produced in the Savoie region of the French Alps and has a strong flavor with fruity and nutty notes. It's one of my dinner party favorites to bring out after a meal.
Wine pairing for Beaufort cheese
An aged, sweet Vouvray AOC (Chenin Blanc) from the Loire Valley will have delicious honey and dried fruit notes which will taste delicious with Beaufort cheese.
15. Saint Albray
Saint Albray is a French cheese in a flower shape, which makes it pretty as well as tasty! It has a mild and slightly sweet flavor and creamy texture.
Wine pairing for Saint Albray cheese
A red Burgundy wine (Pinot Noir) is the ideal match for Saint Albray with its lighter tannins and red fruit flavor that won't overpower the cheese.
16. Carre de l'Est
A slab-shaped cheese with a smokey flavor, Carre de l'Est is very popular in France but less well-known throughout the rest of the world. Its name literally translates from French to English as 'square from the East,' and it originates from Lorraine in Northeastern France, close to Alsace.
Wine pairing for Carre de l'Est cheese
Wine pair Carre de l'Est with an aromatic Gewürztraminer white wine from Alsace, which will stand up to it.
17. Reblochon
Reblochon is one of the stronger cheeses on the spectrum, and perhaps not for beginners! It is made in the French region of Haute-Savoie and is one of the classic cheeses. Reblochon is made from full-cream unpasteurized cow's milk that is aged in caves or cellars. It has a bold flavor and a strong lingering aftertaste.
Wine pairing for Reblochon cheese
The older and stronger the cheese, the bolder the wine. Serve older Reblochon with a bold and full-bodied red wine like a Châteauneuf-du-Pape (Southern Côtes du Rhône wine region), which is a blend of Grenache, Syrah, and Mourvèdre (known as a GSM). Or, for younger cheese, try a very dry white wine like a Chablis or white Burgundy.
18. Cantal
Cantal is a hard French cheese with a nutty taste that is produced in varying strengths. It's a good beginner cheese for guests at your French wines and cheese party who don't like anything too pongy, gooey, or overpowering and is sometimes likened to English cheddar.
Wine pairing for Cantal cheese
With milder Cantal (labeled as 'jeune'), a light Beaujolais will work well. Serve a full-bodied red wine with strong and mature Cantal cheese, like a Merlot blend from Bordeaux.
19. Banon à la feuille
Banon is a classic French goat's cheese produced in the town of Banon in Provence, southeast France, and dates back to the Gallo-Roman era! It's a soft and pungent cheese made from raw goat milk, traditionally wrapped in chestnut leaves.
Wine pairing for Banon cheese
A ripe and fruity Grenache from Provence in Southern France will pair well with Banon.
20. Munster
Undoubtedly, you will have seen the lively orange rind of Munster cheese at the deli counter or at a cheese shop. It's one of France's more recognizable cheeses! It has a soft texture and strong smell, yet the taste is usually more subtle, so it is a good cheese for beginners.
Wine pairing for Munster cheese
A crisp Reisling or a Pinto Gris is the best wine to serve with Munster cheese.
Conclusion
I hope you have found these French wines and cheese pairings useful. Of course, buying a wine to match each and every cheese can become expensive! But as you'll see, there are some wines that pair beautifully with several kinds of cheese, so it is easy to build a cheese board and wine pairings that match a few of them. Ultimately, the best French wines and cheese pairing is the one you enjoy, so never feel constricted to rules or what other people say. If you enjoy it, it's the best choice!
French wine and cheese pairing FAQ
Do you have to pair French wine with French cheese?
No! You can serve wine from all over the world with French cheeses. It is a case of personal preference of what you like to serve with different cheeses.
What are the best French cheeses?
Everyone has their own favorite, so there is no particular cheese that is best. But the most well known French cheeses are Brie, Camembert, Comte, Roquefort, Époisses de Bourgogne, and Munster.
Do wine and cheese go together?
Yes! Wine and cheese go together because the natural acidity of wine pairs well with the rich, creamy, and fatty nature of cheese.
Do red wines or white wines go better with cheese?
It depends! More often than not, white wine with cheese is a better option. But a stronger cheese will need something strong to stand up to it, which is when red wine is better.
What temperature to serve cheese?
Serve cheese at room temperature. This may mean getting it out of the fridge at least 30 minutes before you want to eat it.
What is the most popular French wine?
Champagne is arguably the most popular French wine, served on special occasions all over the world.
Recipes to try
Recipe Card
Ultimate Guide: 20 French Wines & Cheese Pairings
Hosting a French wines and cheese party? Here are all the best French cheeses and which French wine to serve them with to create the perfect tasting experience.
Ingredients
Brie and Blanc de Blanc champagne or Beaujolais

Camembert with red or white Burgundy

Roquefort with Sauterne

Comte with Beaujolais

Coeur de Neufchâtel with Bordeaux blend

Epoisse with Chardonnay or Chablis

St. Nectaire with Côtes d'Auvergne

Valençay with Loire Valley Sauvingnon Blanc

Langres with aged Champagne

Tomme de Savoie with Rhone Valley Viognier

Ossau-Iraty with Sauterne

Raclette with Pinot Gris

Morbier with Burgundy oaked Chardonnay

Beaufort with sweet Vouvray

Saint Albray with Burgundy Pinot Noir

Carre de l'Est with Alsace Gewürztraminer

Reblochon with Rhone Valley GSM

Cantal wth Beaujolais

Banon à la feuille with Grenache

Munster with Reisling or Pinot Gris
Instructions
Print this list of pairings.

Choose French wines and cheese and pairings to suit you.

Enjoy your French wines and cheese!