Belizean Stewed Chicken is a cozy and comforting meal that breaks the monotony and tingles the taste buds. Whilst living in Belize, I ate it all the time, and before I left, I was determined to try to create a recipe for it myself.
Jump to:
What is Belizean stewed chicken?
This traditional Belizean dish has a subtle warmth and deep, delicious flavor. The first time I tried Belizean Stewed Chicken was from a street seller in Seine Bight, and the meat just fell off the bone; it was so tender. I will never be able to replicate it cooked like that in a Belizean home with a recipe likely passed down in the family, but if getting to Belize isn't an option right now, I hope my recipe will give you a taste of this amazing country! Served with a thick sauce and sweet peppers on a bed of rice (often rice and beans) it's a hearty dish with the warmth and character of beloved Belize.
The deep red color of the gravy comes from red recado, which is a spice paste made here in Belize and Central America. Its red color comes from annatto, which is made from the seeds of the Achiote tree native to the region.
I put off trying to make Belizean Stewed Chicken for a while. I have such a love for this country and their food. I was scared to mess it up! But after trying it several times, I am finally happy with this recipe (although nothing will ever beat Belizean stewed chicken with rice and beans made fresh by a local street seller in Belize, it is worth coming here just for that). You want to let it cook for quite a while and use chicken on the bone so it doesn't dry out.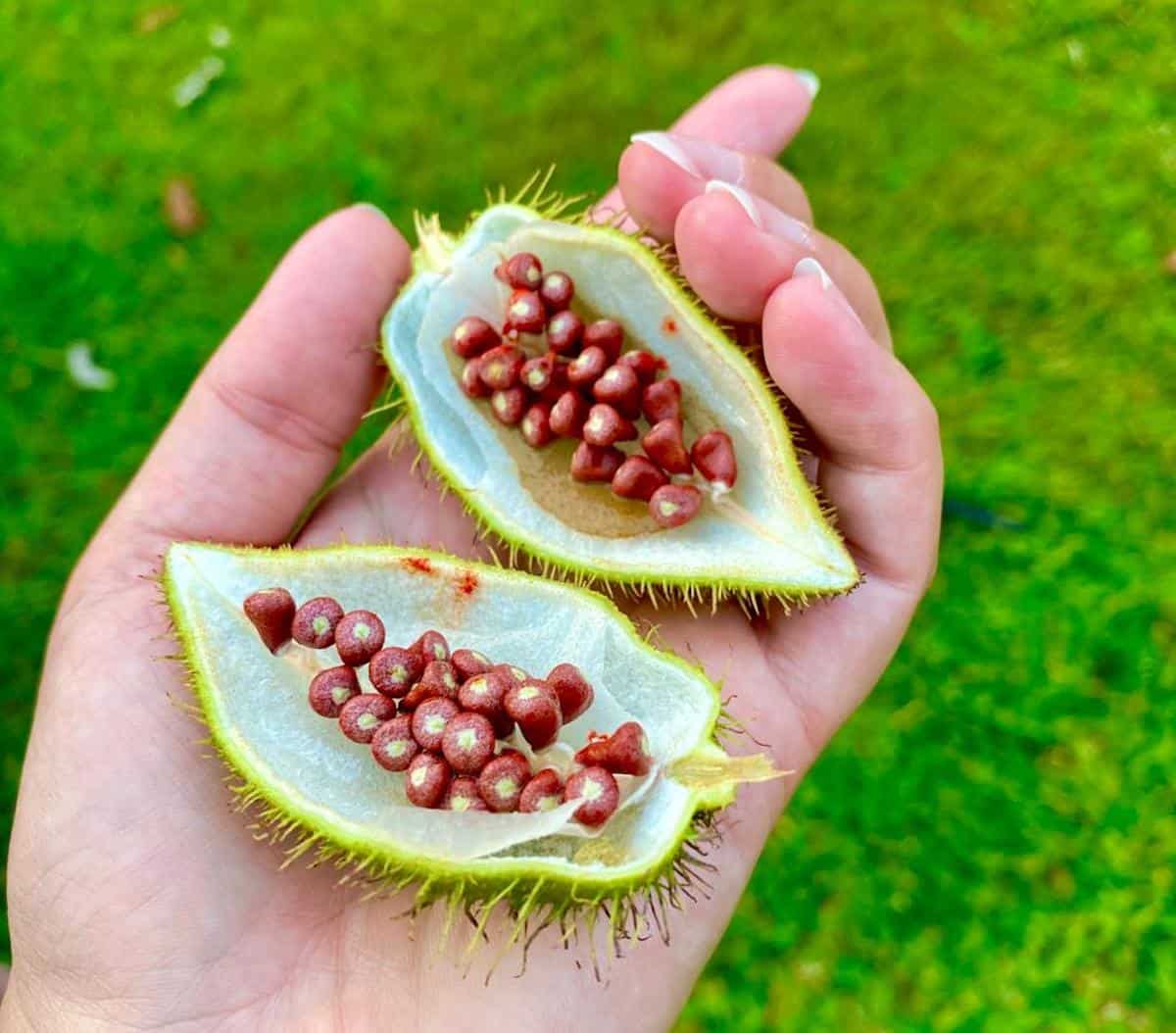 You can serve this Belizean chicken stew​​​​​​​ with my Belizean rice and beans recipe, or I serve this Belizean Stewed Chicken with a delicious side of cilantro lime cauliflower rice. So here we are, my recipe for Belizean Stewed Chicken. Happy cooking!
Ingredients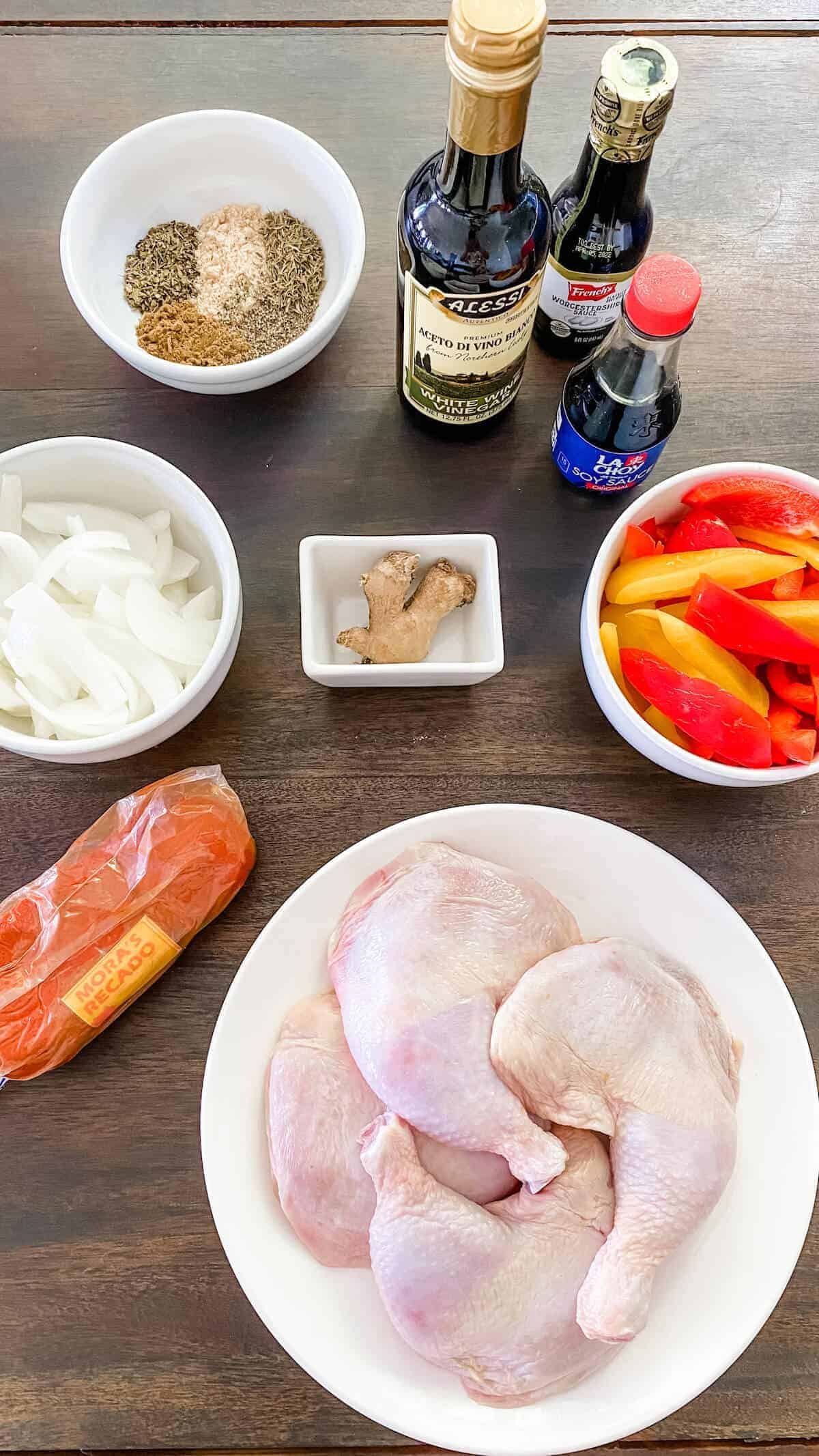 Chicken: I used chicken quarter legs, but you can use any chicken pieces like skinless chicken thighs or chicken breasts with the bone in to maintain juiciness.
Red recado rojo: authentic Belizean chicken recipe gets its signature flavor from a blend of spices and a form of paste known as red recado or red achiote paste.
Bell peppers: my favorite bell pepper is the yellow and the red one, but you can either use red, green, and yellow or just use whatever you have on hand. 
White onion: Onions sliced to the same size as the peppers so they can cook and soften at the same time when sautéed together.
Soy sauce: This easy Belizean stew chicken stays in a marinade overnight for all the spices to infuse, and this soy sauce brings that savory sensation to this marinated chicken cut. 
Worcestershire Sauce: I think a lot of time, people tend to assume that Worcestershire sauce is the same as soy sauce, and it isn't. Soy sauce has more of a salty taste, and Worcestershire sauce has a strong umami taste.
Ginger and Garlic: You can use the store-bought garlic and ginger paste, but I used fresh ginger and garlic cloves, even garlic powder will get the job done as well.
Cumin: Cumin adds an instant depth of earthy, hearty, and warm flavor with an edge of citrus to any dish.
Dried oregano and thyme: These dried herbs hit similar flavors of minty, savory, and slightly bitter notes in this Belizean stew chicken recipe.
Coconut oil: I used this oil to slacken the recado rojo and frying of the chicken to brown it. You can use extra virgin olive oil or avocado oil instead.
See the recipe card for quantities and step-by-step directions.
How to make Belizean stewed chicken
Mix the recado with a splash of oil to slacken it up, and then rub it all over the chicken.
Place in a zip lock bag with the spices, and then pour in the soy and Worcestershire sauce. Seal the bag and pop it in the fridge for at least 2 hours or even overnight.
Remove from the fridge and fry the chicken in some coconut oil over medium heat, reserving the rest of the marinade.
Once browned on both sides, remove the chicken from the pan briefly whilst frying the pepper and onion. As they begin to soften, return the chicken to the pan and pour over the rest of the marinade liquid. Finally, add some water, enough to just cover everything in the pan. Bring to a simmer and allow to gently reduce to a thick gravy.
Leave to cook and reduce for at least an hour when the sauce will be nice and thick

.

Serve the Belizean Stewed Chicken on a bed of steaming rice, and enjoy!
What pairs well with Belizean Stewed Chicken?
For a comforting meal, consider serving this stew chicken Caribbean style with:
Creamy Mashed potatoes.
Steamed rice.
Creamy polenta.
Crusty homemade bread.
Lite sides:
Roasted broccoli.
Steamed greens.
Sautéed green beans with garlic.
Equipment
It is best to cook the Belizean stewed chicken in a thick-bottomed casserole dish that has a lid and good heat distribution.
Storage
Store the stewed chicken legs in the fridge prior to cooking. Once made, Belizean stewed chicken will keep in an airtight container in the fridge for 2-3 days. Reheat thoroughly.
This Belizean Stewed Chicken is best eaten fresh and not frozen.
Top tip
Use chicken on the bone for this Belizean stewed chicken recipe so that it stays nice and moist whilst cooking.
FAQ
What is the secret to a good Belizean stewed chicken?
For a good-looking stewed chicken, the must-do is to brown the chicken before you add any liquid content to the pot. Now for a tasty Belizean stew chicken, don't skip the marinating part of the recipe because that's when all the good flavors penetrate the chicken pieces resulting in a mouth-watering chicken stew after cooking.
How long do you stew chicken?
You need to allow the chicken to cook for at least a minimum of 40 minutes to an hour. Simmer on medium heat until the sauce of the stew thickens. The time mentioned here excludes the browning part.
Can I add vegetables to this Belizean stewed chicken?
You can get away with adding vegetable chunks such as carrots, potatoes, or sweet potatoes.
More chicken recipes
Recipe Card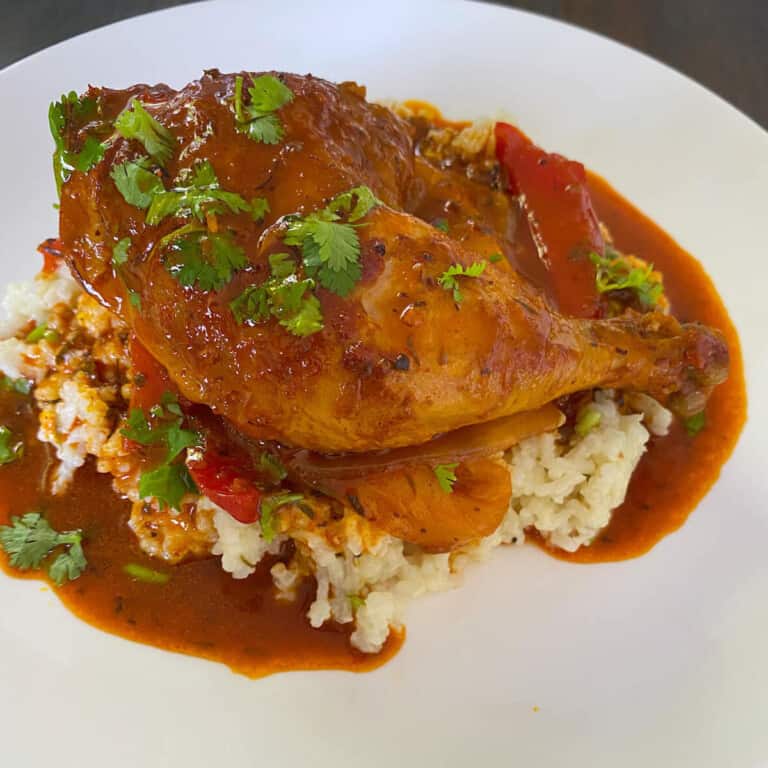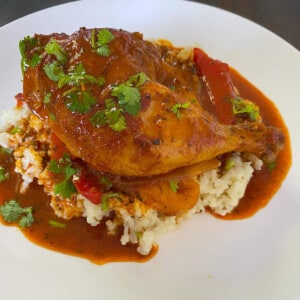 Belizean Stewed Chicken
A warm and fragrant chicken stew from beautiful Belize
Equipment
Casserole pot or dutch oven
Ingredients
1

kg

chicken

(use on the bone pieces)

1.5

tablespoon

red recado paste

2

bell peppers

1

white onion

1

tablespoon

soy sauce

1

tablespoon

Worcestershire sauce

1

tablespoon

ginger

1

clove

garlic

1

tso

cumin

1

teaspoon

dried oregano

1

teaspoon

dried thyme

1

tablespoon

coconut oil
Instructions
Mix the recado paste with a splash of oil to slacken it up and then rub it all over the chicken.

Place in a zip lock bag with the spices and then pour in the soy and Worcestershire sauce. Seal the bag and pop in the fridge for at least 2 hours, or even overnight.

Remove from the fridge and fry the chicken in some coconut oil, reserving the rest of the marinade.

Once browned on both sides, remove the chicken from the pan briefly whilst frying the pepper and onion.

As they begin to soften, return the chicken to the pan and pour over the rest of the marinade liquid.

Finally, add some water, enough to just cover everything in the pot.

Bring to a simmer and allow to gently reduce to a thick gravy for approximately 1 hour.

Serve the Belizean Stewed Chicken on a bed of steaming rice and enjoy
Nutrition
Calories:
324
kcal
Carbohydrates:
7
g
Protein:
24
g
Fat:
22
g
Saturated Fat:
8
g
Polyunsaturated Fat:
4
g
Monounsaturated Fat:
8
g
Trans Fat:
1
g
Cholesterol:
90
mg
Sodium:
340
mg
Potassium:
419
mg
Fiber:
2
g
Sugar:
4
g
Vitamin A:
2044
IU
Vitamin C:
80
mg
Calcium:
33
mg
Iron:
2
mg
Want to do a cookalong? Here's a YouTube video of me making this dish in Belize