Belizean Stewed Chicken is a cosy and comforting meal that breaks the monotony and tingles the tastebuds. Whilst living in Belize I ate it all the time and before I left I was determined to try to create a recipe for it myself. This traditional Belizean dish has a subtle warmth and deep, delicious flavour. The first time I tried Belizean Stewed Chicken was from a street seller in Seine Bight and the meat just fell off the bone, it was so tender. I will never be able to replicate it, cooked like that in a Belizean home with a recipe likely passed down in the family, but if getting to Belize isn't an option right now, I hope my recipe will give you a taste of this amazing country! Served with a thick sauce and sweet peppers on a bed of rice (often rice and beans) it's a hearty dish with the warmth and character of beloved Belize.
I put off trying to make Belizean Stewed Chicken for a while. I have such a love for this country and their food, I was scared to mess it up! But after trying it several times I am finally happy with this recipe (although nothing will ever beat Belizean stewed chicken with rice and beans made fresh by a local street seller in Belize, it is worth coming here just for that). You want to let it cook for quite a while and use chicken on the bone so it doesn't dry out.
The deep red colour of the gravy comes from red recado which is a spice paste made here in Belize and Central America. Its red colour comes from annatto, which is made from the seeds of the Achiote tree native to the region.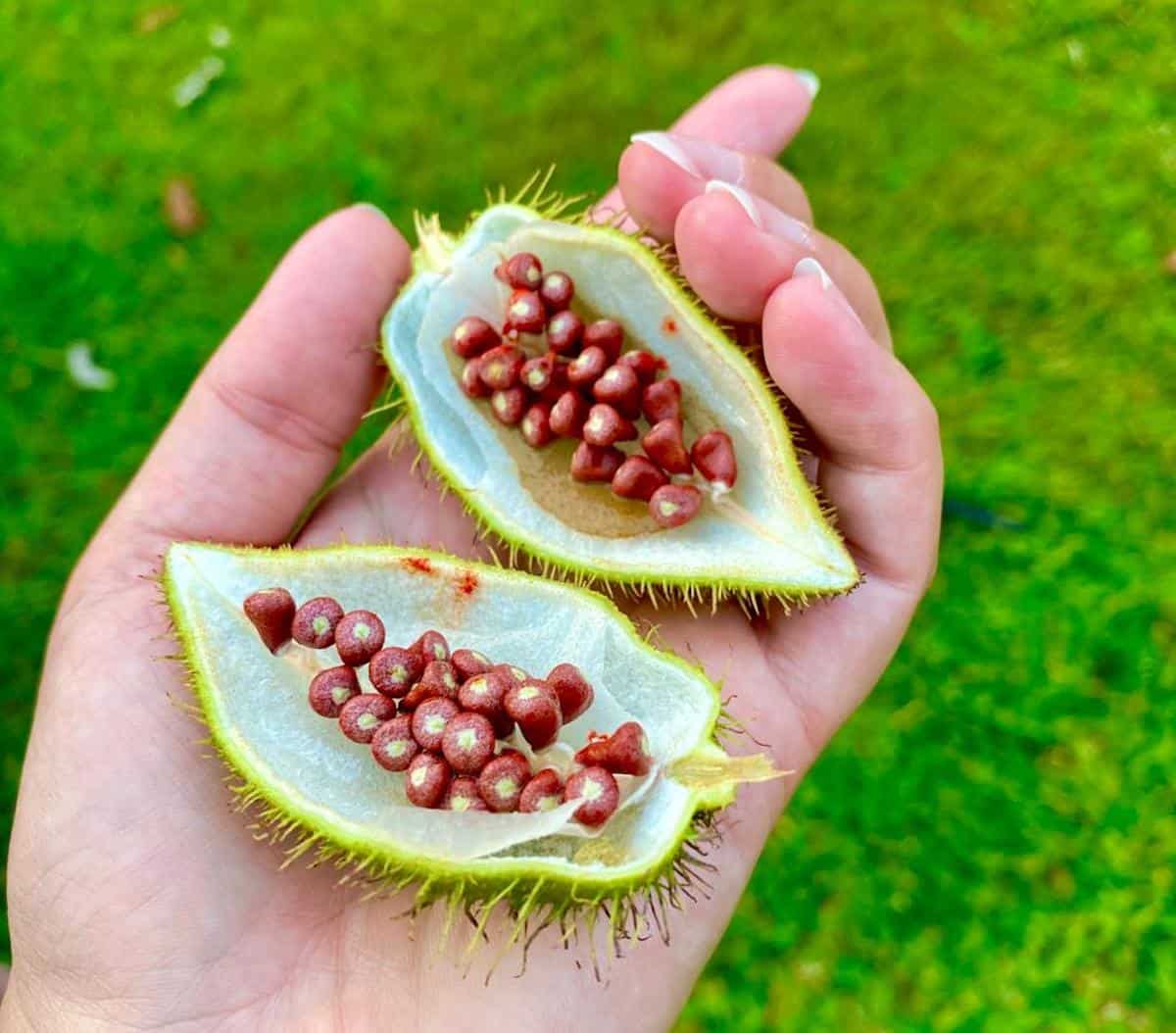 I served my Belizean Stewed Chicken with some coconut rice cooked with a bit of dried thyme and the whole meal was just so comforting and warm, I can't wait to make it again once I am back in the UK. It will be like having a Belizean hug. So here we are, my recipe for Belizean Stewed Chicken. Happy cooking!
You can also check out all my other Belizean recipes here!
Jump to Recipe
Ingredients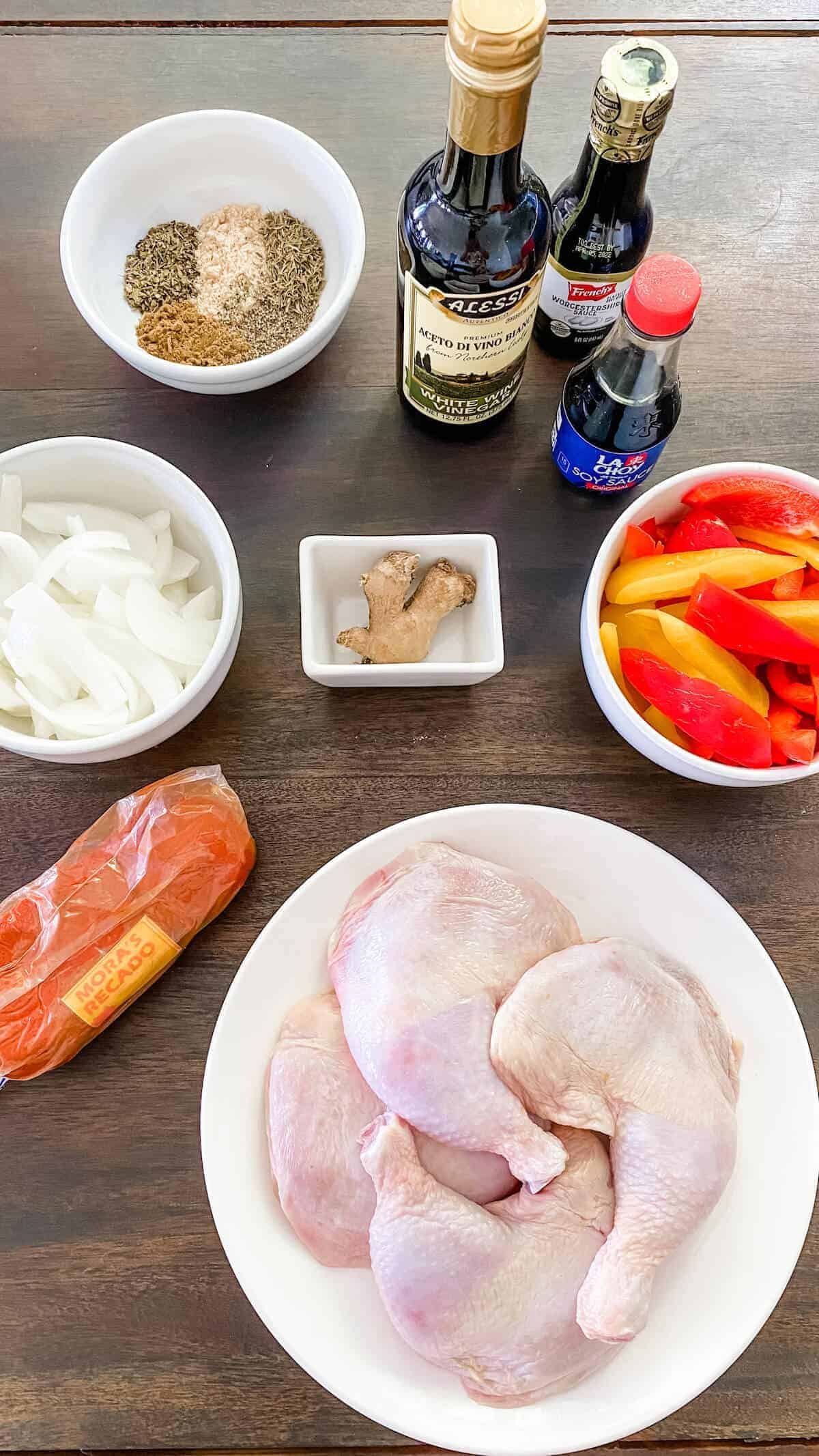 Chicken
Red recado
Bell peppers
White onion
Soy sauce
Worcestershire Sauce
Ginger
Garlic
Cumin
Dried oregano
Dried thyme
Coconut oil
See the recipe card for quantities
Instructions
Mix the recado with a splash of oil to slacken it up and then rub it all over the chicken.
Place in a zip lock bag with the spices and then pour in the soy and Worcestershire sauce. Seal the bag and pop in the fridge for at least 2 hours, or even overnight.
Remove from the fridge and fry the chicken in some coconut oil, reserving the rest of the marinade.
Once browned on both sides, remove the chicken from the pan briefly whilst frying the pepper and onion. As they begin to soften, return the chicken to the pan and pour over the rest of the marinade liquid. Finally, add some water, enough to just cover everything. Bring to a simmer and allow to gently reduce to a thick gravy for approximately 1 hour.
Leave to cook and reduce for at least an hour when the sauce will be nice and thick.
Serve the Belizean Stewed Chicken on a bed of steaming rice and enjoy!
Equipment
It is best to cook the Belizean stewed chicken in a thick-bottomed casserole dish like this one from Le Creuset. They might be expensive but they are worth it as they will last a lifetime. I use Le Creuset dishes that were given to my parents as wedding gifts in 1975!
Storage
Store the chicken in the fridge prior to cooking. Once made, it will keep in an airtight container in the fridge for 2-3 days. Reheat thoroughly.
This dish is best eaten fresh and not frozen.
Top tip
Use chicken on the bone for this Belizean stewed chicken recipe so that it stays nice and moist whilst cooking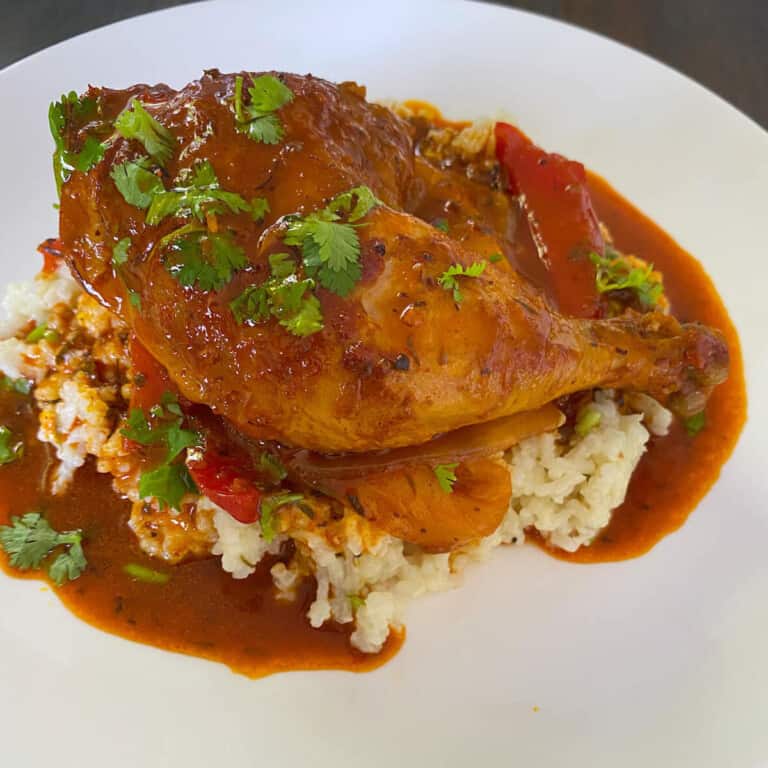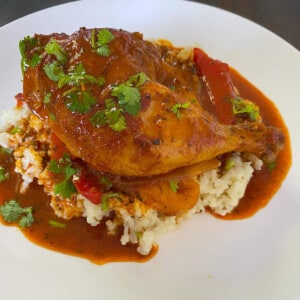 Belizean Stewed Chicken
A warm and fragrant chicken stew from beautifil Belize
Equipment
Casserole pot or dutch oven
Ingredients
1

kg

chicken

(use on the bone pieces)

1.5

tablespoon

red recado paste

2

bell peppers

1

white onion

1

tablespoon

soy sauce

1

tablespoon

Worcestershire sauce

1

tablespoon

ginger

1

clove

garlic

1

tso

cumin

1

teaspoon

dried oregano

1

teaspoon

dried thyme

1

tablespoon

coconut oil
Instructions
Mix the recado paste with a splash of oil to slacken it up and then rub it all over the chicken.

Place in a zip lock bag with the spices and then pour in the soy and Worcestershire sauce. Seal the bag and pop in the fridge for at least 2 hours, or even overnight.

Remove from the fridge and fry the chicken in some coconut oil, reserving the rest of the marinade.

Once browned on both sides, remove the chicken from the pan briefly whilst frying the pepper and onion.

As they begin to soften, return the chicken to the pan and pour over the rest of the marinade liquid.

Finally, add some water, enough to just cover everything in the pot.

Bring to a simmer and allow to gently reduce to a thick gravy for approximately 1 hour.

Serve the Belizean Stewed Chicken on a bed of steaming rice and enjoy
Nutrition
Calories:
324
kcal
Carbohydrates:
7
g
Protein:
24
g
Fat:
22
g
Saturated Fat:
8
g
Polyunsaturated Fat:
4
g
Monounsaturated Fat:
8
g
Trans Fat:
1
g
Cholesterol:
90
mg
Sodium:
340
mg
Potassium:
419
mg
Fiber:
2
g
Sugar:
4
g
Vitamin A:
2044
IU
Vitamin C:
80
mg
Calcium:
33
mg
Iron:
2
mg
Want to do a cookalong? Here's a YouTube video of me making this dish in Belize