Belizean rice and beans has become one of my favorite Belizean foods to make. The extended time I have spent in Belize has really helped me to discover it as a foodie destination and take in all the multicultural influences there are there that play such a huge part in its cuisine.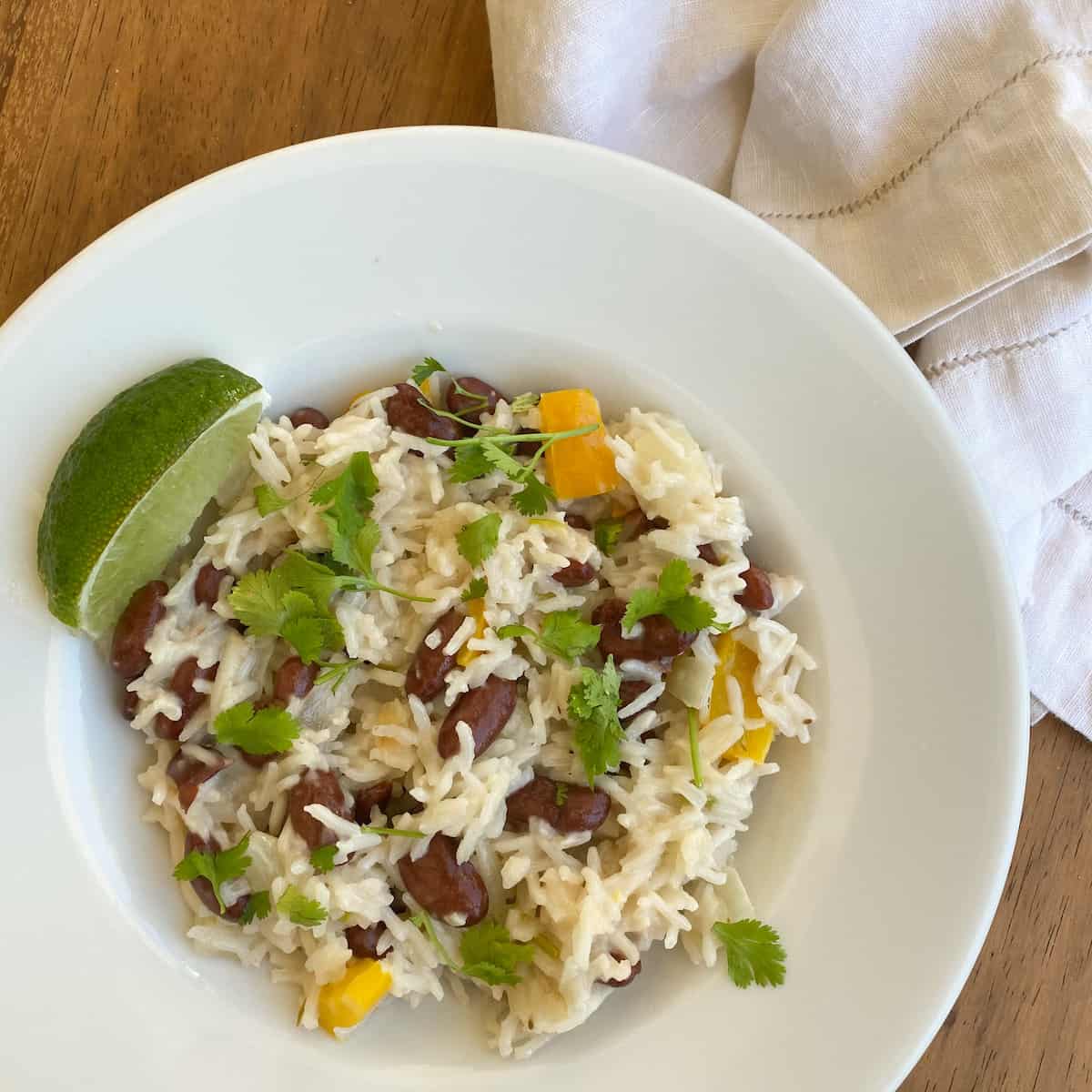 Jump to:
As soon as I landed in Belize I started asking people, what do they eat here? What are the staple dishes, what dishes does everyone LOVE and what is the best way to make them? The number one thing I heard was 'Belizean rice and beans'. I started looking into how Belizeans make this dish their own and learned that it is the herbs and the fact the rice is partly cooked in coconut milk and using the cooking water from the red kidney beans. I couldn't wait to try it myself and see what I could come up with.
Of course, the best place to try Belizean rice and beans is in Belize itself, and I cannot recommend it more as a place to visit. It has great food, amazing weather, beautiful warm people and so much to do whilst you're there. I am heading back in a few weeks time and I could not be more excited.
What is rice and beans?
Traditionally rice and beans is a side dish made from rice and beans cooked together with herbs. I first ate Belizean rice and beans served with Belizean stewed chicken which I also learned how to make and put my own little twist on whilst living in Belize. I like eating Belizean rice and beans on their own though, the coconut milk makes it creamy and filling and the beans give you protein, so what's not to love? The dried thyme gives such a unique flavor, I love it. Doused in Marie Sharp's Belizean hot sauce and smothered in fresh coriander leaves and lime juice, that's how I like it.
How much liquid to rice ratio?
I recommend a 2:1 ratio of liquid to rice. So 2 parts water (or broth) to 1 part rice.
Ingredients notes
Green or yellow bell pepper: with an option to use yellow or green bell pepper, I prefer green as the color pops more than the yellow pepper and it makes this dish look appetizing.
White Onion: Onions add a sweet and slightly pungent flavor to this stewed beans and rice.
Garlic: crushed garlic or garlic paste to give this rice and beans a pungent aromatic flavor.
Coriander stalks and leaves: coriander adds a bright and citrusy flavor to the dish but it can only be added towards the end of the cooking time.
White rice: rinsed white rice to remove excess starch and get fluffy rice that's not mushy after cooking it.
Chicken broth: this is a base liquid for the rice together with the coconut milk and water reserved from cooking the beans, you can use vegetable broth (stock) as an alternative. Use low-sodium broth.
Coconut milk: be sure to use unsweetened coconut milk for this Belize rice recipe.
Cooked Red kidney beans: Using already cooked beans will save up a lot of time. You can use canned red beans as well. Tip, cook more beans and keep them in your fridge to use whenever you want to cook this Belizean rice and beans recipe again.
Dried thyme and oregano: dried herbs for a contribution of savory flavors to the dish.
Vegetable or coconut oil: this is needed to sauté the onions and pepper till they are softened.
Fresh lime for garnishing.
See the recipe card for quantities.
How to make Belizean rice and beans?
If you are cooking the kidney beans yourself, prepare these ahead of time but keep back some of the water. If you are using canned kidney beans, drain them but also keep the water because that's what gives this Belizean Rice and Beans flavor and aroma.
Heat some vegetable or coconut oil in a stockpot or casserole dish over medium heat and fry the pepper and onion until softened, then add the garlic for a further minute. Add the thyme and oregano and rice and stir for 30 seconds or so to toast the grains and coat everything in spices.
Now add the beans, coconut milk, reserved cooking water, and broth and stir through.
Add some coriander stalks chopped very small. Bring to a simmer, then reduce heat to medium-low and cover.
Leave for 25 minutes and then stir through a little of the reserved cooking water from the beans. Leave for a further 10 minutes or until the rice and beans are cooked.
Garnish with some fresh coriander leaves, squeeze over a wedge of lime, and season to taste. I drizzled a bit of Marie Sharps Hot Sauce on Belizean rice and beans because she is a Belizean institution and I now eat her hot sauce with almost everything!
Hint: I like to stir the rice with a fork to fluff it up once it is all done before serving.
Wine pairing for rice and beans
The tropical fruit and pineapple undertones of a classic New Zealand Marlborough Sauvignon Blanc would taste delicious with rice and beans. Alternatively, serve an off-dry Reisling which will compliment the sweet coconut flavors.
Substitutions
A few ways you can make this Belizean rice and beans recipe suit you.
Beans - You could try this with other beans if you like, for example, black beans or pinto beans, but kidney beans are the beans used in rice and beans.
Rice - If using brown rice, you will need a longer cooking time and more liquid to stop it from drying out.
Vegetarian - Use vegetable stock instead of chicken to make this dish vegetarian.
You can dial up the heat as much as you want with the hot sauce afterward, and see how fiery you can take it...
If you love rice-based dishes, try my spring vegetable risotto with asparagus and peas.
Equipment
This one-pot Belizean Rice and Beans dish is super easy. I make it in a casserole pot or a big saucepan but use a heavy bottom one as you want even heat distribution. Using a thin metal saucepan means it is more likely your liquid will boil away too fast and the rice will stick and form a crust.
Storage
Storing rice after cooking and reheating is one of those things you have to be careful with. Therefore I always recommend you just make as much as you need.
These ingredients used in this Belizean Rice and Beans recipe don't stand up well to freezing.
Top tip
The dried herbs in this Belizean red beans and rice recipe are what make it SO fragrant and special, definitely don't skip them!
FAQ
What type of rice do they use in Belize?
The most commonly used rice to make rice and beans in Belize is white rice, you are welcome to tweak it and use your preferred rice to suit your taste or diet.
Can I use canned beans or any other beans to make this Belizean rice recipe?
Yes, You can use any type of red beans, canned or cooked from scratch.
Should I drain the beans before adding them to the rice?
Yes, drain the water from your beans before adding them to the rice but keep it back as we do want the option to add it back later. This gives you the ability to measure the liquid content that goes inside the pot, as too much liquid might ruin your Belizean coconut rice.
More recipes to try
Recipe Card
Belizean Rice and Beans
A fragrant dish with rice, coconut milk, herbs and kidney beans from beautiful Belize
Equipment
Large saucepan or casserole pot
Ingredients
1

bell pepper

(yellow or green is best)

1

white onion

2

cloves garlic

240

grams

kidney beans

(cooked)

185

grams

white rice

250

ml

chicken broth

250

ml

coconut milk

½

teaspoon

dried thyme

½

teaspoon

dried oregano

5

tablespoon

fresh coriander

(use both the stalks and the leaves)
Instructions
If you are cooking the kidney beans yourself, prepare these ahead of time but keep back some of the water. If you are using canned kidney beans, drain them but also keep the water. 

Dice and bell pepper and onion into small pieces that are roughly the same size as the beans. Crush the garlic into a paste.

Heat some vegetable or coconut oil in a stockpot or casserole dish over medium and fry the pepper and onion until softened, then add the garlic for a further 30 seconds.

Add the thyme and oregano and rice and stir for 30 seconds or so to toast the grains and coat everything in spices.

Now add the beans, coconut milk, reserved cooking water and stock and stir through. Bring to a simmer, then turn to medium-low and cover.

Leave for 25 minutes and then stir through a splash of the reserved kidney bean water (or more if it needs it). Add some chopped coriander stalk and leave for another 10 minutes.

Fluff the rice and beans with a fork and serve in warm bowls. Garnish with fresh coriander leaves and season to taste. Spice it up with a bit of Marie Sharps Belizean Hot Sauce
Nutrition
Calories:
788
kcal
Carbohydrates:
115
g
Protein:
21
g
Fat:
28
g
Saturated Fat:
24
g
Polyunsaturated Fat:
1
g
Monounsaturated Fat:
1
g
Sodium:
486
mg
Potassium:
1190
mg
Fiber:
12
g
Sugar:
5
g
Vitamin A:
1944
IU
Vitamin C:
93
mg
Calcium:
117
mg
Iron:
9
mg