This Baked Camembert with honey has a soft and velvety texture with a harmonious balance of flavor between the creamy and slightly tangy notes of the melted cheese and the natural sweetness of the honey.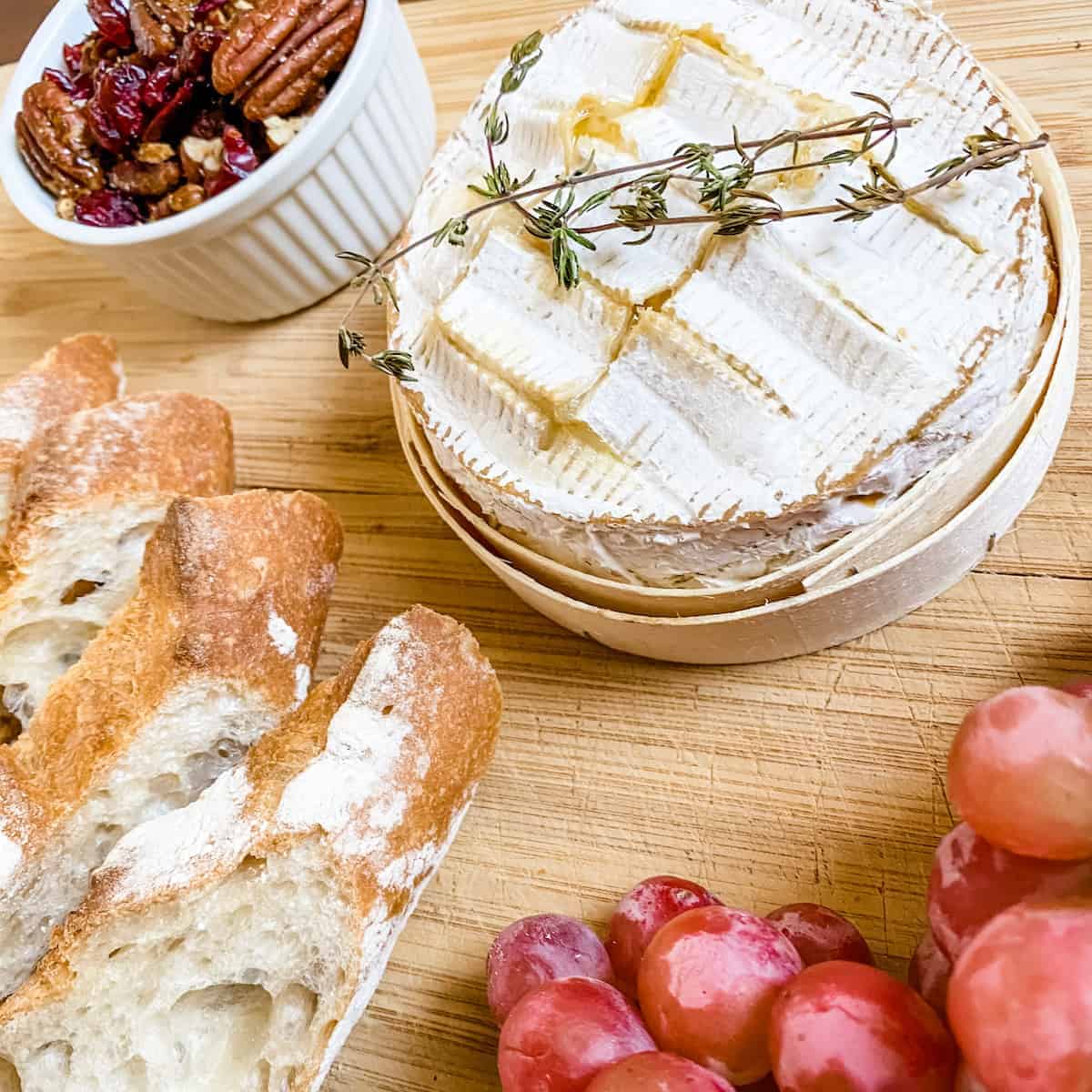 Baked Camembert with honey is the easiest party appetizer that requires zero effort but is always everyone's favorite. And I like to elevate it even further by serving my baked camembert with honey, cranberries, and pecans! Melted Camembert, honey, cranberries, and pecans are the dream combo and essential addition to your Christmas party buffet (or any party, to be fair), and it is just so simple to make. The gooey cheese with the sweet honey, crunchy nuts, and slightly tart dried cranberries all piled onto baguette slices; need I go on??
Jump to:
What is Camembert Cheese?
Camembert is a type of cheese that originated in France. It's a soft and creamy cheese made from cow's milk. The cheese has a bloomy rind and a rich, buttery flavor. It's often enjoyed as a spread or baked until it becomes gooey and delicious, which is why it is so popular as a party starter as you can simply put it in the oven and use it as a dip! Camembert is a popular choice for cheese boards, appetizers, and pairing with bread, fruits, or even honey. It's a versatile and flavorful cheese that cheese lovers around the world enjoy.
Making baked camembert with honey is simple, you buy cheese...bake cheese...and then dip things in cheese. But there are some little things you can do to elevate it into a real showstopper and make it stand out from the crowd. Pairing the pecans with dried cranberries sets this baked camembert apart from the rest of the recipes out there.
Looking for an elegant appetizer for Christmas party food ideas? Look no further. Baked camembert with honey has always been a fantastic appetizer, and to serve it, you can create cheese boards of various kinds of cheese. You can also include obvious crudites like crusty bread warmed gently in the oven. But raw vegetable crudités like carrot, celery, broccoli, red pepper, and grapes are a great addition and give people a healthier/gluten-free option.
Ingredients
Camembert: a wheel of camembert cheese or if you have brie cheese that will also work. The two cheeses are very similar. Brie has a little creamier texture and taste, while camembert has a stronger, earthier flavor.
Pecans: I incorporated some nuts on the serving board for a crunchy texture and nutty flavor.
Dried cranberries: You can use store-bought dried cranberries or maybe homemade cranberry sauce instead.
Honey: I drizzled some honey in the pecans, but you can also drizzle it on top of the camembert rind before baking. If you don't have honey and are still keen on the sweet flavor, you can use maple syrup instead.
Thyme sprigs: herbs bring out a tasty aroma to this honey-baked camembert; you can use fresh chives and rosemary, although I used thyme.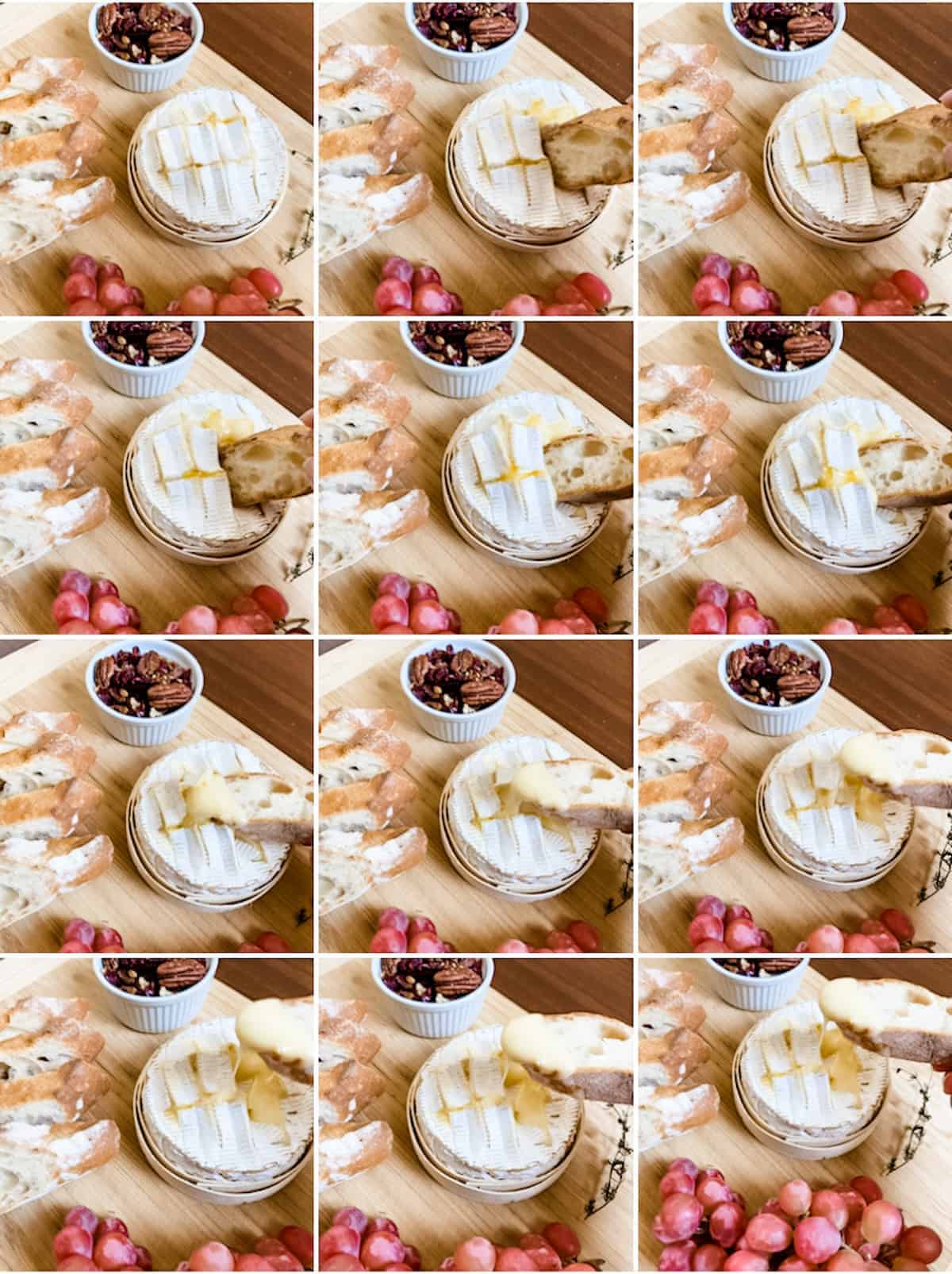 See the recipe card at the bottom of this post for the full quantities and directions.
How to make Baked Camembert With Honey
To bake the cheese, heat an oven to 325F / 160C. Using a sharp knife, score the top of the cheese in a crosshatch pattern and scatter some fresh herbs over the top, like thyme or fresh rosemary sprigs (I like thyme best). Pop it in for 20 minutes.
While the cheese bakes, make the pecans. Melt butter on medium heat in a skillet or frying pan and drizzle honey to melt together before tossing in the nuts and stirring through. Then transfer to an oven tray, sprinkle over a little bit of sea salt, and bake them in the oven for a few minutes to crisp up, but watch carefully so that they don't burn.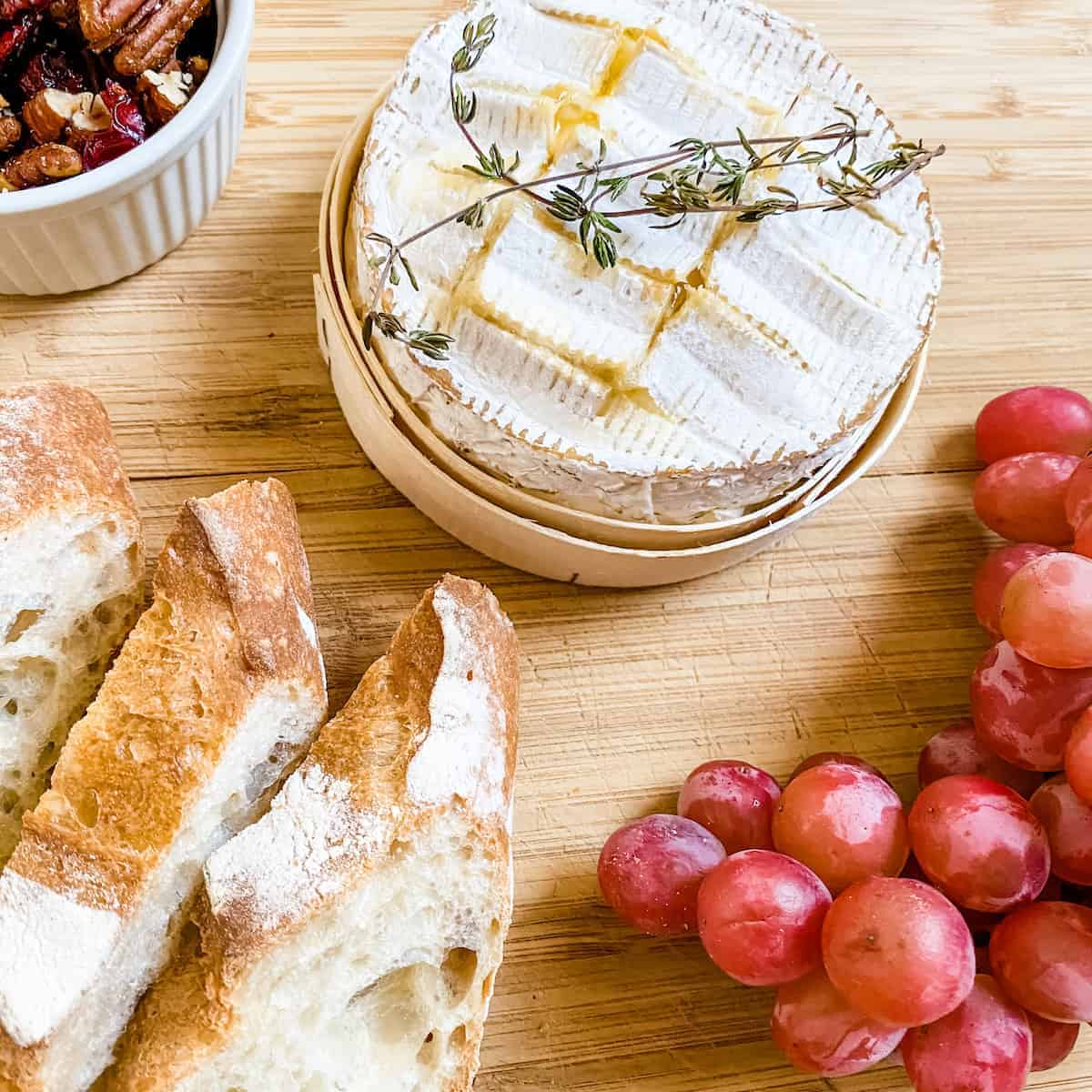 Hint: Don't have the oven too hot, you want the cheese to melt slowly and not end up boiling
Variations and Add-ons
Here are a few ways you can change this dish up
Spicy - add chili flakes instead of thyme to give this dish a kick
Nuts - You could make this with walnuts instead of pecans if you prefer them
Health(ier)(ish) - serve with raw vegetable crudités and fresh fruits.
Add garlic - slice one garlic clove and push it in on the corners of the criss-cross pattern.
Add bacon: There is a saying that says everything tastes better with bacon, and I agree; garnish this baked camembert with shredded crispy bacon for a more savory camembert taste
Best wine to pair with Honey Baked Camembert
Camembert pairs well with a fruity Chardonnay from the South of France or for a higher-end option, one from Pouilly-Fuissé AOC in the Southern Burgundy region. Champagne and sparkling wine can also work well! The cliche of camembert and red wine does not always work as well as you'd think, although a riper cheese will taste great with a medium-bodied Pinot Noir. I have a whole guide here on wines and cheese pairing.
Equipment
Simply a couple of oven trays are all you need to prepare this cozy party appetizer.
Storage
Always store cheese in the fridge. If you don't finish this easy baked camembert the first time around (unlikely, but still), you can keep it in the fridge and reheat it another time. But I doubt you'll run into this problem. The nuts and cranberries will keep for a few days in an airtight container or plastic wrapping.
These ingredients don't stand up well to freezing.
FAQ
How long do you leave camembert in the oven?
I baked this camembert with honey in a preheated oven for 20 minutes; this might differ depending on your oven. Please check it at the 12-15 minute mark to make sure it doesn't burn.
Why did my baked camembert not melt?
It's possible that the Camembert cheese you used wasn't ripe enough. For optimal melting, the cheese should be at a ripe stage, soft to the touch but not too runny. Additionally, the temperature and baking time might have played a role. Make sure to preheat your oven properly and bake the Camembert at the recommended temperature for the specified time.
Do you need to cover the camembert when baking?
Covering the Camembert when baking is not necessary, but it can be done depending on your preference. Baking the Camembert without a cover allows it to develop a lovely golden crust on top while the cheese inside becomes soft and gooey. However, if you want to control the level of browning or prevent excessive crust formation, you can cover the Camembert loosely with aluminum foil during baking. This helps to retain moisture and promotes even melting. Just remember to remove the foil towards the end of baking to achieve the desired texture and color.
Party desserts to pair with this Honey baked Camembert
Recipe Card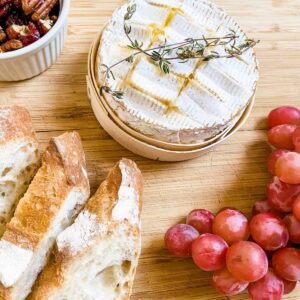 Baked camembert with honey and cranberries
Gooey honey baked camembert, the perfect party food
Ingredients
250

grams

camembert

1

tablespoon

thyme

1

tablespoon

honey

100

grams

pecans

75

grams

dried cranberries

1

tablespoon

butter
Instructions
Heat an oven to 160 C / 325 F.

Using a sharp knife, score the top of the camembert in a criss-cross pattern and scatter the thyme over the top. Bake for 20 minutes.

To make the candied pecans, heat the butter in a skillet, toss in the pecans, and then drizzle over the honey. Once the pecans are coated, transfer them to an oven tray and bake on the shelf below the cheese for 5 minutes, being careful that they do not burn.

Serve the camembert on a wooden board with the pecans and dried cranberries.
Nutrition
Calories:
438
kcal
Carbohydrates:
24
g
Protein:
15
g
Fat:
34
g
Saturated Fat:
11
g
Polyunsaturated Fat:
6
g
Monounsaturated Fat:
15
g
Cholesterol:
45
mg
Sodium:
531
mg
Potassium:
245
mg
Fiber:
4
g
Sugar:
18
g
Vitamin A:
616
IU
Vitamin C:
3
mg
Calcium:
274
mg
Iron:
1
mg