This purple kale salad with lentils, apple, roasted beets and crumbled blue cheese is winter salad perfection. Served with delicate curls of shaved pickled kohlrabi and an apple cider vinegar dressing, it raises the bar from a boring conventional salad to one that is crunchy, exciting and hits the flavour goldmine.
So if you're looking for some more balanced lunch ideas that still feel decadent, you've come to the right place.
In wintertime, I love to make nutritious salads full of fresh ingredients and include seasonal twists like creamy crumbled blue cheese. Adding lentils gives this purple kale salad extra protein and makes it a filling choice for lunch that will keep you going for longer.
Purple kale is growing in our garden right now, and it is the most beautiful vegetable around. The vibrant purple, curly leaves stand out from the muted browns and greens and make a delightful pop of colour - it was almost sad to pick it. But a hungry stomach waits for no woman...
All about Kale
Purple Kale is from the Brassicaceae (or mustard) family of vegetables which includes cabbages, broccoli, cauliflower and radish. They're known as the mustard family because if you crush the leaves there is a distinctive mustard-like smell.
The benefits of eating kale are huge, hence why it's been so popular in recent years and pops up in all sorts of places from chips to smoothies. A bunch of kale has plenty of vitamins including vitamins A, K, B6 and C, there's a lot of fibre in kale AND it's a great source of calcium, potassium, copper and manganese.
Many people will try to hide the flavour of kale and avoid using it raw as it can have a bitterness to it (all the Brassicas can) but, balance it well with other flavours and it will enhance a dish. Purple kale has a slightly richer taste than green kale.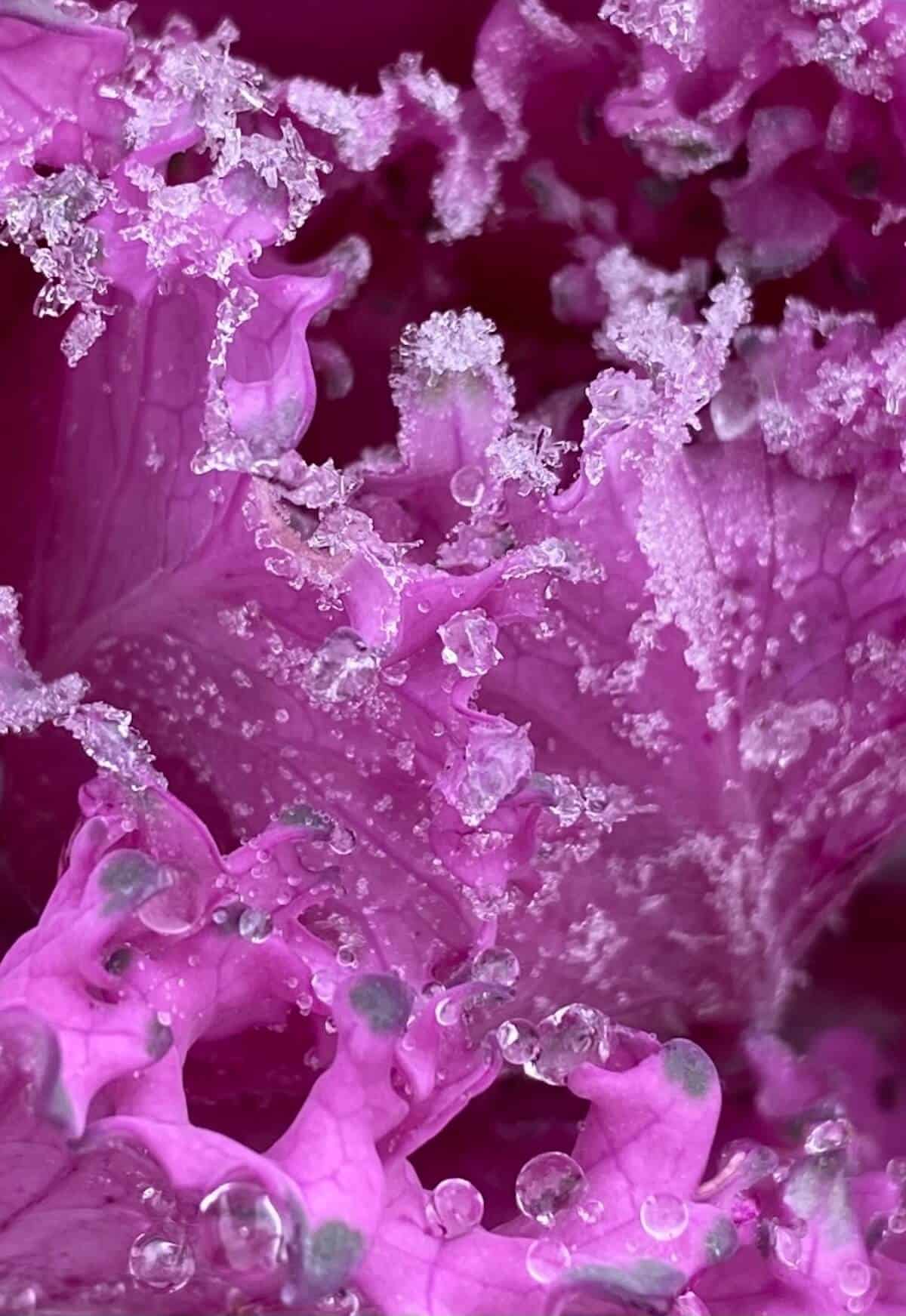 This purple kale salad recipe is delicious served on its own or as an easy side dish with a main meal.
Looking for more salads? Try this Broccoli Cauliflower Salad or one of my other salad recipes.
Jump to:
Ingredients
Here are the ingredients you will need for this purple kale salad with lentils, apple, roasted beets, crumbled blue cheese and pickled kohlrabi.
Fresh purple kale is delicious, and well worth getting hold of. If you grow it from seed and pick it yourself be sure to wash it thoroughly before use. If you can't get hold of purple kale, use green kale in this recipe.
Use a crumbly blue cheese in this purple kale salad like a Stilton, Gorgonzola or Roquefort.
Sweet apples are best to use in salad recipes, so try Fuji apples, Gala apples or Honeycrisp apples.
You can have your beetroot boiled or roasted in this easy winter salad but personally, I will always go for simple oven roasted beets.
Buy your beetroot raw and roast it yourself, it tastes miles better and you can make extra to use in other dishes. Or, if you want to try it raw, this beetroot carpaccio salad is delicious.
Kohlrabi is another member of the Brassicaceae family so it works well in this purple kale salad. We shave it thin and lightly pickle it in apple cider vinegar.
I used a mixture of black lentils and puy lentils in this purple kale salad. I would not recommend using red lentils in this recipe as they disintergate easily and become mushy.
Apple cider vinegar is made from fermented apples, and I love using it in salad dressings. It also has many health benefits.
Mustard is an emulsifier that helps the vinegar and oil to combine and adds flavour too.
Neutral oil like canola/maize
Olive oil can have a sightly bitter taste to it, and as we have two Brassicas in this salad recipe (the purple kale and the Kohlrabi) we want to minimise any bitter taste that might peek through. You could also use walnut oil if you like.
See the recipe card for quantities.
Instructions
Prep all of your ingredients and pre-heat the oven to 175 C / 350 F.
How to clean kale
Wash your purple kale in a sink or bowl of salted water. This ensures that any bugs hiding in the leaves make their exit! Then dry by patting with a paper towel.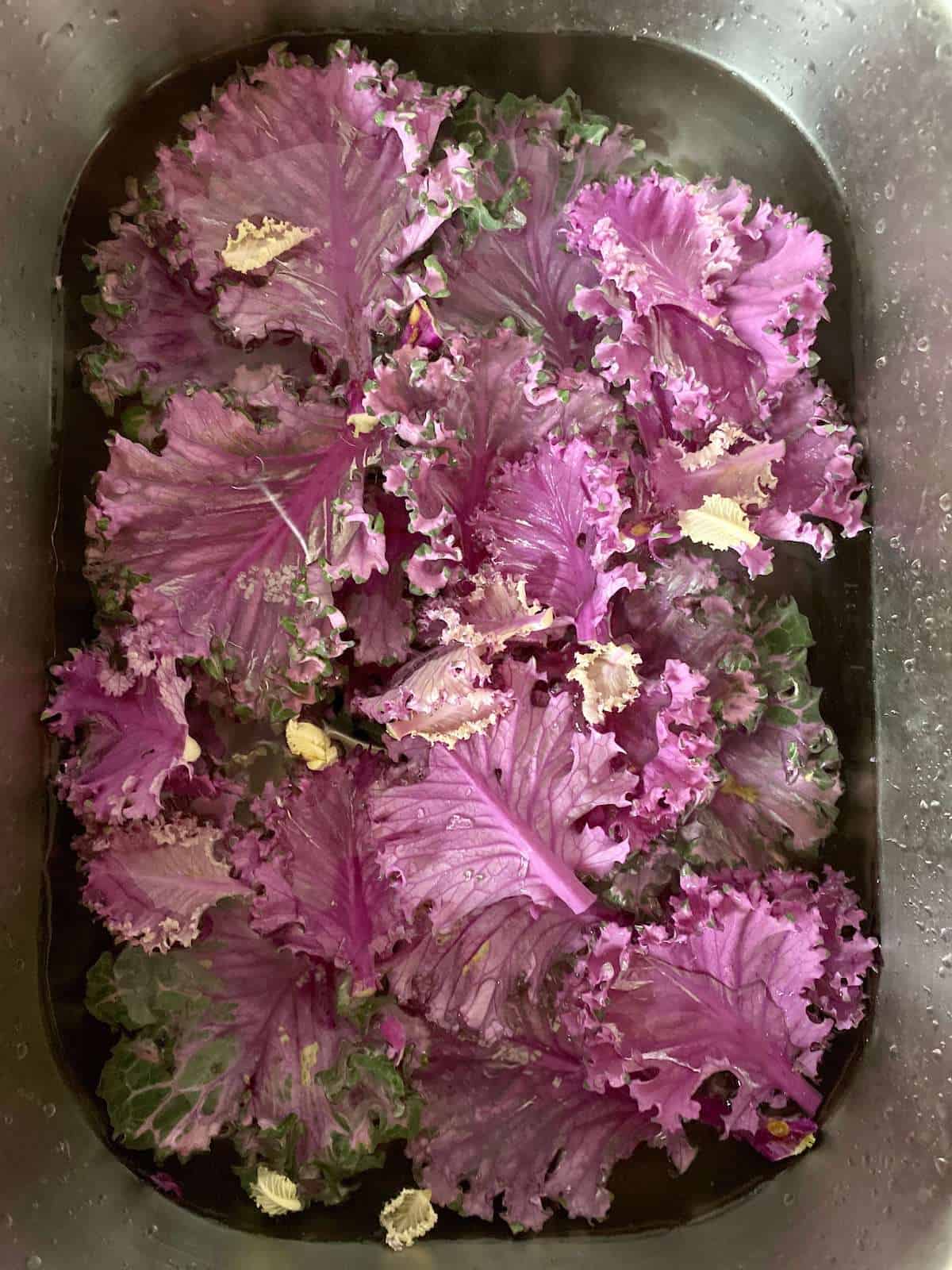 Simple oven roasted beets
Place your beets on an oven tray, drizzle with olive oil and season with salt and pepper. A medium sized beetroot will take around 40 minutes to cook, but larger beets can take up to an hour. Your roasted beets will be ready when a fork can go in without resistance.
To remove skin from beetroots, wait for them to cool slightly before washing your hands and only drying them 90% to give some resistance and then slide the skins off. This is my trick for removing skins from roasted nuts too, the 10% damp hands hack works every time!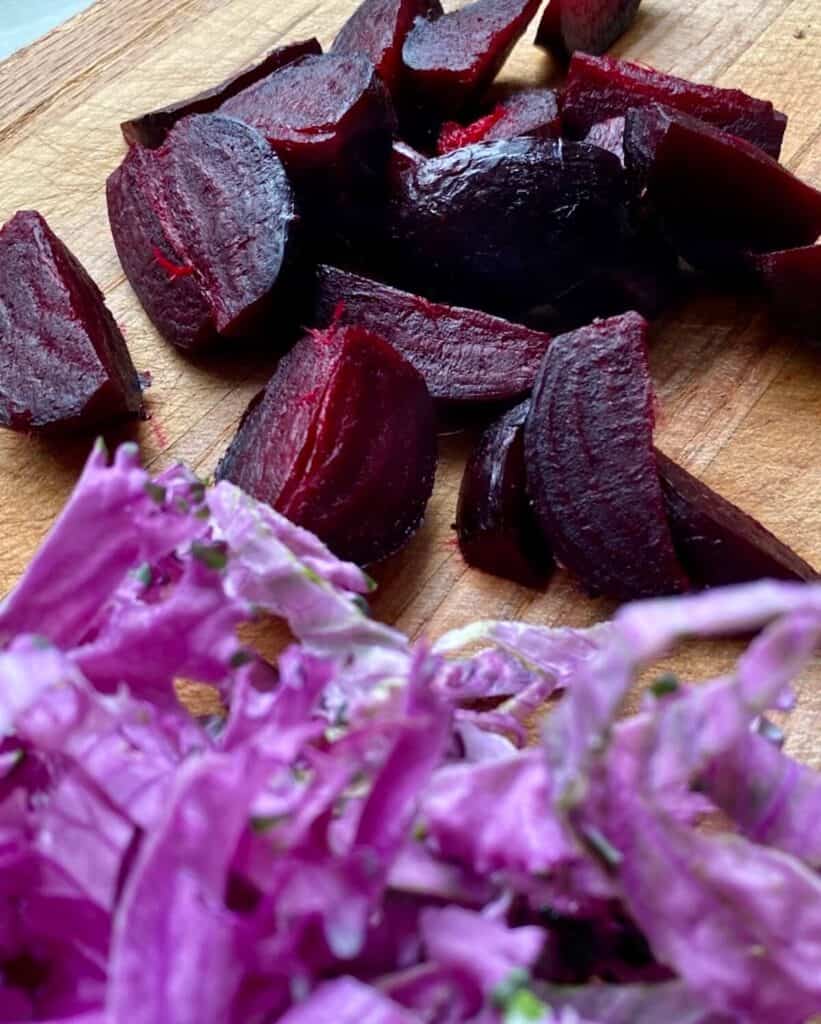 How to pickle kohlrabi
We lightly pickle our kohlrabi by shaving very thin slices and placing them in a bowl with the apple cider vinegar. Use a vegetable peeler to carefully shave 2-inch long pieces of kohlrabi that are paper-thin.
How to give lentils flavour
I always boil lentils with a clove of peeled garlic in the water, it gives them some added flavour. You can also add some herbs like thyme, but do not season the water with salt as it makes the lentils go tough. For this reason, I don't use stock cubes when cooking lentils.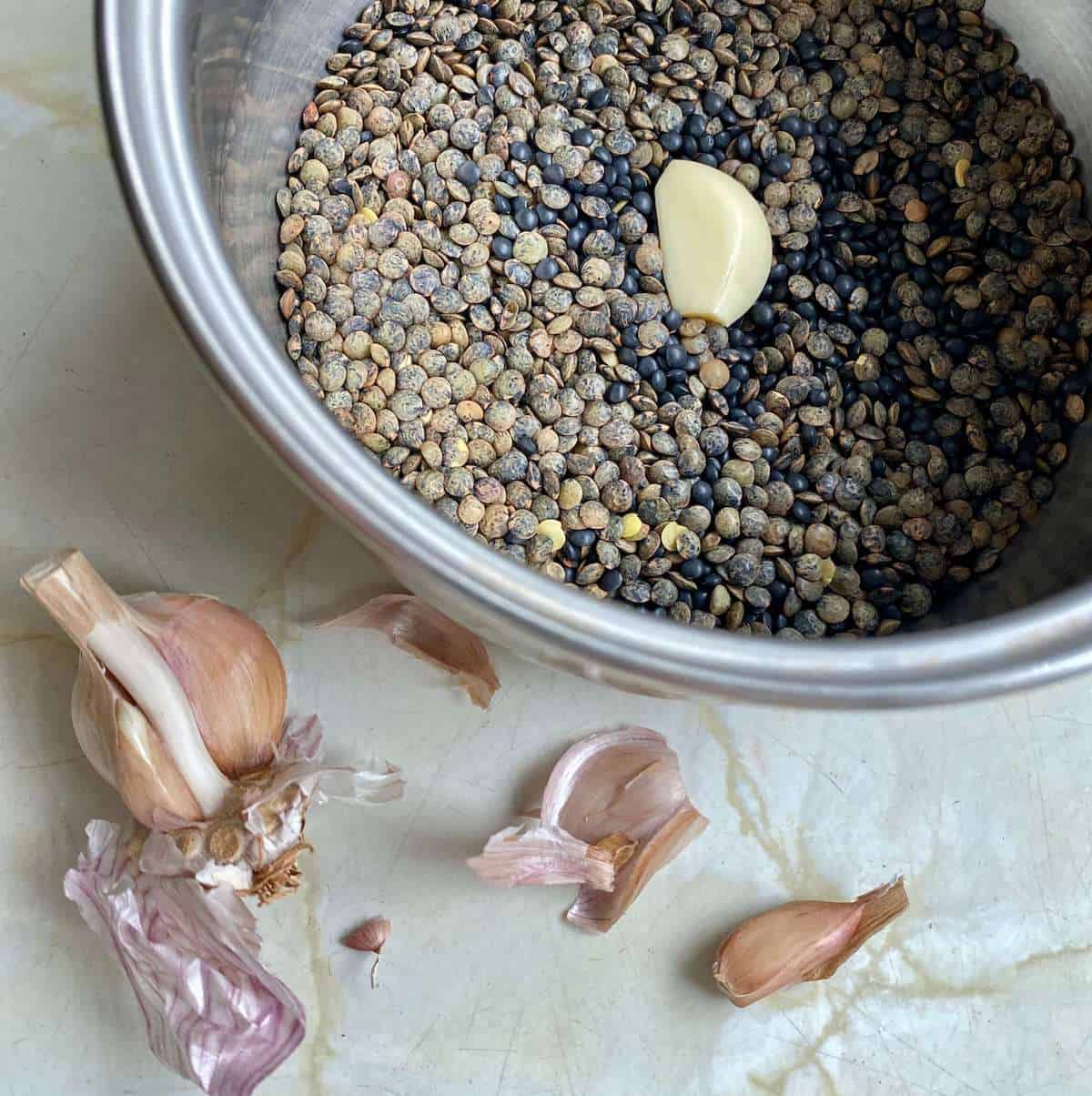 Assemble the purple kale salad
Cook your lentils as per the instructions and allow them to cool slightly so they don't make the purple kale wilt.
Slice your purple kale leaves into thin strips, discarding the tough stalks. Keep back the largest outer leaves to use when plating up.
Slice your roasted beets and apples into segments.
Make the apple cider vinaigrette dressing by mixing the apple cider vinegar, oil and mustard in a jar. Season to taste with salt and pepper.
Crumble the blue cheese into small chunks and get ready to plate up.
Plating suggestions
I like to use the outer leaves of the purple kale plant (which are a bit tougher) as a beautiful salad bowl and make this salad look as stunning as it tastes.
To plate up this purple kale salad, simply arrange the larger purple kale leaves around the edges of the plate and then plate the salad on top, starting with the lentils, then the shredded purple kale in the middle in a pile, and then the apple slices, beetroot, shaved pickled kohlrabi, crumbled blue cheese on top. Drizzle over the apple cider vinegar dressing and serve!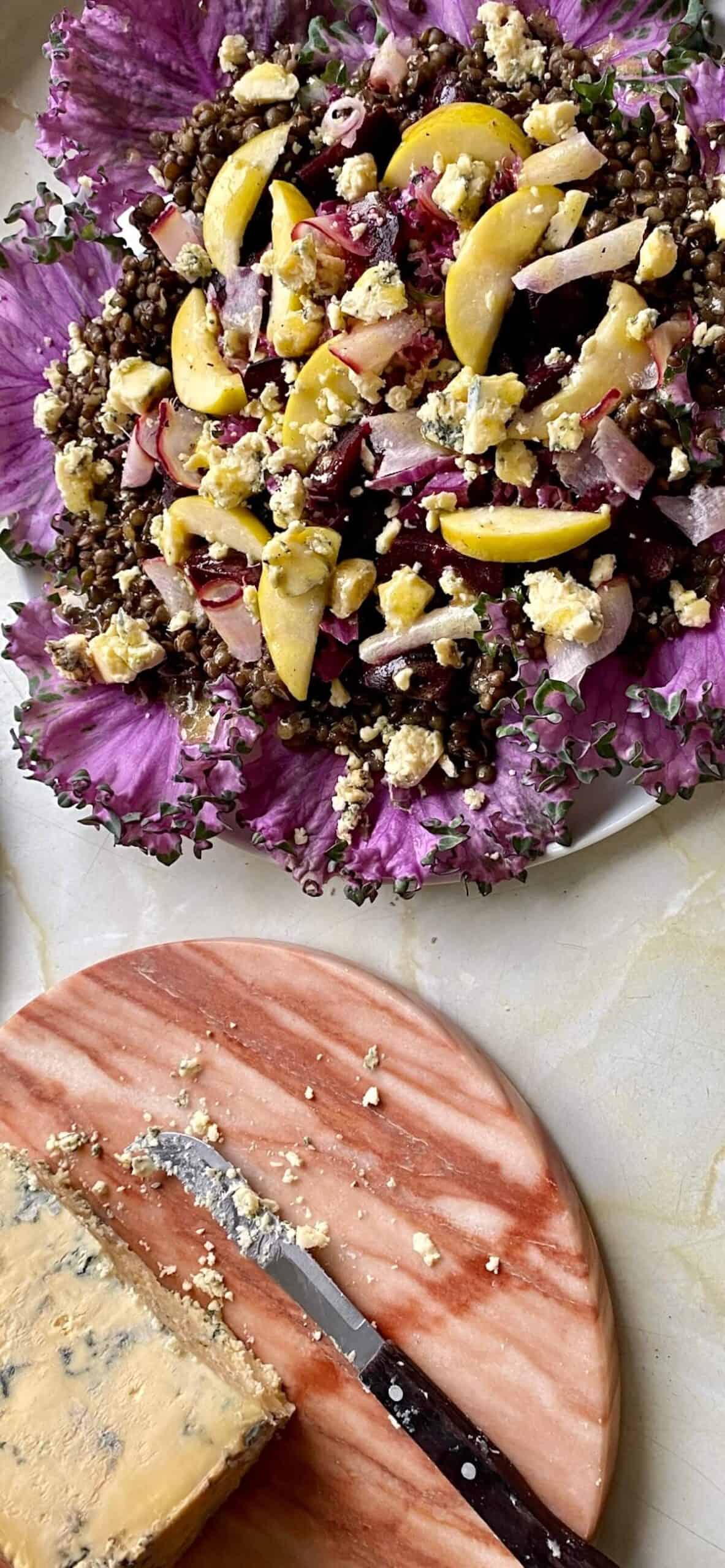 Wine pairing
You need a wine that will stand up to the blue cheese, which is the strongest flavour in this purple kale salad dish. That's the easy wine pairing rule, always pair with the strongest flavour. Blue cheese pairs wonderfully with sweeter wines, so I would serve it with a light Sauternes which will compliment all the flavours beautifully. An alternative would be a Pinot Gris from Alsace.
Substitutions and variations
Here are a few ways you can adapt this purple kale salad suit you.
Lettuce - if you don't have enough kale, add some other lettuce leaves or even rocket/arugula to get some peppery flavours in there.
Nuts - why not add some waluts for added crunch?
Vegan - Leave out the blue cheese or replace with a dairy free alternative
Equipment
You will need:
Oven tray
Chopping board and knives
Saucepan
Jar for mixing the apple cider vinaigrette
Serving plate
Storage
Store the ingredients separately and recombine when ready. Good for 2-3 days.
These ingredients don't stand up well to freezing.
Top tip
Sliced apples can discolour and go brown if you wait too long before preparing and serving them. To avoid this, dress them in some of the vinaigrette or squeeze some lemon juice over them to help prevent oxidation.
Recipe Card
Purple Kale Salad With Lentils, Apple, Roasted Beets & Blue Cheese
A delicious and easy winter salad with purple kale, puy lentils, oven roasted beets, apple, crumbled blue cheese and pickled kohlrabi drizzled in an apple cider vinaigrette
Equipment
Oven tray

Chopping board

Saucepan

Knives

Jar

Serving bowl
Ingredients
250

grams

Purple kale

2

Apples

3

Beetroot

¼

Kohlrabi

100

grams

Blue cheese

250

grams

Puy lentils

4

tablespoon

canola oil

1

tablespoon

apple cider vinegar

½

teaspoon

dijon mustard
Instructions
Preheat the oven to 175 C / 350 F

Place the beetroot on a baking tray, drizzle with olive oil and season with salt and pepper

Roast the beets for 45 minutes to an hour, until a fork goes in easily.

Bring a saucepan of water to a boil and cook the lentils in it according to pocket instructions with one clove of garlic in the water to add flavour.

Remove the skins from the roasted beets and cut them into segments

Slice and core the apples, and shred the purple kale into thin strips, leaving out the stems and stalk.

Shave the kohlrabi into 2 inch, paper-thin slices and place in a shallow bowl with 2 tablespoons of apple cider vinegar.

Make the dressing by mixing the oil, apple cider vinegar and mustard in a jar.

Crumble the blue cheese into small chunks.

Assemble the purple kale salad by plating the lentils, purple kale, shaved kohlrabi, apples and roasted beets with the crumbled blue cheese on top and drizzle over the apple cider vinaigrette.
Video
Nutrition
Calories:
553
kcal
Carbohydrates:
63
g
Protein:
26
g
Fat:
23
g
Saturated Fat:
6
g
Polyunsaturated Fat:
4
g
Monounsaturated Fat:
11
g
Trans Fat:
1
g
Cholesterol:
19
mg
Sodium:
434
mg
Potassium:
705
mg
Fiber:
24
g
Sugar:
15
g
Vitamin A:
6508
IU
Vitamin C:
91
mg
Calcium:
283
mg
Iron:
6
mg
You may also like these...