This lamb rump roast smothered in rosemary butter is tender and juicy and one of my ideal recipes for Easter Sunday or Spring dinner parties. Read on for all my top tips on how to cook lamb rump perfectly, every single time.
Lamb is one of my favourite red meats, I love the taste and come springtime it's all I want to eat, making it perfect for Easter Sunday, Mother's Day or a dinner party for friends. For this lamb rump recipe, we render the fat down in a frying pan and sear the other sides, before roasting it in the oven and resting it sealed in a container with a compound rosemary butter. This keeps it warm and allows the juices to reabsorb whilst marinating in the herbs and butter. It. Is. Delicious.
What is lamb rump
Lamb rump is from the top of the hind leg of the animal, and it has a delicious flavour. It is ideal for roasting and can be cooked whole or cut into lamb rumps steaks. I prefer cooking lamb rump whole and then slicing it up to keep it as juicy as possible.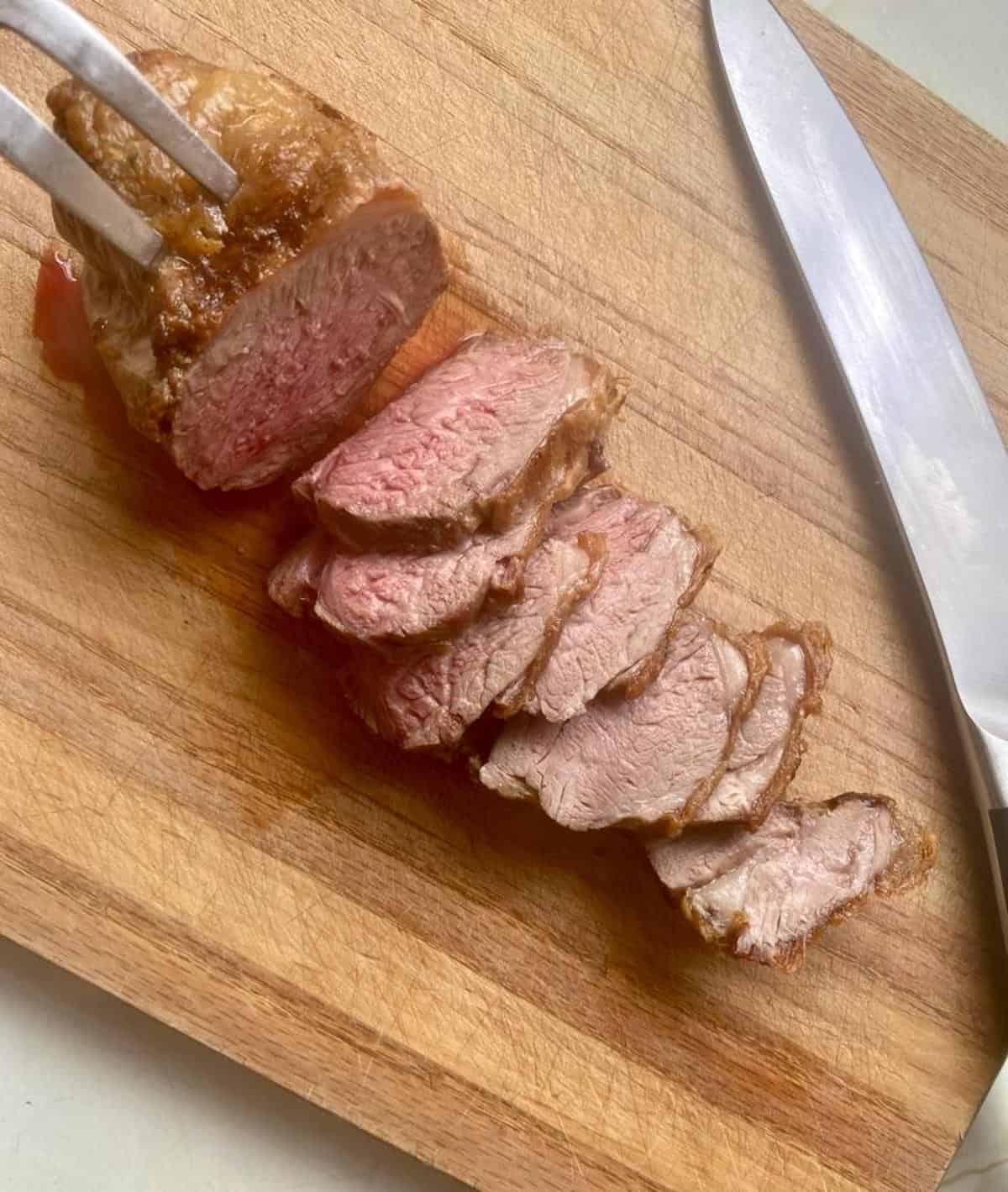 Lamb rump serving size
In terms of weight and how many servings, I generally allow 200-250 grams or half a pound per person, depending on how many side dishes you are serving. If I were hosting a dinner party for 8 people, I'd usually buy 3 big pieces of lamb rump from the butcher or meat counter. But it's best to bear in mind the appetites of the people coming, and whether or not you're pushing the boat out with canapes, side dishes, cheese and desserts for them to fill up on!
I especially enjoy eating lamb in spring and summer, and this roasted lamb rump recipe is ideal for Easter.
Jump to: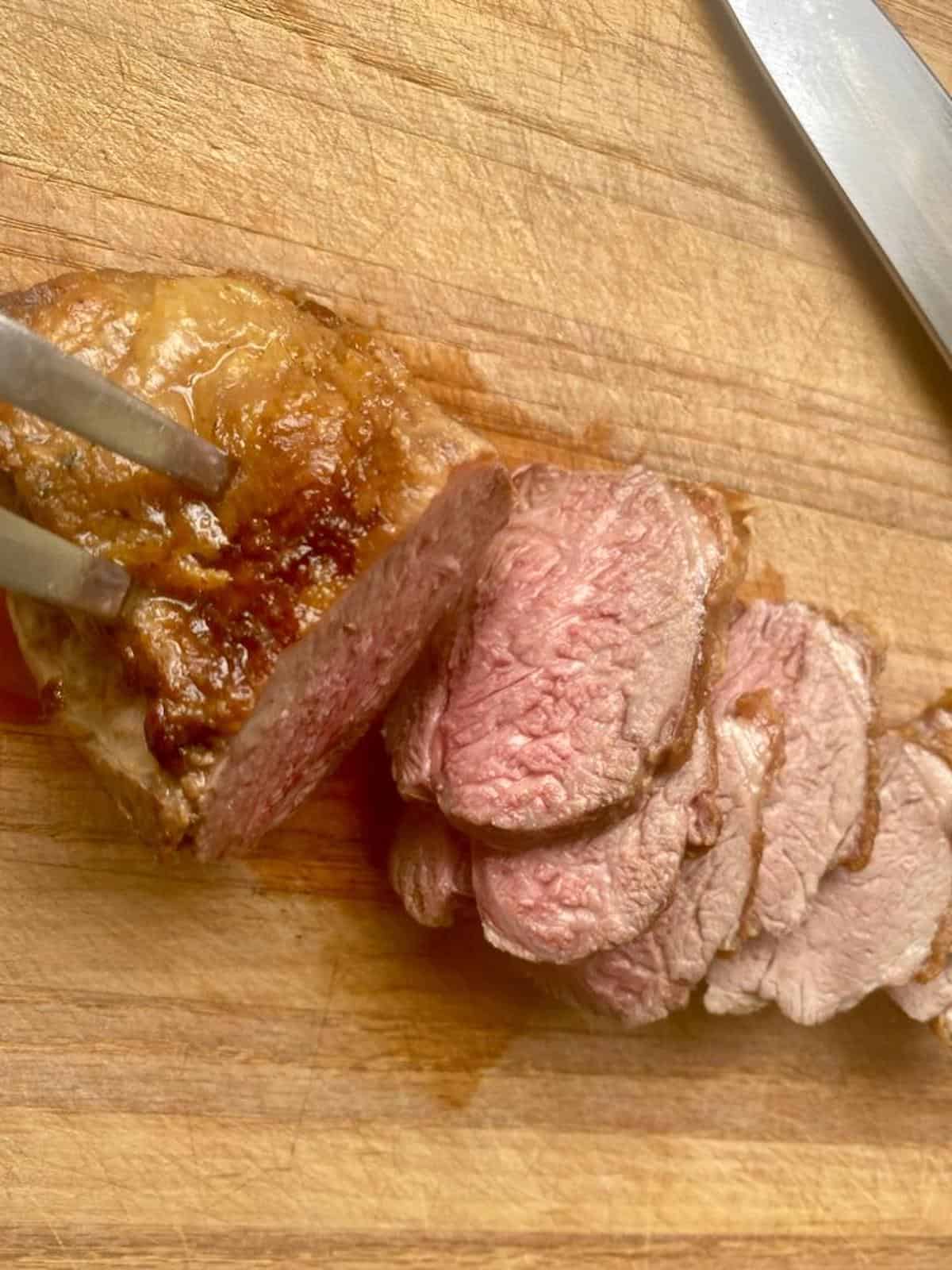 Ingredients
Lamb rump
Neutral cooking oil - for example corn, rapeseed or sunflower.
Butter
Fresh rosemary leaves
Salt and pepper
See the recipe card for quantities.
How to prepare lamb rump for cooking
If your lamb rump has not already been trimmed, remove the tough outer layer of fat/skin that's on the top carefully with a knife. Don't remove all the fat, just the hard top layer that feels dry and rough to touch. Check for any sinews on the bottom of the piece of lamb rump, and cut them off. Dab with a paper towel to remove excess moisture. Sprinkle a small amount of salt on the meat but no pepper.
Instructions
Preheat the oven to 200 degrees Celsius / 400 degrees Fahrenheit
Heat the oil in a frying over medium heat.
When the oil is hot and shimmering, put the piece of lamb rump fat side down and gently fry it until the fat is browned and crispy.
Now sear and seal the other surfaces of the lamb by turning it over onto its sides and ends using tongs to quickly brown off the meat.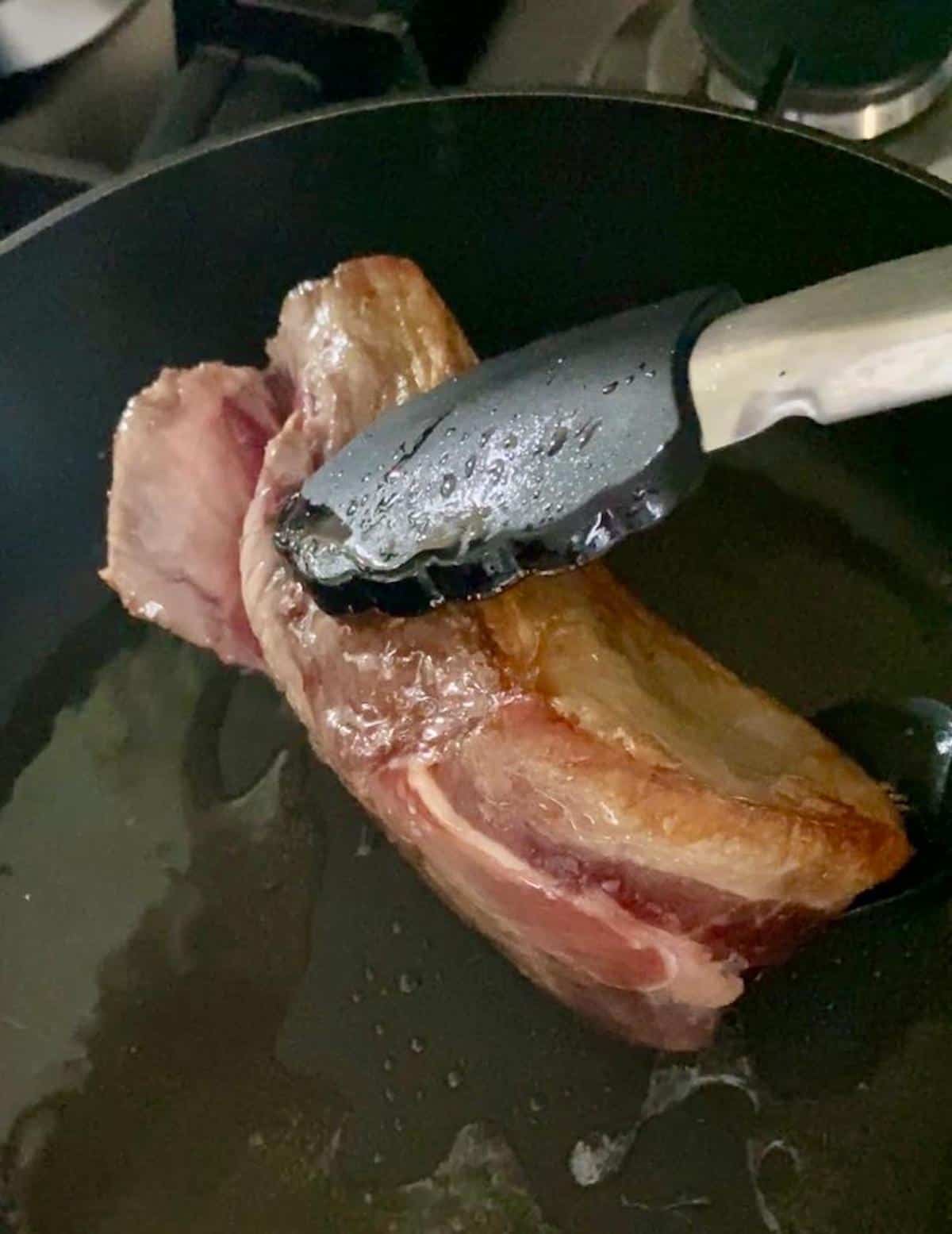 Place the lamb onto a lined baking tray and put it in the oven to roast for 15-20 minutes until a meat thermometer measures the middle of the lamb rump to be 55 degrees Celsium / 130 degrees Fahrenheit.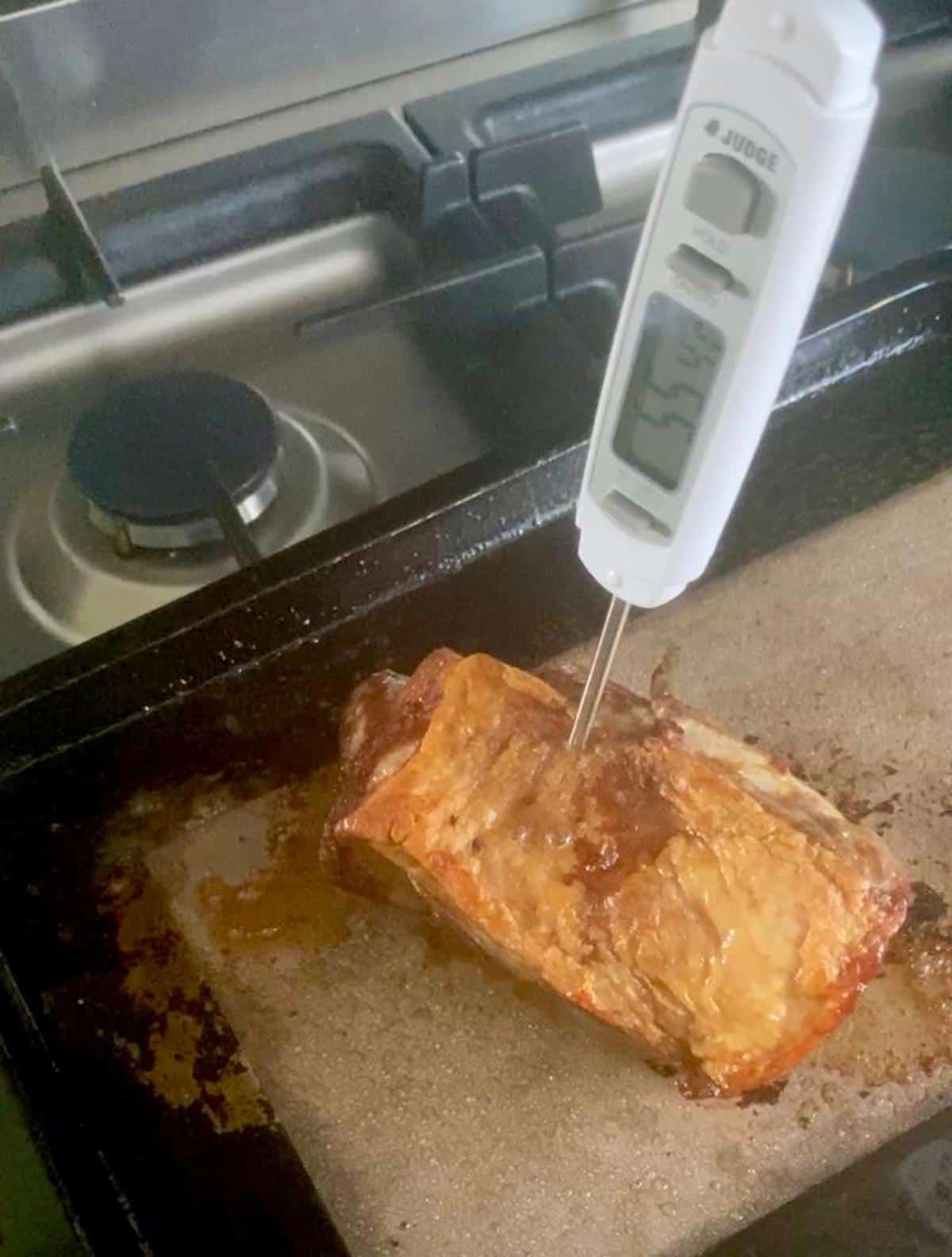 Meanwhile, make your compound rosemary butter. Place the butter into a Tupperware container (one that you definitely have a well fitting lid for) and add the salt, pepper and finely chopped rosemary. I like to make my own homemade rosemary salt that I keep by my oven which saves a lot of time! Mash the butter and seasonings together with the back of a spoon or fork.
Take the lamb out of the oven and put it straight into the Tupperware with the compound herb butter, swishing it around a bit so the butter melts and coats the lamb. Put the lid on, and leave it to rest for 8-10 minutes. The residual heat of the lamb will continue to cook it for a short amount of time, leaving you with lamb rump perfectly cooked to medium/medium-rare, still with a hint of pink. Lamb rump is best served on the pink side of medium, in my opinion. Tender, juicy and tasty!
Why should you rest meat?
It's really important to rest meat after cooking to allow the juices to reabsorb and give you the ultimate flavour and texture!
Ideally, you should rest meat for half as long as the cooking time. In this lamb rump recipe, we rest the meat in a sealed container (I use Tupperware) to keep it warm and marinade it in the rosemary butter.
Slice up your lamb and serve, drizzling over the melted butter and juices from the Tupperware.
Hint: I don't season meat with pepper before frying as it can burn.
Wine pairing for roasted lamb rump
Traditionally, red wine is served with red meats like lamb (although I am partial to serving rose champagne with lamb cutlets). I love a classic Bordeaux with lamb rump or a Cabernet Sauvignon/Merlot blend.
Serving suggestions
Lamb rump makes an ideal Sunday roast dinner, surrounded by delicious side dishes and smothered in gravy.
Substitutions and Variations
Here are a few ways to make this lamb rump recipe suit you.
Herbs - instead of rosemary butter, try thyme or other herbs
Dairy free - use a dairy free butter
Equipment
You will need:
Frying pan (either non-stick or cast iron is fine)
Oven tray
Meat thermometer
Tongs (I like the silicon edged ones so they don't scratch the frying pan)
Tupperware
Chopping board and knife (I use Robert Welch knives)
Storage
Store leftover roasted lamb rump in the fridge, it will be good for 2-3 days.
Top tip
Using a meat thermometer is such a game changer - honestly! You can wave goodbye to that feeling of 'am I going to poison myself' because you'll always know when it's perfectly cooked.
Recipe Card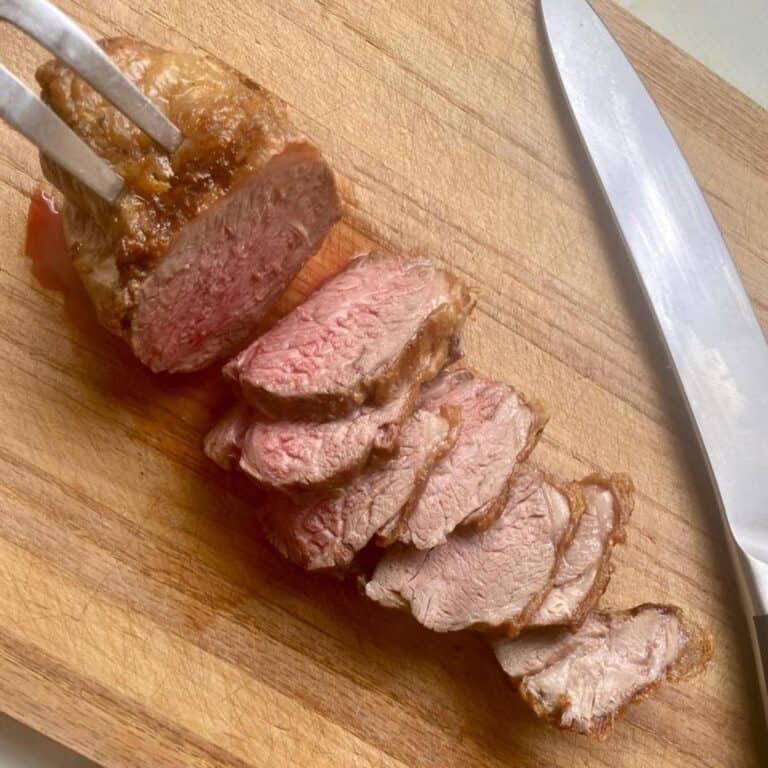 Juicy Lamb Rump Roast With Rosemary Butter
An easy method of cooking lamb rump roast and get it perfect every time
Equipment
1 Frying pan

1 Oven tray

1 tongs

1 Tupperware

1 carving knife
Ingredients
500

grams

lamb rump

1

tablespoon

corn oil

1

tablespoon

butter

1

tablespoon

fresh rosemary leaves

salt and pepper
Instructions
Preheat the oven to 200 degrees Celsius / 400 degrees Fahrenheit

Heat the oil in a frying over medium heat.

When the oil is hot and shimmering, put the piece of lamb rump fat side down and gently fry it until the fat is browned and crispy. 

Now sear and seal the other surfaces of the lamb by turning it over onto its sides and ends using tongs to quickly brown off the meat. 

Place the lamb onto a lined baking tray and put it in the oven to roast for 15-20 minutes until a meat thermometer measures the middle of the lamb rump to be 55 degrees Celsium / 130 degrees Fahrenheit. 

Meanwhile, make your compound rosemary butter. Place the butter into a Tupperware container (one that you definitely have a well fitting lid for) and add the salt, pepper and finely chopped rosemary. Mash together with a fork.

Take the lamb out of the oven and put it straight into the Tupperware with the compound herb butter, swishing it around a bit so the butter melts and coats the lamb. Put the lid on, and leave it to rest for 8-10 minutes. 

Carve the lamb rump roast and serve with the butter and juices drizzled over the top 
Video
Nutrition
Calories:
269
kcal
Carbohydrates:
1
g
Protein:
34
g
Fat:
14
g
Saturated Fat:
4
g
Polyunsaturated Fat:
2
g
Monounsaturated Fat:
6
g
Trans Fat:
1
g
Cholesterol:
109
mg
Sodium:
114
mg
Potassium:
485
mg
Fiber:
1
g
Sugar:
1
g
Vitamin A:
28
IU
Vitamin C:
1
mg
Calcium:
23
mg
Iron:
3
mg
Food safety
Do not use the same utensils on cooked food, that previously touched raw meat
Wash hands after touching raw meat
Don't leave food sitting out at room temperature for extended periods
Never leave cooking food unattended
Use oils with high smoking point to avoid harmful compounds
Always have good ventilation when using a gas stove