Rosemary salt is a kitchen hero that can be used to enhance so many dishes, once you've tried it you'll never go back! It takes two minutes to make and is one of my number one food hacks to add flavour fast.
The fragrant and earthy tones smell like heaven and taste even better. You can make rosemary salt in batches as it keeps and it works just as well in winter months scattered over a roast rump of lamb as it does on some chargrilled chicken or halloumi on the BBQ in summer. It can be used to jazz up roasted vegetables like carrots and potatoes and don't even get me started on how good it tastes with dark chocolate. Yes, really.
Rosemary infused sea salt is very simple to make at home, you don't need to buy a fancy store-bought product and especially if you grow your own herbs (like me) it's as easy as stepping out into the garden to grab a few sprigs and away you go.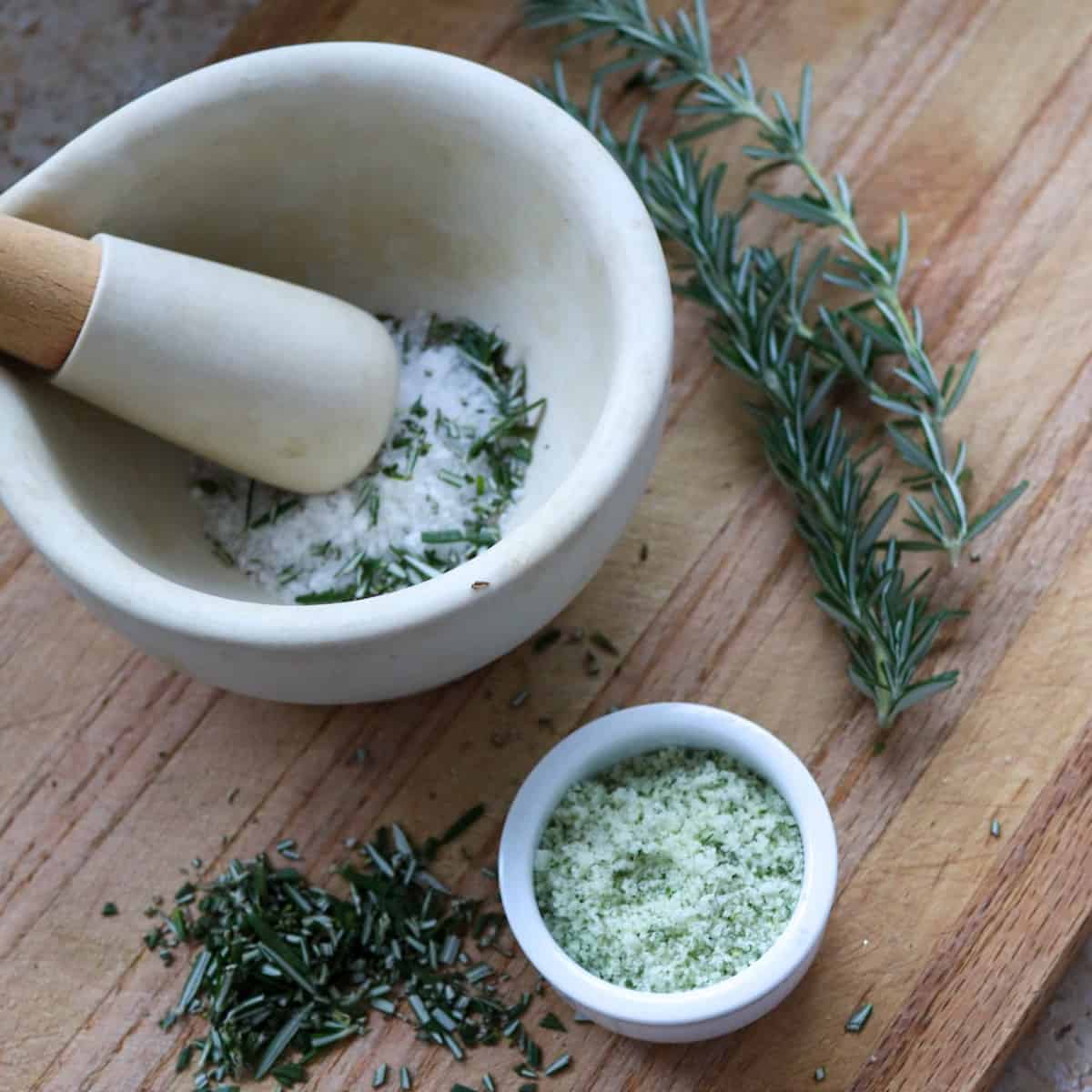 Having a herb garden is one of my top recommendations for home cooks, even a window box or one big pot can save you so much time and money as well as bring the joy of eating homegrown produce.
Anyway. I enjoy serving this rosemary salt especially with chicken, like this cast iron chicken breast recipe that's another fast and fabulous dish to make life easier. Here's how to make homemade rosemary salt!
Jump to:
Ingredients
Sea salt
Fresh rosemary - available in most grocery shops or grow your own!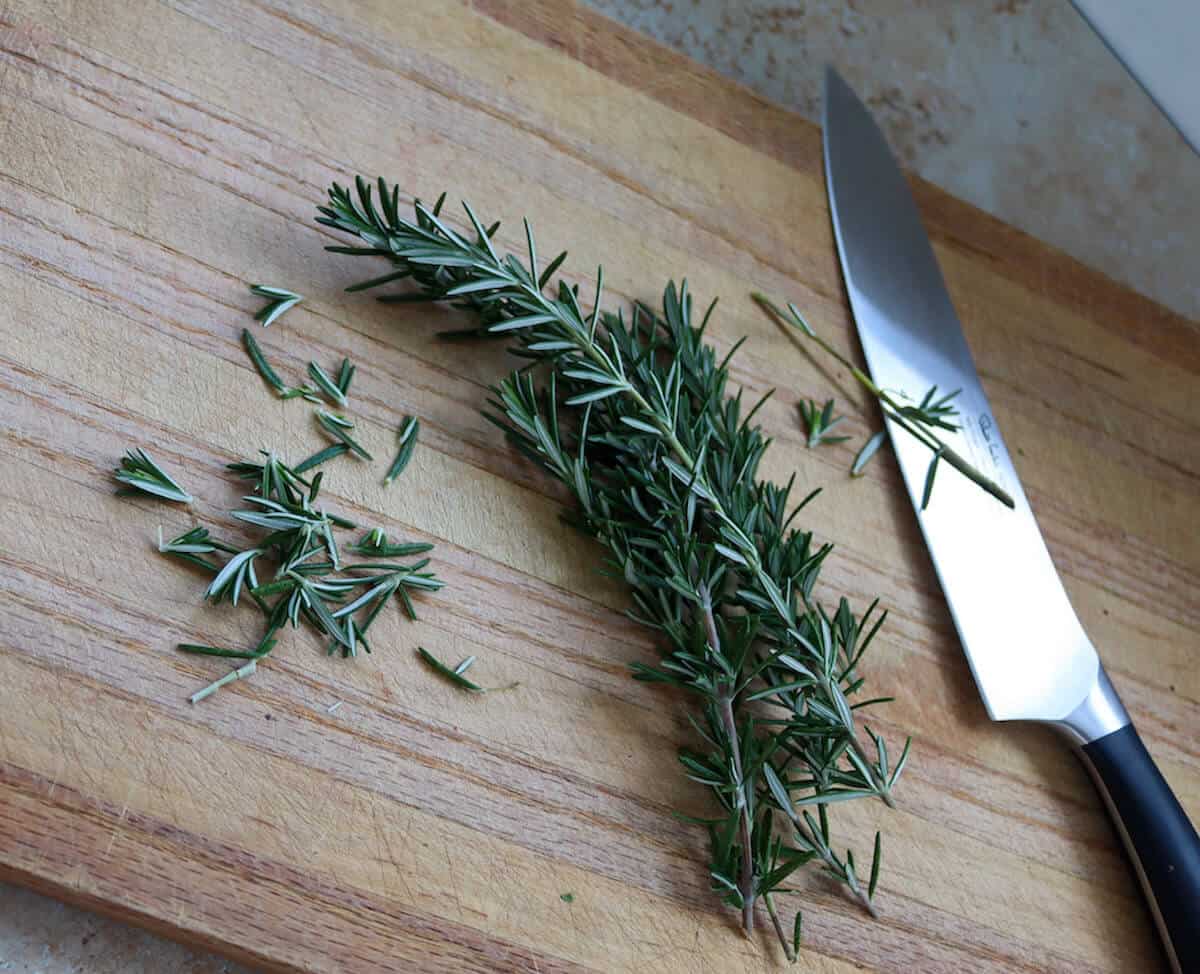 Rock salt vs sea salt
Sea salt is produced by the evaporation of saltwater from the ocean. Rock salt is mined in solid form. Both sea salt and rock salt are far less processed than table salt which contains additives to prevent clumping and loses a lot of the natural minerals like potassium and calcium in its production. I personally prefer using sea salt to rock salt in cooking, partially because I trained as a chef at a culinary school near the British coast and it was readily available! Cornish sea salt is the best salt to use for home cooking in my opinion.
Instructions
Remove the leaves from the rosemary sprigs and place them into a food processor with the sea salt.
Blend the rosemary salt together until it reaches your desired consistency.
What if I don't have a food processor/only want to make a small amount?
Alternatively, you can use a pestle and mortar instead! Or if you don't have one of those, take a large pinch of the sea salt crystals, finely dice your rosemary leaves and put them both on a clean work surface. Using a rolling pin, roll over them back and forth to crush the salt into fine crystals and infuse the rosemary with it.
Can I use other herbs?
Of course! Why not try this rosemary salt recipe with tarragon (also great with chicken), thyme or dried garlic?
Can I use dried rosemary instead of fresh?
Yes but when using dried herbs the rule is to divide the quantity needed by half, so for every teaspoon of fresh herbs, you will need half a teaspoon of dried and so on. The reason for this is that dried herbs have a more intense and potent flavour than fresh herbs.
Equipment
You will need a knife and food processor or alternatively a pestle and mortar or rolling pin.
I use Robert Welch knives.
Storage
Store the rosemary salt in an airtight container and use it as needed.
Top tip
I like my rosemary salt a little more coarse and still with discernible little pieces of rosemary in. I find that this looks better visually as if you blend it too fine it can turn some things green!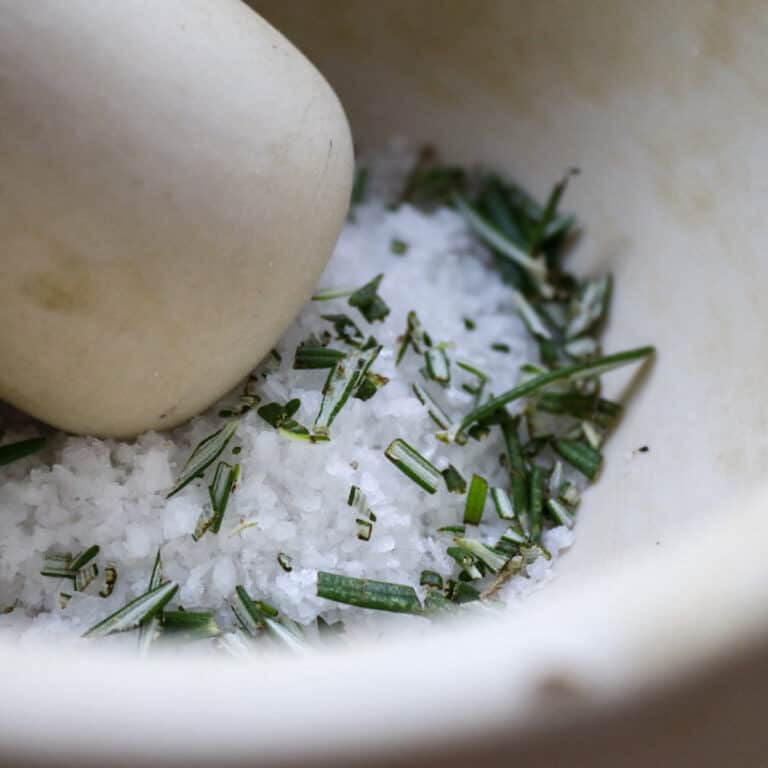 Rosemary salt
A rosemary infused sea salt recipe to instantly add flavour to your cooking. Try this rosemary salt with meat, fish or vegetables or even sprinkled on dark chocolate.
Equipment
1 food processor

1 pestle and mortar

(alternative)
Ingredients
50

grams

sea salt

1

tablespoon

rosemary

(fresh)
Instructions
Place the sea salt into a blender or food processor

Remove the rosemary leaves from the stalk, chop them into smaller pieces and add to the salt

Blend the rosemary salt until the sea salt crystals have reached the desired consistency.

Alternatively, grind the sea salt and rosemary together using a pestle and mortar or on the kitchen counter top using a rolling pin
Video
Nutrition
Calories:
1
kcal
Carbohydrates:
1
g
Protein:
1
g
Fat:
1
g
Saturated Fat:
1
g
Polyunsaturated Fat:
1
g
Monounsaturated Fat:
1
g
Sodium:
969
mg
Potassium:
1
mg
Fiber:
1
g
Vitamin A:
3
IU
Vitamin C:
1
mg
Calcium:
2
mg
Iron:
1
mg