Looking for a fun, homemade edible gift? I got you. These prosecco jelly sweets are so tasty and make a lovely sweet surprise for loved ones on romantic days like Valentine's Day or anniversaries (or they work just as well for birthdays! Or Wednesdays...)
I had been pondering what to make for V Day as I love chocolate (perhaps too much) but I felt like something a bit different. And as a glass of bubbly is my favourite tipple, I thought about making something from it! The result is a sweet, tangy and cute little gummy still with a hint of fizz - the perfect homemade Valentine's Day gift. The best part is that it doesn't use a whole bottle of prosecco so you can have a glass whilst you make them - win win. You can use any sparkling wine for these jelly sweets but I used prosecco because it is naturally sweeter and means you don't need to add as much sugar.

They are extremely easy and fast and will keep for a couple of days in the fridge (although let's be honest they won't last that long). I got this mould and pipette set from Amazon, you can get other shapes too but I thought these were rather sweet and for Valentine's Day, they made perfect sense!
I hope you like them as much as I do, you could also pop them into a glass of your favourite sparkling wine to make it even more special! It's the little things that make every day an event. I wrapped mine in some cellophane and ribbon to gift them and look fancy but it's best not to store them that way, plus I am sure your giftee will want to eat them up immediately anyway!
I based this recipe for little jelly sweets on this fancy Prosecco, Elderflower and Raspberry jelly I made last year.
Jump to:
Ingredients
Prosecco
Water
Granulated sugar
Powdered gelatin
Red grenadine
See the recipe card for quantities.
Instructions
In a small bowl, add the powdered gelatin to the water to allow it to bloom.
Meanwhile, heat the prosecco in a saucepan, bring it to simmering point and then dissolve the sugar into it, before then stirring in the gelatin mixture.
Once it is all dissolved, remove it from the heat and allow it to cool a bit before adding to the moulds.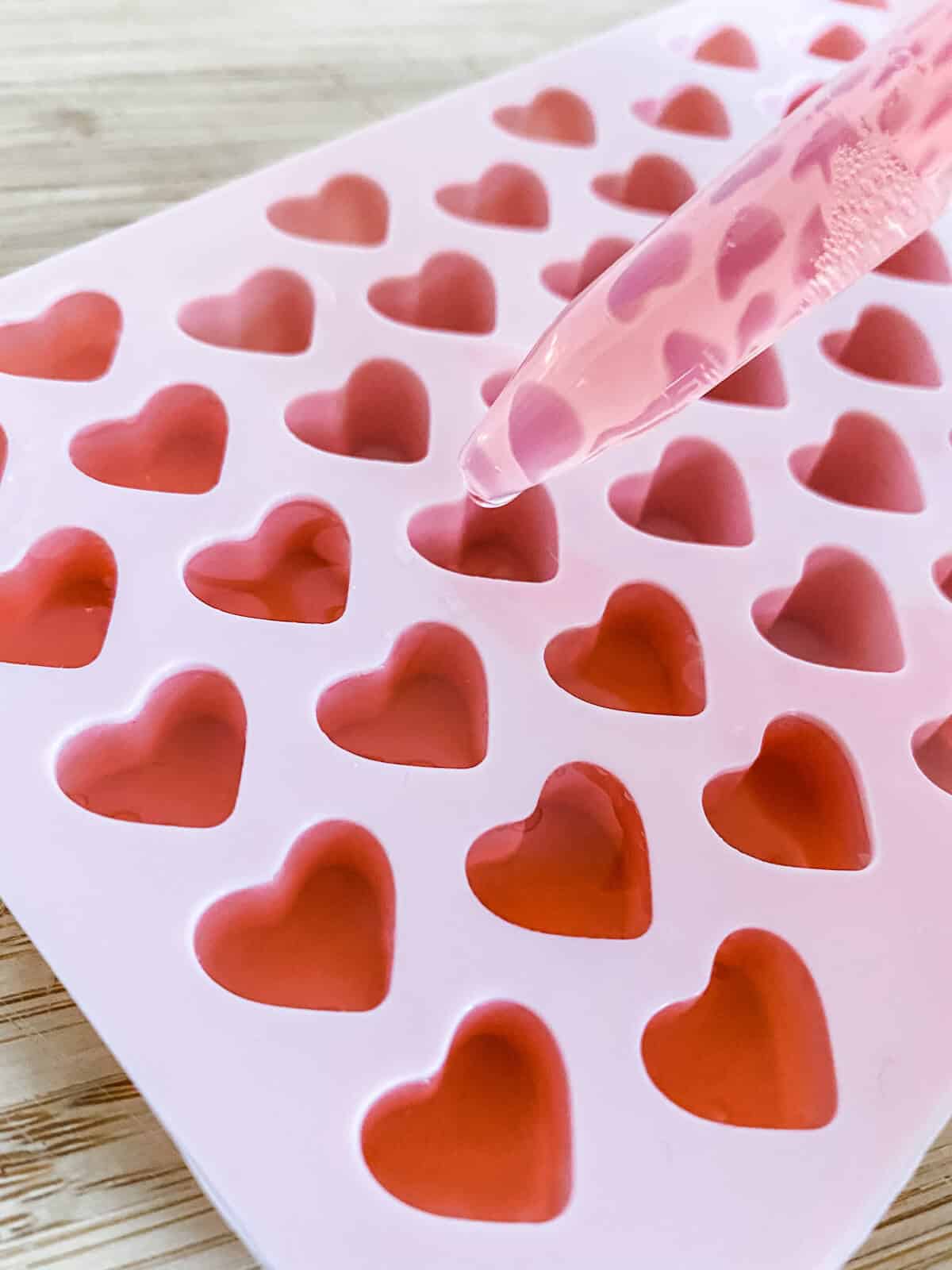 Put the moulds into the fridge for 30 minutes and you're done! Carefully pop them out of the moulds and enjoy.
Hint: To get perfectly clear sweets you need to avoid letting any small bubbles form so make sure you have a full pipette each time.
Equipment
A mixing bowl and a saucepan is all you need along with your heart shaped jelly mould. Have fun with them, they do all sorts of silly shapes if you fancy something else!
Storage
Store in the fridge and consume within a couple of days.
These ingredients don't stand up well to freezing.
Top tip
I made some of my prosecco jelly sweets without grenadine and some with to give some colour variation which looked pretty! You could use other food colouring too to make these any colour you want.
Recipe Card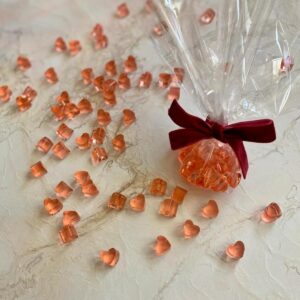 Prosecco jelly sweets
The perfect homemade edible gift for Valentine's Day or any special occasion
Equipment
Saucepan

Jelly moulds and pipette
Ingredients
250

ml

sparkling wine

prosecco or champagne, or cava

60

ml

water

3

tablespoon

powdered gelatin

3

tablespoon

white granulated sugar

1

teaspoon

red grenadine
Instructions
Add the water to a mixing bowl and stir in the gelatin. Allow it to bloom for a fe minutes.

Meanwhile, heat the prosecco in a saucepan and bring it just to simmering point.

Stir the sugar into the prosecco, allowing it to dissolve.

Stir in the gelatin mixture and once it has dissolved too, remove from the heat and allow to cool slightly for a few minutes before adding to the moulds.

Using a pipette, draw the liquid in and then expel into each mould. Ensure that no air bubbles get into the pipette as this will in turn cause bubbles in your jelly sweets.

Once the moulds are full, chill them in the fridge until set.

Serve your little hearts to loved ones!
Nutrition
Calories:
44
kcal
Carbohydrates:
6
g
Protein:
1
g
Sodium:
3
mg
Potassium:
37
mg
Sugar:
6
g
Calcium:
4
mg
Iron:
1
mg