My pick of the best restaurants in Placencia, Belize! Placencia has been my home now for almost 2 months and I have loved living here as a digital nomad, exploring and learning about the food and culture. A narrow peninsula 16 miles long, it is bordered by a lagoon on one side and the crystal clear waters of the Caribbean on the other. Uninhabited for many years due to no water supply, it is now dotted with beautiful hotels and its own teeny airport and a village at the far end.
I flew in from Belize City on Tropic Air who run regular shuttle flights up and down the coast and to some of the islands, and it was an incredible way to arrive. It's a 30-minute plane ride or a 3-hour drive...and I know how I'd rather spend my time!
Since being here I have been trying to cook some traditional Belizean food myself (like this Belizean stewed chicken) but have also ventured out to the restaurants nearby and wanted to do a round-up post of my top restaurants in Placencia. I will update this post as and when I find more treasures, and always feel free to comment below or DM me on Instagram if you want any other details or recommendations.
The general style and vibe for eating out at restaurants in Placencia is very laid back and casual, and the only thing I would say is an essential 'must wear' is insect repellent if you are going to be outside anywhere near dusk! Restaurants often have a sandy floor so high heels are tricky, a wedge is best if you do want a bit of a lift. Everywhere accepts credit cards, but you can also pay in either Belizean or US dollars.
Restaurants in Placencia, Belize

1. Umaya Resort
Umaya (where I am staying) has a unique position in Placencia because it is located on both sides of the peninsula so you get the lagoon AND the beach. They have a restaurant on either side and the food is a mix of international classics and fresh takes on Caribbean cuisine. The staff are incredibly warm and friendly and a real delight.
Umaya Resort in Placencia, Belize
What to eat - The fish tacos on the lunchtime menu are the best I've had in Belize. The pina colada cheesecake is also amazing!
What to drink - The cocktails are top-notch, try the tamarind margarita or a grapefruit caipirinha.
Visit Umaya's website here
Pina Colada cheesecake at Umaya
2. Mare at Turtle Inn
Turtle Inn is one of Francis Ford Coppola's two properties in Belize that he bought after scouting the area for locations to film Apocolypse Now. Now a hotel, it is a chic and peaceful beachside retreat that is traditional Belize in design but with Italian twists like a gelato bar! Mare is their main restaurant right on the beach and it serves Italian food (which is hard to find here if you have a craving).
Mare restaurant at Turtle Inn, Belize
What to eat - Go on a Sunday when they have 2 for 1 on their very good pizza.
What to drink - The 'Sofia' Blanc de Blanc sparkling wine from Coppola vineyards in California
More about Turtle Inn here
The pizza at Mare at Turtle Inn, Belize
3. Maya Beach Bistro
Maya Beach Hotel and Bistro is a charming little spot with lovely staff and fresh international food with a tropical touch. They will also serve you on the beach itself if you can't bring yourself to leave the soft white sand!
What to eat - The ice cream cake with a biscuit base and peanut brittle topping is out of this world and you should order it for starter, main and dessert. The coconut shrimp small plate is also delicious.
What to drink - Try the rum punch.
Visit Maya Beach hotel and Bistro's website here
The ice cream cake at Maya Beach Bistro
4. Barefood Bar
If you're looking for a fun, laid back place where you can go for a swim in between courses and gaze at the crystal clear waters whilst eating, Barefoot Bar is where to go. Right in the middle of the village itself, Barefoot Bar is colourful, bright and breezy and full of music and gorgeous locals as well as holidaymakers. The menu is full of BBQ delights and Caribbean fare.
Barefoot Bar in Placencia, Belize
What to eat - Order the Tamarind pork nachitos and don't share them
What to drink - The frozen cocktails are a dream - I like the mango daiquiri!
Visit Barefoot Bar's website here
Tamarind pork nachitos at Barefoot Bar, Belize
5. Bonefish Grille at Singing Sands Inn
Walking into Singing Sands is like walking into another world. Nestled in lush vegetation, it feels like you are immersed in the jungle whilst also being right on the beach and in the middle of Placencia! They have a large outdoor deck and serve Asian inspired food with a Belizean twist.
Bonefish Grille at Singing Sands Inn, Belize
What to eat - I loved the Fish Tostados with pineapple salsa
What to drink - Ice cold Belikin Beer
Visit the Singing Sands Inn website here
Fish tostados at Bonefish Grille
6. Itz'ana Hotel
The restaurant and pool at Itz'ana are to die for, and the main eatery Limilia has both an indoor area and glorious outdoor terrace to sit on. They also have a secret speakeasy upstairs that you enter through a cupboard, ask if you can get in.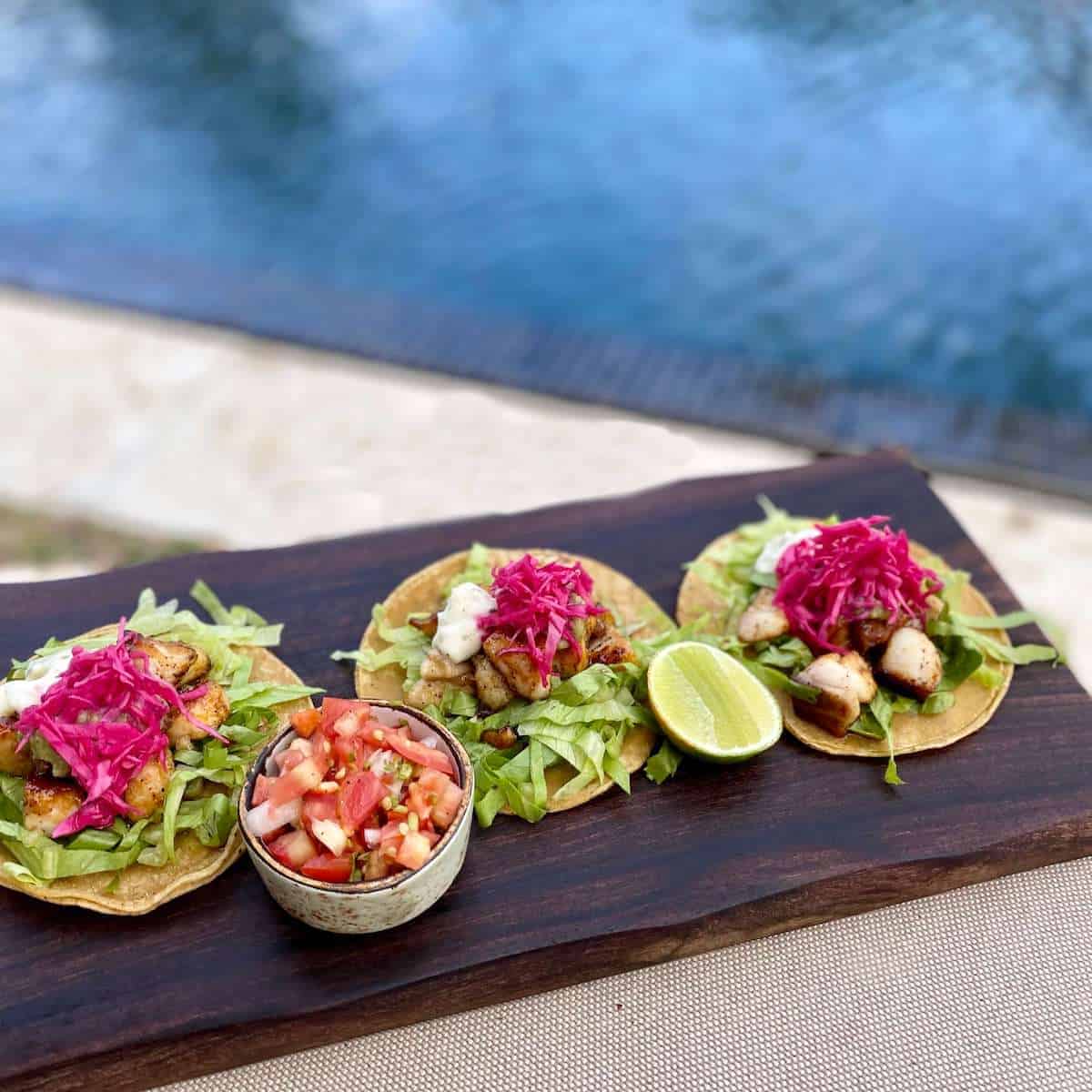 What to eat - Their salads are delicious, as are their fish tacos (I am just obsessed with fish tacos, sue me).
What to drink - A crisp
More about Itz'ana here
Belizean street food...
In addition to restaurants in Placencia, there are also some incredible spots to pick up some traditional home-cooked Belizean treats. You'll often see people selling food from their homes and one lady in Seine Bright village (which is midway along the peninsula) gave me the best Stewed Chicken I think I'll ever eat in my life. She was opposite the Publics supermarket, so go find her!
Also, Holey Roller Donuts is a food bike in Placencia Village itself and you can pick up the most divine pineapple fritters and freshly baked donuts. Don't miss it if you see them!
I am constantly learning about new places to go, so I'll make sure this list is updated regularly. I hope you've found some inspiration and if you come to Placencia let me know, I'm more than happy to help with other tips and tricks to make your time here as special as possible.
Don't forget to follow me on instragram for more BTS content and my YouTube channel has other Belizean delights too including this tour of the village so you can see a bit more of what it's like...

Enjoy and thanks for reading!