These brown butter pecan cookies are SO good, I am obsessed! The gooey center of these brown butter pecan cookies is perfectly balanced with a nutty crunch and the melted chocolate chips just work so well with the flavors.
Brown butter cookies are a real game changer, it might take slightly longer to make them but browning butter gives the most amazing depth of flavor that is rich and nutty caramel in tone and really levels up your cookie baking. Achieving gooey cookies is sometimes challenging, baking is a science after all but if you follow my step-by-step guide and I'll get you there.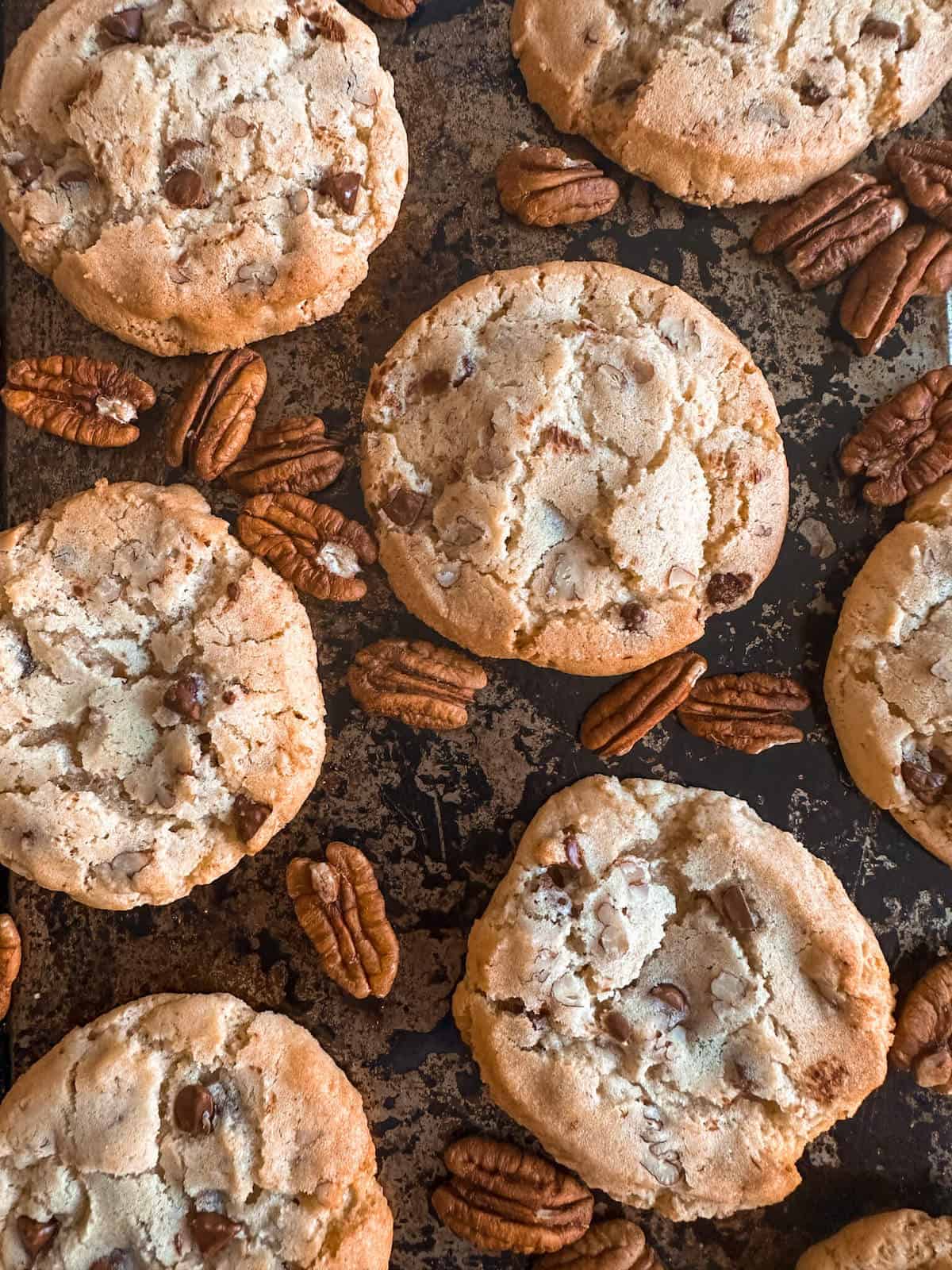 I love to serve these brown butter pecan cookies with chocolate chips at any time of year but they do work especially well in Fall and Winter when pecan recipes are all around us.
Jump to:
Why you should bake these cookies
Here are five reasons why this is the best brown butter pecan cookie with chocolate chips recipe:
They're so easy: These brown butter pecan chocolate chip cookies are really simple, even with the browned butter stage added in. It takes a few extra minutes but makes a massive difference in caramel taste.
They have amazing texture: I love chewy cookie recipes with nuts as it gives extra richness, crunchy texture, and an earthy flavor. Then when you add the molten chocolate chips in amongst all that it's a texture jackpot.
They're thick: These thick and chewy butter pecan cookies do not disappoint, I always feel cheated by thin cookies so I made a point of testing different thicknesses with this recipe.
There's no special equipment: This pecan and chocolate chip cookie recipe does not need anything other than a few simple bits of equipment you'll probably already have.
You can freeze the dough: I like to make batches of this cookie dough and freeze it in logs. It's then so simple to slice up and bake whenever the craving comes.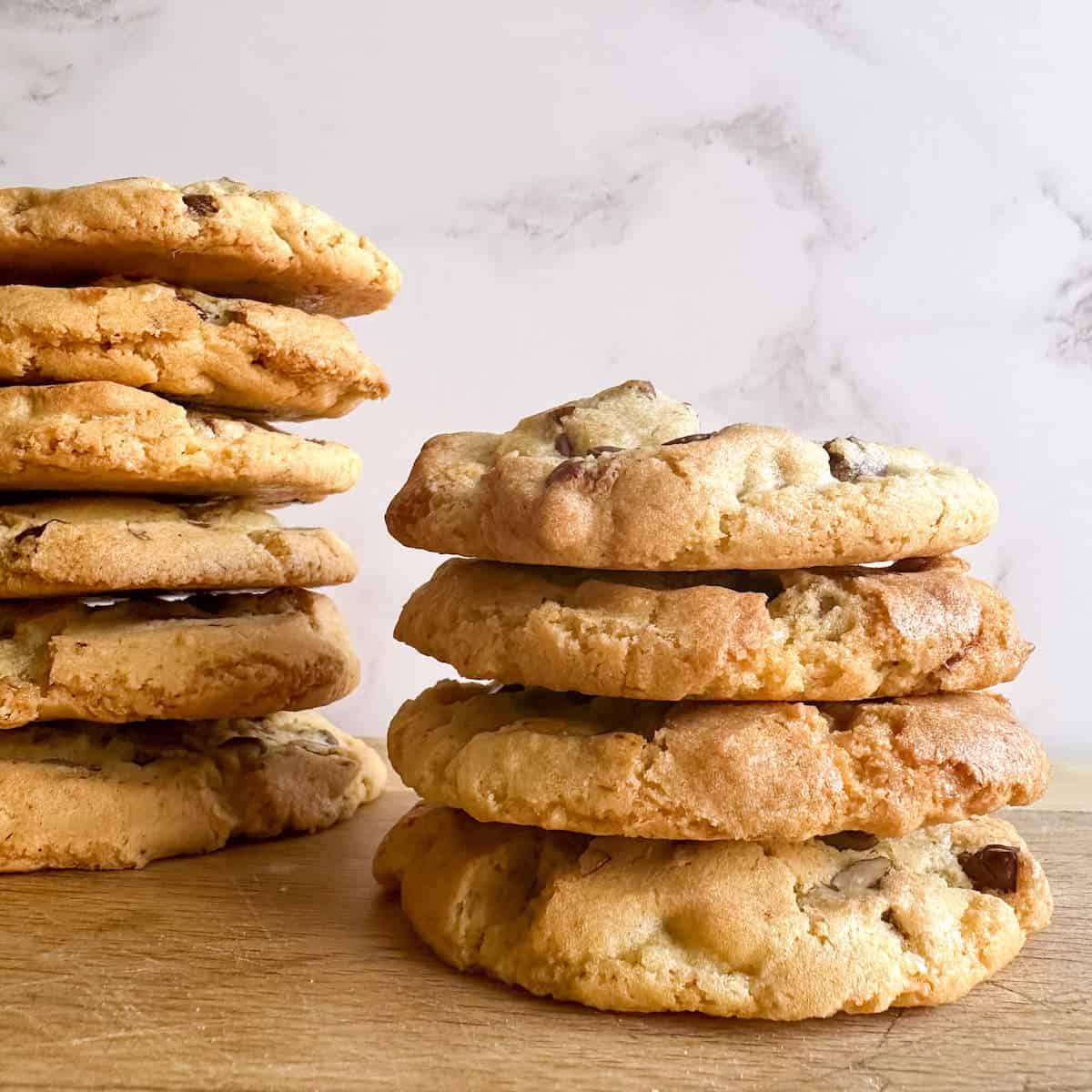 What is brown butter?
Browning butter is when you heat and melt butter in a saucepan until it starts to brown, before then using it in a recipe. It gives a wonderfully deep nutty flavor to baked goods, especially in these easy brown butter pecan cookies.
Butter browns when exposed to heat due to the Maillard reaction. The Maillard reaction is a chemical reaction that occurs between amino acids and sugars, which are in this case within the milk proteins in butter. Brown butter is used a lot in cooking due to the delicious taste it gives to recipes.
What do brown butter cookies taste like?
Browned butter cookies have a rich and deep butterscotch flavor, and are completely delicious. The brown sugar and brown butter in this recipe lend a nutty, praline taste to it, and coupled with the pecans and chocolate chips, it's chewy cookie heaven.
Ingredients
Here are the ingredients you will need to bake these delicious brown butter pecan chocolate chip cookies.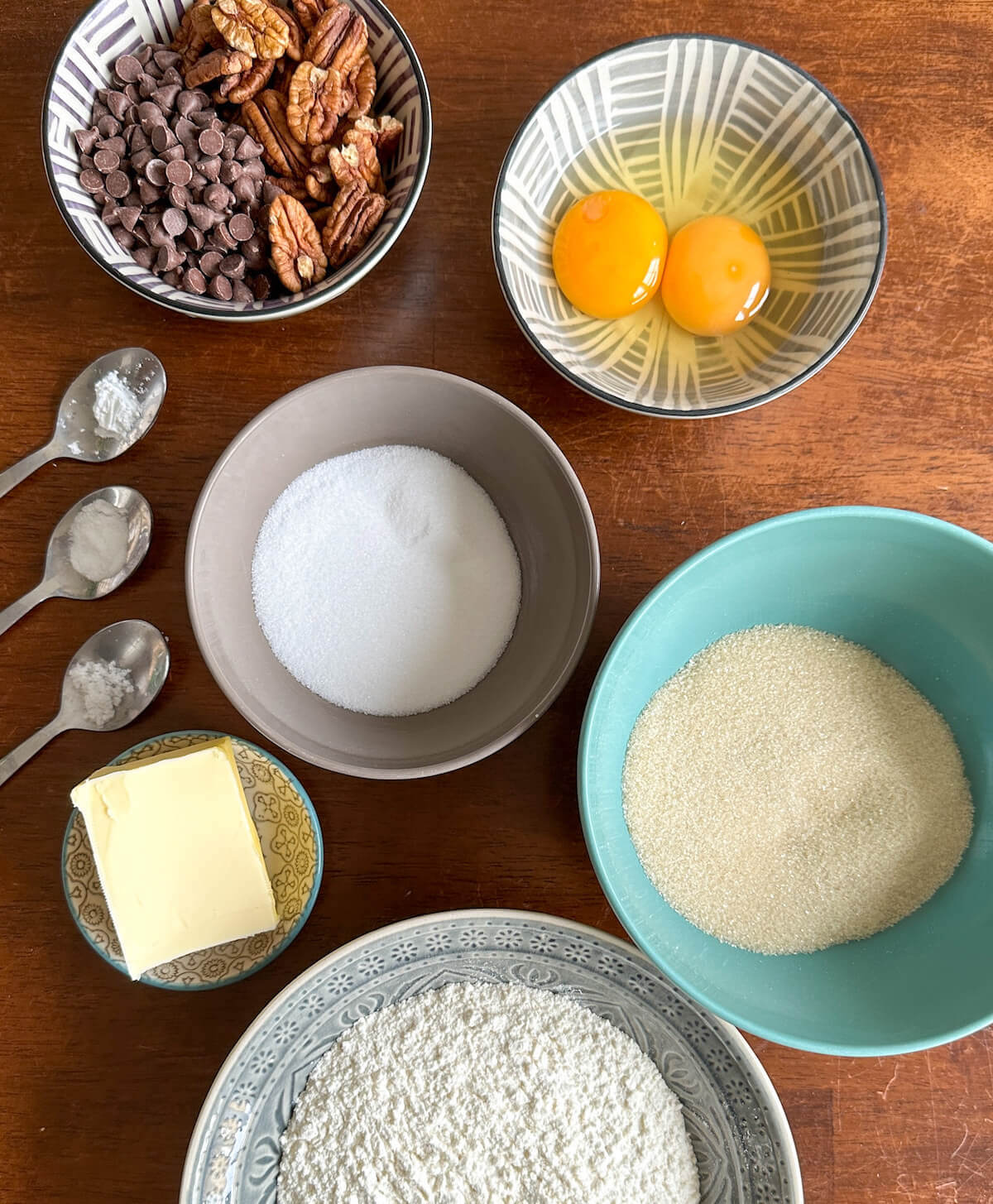 All-purpose flour/plain flour: We need plain flour, or all-purpose flour for these cookies, which is a medium-strength flour ideal for general baking.
Unsalted butter: I always cook with unsalted butter to control both the quality and quantity of salt in a recipe.
White granulated sugar/caste sugar: We use two types of sugar to get the perfect chewy texture.
Brown sugar/golden sugar: Baking with brown sugar lends more of a caramel flavor to the finished cookie and also provides a bit of acidity that's essential in baking.
Egg: Eggs serve several purposes in baking, and one of the main ones is moisture so that we get deliciously gooey cookies that aren't dry. It's always best to bake with room-temperature eggs to get the best results. This recipe calls for a small to medium size whole egg plus one egg yolk
Egg yolk: Egg yolks contain moisture too, but they also help tenderize these brown butter cookies due to their fat content. Plus they provide yummy richness and help to emulsify the other ingredients together.
Baking powder: Baking powder is a leavening agent that helps the cookies to rise and fluff slightly and not go flat.
Baking soda: Also known as bicarbonate of soda, baking soda is another chemical leavener but baking soda is not the same as baking powder. They work differently, and in this brown butter pecan recipe, we use them both to achieve the perfect cookie.
Salt: Using salt in sweet recipes might seem odd, but it really helps bring out all the flavors!
Pecan nuts: Buy plain pecans, not ones that are pre-roasted or coated in salt, sugar, or any spices.
Milk chocolate chips (optional): Buying good quality chocolate chips means they melt evenly and give those lovely pockets of molten chocolate within a perfectly baked cookie. If you want to bake these cookies without chocolate, simply leave the chocolate chips out and double the weight of the pecans.
See the recipe card for instructions and quantities.
Baking Soda vs Baking Powder in cookies
In this brown butter pecan cookie recipe, we use both baking powder and baking soda. Baking powder and baking soda (or bicarbonate of soda) are two different chemical leavening agents. They both play the same function but in slightly different ways, creating carbon dioxide bubbles in a bake that in turn create rise.
Baking soda is much stronger than baking powder, around 3-4 times as strong in fact, but baking powder contains an acid (usually cream of tartar) which can be very beneficial in baking.
In this recipe, the baking soda will react and begin to create a rise as soon as it comes into contact with the brown sugar, whereas the baking powder will react later on in the baking when it is in the oven. Using a small amount of both in this recipe creates the perfect thick chewy cookie texture and crackly top.
Instructions
Weigh out all of your ingredients using a digital scale.
Roughly chop the pecans into small pieces depending on how visible you want them in your cookie.
In one mixing bowl, sift the flour, salt, baking powder, and baking soda together and mix them thoroughly to combine.
How to brown butter perfectly
Cut your butter into small chunks so that it melts evenly.
Put the butter chunks into a saucepan over medium heat - preferably one with a pale bottom and not black so that you can see the color of the butter as it browns.
As the butter melts and heats up, it will start foaming, popping, and crackling, and then start to go quiet, and this is when you need to watch it like a hawk.
Keep stirring the butter as it bubbles away, and watch as brown specks start to form on the bottom of the saucepan and in the butter. You will notice a delicious nutty smell and the foam will start to subside.
When it reaches a pale golden color with brown specks covering around half of the bottom of the saucepan, take it off the stove as the residual heat in the pan will keep the butter browning and we don't want to burn it.
Use a spatula to scrape out the saucepan to get all of those brown specks out which are actually toasted milk solids and contribute a lot to the nutty brown butter flavor!
How to make pecan cookie batter
Pour the browned butter into a large mixing bowl with the brown sugar and white sugar and mix together thoroughly. Allow it to cool slightly before moving to the next step, or we can end up with scrambled egg cookies which are not enjoyable. It can also make the cookies spread too thin if the butter is too hot when mixed with the other ingredients.  
In a small bowl, mix the egg and egg yolk together and then slowly pour the eggs into the brown butter and sugar mixture, stirring with a silicon spatula or wooden spoon until completely incorporated. 
Now stir the dry ingredients into the wet mixture and pour in the chopped pecans and chocolate chips. Keep stirring until you have a smooth, slightly sticky cookie dough that is thoroughly mixed. 
Turn the cookie dough out onto a sheet of cling film/plastic food wrap. Using your hands, shape it into a log 25cm or 10 inches long. Then roll it up in the food wrap, using the cling film to keep it in shape. 
Place the brown butter pecan cookie dough in the fridge and chill thoroughly, preferably overnight but for at least 4 hours. 
How to bake cookies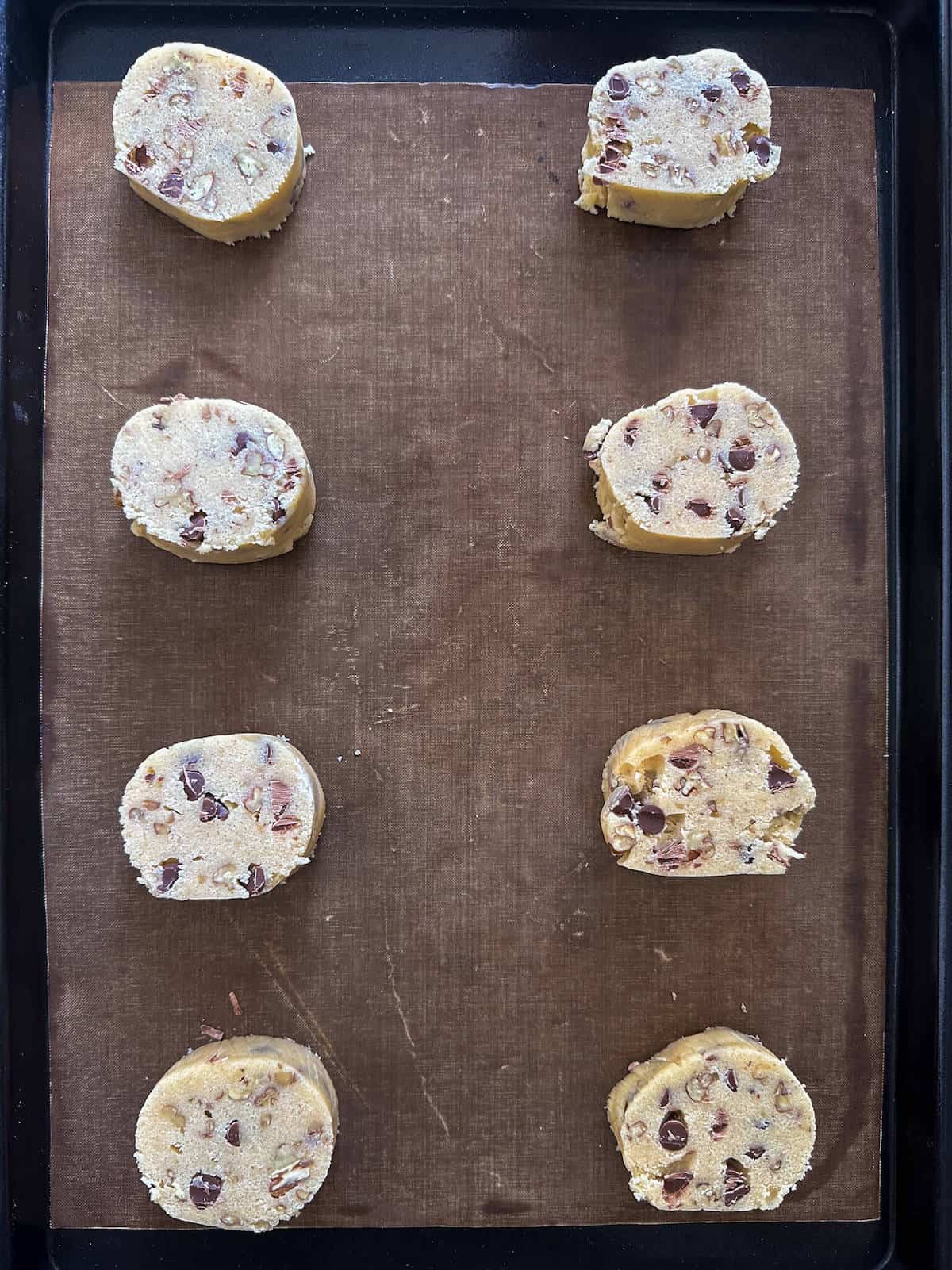 When you are ready to bake your brown butter cookies with chocolate chips and pecans, preheat the oven to 180 Celsius or 355 degrees Fahrenheit.
Slice the cookie dough log into pieces 1 inch wide and place on a lined baking tray or cookie sheet with a gap in between each cookie. Press them down to widen slightly and help them spread.
Bake the brown butter pecan cookies for 10 minutes until the edges are looking golden brown and crispy but the center still looks chewy in the middle and slightly underdone. 
Using a small bowl or circular cookie cutter shape, gently swirl it around the edges of the cookie to neaten the edges and make a perfectly round shape cookie. 
Leave the cookies to rest and solidify for 20 minutes, then remove them to a cooling rack. 
Enjoy your cookies with a glass of milk, a cup of coffee, or even a creamy coffee-based cocktail like this mudslide.
To cookie scoop, or not to cookie scoop?
The issue I find with using a cookie scoop is that the unbaked cookie dough balls take up a lot of space in the fridge on trays whilst the dough chills before baking. And my fridge is always full! Similarly, they'll take up freezer space too if you like to freeze cookie dough before baking. I, therefore, prefer to roll the cookie dough into a log, and then it's both easy to store and easy to slice up and bake. But if you like to use a scoop, you go for it. This is your rodeo!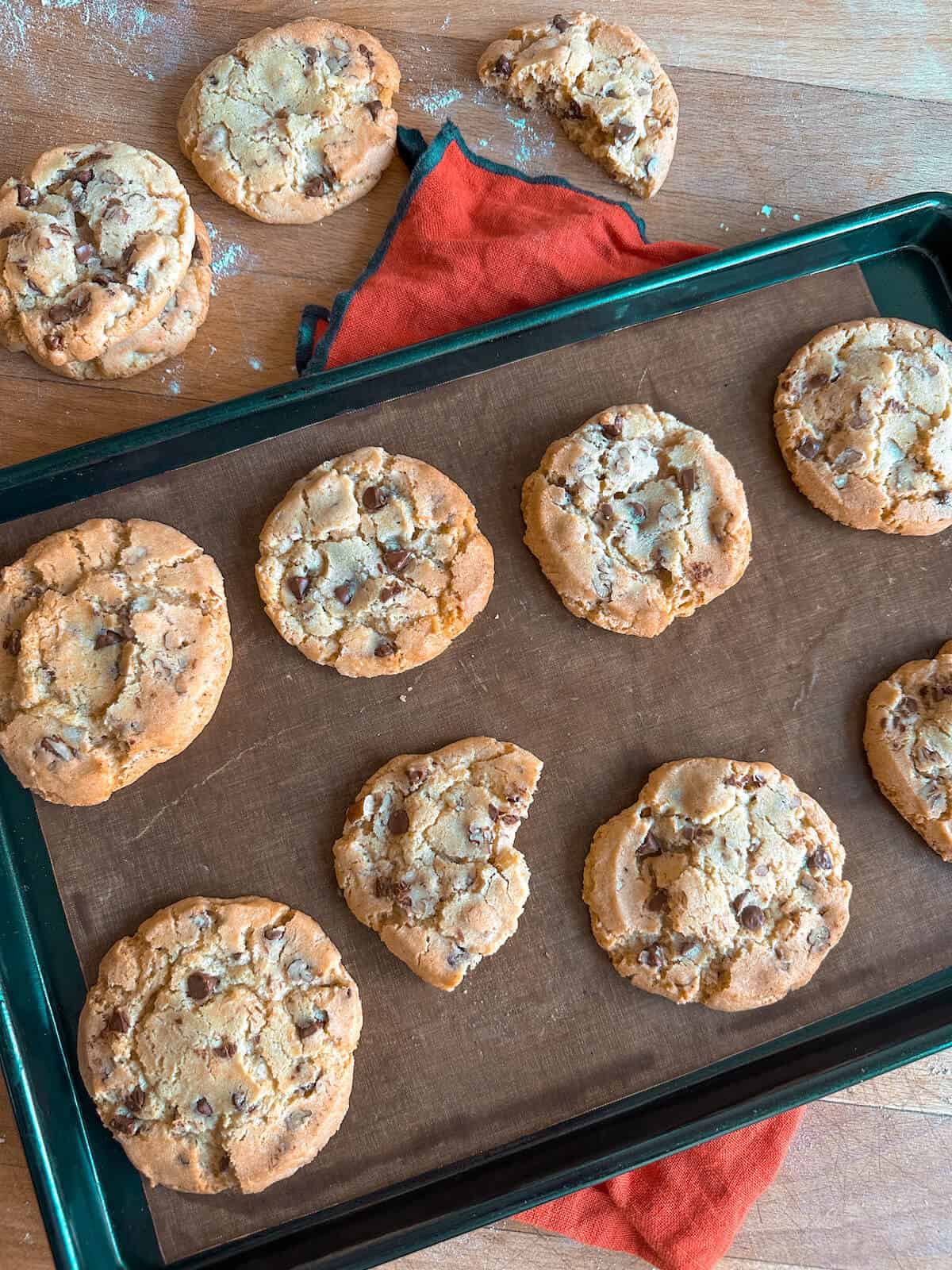 Expert tips
Chilling the cookie dough thoroughly overnight before baking will give you the best results.
Take the cookie dough out of the fridge 20 minutes before baking if you have chilled it overnight. This helps them spread properly.
Cookies baked with both baking soda and baking powder get the best gooey texture and rise! Don't forget to use both.
It is also important to balance the sweetness in this brown butter pecan cookie recipe with the salt listed in the recipe.
Don't burn your butter! Use a light-colored saucepan to check the color and cut it into pieces so that it melts evenly.
Always weigh ingredients using a digital scale, baking is a science so it's important to be precise.
Oven temperatures are not always reliable but it's an important part of baking, so use an oven thermometer to make sure it's correct.
Egg size matters in this recipe. We need the fat from the egg yolk to tenderize and emulsify the bake, but we don't want to add too much moisture or we end up with cakey cookies. Use a medium size whole egg and a large egg yolk for best results.
Variations
Here are a few ways you can adapt this brown butter pecan cookie recipe to suit you.
Nuts - try these brown butter cookies with other nuts like walnuts or macadamia nuts.
Chocolate - instead of milk chocolate chips, use dark or white chocolate chips or even butterscotch chips.
Spice - add ground cinnamon or even pumpkin spice mix to this easy cookie recipe to give it an extra fragrant kick.
You could also serve these brown butter pecan chocolate chip cookies with a scoop of ice cream in between to make ice cream cookie sandwiches as if they weren't delicious enough.
For a quicker bit of sweet comfort food, try this Toblerone lava cake in a mug that is cooked in the microwave and is ready in a few minutes!
Equipment
Always weigh your ingredients for best results, I use a digital scale and measure by the gram.
A few mixing bowls in various sizes will always come in handy when baking!
I love a spatula or wooden spoon for thoroughly mixing cookie batter. You do not need a stand mixer or electric whisk to make these brown butter pecan cookies.
Cookie sheets are oven trays that do not have high sides, as this will trap steam and affects the bake. Use low-sided baking trays or flat cookie sheets for the best result with this recipe.
Storage
Store your brown butter cookies with pecans and milk chocolate chips in an air-tight container and consume them within 3-4 days.
You can easily freeze cookie dough before baking. Defrost and bake within 3 months.
Top tip
Use room temperature eggs, and allow the brown butter and sugar mixture to cool for 5 minutes before adding them. Using cold eggs will risk ceasing up the mixture and stopping it from emulsifying, and adding them too soon to the hot butter will risk scrambling them!
If you love chocolate and nutty desserts, try these Ferrero Rocher macarons!
FAQ
What does browning butter do to cookies?
Browning butter in cookies gives a deliciously rich, nutty, and deep butterscotch flavor.
What makes cookies moist and chewy?
Resting cookie dough before baking will help make them deliciously chewy. Also, too much moisture in the recipe can have an effect too. In this brown butter pecan cookie recipe, we add one medium whole egg and one egg yolk to lower the water content in the recipe and help get that perfect chewy cookie texture.
Should you refrigerate cookie dough before baking?
For best results baking cookies like these brown butter pecan cookies, the cookie dough needs to be refrigerated before you bake, ideally overnight or for as long as 24 hours.
Can you freeze cookie dough?
Yes, freezing cookie dough is easy. You can freeze cookie dough balls or a cookie dough log easily and use it within 3 months. Defrost thoroughly before baking.
What happens if you don't add enough butter to cookies?
Butter contains both fat and water, generally in a ratio of 80/20. Both fat and water play important roles in baking, they tenderize, add flavor, emulsify and add moisture. Therefore, reducing the amount of butter in a cookie recipe without making a suitable substitution will affect the outcome of your baking. It can be dry, crumbly, and lack flavor.
Try these recent trending recipes:
Recipe Card
Brown Butter Pecan Cookies
Delicious brown butter pecan cookies with chocolate chips and a gooey center.
Equipment
1 Saucepan

1 silicon spatula

2 silicon baking mats

2 baking trays or cookie sheets
Ingredients
85

grams

unsalted butter

150

grams

all purpose flour

or plain flour

110

grams

brown sugar

or golden caster sugar

60

grams

white granulated sugar

or caster sugar

⅛

teaspoon

baking powder

⅙

teaspoon

baking soda

½

teaspoon

salt

1

egg

use a medium size egg

1

egg yolk

75

grams

milk chocolate chips

75

grams

pecans
Instructions
Roughly chop the pecans into small pieces.

In one mixing bowl, combine the dry ingredients. Sift the flour, salt, baking powder, and baking soda together so they are thoroughly combined.

Brown the butter by breaking the butter into chunks and melting it in a saucepan over medium heat. Wait for the butter to stop popping and bubbling, and then watch carefully until brown spots start to appear and it slightly darkens in color.

Take the browned butter off the heat and mix it thoroughly with the sugars. Allow it to cool for 5 minutes.

Slowly add the egg and egg yolk whilst stirring to incorporate it into the browned butter and sugar.

Now add the dry ingredients to the wet mixture whilst stirring to combine. Add the chocolate chips and chopped pecans and stir until you have a smooth and slightly sticky cookie dough.

Turn the cookie dough out onto a piece of plastic food wrap/cling film and shape it into a long log. Wrap it up and chill it in the fridge overnight for best results, or for a minimum of 4 hours.

Preheat the oven to 180 degrees Celsius/355 degrees Fahrenheit.

Unwrap the cookie dough and slice it into 1-inch pieces. Place the brown butter pecan cookies on a lined baking tray with a gap in between each one and press down sligtly to help them to spread.

Bake the cookies for 10 minutes or until they are golden and crispy at the edges but still slightly gooey in the middle. Leave them to cool for 20 minutes before transferring them to a cooling rack.
Video
Notes
Take the cookie dough log out of the fridge 20 minutes before baking, if you have chilled for the full amount of time. 
Use room temperature eggs in baking. 
Nutrition
Calories:
201
kcal
Carbohydrates:
24
g
Protein:
2
g
Fat:
11
g
Saturated Fat:
5
g
Polyunsaturated Fat:
2
g
Monounsaturated Fat:
4
g
Trans Fat:
0.2
g
Cholesterol:
39
mg
Sodium:
108
mg
Potassium:
66
mg
Fiber:
1
g
Sugar:
15
g
Vitamin A:
190
IU
Vitamin C:
0.1
mg
Calcium:
23
mg
Iron:
1
mg