Looking for easy Easter canapes? Look no further, I've gathered the cream of the crop.
These canape recipes for Easter are all simple enough to make but look and taste fancy so will bring a sense of occasion to your Easter dinner. Sometimes canapes can be fussy and time consuming, which is the last thing you want when preparing a meal for family and friends.
We have a selection of hot and cold canapes so you can choose what works best for you and your oven schedule (and fridge space!) and several of these can be made in advance and frozen to free up more of your time.
For Easter canapes I like fresh flavours and a balance of light and heavier options. I usually introduce a lot more fish and keep back the meat to save it for the main event (which for me is always roast lamb). I play with texture, mix it up between sharing platters and individual bites and try and include as much colour as I can. It is spring after all!
So without further ado, here is my round up of easy Easter canapes for 2022.
Jump to:
1. Smoked Mackerel Croquettes
An elegant fish canape to start us off, these smoked mackerel croquettes are topped with a beetroot puree that lends a sweetness to the warm, crunchy and smoky croquette. Remarkably simple to make, you can also get them ready ahead of time and freeze them, ready to finish on the day.
Served hot - Fish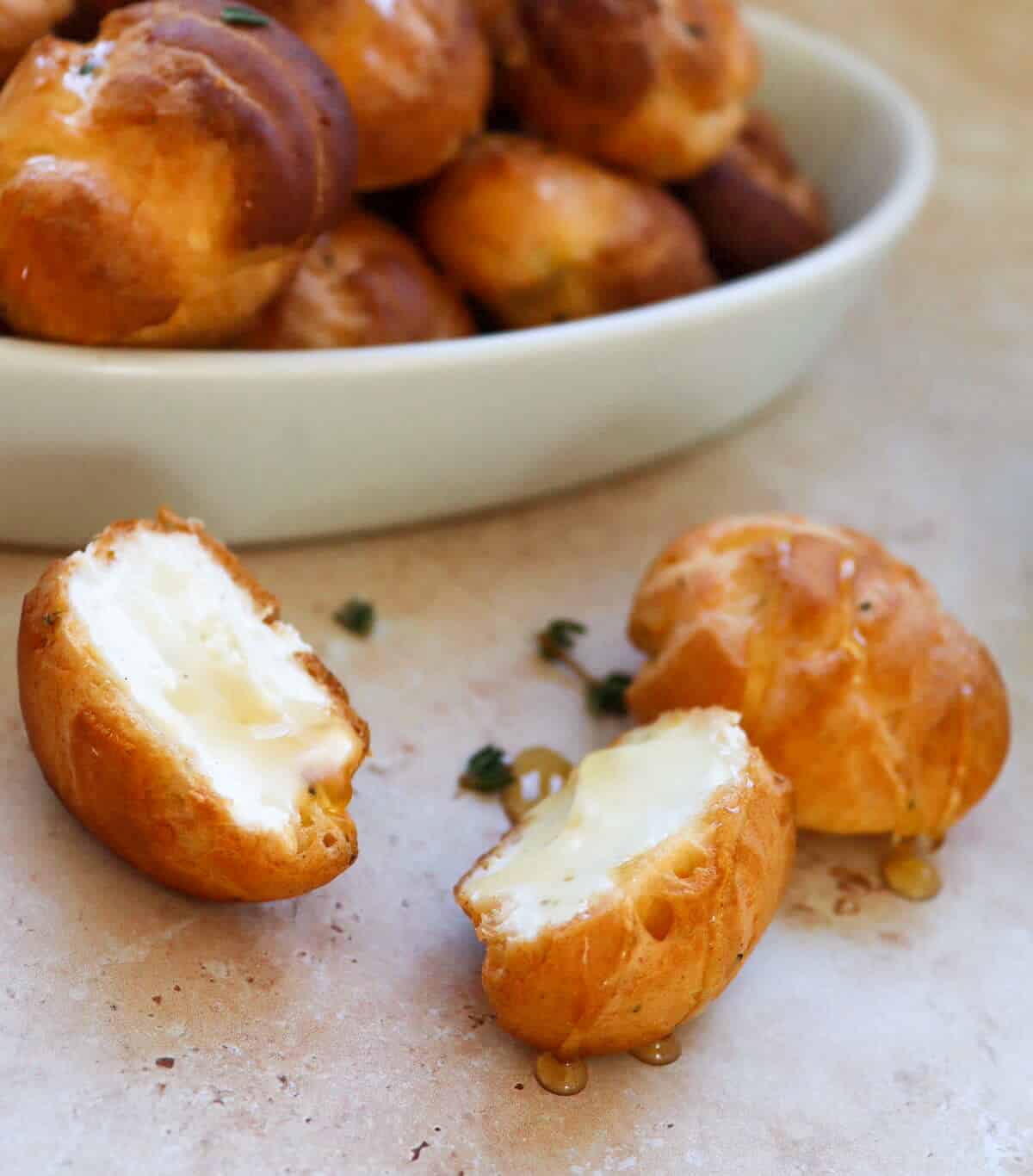 2. Savoury Profiteroles
You might be accustomed to having profiteroles for dessert, but choux buns work just as well stuffed with savoury fillings! Like these mini savoury profiteroles with whipped goat cheese and honey - guests will be pleasantly supripsed and won't be able to get enough of these cheesy little bites.
Served cold - Vegetarian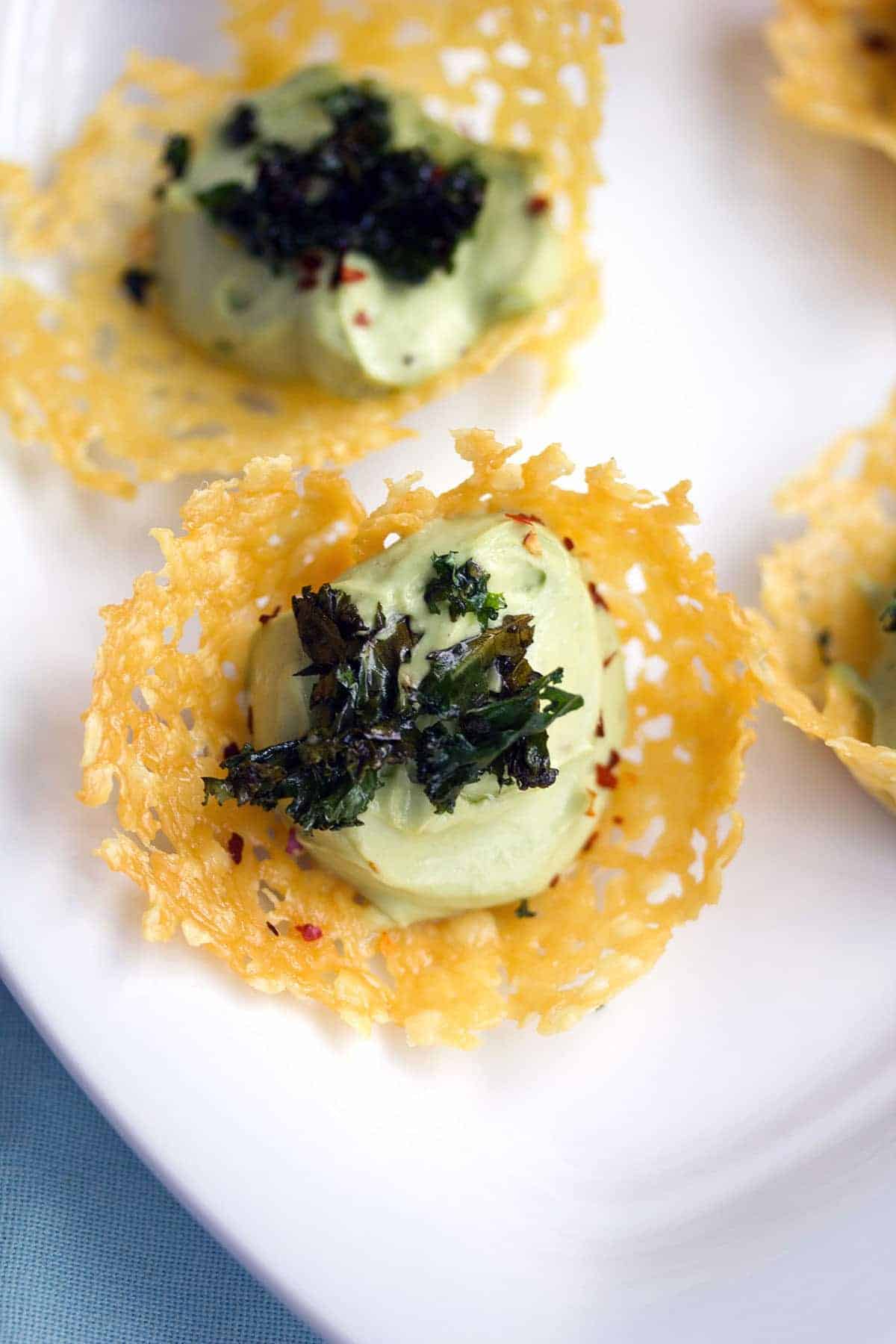 3. Cheddar Cups
These cheddar cups with avocado feta mousse are a great Easter canape that look fancy (and a little bit like nests too, Easter theme!) but they are actually incredibly simple. The cheese cups require just one ingredient and the entire canape is so easy to put together.
Served cold - Vegetarian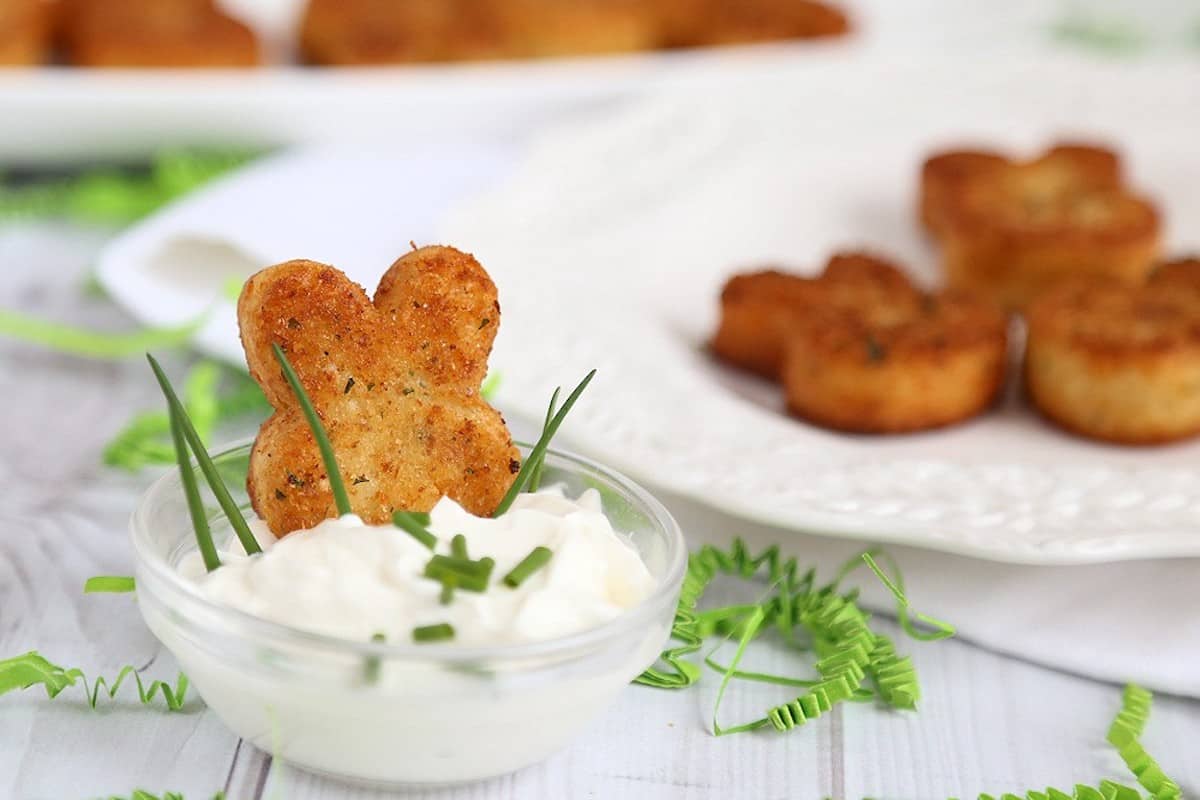 4. Easter Bunny Croquettes
Now, these are adorable. What easy Easter canapes could be more fun than Easter Bunny Potato Croquettes? Adults will get a kick out of them and kids will love them too.
Served hot - Vegetarian
5. Deviled Eggs
Smoked salmon Deviled Eggs flavoured with lemon, dill and cream cheese, these easy Easter canapes are a rich and special bite to serve on Easter Sunday.
Served cold - Fish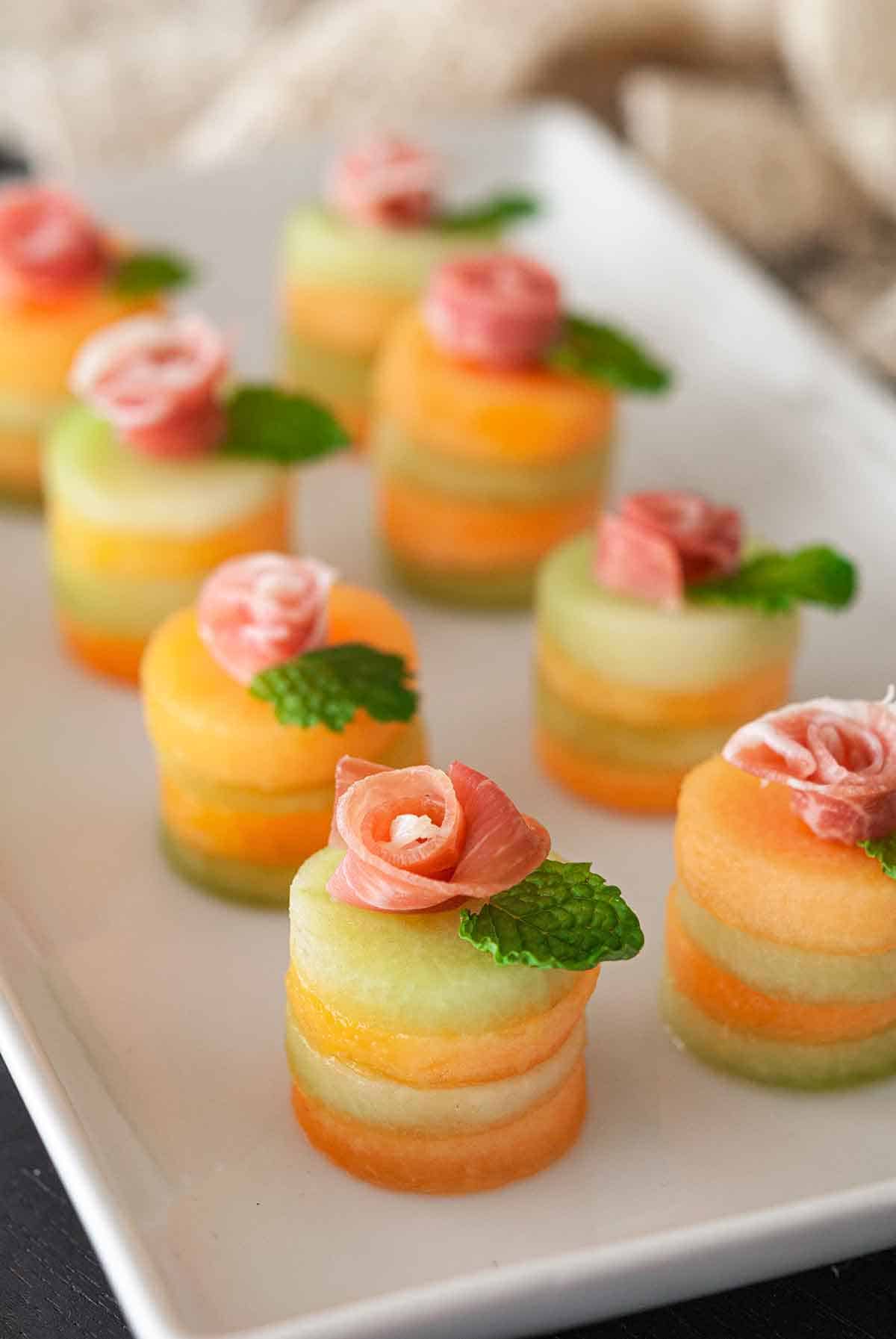 6. Melon and Prosciutto Stacks
Dainty and elegant honeydew and cantaloupe hors d'oeuvres with proscuitto. These prosciutto and melon appetizers make a refreshing Easter canape that's extra pretty and feminine! With just 4 ingredients and a tiny cookie cutter, you can create these elegant Easter canapes.
Served cold - Meat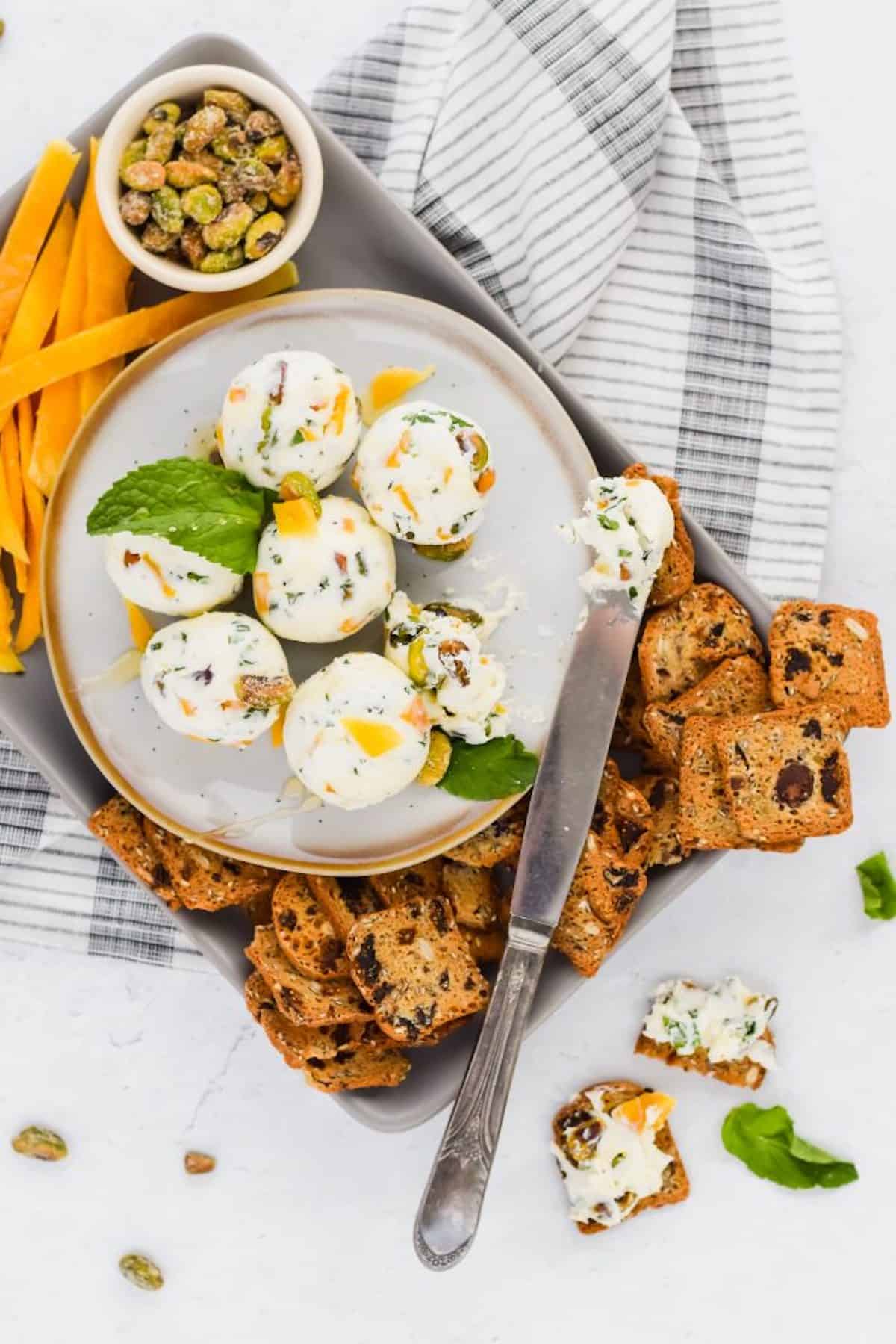 7. Goat Cheese Balls
Cut out the potential mess of a shared cheese board and make these sweet and savoury goat cheese balls. Made with many go-to cheese board ingredients: smooth, creamy cheese, sweet fruit, crunchy nuts, and fresh herbs but rolled together into bite-sized finger food.
Served cold - Vegetarian
8. Breaded Artichoke Hearts
You know me and breadcrumbs, I'd breadcrumb a shoe and eat it and therefore these breaded artichoke hearts are definitely a favourite! They are easy to make and can be served as an appetizer or side dish, and I'd be tempted to serve them as both, they look so good.
Served hot - Vegetarian
9. Gravlax Tartine
Another great fish option in our canape ideas for Easter, why not make mini versions of this open-faced tartine with gravlax? Gravlax is one of my favourites, I actually prefer it to smoked salmon and it goes especially well with cream cheese.
Served cold - Fish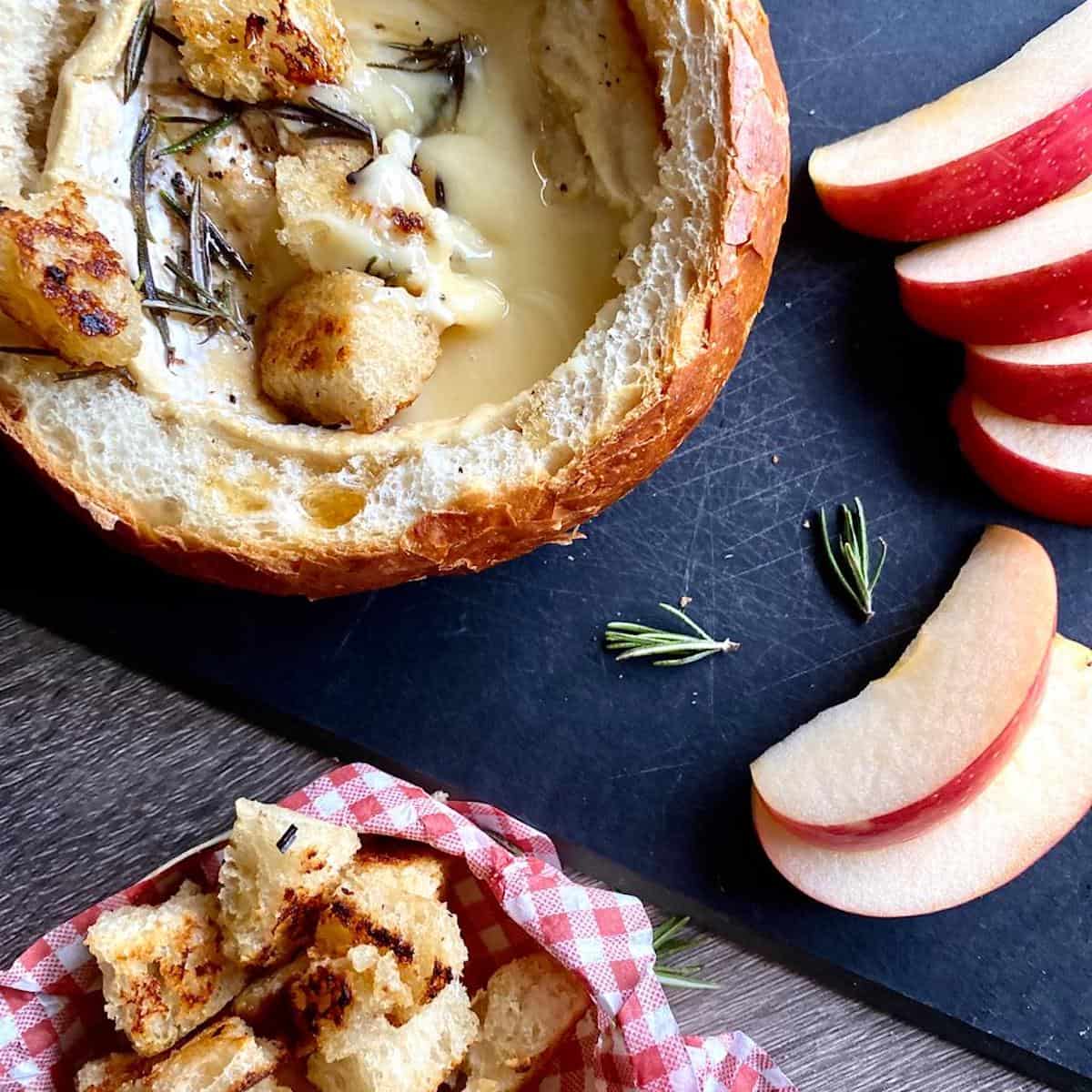 10. Whole Baked Camembert
Who doesn't love whole baked camembert? This camembert with honey and garlic croutons is always a guest favourite. Gooey melted camembert in a bread basket with crunchy croutons on top - you'll need to make several as they disappear FAST.
Served hot - Vegetarian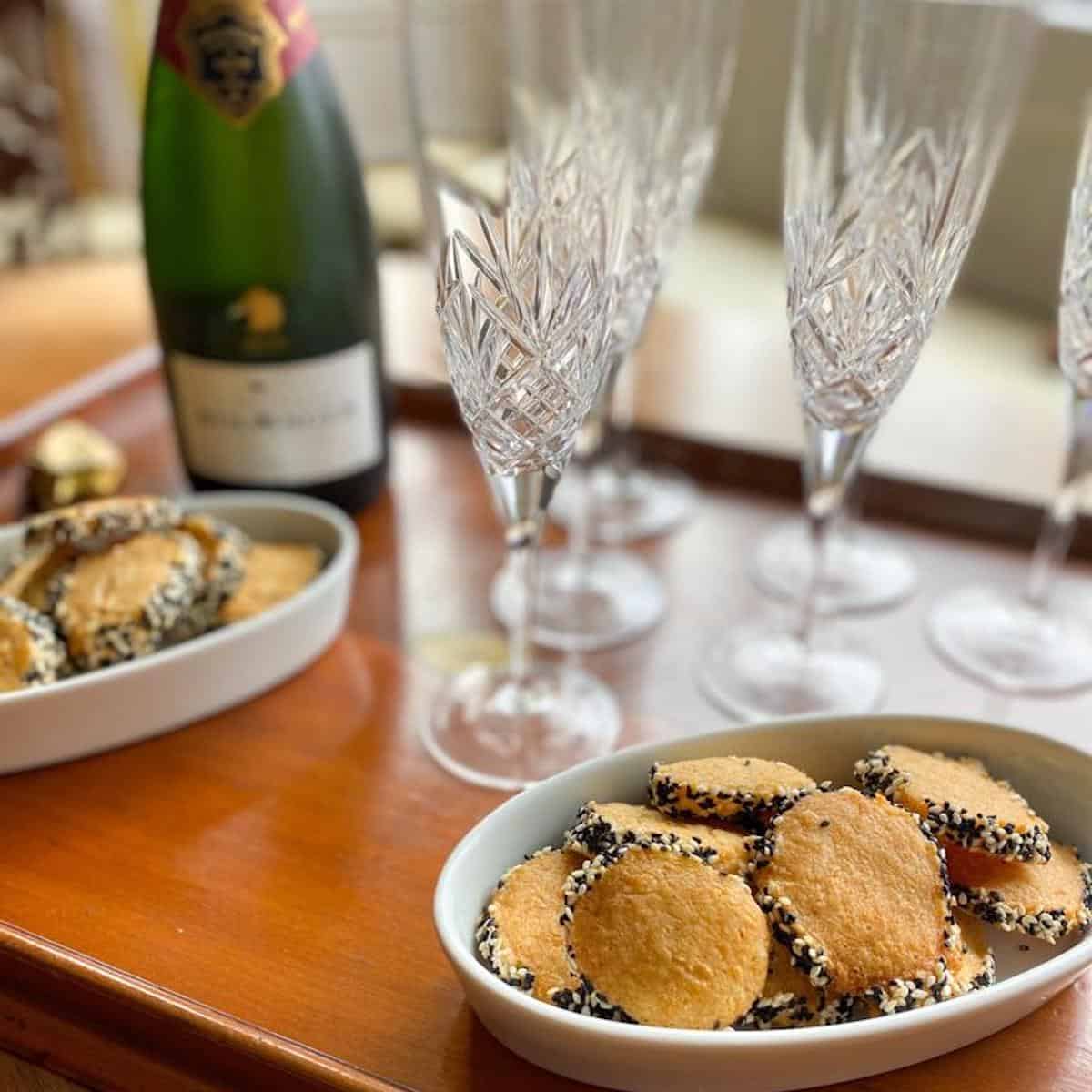 11. Spicy Parmesan Biscuits
These spicy parmesan biscuits work in perfect harmony with champagne so make an ideal canape to serve on special occasions like Easter Sunday. You can also make batches of the dough and freeze it so works well as an easy canape to make in advance.
Served hot or cold - Vegetarian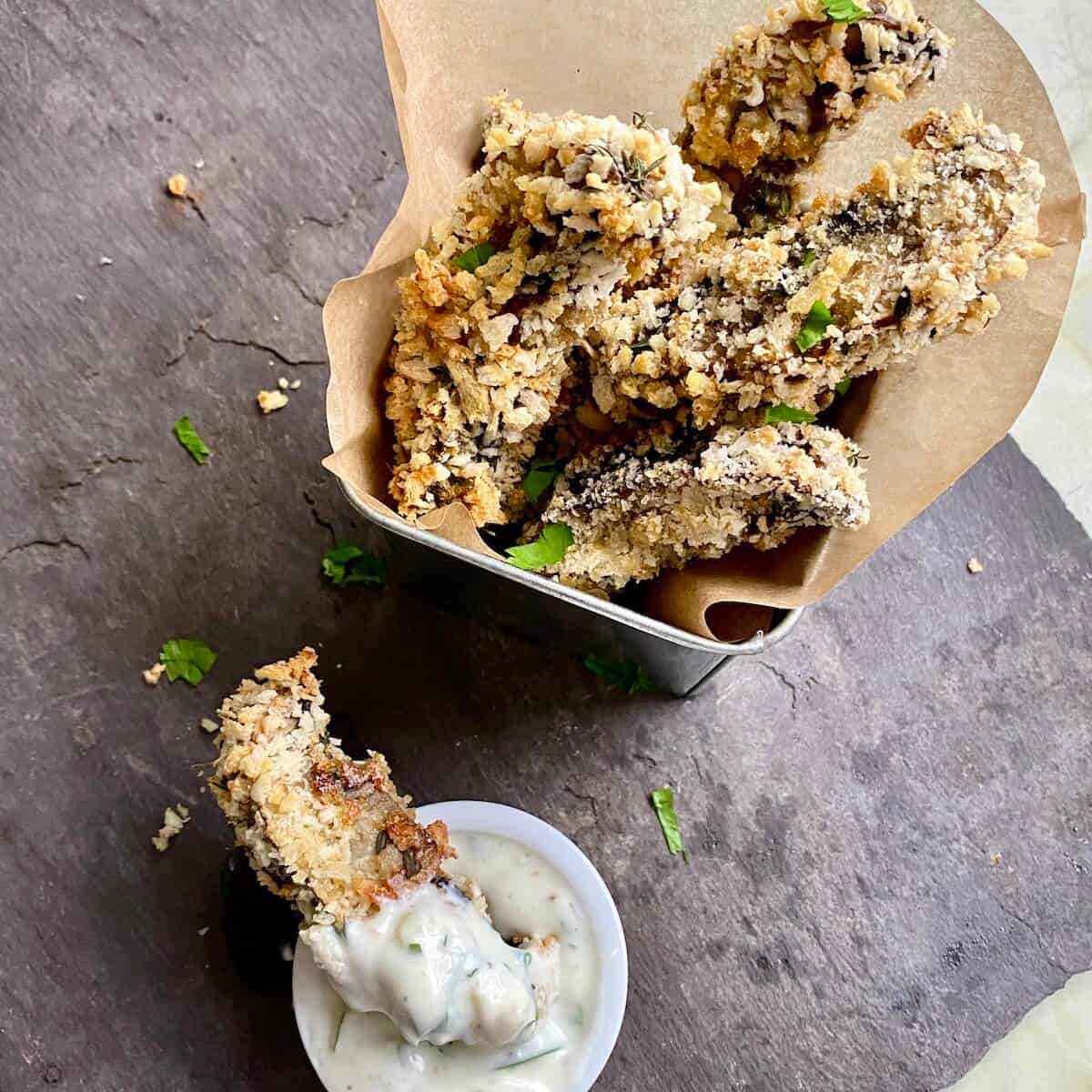 12. Panko Mushrooms
These panko mushrooms make a great vegetarian canape for Easter Sunday - crunchy and full of umami flavour, the garlic dipping sauce is always a hit too. I bake them in the oven rather than fry them, which makes them healthier and frees up space on your stovetop!
Served hot - Vegetarian
Let me know which of these easy Easter canapes you end up making, and tag me in any pics on Instagram so I can see!