Yesterday, we stumbled across the Pulgas Water Temple in San Mateo County, California. We were driving to Filoli Gardens and suddenly this serene blue pool of water and incredible stone structure reminiscent of ancient Greece jumped out at me from the road and I just had to stop.
The Pulgas Water Temple in San Mateo
We pulled in and got out of the car to explore this mysterious and beautiful place.
I learned that it is, in fact, a water temple!
The Pulgas Water Temple is located at the terminus of the Hetch Hetchy Aqueduct and was constructed to commemorate its completion. The Hetch Hetchy Project took 24 years to build through the Great Depression at a cost of $102 million and carries water 160 miles across California from the Sierra Nevada Mountains to the Bay Area. And if you are looking for fun things to do in the Bay Area, this should definitely be one of them, it's such a beautiful place for a picnic. California is full of beautiful landmarks and this is a lesser known, a very well kept secret.
Designed by architect William Merchant, it was finished in 1938. The Pulgas Water Temple in San Mateo stands overlooking a calm reflecting pool lined with cypress trees on a lush green lawn and is so, so beautiful. What a place to find by accident!
Parking and entrance fee
There is a limited amount of free parking Monday - Friday from 9:00 a.m. to 3:30 p.m. including holidays. At weekends, it is pedestrian access only, so hikers, bikers and equestrians. There is currently no entrance fee for the Pulgas Water Temple so is a wonderful free activity in the Bay Area.
The majestic fluted columns reflect the architecture of ancient Greeks and Romans, whose engineering methods were used to build the new water system. The inscription on the top, carved by Albert Bernasconi reads:
"I give waters in the wilderness and rivers in the desert, to give drink to my people"
Isaiah 43:20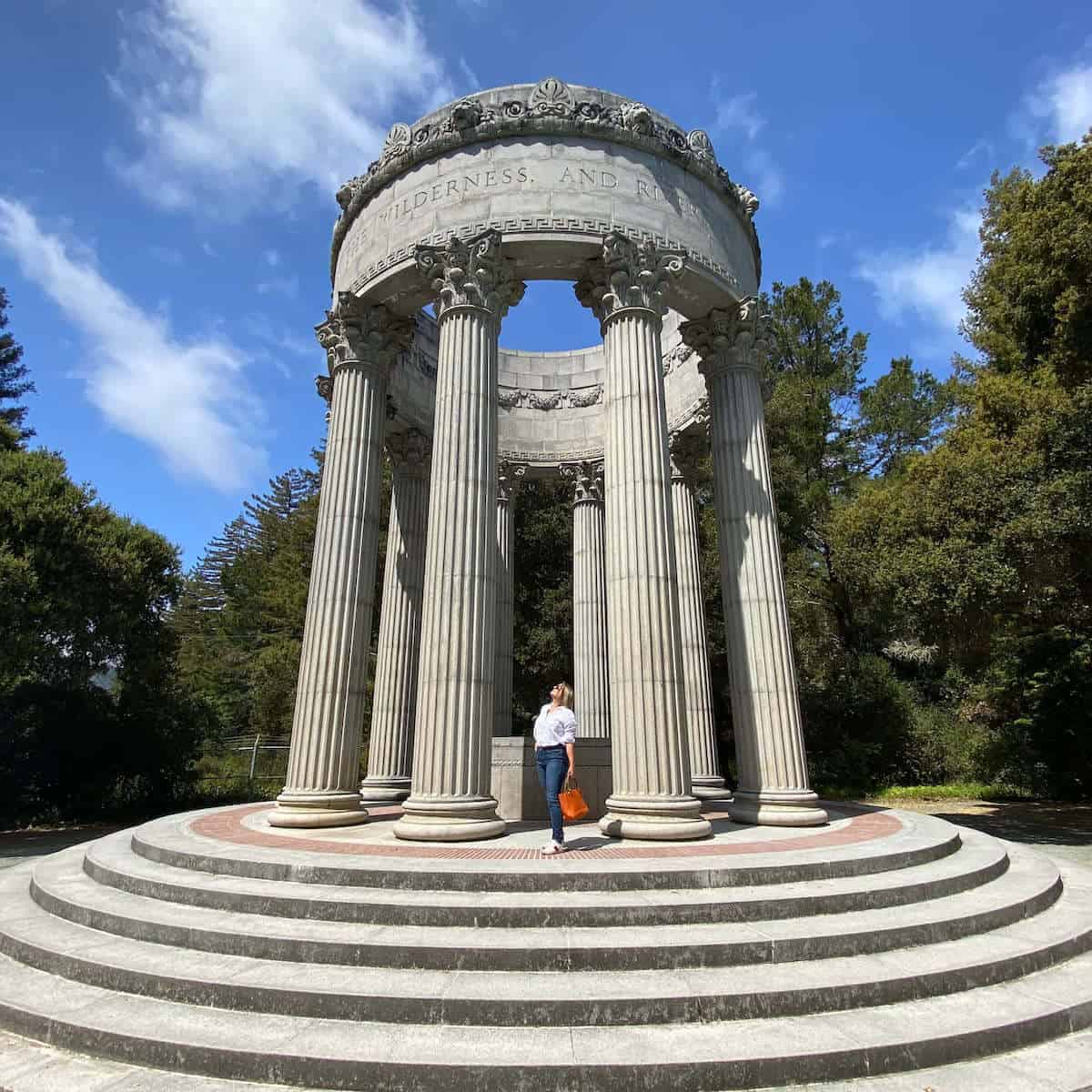 Enormous in size and situated at the foot of a long and serene turquoise pool, the water temple is an incredible place to sit and ponder life for a while.
If you're looking for fun and free things to do in the Bay Area you can visit the Pulgas Water Temple in San Mateo yourself. And if you want some other things to do in San Francisco, try this post here with some outdoor activities and my guide to the best tacos in the city here.
The Pulgas Water Temple, San Mateo address is 56 Cañada Rd, Redwood City, CA 94062
For further information, visit sfpuc.org/learning/come-visit/pulgas-water-temple