Frensham Pond in Surrey is one of my favourite spots for a picnic and a swim. There are some beautiful places to go swimming in the UK and on warmer days, it's the perfect wild swimming spot especially for a beginner. The water is quite shallow though which means that even in colder months, the brave can still give it a go!

I've always been a bit frightened of wild swimming as I am NOT a fan of murky water with mysterious objects that might touch your legs and make you scream. However, Frensham Pond in Surrey has lovely clear water and a sandy bottom so you can see exactly what you're in for and I think it is the best wild swimming location for beginners or first-timers in the South East. The swimming area at Frensham Pond in Surrey is quite small, but it also has a large sandy beach to lie on afterwards, so it is a beautiful place for a day out in summer. Being the foodie that I am, I like to bring a picnic with me.
I thought I'd put together an FAQ so that if you wanted to go wild swimming there too, you have all the information you need.
How to get to Frensham Pond
Frensham Pond in Surrey is between Hindhead and Farnham and it is best to drive there although the number 19 bus from Farnham Station does make a stop nearby. The best postcode to use for Frensham Pond is GU10 2QB.
What is the water like for wild swimming?
The water is quite shallow in the swimming area, with a sandy bottom. You can walk pretty far out and there isn't a lot of weeds, algae or stones. For a beginner wild swimmer, it is a good option! It also means the water stays relatively warm.
Is there a sandy beach?
Yes, there is a sandy beach! And here's a top tip, when you first get there you will only see one beach and wild swimming area but if you keep walking all the way past it you will find another beach behind it that is usually less busy as people don't realise it's there.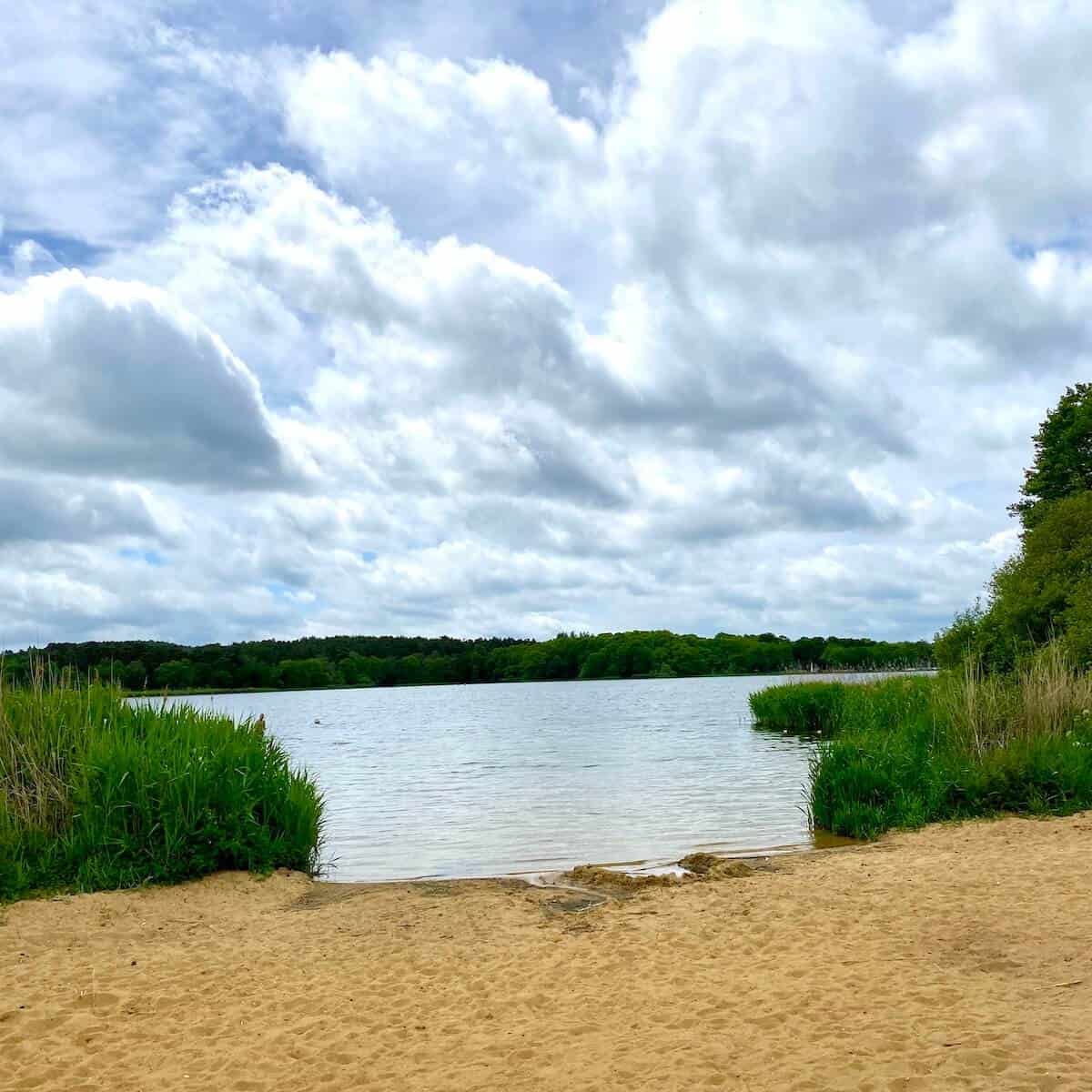 Is there parking at Frensham Pond?
There is a large car park at Frensham Pond although at peak times (like hot sunny days on weekends or during school holidays) it gets very busy and can be full by mid-morning so it is recommended to arrive early. Parking can only be paid for via the parking app Ringo so it is best to download it in advance.
Can I bring my dog?
Dogs are not allowed on the beach at Frensham Pond, or in the water. There are a few very friendly resident ducks if you are missing animal company!
Can I have a BBQ?
BBQ's are not allowed but there is a small cafe that serves hot food, ice creams and drinks, and I must say their chips were excellent. The perfect amount of crunch on the outside and light fluffy potato inside. You could also bring a picnic or some snacks, like this broad bean dip recipe that is one of my faves or a Panzanella salad.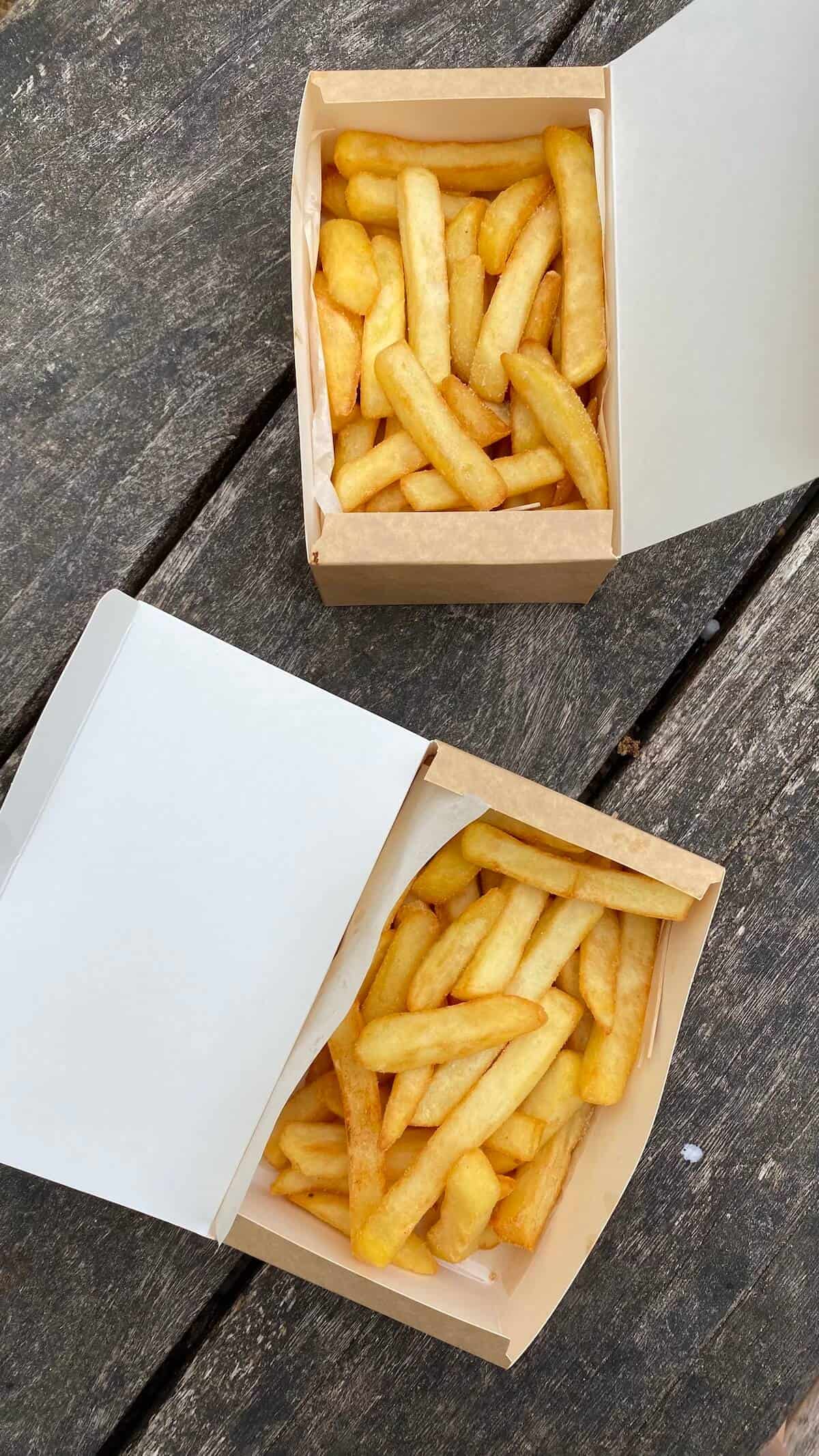 What other facilities are there at Frensham Pond?
In addition to the cafe, there are toilets at Frensham Pond too. There is also a little sailing club on the opposite side of the pond which looks like a lovely activity to try some other time.

I loved visiting Frensham Pond and have definitely caught the wild swimming bug. You just feel so free and at one with nature. Let me know if you visit too and be sure to check out some of my other posts with recipes and foodie destinations around the world.