A round up of my 10 best Fall macaron flavors to make in cooler weather! These Fall macaron recipes all deliver the perfect blend of flavors associated with Fall. Toasty Fall flavors like pumpkin spice, toffee, chocolate, hazelnut, figs, coffee, cinnamon, and gingerbread encased in beautiful French macaron shells and served next to a roaring fire as the leaves start to turn.
What are Fall macarons?
These Fall macaron recipes all have the same basic characteristics of a crunchy yet chewy macaron shell made from a paste made of nut flour, powdered sugar, and egg whites that is mixed carefully with meringue, baked in the oven, and then piped full of Fall macaron fillings. In some of these Fall macaron recipes, we flavor the shell itself too with spices too for extra intensity and color the macarons with food coloring to get the perfect Fall color palette.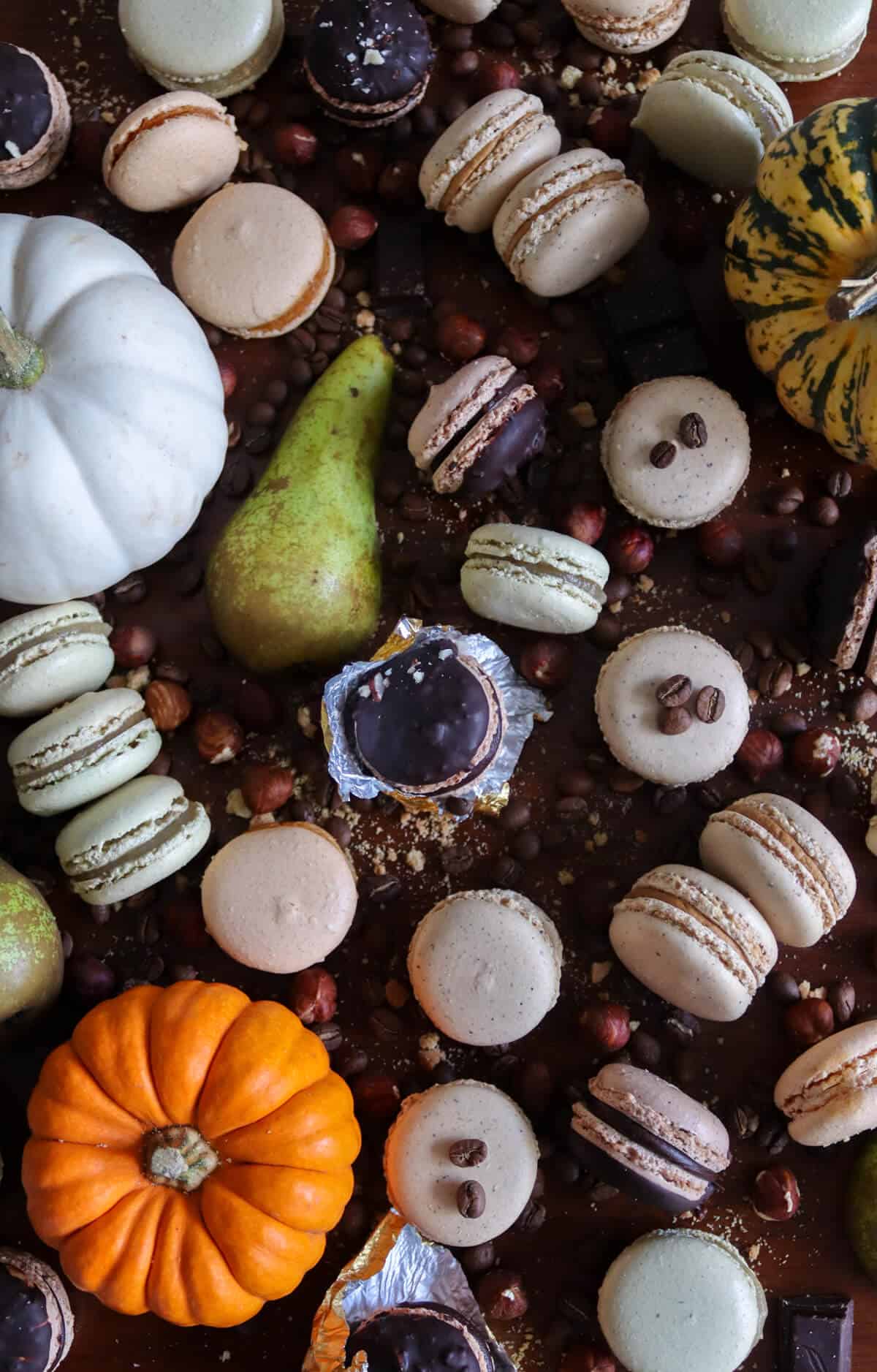 Jump to:
How to make homemade macarons
First things, first, if you've never made homemade macarons from scratch before, then be sure to check out my guide to making them perfectly every time. Macaron making is the perfect example of how baking is a science, and homemade macarons can be tricky to perfect but it is so satisfying once you crack it. Macarons can be made with French meringue, Italian meringue, or Swiss meringue and everyone has their own personal favorite. Personally, I use the Italian meringue method but these Fall macaron recipes will work with either.
You will need a fair few bits of equipment to make your own Fall macarons including several mixing bowls, piping bags, and baking trays but if you get your ducks in a row first, you'll be well on your way.
What are Fall flavors?
The turning of the seasons and the Fall harvest bring a whole new flavor profile to the table, literally. Heavier, more intense tastes These are the Fall flavors to look out for:
Spices: After the clean and fresh flavors of summer, think of all the Fall spices that bring warmth and depth to your baking like nutmeg, cloves, cinnamon, cardamom, ginger, and star anise.
Pumpkin: Pumpkin season is a whole vibe for bakers, I use it in so many of my Autumn recipes like this spiced pumpkin yogurt loaf cake with mascarpone cream cheese frosting.
Apples and pears: Freshly harvested from the trees and ripe for eating, apples and pears work in both savory recipes and desserts like this foolproof Tarte Tatin.
Cranberries: These sweet yet tart red berries come into season and play a huge part in both sweet and savory Christmas and Thanksgiving recipes. They work so well paired with Fall spices and I also love them with cheese and in cocktails like this Cranberry Fizz.
Caramel or Toffee: Rich, silky and deep in flavor and color, caramel and toffee are favorite Fall flavors of mine and work so well as an ingredient in cooler climes.
Coffee: The aroma of roasting coffee beans always evokes the feeling of colder weather, roaring fires, and leaves changing color. Playing with coffee flavors is a must for Fall, like this Panettone Tiramisu.
Maple: Who doesn't love maple syrup? Sticky and sweet yet earthy and less cloying than honey, I love baking with maple syrup. If you do too, try this maple-glazed banana bread.
Chocolate: I go off chocolate slightly in the summertime, so come Fall it's all I want to eat. Thick and creamy chocolate ganache goes with so many cakes and it is the most decadent Fall macaron filling, too.
Gingerbread: If you love the warmth of gingerbread cookies or gingerbread houses, chances are you'll love these other Fall flavor ideas too.
Why you should try these Fall macaron recipes
They're seasonal: Using seasonal flavors will ALWAYS result in the best taste as the produce is the freshest.
They're cute: Macarons are one of the daintiest, prettiest bits of French patisserie around and always look so gorgeous on the plate.
They're Tasty: The light, crispy yet chewy macaron shell and the warm and earthy Fall flavors and spices work so well together and make the ideal sweet snack.
Best macaron flavors for Fall
Try these 10 best Fall macaron flavors and let me know in the comments which is your favorite!
1. Spiced Pumpkin Cheesecake Macarons
Pumpkin season is here and what better way to celebrate than by making spiced pumpkin cheesecake macarons? These beautiful Fall macarons are a soft orange color with a delicious pumpkin cream filling made with pumpkin puree and mixed with crumbled digestive biscuits/Graham crackers to get that cheesecake base taste. The perfect macaron flavor for Fall.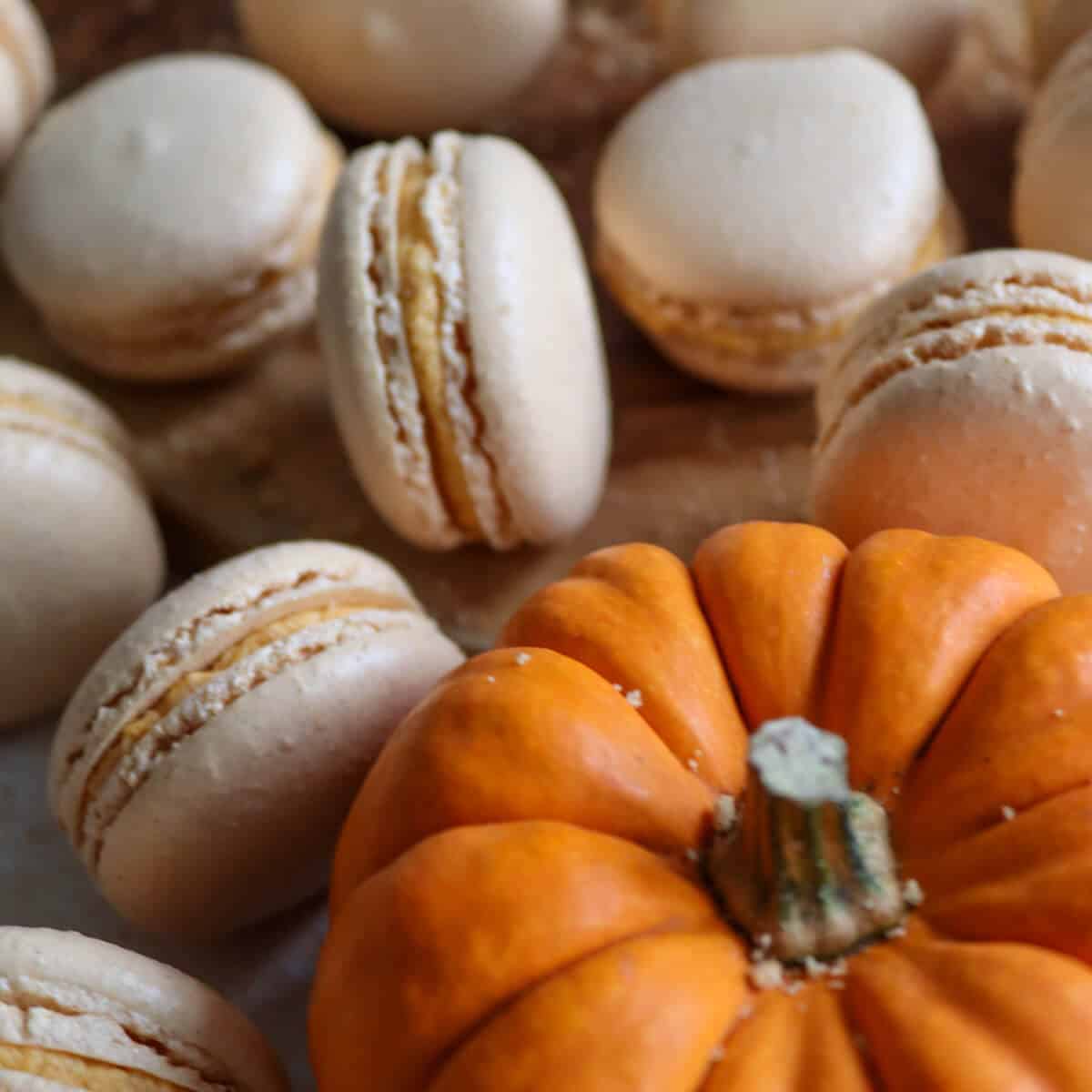 2. Fig and Cardamom Macarons
Figs are such a delicious fruit to eat in Fall and these fig and cardamom macarons have a macaron shell spiced with ground cardamom seeds which perfectly complement the sweet fig filling. As Fall macaron flavors go, you can't go far wrong.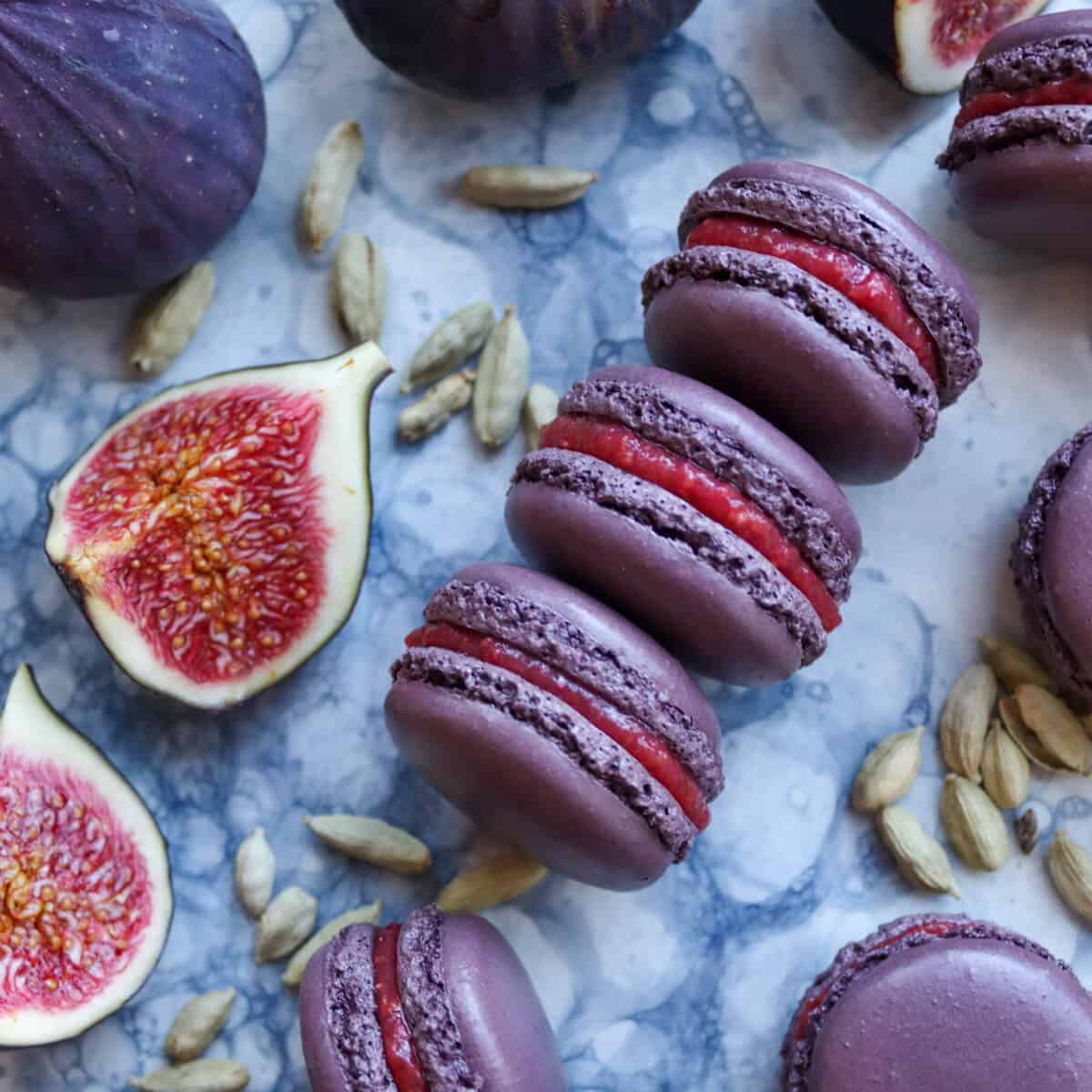 3. Ferrero Rocher Macarons
Chocolate and hazelnut are a flavor match made in heaven and these Ferrero Rocher macarons have that delicious deep nutty taste from using hazelnut flour in the macaron shells as well as the traditional almond flour. Then a smooth hazelnut chocolate ganache with added Nutella gives the perfect smooth rich chocolatey filling. You won't regret making these!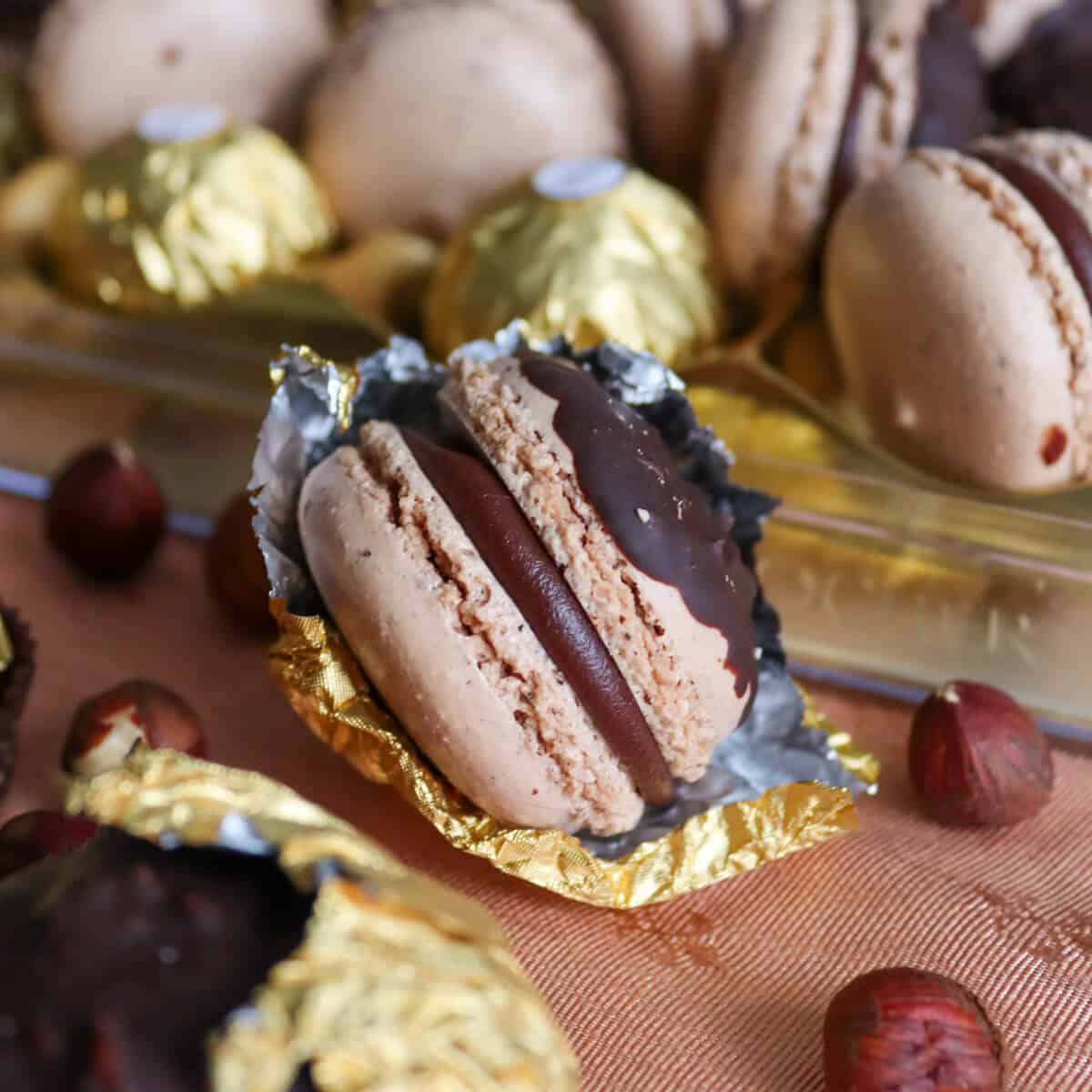 4. Hazelnut Coffee Macarons
For me, the rich aroma of roasting coffee beans will always evoke Fall. These hazelnut coffee macarons are made with hazelnut flour and a pinch of ground espresso powder in the shell, and then a deliciously intense coffee cream filling. The sweetness of the shell perfectly balances out the slight bitterness in the coffee cream and the result is a deeply satisfying macaron flavor. Out of all the Fall macaron flavors I make, this is my personal favorite.
5. Chocolate Cinnamon Macarons
Ah, cinnamon. That fragrant spice works so well with chocolate and these chocolate cinnamon macarons have a slight feeling of biting into a churro with their smooth spiced chocolate ganache filling. A perfectly festive Fall macaron flavor.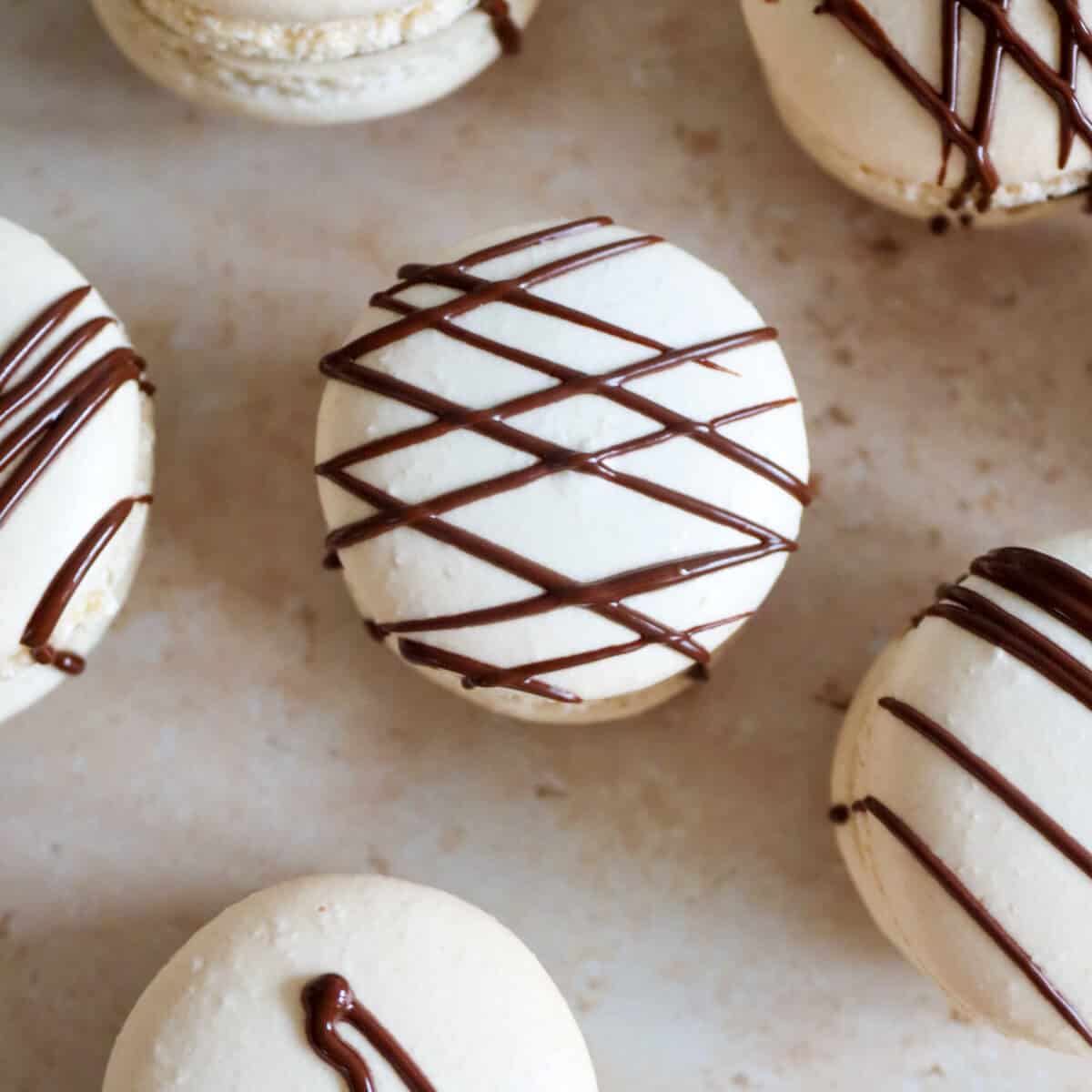 6. Festive Macarons With Cranberry and Goat Cheese
These savory macarons might seem like a bit of a curveball, but they work! Creamy whipped goat cheese is layered with cranberry jelly and contrasts perfectly with the sweet macaron shells. A great Fall appetizer option, guests will be surpised by the savory twist!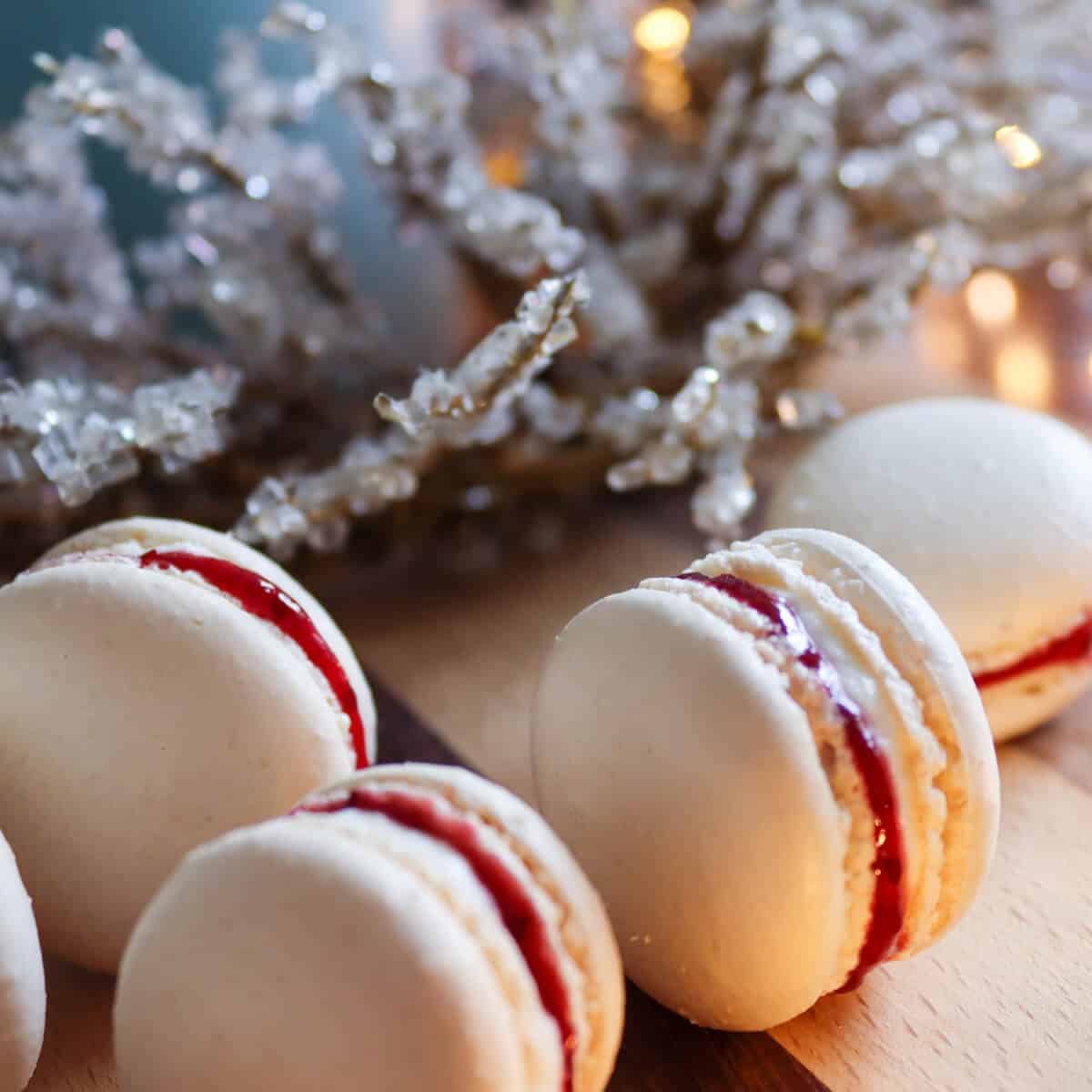 7. Snickerdoodle Macarons With Cinnamon Sugar Pastry Cream Filling
A snickerdoodle is a vanilla and cinnamon cookie, and the cinnamon spice flavor in these snickerdoodle macarons makes them so moreish, especially with the cinnamon sugar pastry cream filling. Another great macaron flavor for Fall!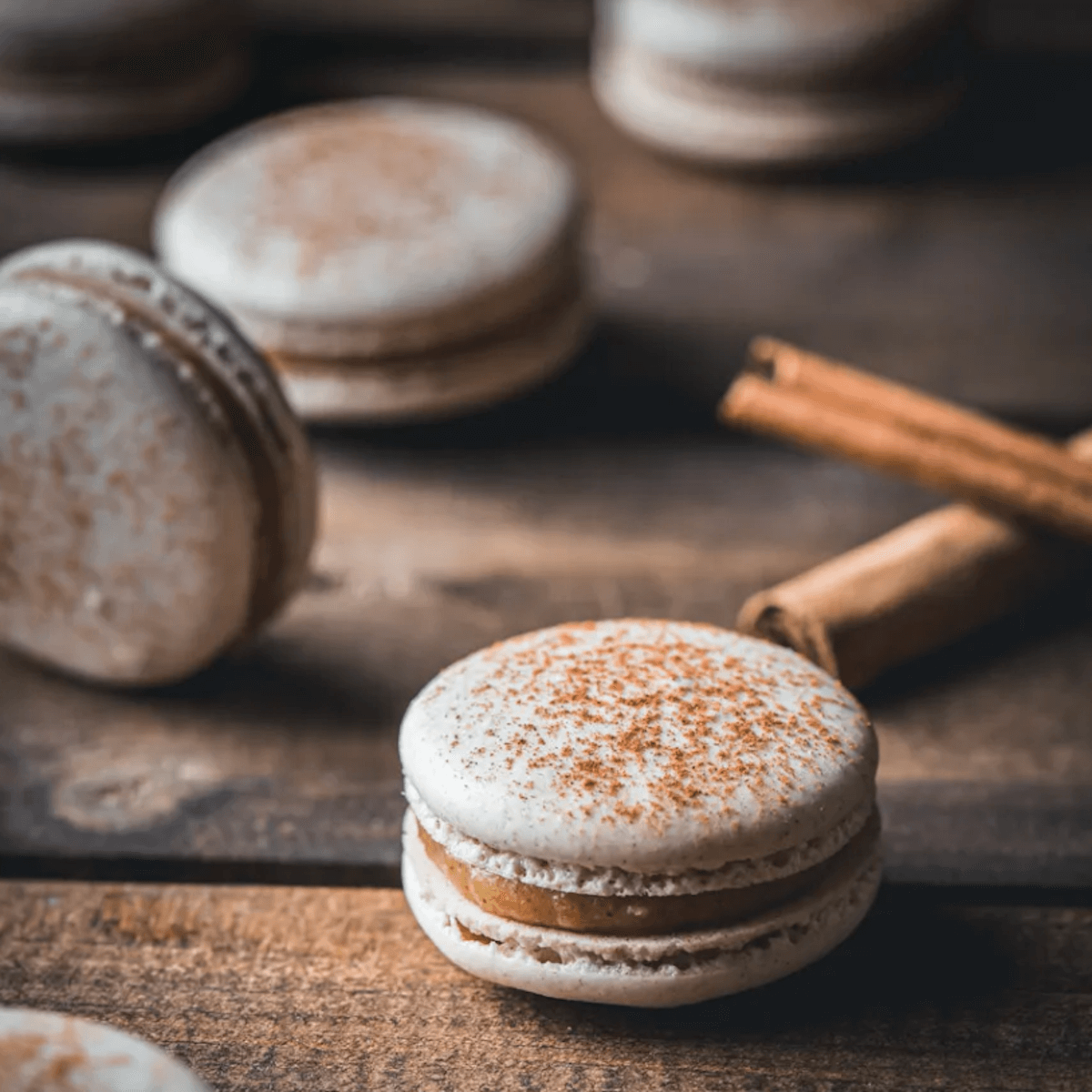 8. Chai Spiced Macarons
The brown butter chai spiced buttercream filling is what makes these Chai spiced macarons so addictive. If you're a chai lover like me, you won't be able to get enough and the tingly warmth of Fall spices like cloves, cardamom, cinnamon, cloves and All Spice work so perfectly with the buttercream filling. If you're looking for Chai recipes this is a great Fall macaron flavor to make.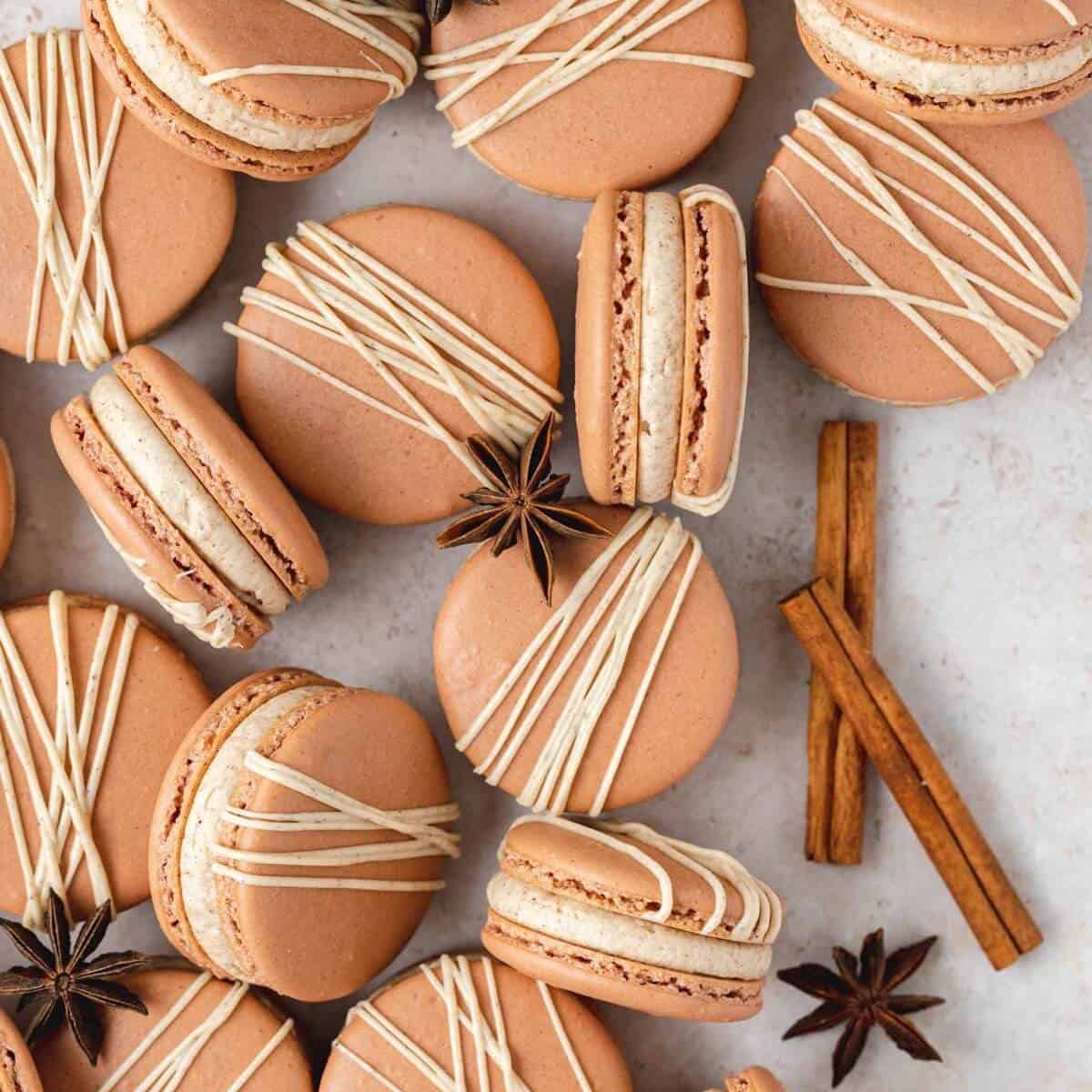 9. Hoppy Citrus French Macarons
I had never considered baking with hops, but these hoppy citrus French macarons are like the Fall harvest bundled up into a Fall macaron cookie. The slight bitterness works perfectly with the sweet macaron shell and the citrusy notes really shine through.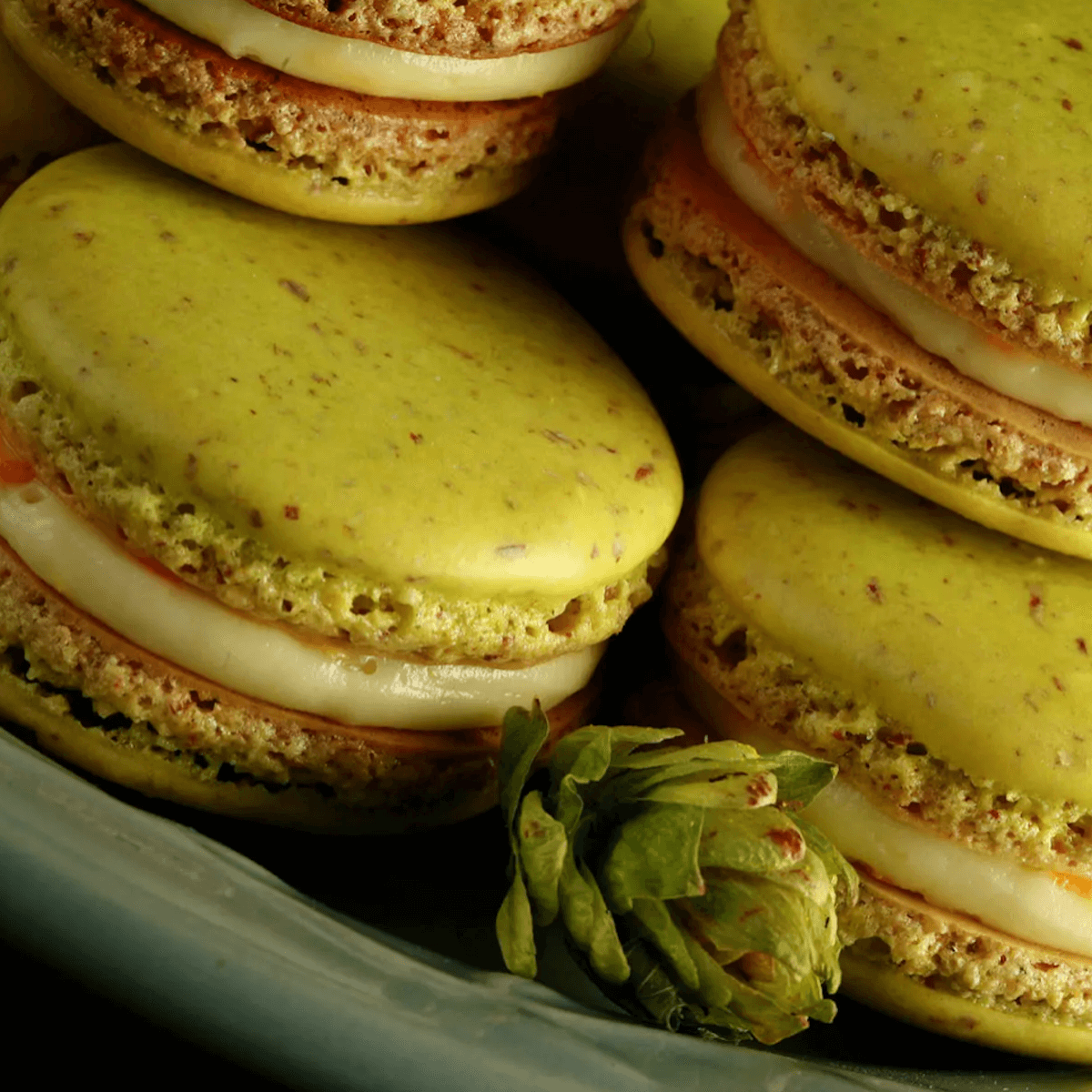 10. Peppermint Chocolate Macarons
Bright and festive looking Fall macarons with a chocolate peppermint filling, perfect to serve after a Fall dinner party as a petit four. The red is such a color pop and I love the crumbled bits of peppermint candy cane in the chocolate ganache filling. Delicious!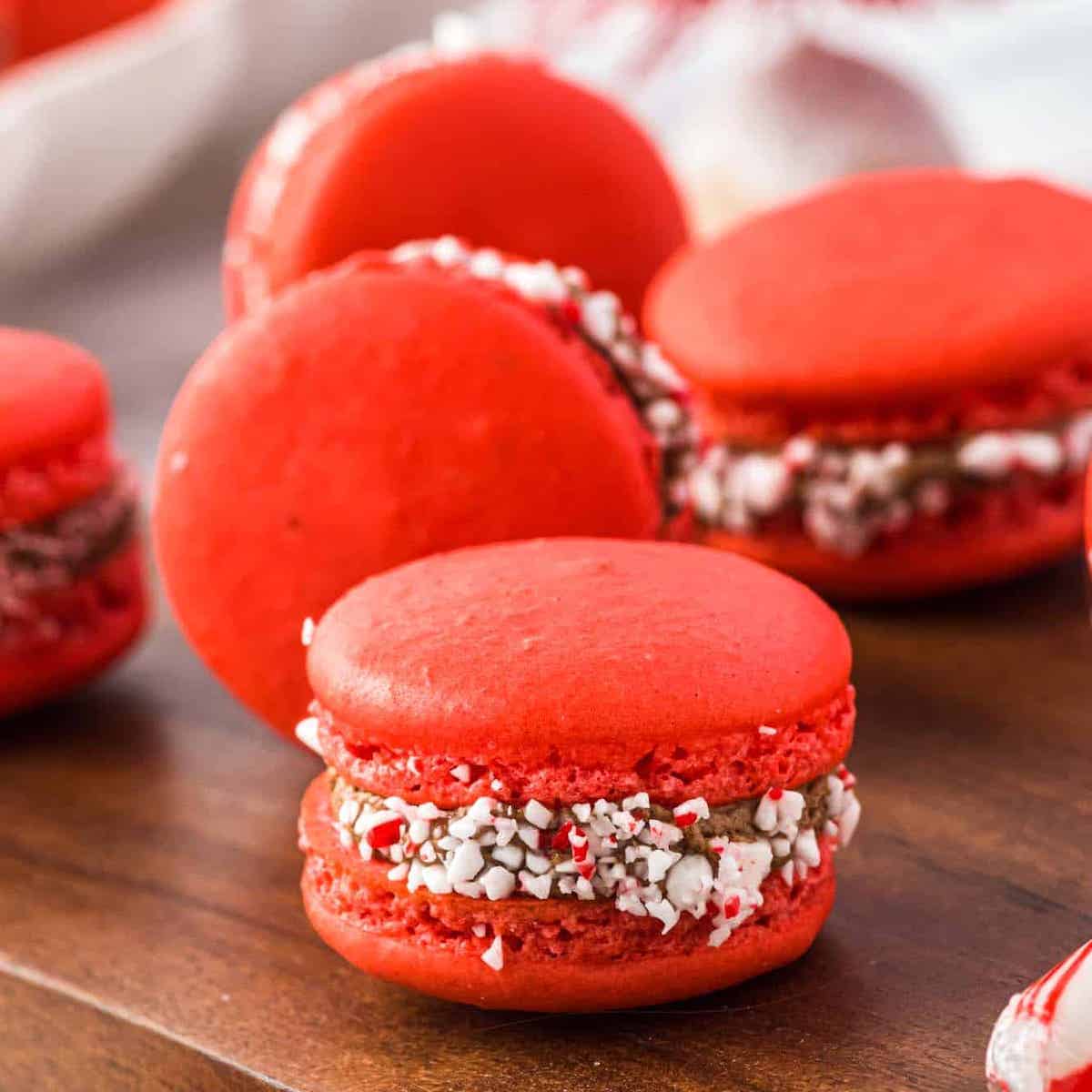 I hope you've found some Fall macaron flavors to try baking yourself at home - if you try any of these please let me know! I love it when readers try my ideas and leave me a comment or tag me in photos on Instagram. Macarons are the most photogenic treat around in my opinion, so defintiely worth a snap. Enjoy!
Try some of my other Fall recipes: